This little piece is about Jeremy Hellickson. Sorry, just kind of didn't work him into the headline. More specifically, though, it's about the dilemma about whether tendering Hellickson a contract is a dilemma. The chances that they'll tender him are pretty close to the "yeah, definitely" range. But should they be?
Hellickson started his career as a baseball conundrum as a different kind, outperforming his peripheral stats by kind of a lot for 60 starts between 2011 and 2012. The first season was, specifically, a curiosity: was he the 2.95 ERA pitcher his stat line said he was? Or was he closer to his 4.44 FIP? It was a big gap. When he did it again the following season (3.10 ERA, 4.60 FIP), it seemed close to impossible that he was just extremely lucky. A contact manager, we called him. He misses the barrel of the bat, we wondered. He induces a lot of weak contact, we said.
Now it's the contract that looks weak. Hellickson was quite a bit worse than his peripherals in 2013, and still worse in an abbreviated 2014, and worse again in 2015. This season, Hellickson posted a 4.62 ERA — and a 4.44 FIP, a mark identical to that first wondrous full season. At this point, if we're going to guess he'll consistently miss FIP in one direction, we have to think he'll miss high, right?
Hellickson got hurt at just the wrong time in terms of his arbitration prospects in his last two go-rounds (the big money ones), and yet Hellickson's arbitration case gets buoyed by that early stretch of career excellence. On some level, it's like seeing your flamethrowing closer steadily lose velocity as he climbs up the arbitration ladder. Good, he may continue to be. But since arbitration is about past results and not about future projection, if there's a trendline going up or down in terms of value on the field, you stand to profit from the former, but lose from the latter.
It's hard to argue that we're not right there with Hellickson, right? From ESPN Stats & Info, Hellickson's "Soft Hit Average," which used to be his calling card: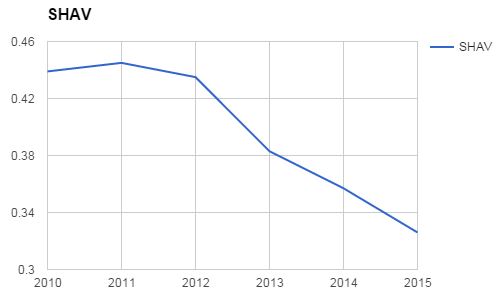 That kind of looks like a trendline. Although, for better or worse, it's also not that clear that soft contact rates are what this sport is really about. Also from ESPN Stats & Info, these are team totals for SHAV (about .005 per box, with Arizona at .360 and the Blue Jays at .405) and ERA.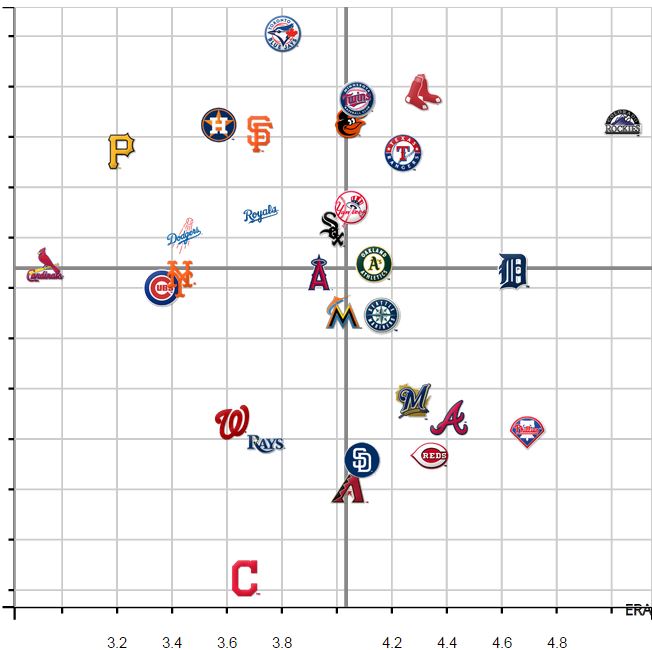 Pretty much no rhyme or reason, although it could be that it's just one of a handful of incompatible things that a team can do well. At the very least, it hasn't seemed to matter a whole lot for the D-backs.
Contract tender questions are about the rest of the roster, necessarily. Yesterday, we saw that Hellickson actually fits quite comfortably in next year's payroll… but that cuts both ways. On the one hand, if the team does improve through free agency, it's likely to be on the pitching side — and if that means a starting pitcher, Hellickson might be the pitcher bumped. Hard to justify tendering a contract if the team is planning a bid for a free agent pitcher, even if it's Kenta Maeda.
On the other hand, though, it's hard to spend real money on a good player in free agency for one season. Teams often opt to spend real money on a good player for multiple seasons. Tendering Hellickson a contract offers the D-backs a chance to spend real money on a not great player. In a way, it makes a ton of sense… and in another way, little sense. I think it's a question, though. It should be, for this front office, at least a dilemma.