Double Plus: What Is Arizona Doing Drafting College Relievers?
Okay, maybe the title is a little misleading. Drafting college relievers is defensible, if for one reason only: you get 40 picks and dammit, one of them is bound to be a college reliever by the odds alone. Another defensible reason might be that they're a cheap bunch. It's not that any of them have ever left me with the check, it's that they usually have very low leverage and can be signed cheaply. That comes in handy if you're trying to stretch your bonus pool. Sadly, this isn't the case for the Diamondbacks.
Which brings us back to the question: what is Arizona doing drafting all of these college relievers, particularly those in the top ten rounds? Let's just look back briefly at the last five drafts (2011-2015) and the relievers the team has taken for the purpose of being relievers:

*Note: players drafted as starters who later moved to relief are not listed
In the last five years, the team has had 54 picks in the top ten rounds (the extra four are due to some comp picks). They've spent nine of them on relief pitchers, nearly 17%. One in every six picks has been a reliever. All nine have come from the college ranks. Only Evan Marshall has reached the majors before he was sent back down, then was brutally injured this season in Reno. Jake Barrett has stalled in the minors. Jimmie Sherfy has run into trouble where his control is proving insufficient. Mason McCullough was a lottery ticket in the first place. Zac Curtis is effective but picking on younger hitters. Breckin Williams and Ryan Burr haven't played enough to really analyze but had good debuts. Jesse Darrah and Kyle Winkler are total afterthoughts at this point.
That's not a good return on nine picks. And when we're thinking about it, these are top-10 picks, not guys in the 33rd round. Five of nine were drafted in the the top five rounds. Granted, it's early to know the returns on the last two classes, but there's no one that screams "major-leaguer" on the list from those drafts. It'll be a wait-and-see game.
And that's kind of the problem. What we know about relievers is they get hurt a lot and they flame out a lot. Acquiring a bunch of them isn't a terrible idea since the odds of the stock maturing to usefulness in the first place is so low. But some really interesting information has come out in the last year about relief pitcher aging curves and, well, just look at this: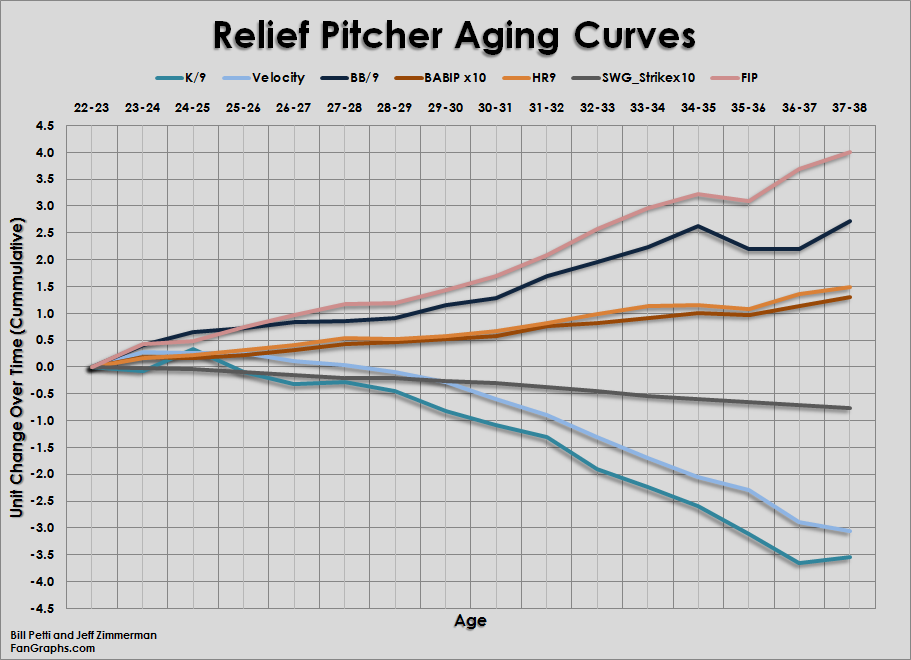 As a whole, major league relievers basically get worse immediately as they age. They get promoted to the majors at their peak, then decline as a group. If you knew that your relief pitchers were going to decline so quickly and they only had so many pitches to throw before they broke down (presumably a small-ish number when compared to starters), would you decide to waste those pitches in the minors or get your licks in while you still can by rushing guys up?
Apparently the Diamondbacks have chosen the first trend as all of their relievers have moved slowly and methodically through the minors until they either stall out or finally get the call. But as college picks, these guys are usually 24 or older when that call comes. If we look at the table, nothing is projected to improve after 24. Sure, every pitcher is a unique case, but if managing a club is all about mitigating risk, well, maybe the above information is important.
So maybe relievers like Blue Jays closer Roberto Osuna (who, yes, was an international signing and not drafted) won't be so rare in a few years. At 20, he's served as the closer for an ALCS club most of the year. He's going to run out of gas at some point. That might come before his 25th birthday. But the Toronto is getting their money's worth now, and that's what matters. Meanwhile, the D-backs have a bunch of mid 20's relievers trying to put together the missing pieces, only to decline abruptly if they ever do make it.
Essentially, by drafting college relievers, they're putting themselves behind the aging curve. It's probably time to draft some younger arms and turn them loose, because unless these college draftees are going to hit the majors after only a season or two in the minors, the window will have already started to close.