Former manager Buck Showalter helped to shape the D-backs franchise well before it ever had a major league team take the field in 1998, taking a job in 1996 and helping to build the organization from the ground up. A probably-not-self-described "micro manager," I've always loved the guy despite his role in building a Yankees dynasty — in part because of his role in building the D-backs team that toppled it. Every time I watched Showalter on ESPN, I felt like I learned something substantive and new about the game that wasn't tied to particular players. I doubt that Showalter has been right about everything, but if you're on the outside and constantly looking in like we are, all you can really ask for is Showalter's signature leave-nothing-on-the-table style.
One way in which Showalter used the whole buffalo in Arizona and later with Texas and Baltimore: encouraging some pitchers to throw sidearm. He liked having one or two of those guys around, even if they weren't Dan Plesac. He wasn't constantly trying to make more Plesacs; instead, when it looked like a previously-promising pitcher was about to wash out of the organization, he'd set it up so that the pitcher could get one more shot throwing with a different arm angle if they were game for the challenge (and wouldn't you only want to do this with guys who had chosen to try it?).
The point is not that Showalter changed the course of history with this move; it's that it had almost no downside, and it did have upside. Constant reliever/pinch hitter chess is part of the game, and it's nearly always based on the platoon advantage. On Episode 41 of The Pool Shot, Jeff dropped a great idea on us that really has legs: matching relievers to hitters based on ground or fly ball tendencies could pay real dividends (especially since managers aren't conscious of that in lineup building like they are in trying to avoid stacking right- and left-handed hitters).
A pitcher with an unconventional arm angle can do both things.
The franchise leader among relievers in bWAR is Byung-Hyun Kim, who made the most of a sidearm release point. Right now, it's looking like Brad Ziegler could be the best reliever in the history of the franchise, and while we can't prove this definitively, that may be because most of the team's other very good relievers have been more susceptible to Chase Field effects than Ziegler, who is mind-blowingly effective at keeping the ball on the ground.
Our main problem: pitching statistics can be more than a little misleading for pitchers over a full season, and that doesn't get better with relievers. Even when I added 2014 to 2015, home/road splits for relievers (pitchers with 30 games relieved) are not very revealing: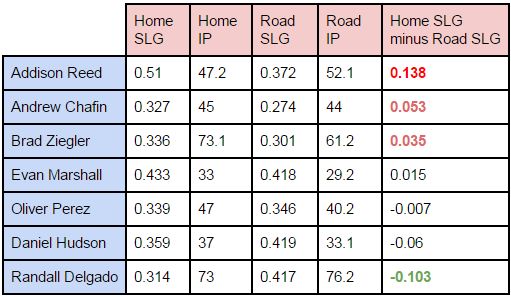 Not sure how much we can take away from this; pitchers generally do a little bit better away from Chase Field than they do while playing there. In terms of slugging, it was Addison Reed that seemed to suffer most from Chase, which was probably a combination of his fly ball nature and a heaping helping of bad luck. On the flip side, in quite a few more innings Randall Delgado was tremendous at Chase and merely decent in road games; but again, that's probably mostly about luck, and not very much about Delgado fearing airborne chicken fingers from the beaks of seagulls.
So is there anything to the fact that both Kim and Ziegler threw from a low angle? Quality is always the name of the game, but I wonder if both pitchers were locked in for longer (or, in the case of Kim, returned) because they weren't prone to home runs, and therefore weren't prone to wild fluctuations in performance the way we might with an average reliever. As a reliever, if you give up two or three home runs in a particular month, you end up with an impossible-looking ERA for that month, and you're "struggling." Being at the right place at the right time doesn't hurt, either, whether you're the steady presence when Matt Mantei goes down or the unshaken constant when Reed or Heath Bell gets blown up.
Unlike Kim, though, Ziegler didn't start his pro career already with a history of using a low slot. Ziegler washed out of Low-A with the Phillies in 2004, but showed enough in a short indy ball stint to catch the fancy of the Athletics (again — they had tried drafting him in 2002 in the 31st round), who tried him at High-A and saw him rise to the Double-A level. At High-A, Ziegler had a combined 4.36 ERA in 233.1 innings (39 starts). Things even looked up a bit at Double-A: 3.82 ERA in 162.2 innings (26 starts). But as Ziegler wound up 2006 in Double-A, he was facing a new season at the ripe age of 27. Maybe it was the past experience of washing out with the Phillies or getting to know Father Time on a first name basis, but when the Athletics approached Ziegler about trying out a new life as a sidearm reliever, he took it on.
It didn't take very long. Ziegler mowed down minor league hitters to the tune of a 2.41 ERA in 2007 at the Double-A and Triple-A levels, all while getting used to the new approach. In 2008, he allowed just one run in his first 24.1 innings at Triple-A, and hit the ground running with that ridiculous 0.00 ERA streak to start his career (he finished the season with a 0.85 ERA between Triple-A and the majors).
Obviously not all pitchers would take to Ziegler's arm slot as well as he did. But we're bursting with fringy relief prospects in the minors, and the rewards are enormous. Zack Godley clearly has a chance of doing some damage at the major league level. But if his command is really this superb — and even when he misses, he seems to miss by design at the very same level — isn't a new slot an option if it starts to look like the majors won't work out? Allen Webster seems to have "stuff" too good to "waste" here, but you aren't really wasting much if you're not getting anything else. Along with Webster, some of the guys in the "Capps Leap" list would also be candidates here, maybe.
Whether Ziegler is a unicorn or not, he won't trot out to the Chase Field mound forever. Working one or three guys out in the minors next year from a low angle could give the D-backs an heir to Ziegler's throne. It wouldn't happen overnight, and it's a long way off — but the team's openness to try this (or at least, to ask) could inform this offseason, as well.