While the focus of the winter is clearly upgrading the pitching staff, it's easy to forget about what the team did and can do at the plate. As we've said all along, they're going to score runs, usually enough runs to win. Take a look around the lineup and it's easy to see why. But that doesn't mean there isn't room to improve. Playing at Chase Field can help cover up some warts, and if there's a sneaky way to improve the team, it might just be adding a dose of patience to the club.
Now let me just start by saying, this is tricky. When you suggest that a player alters his plate discipline you're really taking a chance. Some guys who have traditionally bad plate discipline are still productive players. Adam Jones of the Baltimore Orioles has averaged 26 walks per season over his last five years. He's also averaged 154 games played over those five seasons. He walks about once every six games, yet no one's on him to improve his plate discipline because he's produced offense at a rate 16% higher than league average during that time. Asking him to take pitches and take free bases would fundamentally change who he is as a player – he's a aggressive and hits the ball hard. That's who Adam Jones is.
But not everyone can pull this off. There are some special cases like Jones out there, but they're the exception rather than the rule. Still, changing a player's approach at the plate isn't easy. This is a fundamental shift that may pay dividends over the course of a season, but from an at-bay by at-bat perspective, it might just seem like a waste of time. But just like ball beat the shift on occasion, we know that better plate discipline tends to lead to better offense. And here what I'm really referring to is pitches seen per plate appearance. Take a look at how pitches per plate appearance correlates to offense (defined as wRC+) for all hitters in 2015 with at least 250 plate appearances: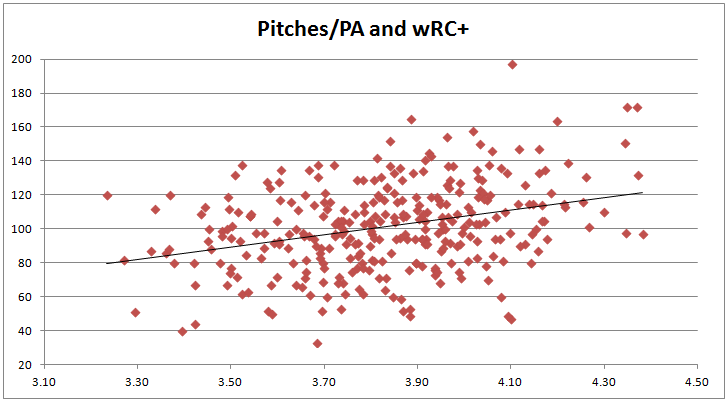 Maybe it's not the most pronounced trend in the world, but clearly offense improves as pitches get seen. There are three reasons for this that jump out to me on first glance:
Selection bias – better batters see more pitches because pitchers are less likely to pump fastballs repeatedly in the zone. They get pitched around in key situations and often have more opportunities to take walks thanks to pitchers wanting to live to face another (usually lesser) batter.
Walking helps – taking free bases is a big part of offense, and that all gets wrapped up in wRC+. Seeing more pitches increases the odds of taking a walk (you need to accumulate four balls do so, after all) and that boosts the end result.
Be selective – hitters who take more pitches give themselves more opportunities to receive a pitch over the plate that they can do damage against. They also force the pitcher to come over the plate if they're willing to let pitches that are marginal pass (more on this in a minute). It's the pitches in the zone that the batter should be feasting off of in the first place, so waiting to get one is a likely a good strategy.
So if we buy that seeing more pitches per plate appearance is a good thing for offense, then there are a couple of things you want to avoid. Swinging a lot is bad for taking pitches.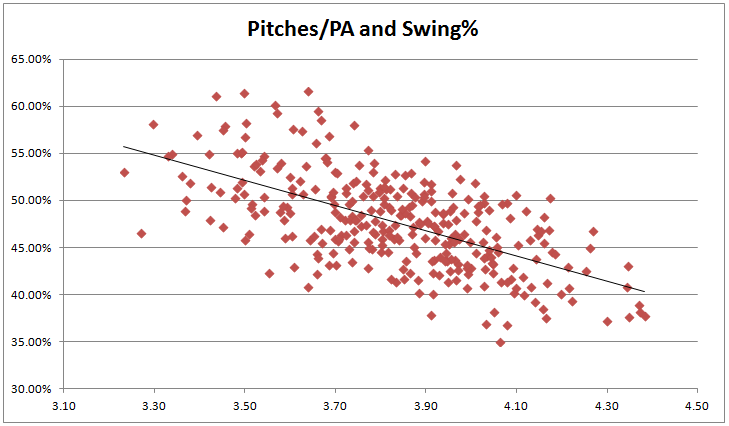 Swinging a lot at pitches outside the strike zone is really bad.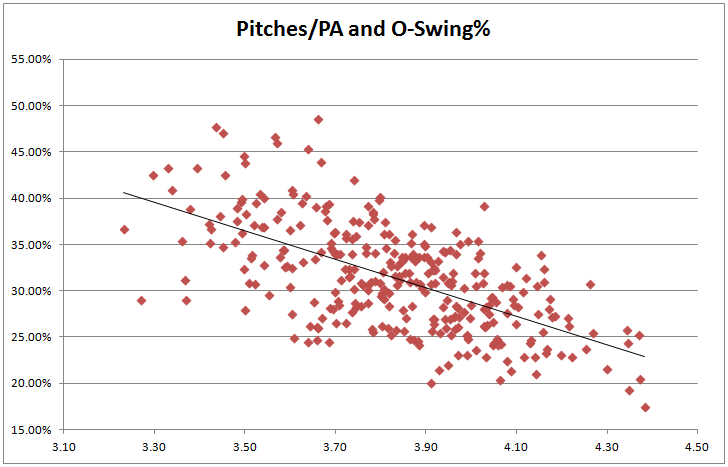 Remember that whole "be selective" part? Well, swinging at a bunch of trash outside the zone is basically the antithesis of that. And, as you can see, it generally doesn't help offense: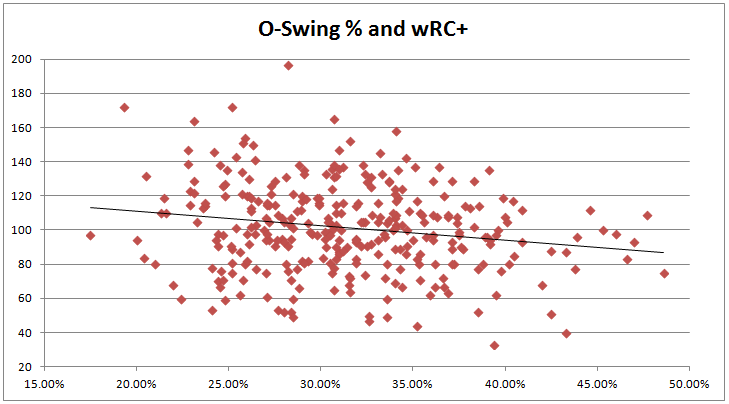 That decline may not appear stark to the eye, but we're talking about the difference between being an all-star and being a bench player here. By taking more pitches and, not-unrelated, swinging at fewer pitches outside the strike zone, we can expect an uptick in offense for most hitters. Again, I think making those changes sounds far easier than being the guy in the box tasked with implemented them. You're asking a player to stop swinging at pitches he might normally and that adjusts the psyche of an at-bat. That said, it's also not impossible to improve – you just have to be ready for mixed results, especially in the early going. And that might be something that the Diamondbacks should embrace, because: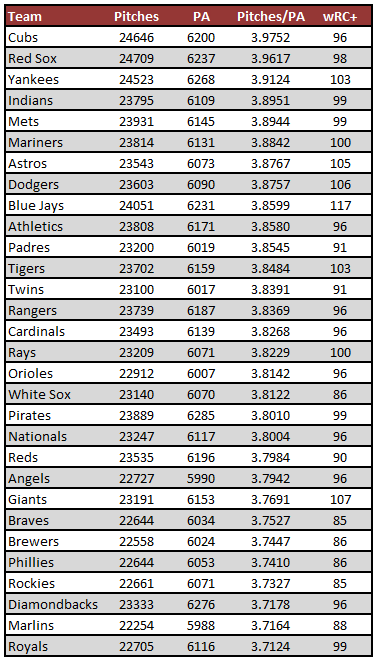 Oh, hey there, the D-backs were third to last in pitches per plate appearance last season. They were second in total plate appearances, behind only the Pirates, but were in the middle of the pack in total pitches seen. They were also in the middle of the pack in offensive production when you filter out the effects of Chase Field. Clearly there's room for growth as a team, but that growth is going to have to come from some very specific players. Only Paul Goldschmidt (4.20) and Jake Lamb (3.97) were above league average (3.80) in pitches per plate appearance. Welington Castillo was exactly average. The rest fell below: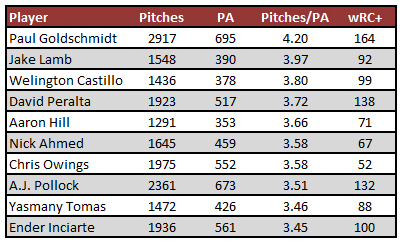 Again, the cutoff here was 250 plate appearances, so we're leaving out plenty of guys who just didn't have enough chances to paint a clear picture. But with Nick Ahmed and Chris Owings making up 25% of your non-pitcher batting order, that's going to take it's toll. You might make an exception for a guy like Ender Inciarte as he's found a way to barrel up baseballs all over the place. His hit tool simply exceeds those of Ahmed and Owings. Yasmany Tomas swung at absolutely everything in his debut and that'll have to change in his sophomore season if he's going to play any kind of prominent role.
I'm leaving A.J. Pollock alone now. I think he might just warrant his own piece…
But back to the topic at hand, can these guys make changes? Owings and Tomas are aggressive hitters. Ahmed is, kind of, but he was also just trying anything to survive. Some extra pitches seen might just give these players more opportunities to swing at pitches they can drive and/or take a free base more often, helping keep the line moving and giving the offense a chance to produce. The data suggests that this is worth trying and we'll have to wait and see if a bit of increase plate discipline emerges as these players age and gain more experience in the batter's box. Arizona can't rely on Chase Field's hitter-friendly environment to do all of the offense-boosting. They might be able to find some increased production internally by improving plate discipline next season. It's a tricky maneuver, but it's one worth trying.