Hellickson Trade Signals Right Kind of Experimentation, New Kind of Offseason
Some change is normal when a new GM is named, but last offseason, the recalibration that GM Dave Stewart and CBO Tony La Russa undertook was anything but normal. Retooling is the kind of thing you see when a team just missed, and expiring club control would make some turnover inevitable; when the D-backs entered the 2014-2015 offseason, they did so in last place. Rebuilding is normal, but the D-backs did something a lot different.
With Paul Goldschmidt quite possibly a once-in-a-franchise talent in his prime and A.J. Pollock and others poised to help — all with a few years of club control, but not five or six — the D-backs couldn't do normal. They wanted to fit the changes to Goldy, and not Goldy to the changes (which would have meant a hit king's ransom in trade). The approach they took looked reasonable then, and makes even more sense in hindsight — and yet it was difficult to figure out what they were doing at the time, since they weren't really following anyone else's model.
With an almost-but-maybe-not-quite crew of position players in the majors or poised to join the majors, there wasn't much that would have fit on that end. There, they needed to add without subtracting — and that's exactly what they did in signing Yasmany Tomas. It may not have worked out to be the best case scenario with Tomas, but they did add a big league player. The defense may need to be hidden and the offense (88 wRC+) wasn't necessarily propping up the team, but Tomas did show a penchant for a higher than normal percentage of very hard hits, and seemed to have been aiming the ball successfully some of the rest of the time. At 24 years old, Tomas was a player that could be added to an in-progress win cycle, and there's no reason to think he won't improve in 2016 and/or 2017, frequently referred to here as The Contention Window. And considering that David Peralta wasn't written into the plan with ink at that point (hence the much-repeated search for a lefty slugger), the team is on track with position players.
The pitching, however, wasn't one move away; it was nearly all moves away. That Patrick Corbin wasn't expected to carry the load all year was one reason why 2015 was a learning year; that also left some space open. Trevor Cahill was jettisoned just before the start of the year because Archie Bradley looked ready for an extended tryout, and Cahill wasn't in the plan. But before that happened, the team focused on quantity and tools, trading Wade Miley for two wilder cards in Rubby De La Rosa and Allen Webster. What little position player overlap the team did have was cashed in for Robbie Ray. Yoan Lopez was signed, despite the cost. And the team entered camp with something like 15 rotation candidates.
In that context, the trade for Jeremy Hellickson made tons of sense. Like the RDLR/Webster/Ray trio, he was a pitcher that most contenders probably were not inclined to count on in 2015; with just two years remaining of club control, he also didn't make much sense for teams not aiming for an imminent Contention Window. Like the others, one year's worth of pitching was likely to be enough for the D-backs to know whether he fit in their Contention Window — and with an influx of cash on the not-too-distant horizon, the team may have banked on being able to extend Hellickson if he showed in 2015 that he was a fit for the desert and was likely to contribute above-average performance in 2016.
In other ways, Hellickson wasn't a perfect fit, especially as the D-backs rolled into 2015 with a dogged commitment to ground balls. As a pitcher who leaned fly ball, changing Hellickson moved him more or less right in the middle of batted ball profiles, which isn't a great place to be as a contact pitcher (if it means swings and misses, it can be a different story).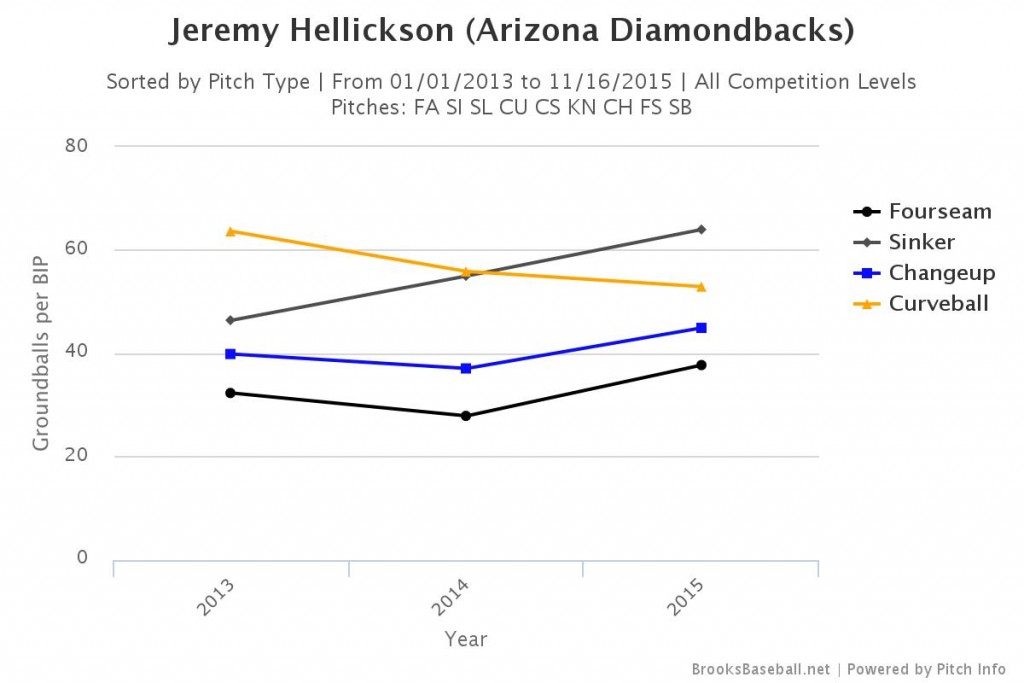 Hellickson stayed down in the zone even more in 2015 than he had previously; his rate of ground balls on balls in play ticked up a healthy amount as a result, even on his four-seam fastball. If you think of high ground ball rates as being very high 40s and above (for a starting pitcher), Hellickson's sinker looks like a real asset, even though he actually threw it less in 2015 than he had in preceding seasons. The change and four-seam, though, were balanced right around line drives; Hellickson didn't get the benefit of easy out ground balls very regularly, but didn't get the benefit of easy out fly balls as regularly as he had in the past, either.
It's not as simple as this, but Hellickson's pop up rate is telling. IFFB% is reported as the percentage of fly balls that are popups; combine that with his fly ball percentage, and you get the rate of popups on all balls in play. Courtesy of ESPN Stats & Info, here are Hellickson's rate of balls hit especially softly, as well — something for which Hellickson used to excel. Hellickson wasn't hit especially hard especially often in 2015 — that actually ticked a bit down in 2015, which is good — but Hellickson just wasn't getting those easy outs in the manner that once helped him be very successful.

While Hellickson was an especially good fit for 2015 in terms of his likely readiness and price, he wasn't the perfect candidate, maybe, for Arizona or for a new grounder-leaning approach. But that's no longer the point. Then, Hellickson was one of a crew of rotation candidates because he wasn't a very good bet to be above average with the team. He was a lottery ticket, and the D-backs paid a fair price for that; he just didn't pay out.
Had the D-backs not found a trade for Hellickson, he was probably a non-tender candidate, as Jeff and I had planned to Plan. But although Hellickson may only have made sense for the D-backs a year ago due to their unusual posture, the field was a little wider this time around — the Phillies were one of a handful of teams with no 2016 aspirations and rotation spots to fill. Getting the chance to go one single year with any healthy, human MLB pitcher is still worth something, and from the Phillies, Arizona got a live-armed pitcher who could be very far away in Sam McWilliams, an enormous man with the velocity almost to match.
McWilliams is a little more than velocity and iffy control; he's a Diamondbacks Guy. Like Zack Godley before him, McWilliams has shown a talent for ground ball outs, overwhelmingly so: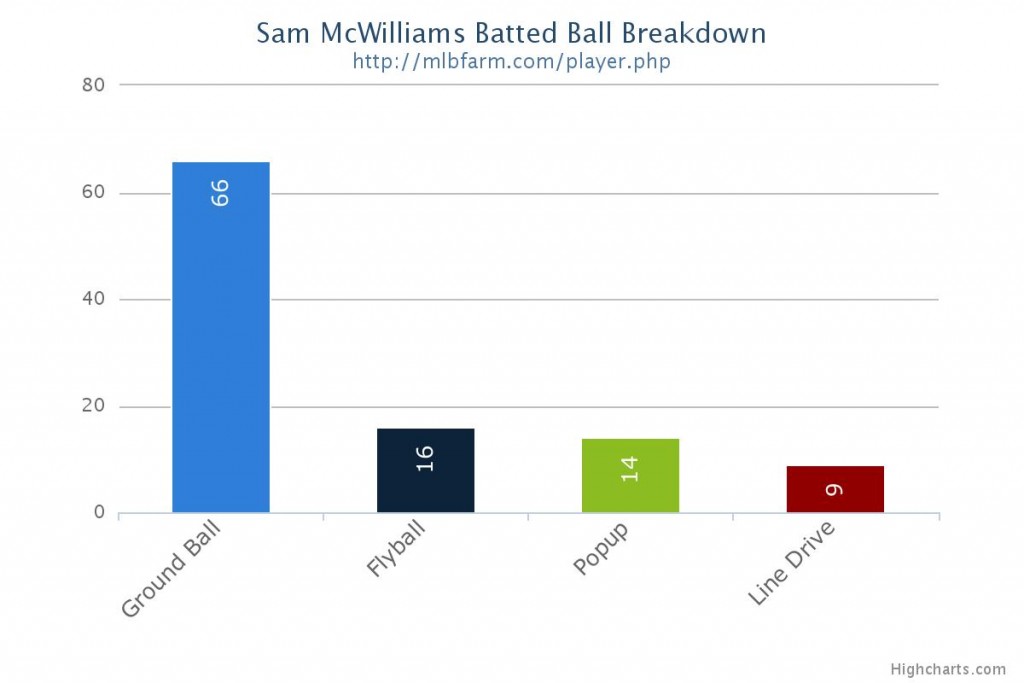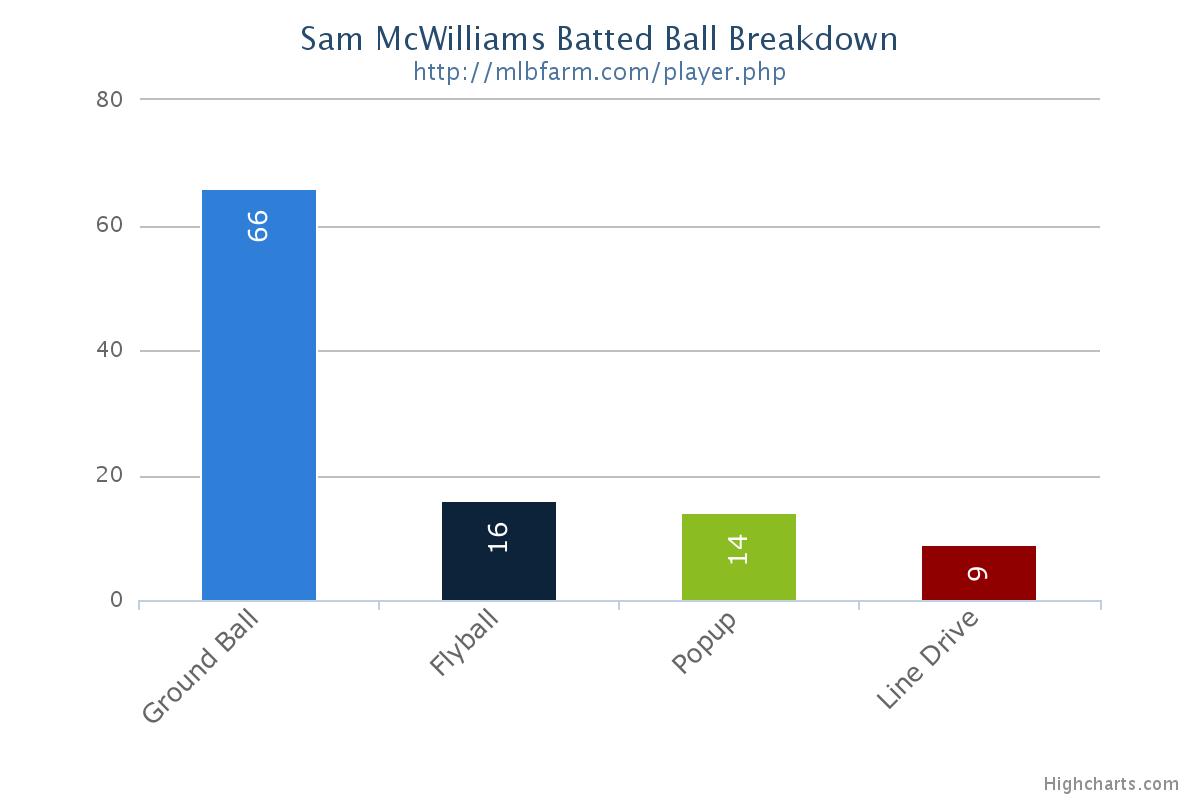 Just like Zack Godley, it may be that we see McWilliams follow a non-traditional path through the minors. Yes, he was in Rookie ball, where he repeated in 2015 — but as ridiculous as this sounds, it's not outside the realm of possibility that he is on the radar as a bullpen possibility as soon as 2017. There's a plan in the organization, and McWilliams fits it.
The real point, though, is what the new Hellickson trade says about where the D-backs are headed. They aren't focused on squeezing everything they can out of every asset; nor should they. There was a time to add Hellickson, and that time was when Hellickson was added. Now is a time for surer bets and higher aims, and with Hellickson unlikely to aim high in the zone in 2016 or to add much in the way of above-average performance, now was the time to move on from Hellickson.
Be optimistic. Last offseason's experiments didn't yield a whole lot in 2015, but they did yield something, and it's clear in the wake of the most recent Hellickson trade that the moves last year weren't made for reasons that are equally valid now. It's time for a brand new plan; Operation Readiness is over. Operation Contention Window is upon us.