The Inside the 'Zona 2015-2016 Offseason Plan
The Contention Window is upon us. Over the past fourteen months, the team has gambled again and again on contention in 2016 and 2017, going all in on college players in the 2015 draft (especially relievers) and mortgaging the very distant future in signing Yoan Lopez this spring and the less distant future in trading Touki Toussaint to free up cash this last summer. The team committed to a series of it-just-might-work roster decisions last offseason, trading Wade Miley to bring in wild cards in Rubby De La Rosa and Allen Webster. The D-backs learned a ton from the 2015 season; the front office now knows that RDLR will not be a rotation fixture, David Peralta can be a force as a full-time player, Andrew Chafin can be an above-average setup man, Nick Ahmed's defense loses nothing in major league translation, Jeremy Hellickson is not an answer, Ender Inciarte is more than a fourth outfielder, Patrick Corbin can recover something of his 2013 dominance, and Robbie Ray can carry the banner as a mid-rotation starter. The team defense is superb, and while the offense can still be improved, the current crew can more than hold its own at the plate.
The D-backs enter the 2015-2016 offseason with short-term money to spend and a pitching staff in dire need of upgrades. They possess a number of promising bullpen arms, but suffer from mediocrity through great depth. With Jeremy Hellickson traded, the Opening Day payroll sits just under or over $60M, depending on the number of major league minimum salaries that includes; regardless of whether the payroll ends up near $90M or back close to $120M, there is at least some money to spend, through a dogged series of cost-cutting moves.
What follows is the result of a ton of research; we've sized up each MLB organization to the extent we can, and selected what we believe to be a set of top options for what should be a very busy offseason. In the past, our roster tweaks have been modest. But now is not the time for modest moves; the ante for getting to this point was high, and is even higher due to the qualifying offer system. Over the coming weeks, we may discuss some of the other moves we considered that hit the editing room floor. Now, we present our most aggressive Offseason Plan as a Plan A for the offseason (just be glad it's not this aggressive).
Trade Jeremy Hellickson to the Phillies for RHP Sam McWilliams
Trade Yasmany Tomas, Braden Shipley, Brandon Drury, Isan Diaz and Adam Miller to the Athletics for RHP Sonny Gray
Trade Peter O'Brien, Sergio Alcantara and Matt Reynolds to the Brewers for LHP Will Smith
Trade Randall Delgado, Chase Anderson and Jose Martinez to the Marlins for RHP A.J. Ramos
Put up $20M posting fee for RHP Kenta Maeda and offer a 4-year, $64M contract
Offer LHP Scott Kazmir a 2-year, $32M contract with a $16M option and $2M buyout for 2018
Offer RHP Brad Ziegler a 2-year, $12.5M contract extension with a $7M option and $1M buyout for 2019
Offer CF A.J. Pollock a 2-year, $11M extension
Hold Welington Castillo to $3.6M in arbitration
Hold Rubby De La Rosa to $3M in arbitration
Hold Patrick Corbin to $2.5M in arbitration
Trades
Like every other team in baseball, the D-backs would love to add a top-of-the-rotation starter or three. Like nearly every other team, they'd love to do so by trading from areas of depth in a quantity-for-quality trade. Every GM would love to follow that template, whether from a team office or a parent's basement. The problem: we have to push those buttons anyway. The team needs pitching, but has tremendous depth in bullpen candidates and an unusual number of fringy rotation candidates.
Despite all of the roster changes of the last few years, this team remains as it has been for the last few years: particularly difficult to upgrade. All we can reliably do is add better quality to the pitching staff, which was the team's 2014 and 2015 Achilles heel, and which is the most fungible part of the roster anyway. But "add quality" does not mean "add more MLB-quality pitchers"; one cannot improve this team's 2016 prospects through additions like Mike Leake. And considering the number of bullpen candidates, the volatility of relief pitching and the promise of the relievers that may get bumped from the 25-man in the event of relief additions, any reliever added may need to be a very top option in order to represent a real upgrade.
After our review of each organization, we ended up with 26 starting pitcher trade targets to dig in on as potentially moveable potential upgrades and nearly as many especially attractive relief targets. And in the end, any one of these suggested trades could be killed in seconds with one phone call, and we'd be right back in the cauldron. Still, these trades would make a ton of sense for the organization, and some of them could survive tweaks depending on changed or unknown needs or as the result of negotiation.
Jeremy Hellickson to the Phillies for RHP Sam McWilliams
Okay, so this isn't exactly how we had it drawn up, but this is exactly what we had in mind. Hellickson was a non-tender candidate after throwing 146 replacement level innings last season. For a team looking to contend and save money for more impactful pitching, Hellickson's projected arbitration salary of $6.6 million was ripe for the picking. 2016 was his final year of team control and removing him from the roster clears money and a valuable rotation spot.
The Hellickson trade set the tone for the offseason: rotation space must be cleared, and the time of experiment is at an end, and the front office is willing to make aggressive decisions based on the findings of those 2015 experiments. Sam McWilliams is little more than an afterthought, and yet he, too, provides a window into the D-backs' thinking. Despite mixed results in 2015, the team will double down on a ground ball approach — and there's every reason to suspect that they will have more success by building a roster around that strategy.
Yasmany Tomas, Braden Shipley, Brandon Drury, Isan Diaz and Adam Miller to the Athletics for RHP Sonny Gray
There's no denying that Sonny Gray is one of the very best starting pitchers in baseball and there's no denying that this is the kind of pitcher the Diamondbacks covet. He doesn't hit arbitration until 2017 and has four years of team control remaining. He's not a strikeout monster, but he limits the walks and induces a ton of ground balls which should fit Arizona perfectly. The issue is that he's not going to come cheap. Oakland doesn't have to trade him, although it's been known for some time that they're open to the idea. Yasmany Tomas gives them a young position player to groom and might allow them to trade Josh Reddick, saving the team cash while developing another asset. Braden Shipley offers them the opportunity to find a guy who might turn out to be similar to Gray in a year or two, Brandon Drury can slide in at second or third base given that Danny Valencia and Brett Lawrie aren't lighting the world on fire and are more expensive. Isan Diaz gives their system a bat-first middle infield similar to Franklin Barreto, the player they received in the Josh Donaldson trade. Adam Miller can slot into their bullpen in the near future as a power arm that needs a little refinement.
The hang up here could be Tomas' trade value, something that is a little murky. He showed the need for improved plate discipline last season, but the power is undeniable. For a team that has been comfortable with true outcome players in the past, Tomas' strikeouts may not be such a concern. He's cheap in the near future and if he turns a corner, Billy Beane may be able to flip him for more in a season or two. The rest of the trade package takes three players out of the Diamondbacks' Top 10 prospects but leaves them with Aaron Blair, Dansby Swanson, Alex Young and others who should be able to keep the system afloat. Should Oakland want more, the D-backs could look to sweeten the prospect package while still holding on to David Peralta, something that's in the team's best interest. It's not inconceivable that Archie Bradley could fit into this deal somehow, but his stock has dropped and it would come down to Oakland's evaluation of him to determine if he gets included. For now, there's a cheap MLB player heading to Oakland, two near MLB-ready guys, a promising prospect at the lower levels and a useful bullpen arm for the near future. It also allows Oakland to trade a couple of their other players, giving them a chance to continue to rebuild.
Meanwhile, Arizona gets their top of the rotation arm who won't break the bank or cost them their top draft pick, something they should hold onto if they want to turn around quickly when The Contention Window passes. And Gray will be in his third arbitration year when that window likely closes, meaning that he'll have a year of team control left and could allow Arizona to trade him before he hits the open market. This would also help them in the rebuilding process once other players have become too expensive and/or have passed their primes. Should things look more promising or payroll be allowed to expand, Arizona could also hold onto Gray and extend him. Either way, they'll have options here and can use Gray, the asset, the way they see fit without being locked into something that prohibits other moves. The price is steep, but he's the right pitcher at the right price with team control that the Diamondbacks need, both in the immediate future and a few years down the road.
Peter O'Brien, Sergio Alcantara and Matt Reynolds to the Brewers  for LHP Will Smith
Will Smith may not be a household name, but he has been the 10th-most valuable reliever over the past two seasons with Milwaukee. The Brewers are in full-scale rebuild mode and are looking to take a long approach to improving their club. They have made it known that first baseman Adam Lind is available via trade in his last year of team control and he should be a valuable commodity for an acquiring team. The hole he leaves could be filled immediately by O'Brien who, despite many experiments, doesn't have another defensive position that suits him as well as first base does. He has six years of team control left and gives the Brewers right-handed power on the cheap. Alcantara struggled this season but was originally signed under Ray Montgomery's leadership back in 2013. Montgomery now is the Vice President of Scouting with Milwaukee and could be intrigued by getting one of his guys back on board. His glove at shortstop is something to behold and his defensive alone probably allows him to reach the majors as a utility man even if the bat never takes off. This gives the Brewers a plug-in guy now that saves them cash and allows them to trade Lind while also providing them a long-term asset develop. Matt Reynolds can fill the hole in the Brewers' bullpen vacated by Smith immediately for $675,000, a price that should fit the Milwaukee's budget easily.
The Diamondbacks, on the other hand, receive a dominant reliever capable of notching both high strikeout totals and a fair amount of ground balls. Smith has been a workhorse in Milwaukee notching 150 appearances over the last two seasons. With power stuff from the left side, he can get out both righties and lefties but has benefited from facing more lefties in the recent past. He would project as the best reliever in the Diamondbacks' bullpen upon landing in Arizona and could be used in a number of capacities. In all likelihood, he sets up Brad Ziegler but can fill the closer's role in a pinch if needed. He gives the Diamondbacks another left-handed option, helping reduce the workload on Andrew Chafin somewhat, without being limited to just lefty-on-lefty matchups. He'll turn 27 next season and has two years of team control remaining, which should keep him in Sedona Red through 2017. Trading a 25-30 home run talent, a potentially gold glove shortstop and perhaps useful lefty for a reliever might sound steep, but O'Brien doesn't have a home in the D-backs' lineup, Alcantara is far enough away that he won't help them during this critical time and Reynolds isn't of the quality needed at present.
Trade Randall Delgado, Chase Anderson and Jose Martinez to the Marlins for RHP A.J. Ramos
If you like the Will Smith trade, you'll love this one, which makes more sense and is a lot more likely as a January trade than as a December trade. Even if the D-backs do not succeed in adding Sonny Gray, Scott Kazmir, Kenta Maeda or any other pitcher of similar quality, Randall Delgado is redundant on this roster. He's tantalized scouts for what seems like a lifetime, due to a pitch mix that offers two, three or four pitches that grade at league average or better. And he's actually been pretty damned good with Arizona, considering that it is Arizona. Pop one of us into one of a handful of MLB front offices, and Delgado is likely to come up as a trade target. We've seen a steady stream of pitchers improve after leaving the D-backs in the last few years (Ian Kennedy, Brandon McCarthy, arguably Wade Miley). Combine that with a sneaking suspicion that Delgado should have had more success to date, and you've got yourself an experiment worth running in 2016 at a very cheap salary with three years of club control — only, as a team, you'd need to be close enough to contention to capitalize on one of the latter two years while far away enough to be able to run that experiment in 2016.
Of a small handful of clubs that might fit that description, Miami and spacious Marlins Park might fit Delgado best. There, Delgado could finally abandon the sinker that has resulted in such abuse, and pitch the way he did in similarly-sized and altituded (let's pretend that's a word) Atlanta. Few teams are in need of #4 starter types as much as Miami, and if the D-backs add starters this winter via free agency and trade, the depth in starting pitchers that is already weirdly significant could become hilariously great. Like the Angels' trade of Mark Trumbo two years ago, a Marlins trade of the excellent A.J. Ramos could staple on the bottom 40% of a rotation all in one go.
Like Delgado, Chase Anderson has been an especially poor fit for the D-backs' ground ball plan. Leaning toward the fly ball end of the batted ball profile spectrum in 2014, the move to more sinkers only served to move Anderson into an average batted ball profile (not great), lessening the effectiveness of his changeup (bad) while not having the intended homer-limiting effect (also bad). Anderson is a major league pitcher, but possibly only a second-division starter. He remains a fairly significant asset, with five more years of club control.
Trading Delgado and Anderson for Ramos is not throwing them away, either. The Reds' asking price for one expensive year of Aroldis Chapman is very difficult to understand, and the package the Padres got from the Red Sox for two expensive years of Craig Kimbrel is also eye-opening. Ramos was one of the majors' best relievers in 2015, and his performance was of a kind that seems fairly likely to get sustained. Add in that Ramos is controlled for three more seasons and that he'll be fairly cheap within the Contention Window (he only started racking up those saves recently, after all), and Ramos is an expensive get. We think Delgado and Anderson may not be enough to dislodge him; and while Jose Martinez is no longer the high-risk, high-ceiling starting pitching prospect he once was, he's still a high-risk, high-ceiling relief pitching prospect.
Free Agent Offers
Offer RHP Kenta Maeda a 4-year, $64 million contract
The Diamondbacks have to pay the Hiroshima Carp the $20 million posting fee for the right to sign Maeda, but with the saving found by trading Bronson Arroyo, Mark Trumbo, Addison Reed and Oliver Perez throughout the season, they saved about $16 million to apply towards that posting fee. An annual salary of $16 million for Maeda isn't cheap, but considering what other lesser pitchers are getting on the market (such as Marco Estrada getting $13 million AAV from the Blue Jays), this is essentially the going rate for upgrading a rotation. The four-year deal keeps the Diamondbacks from getting locked into something long-term, and if the team should fall out of contention after the 2018 season, when the contention window might start to close, Maeda will presumably have some trade value. Arizona will hope that he's a 3-win pitcher and that should make him a valuable mid-rotation starter who is a 1.5-2-win upgrade over the existing options. With every win at a premium for a team on the cusp, this feels about right.
Offer LHP Scott Kazmir a 2-year, $32M contract with a $16M option and $2M buyout for 2018
Even without any big additions this winter, the D-backs are unlikely to have anywhere near as much payroll space in 2018 as they do for 2016. That puts them in the uncomfortable position of wanting to spend on significant SP upgrades — without wanting the long-term commitments that top free agent pitchers get almost as a rule. Kazmir offers an unusual opportunity to land a better than average starting pitcher (maybe even a #2?) through free agency just for the Contention Window. With his stuff, Kazmir is kind of like the best possible outcome for Robbie Ray. He's good, he's affordable, and he is so good a fit for this team at this time that, depending on how other options pan out, we would strongly consider an AAV even higher than $16M.
One of the only things stranger in modern baseball memory than Kazmir's re-emergence in Cleveland in 2013 was the ever-increasing disappearance of his stuff in 2009, 2010 and 2011. Just as Kazmir was in the forefront of collective baseball consciousness due to the much-maligned Victor Zambrano trade that sent Kazmir to Tampa Bay, Kazmir's fall will always be part of his story. He'll battle that shadow of his former self this offseason, and so despite being just 31 years old (seems impossible, doesn't it?), we think Kazmir may be gettable on a two-year deal. At three years, we would no longer pursue Kazmir with a blank checkbook. If 2009-2011 taught us anything, it's that Kazmir is not a very effective pitcher with diminished velocity. And since he's not exactly confusing laser guns right now, a long term commitment to Kazmir is truly terrifying.
Extension Offers
Offer RHP Brad Ziegler a 2-year, $12.5M extension with a $7M option and $1M buyout for 2018
Brad Ziegler is a good pitcher, but for a team like the Diamondbacks who play at a place like Chase Field, he has additional value. He can serve as a productive closer or an effective set up man. Ziegler has no problem pitching either role as his ground balls play no matter where you put him. With many closers going for closer to $10 million per season, getting him for $6.5 million a year is a relative bargain. In this case, the deal pays him $6 million in 2016 and $6.5 million in 2017 with a $7 million club option for 2018 (with a $1 million buyout), putting Arizona on the hook for $13.5 million total. This keeps the D-backs from having to empty the farm for a single season of Aroldis Chapman and allows them to keep their chips for other deals.
Offer CF A.J. Pollock a 2-year, $11M extension
Rumors have swirled about an extension for a few months now, although there hasn't been any recent news to speak of. We proposed an extension in last year's plan, a time when Pollock may have been had for well-below market value (5 years, $34 million). At this juncture, things have changed significantly in Pollock's favor: he's coming off of a monster campaign, has entered his prime, and doesn't appear to be slowing down. He has all of the leverage in the situation now that he's healthy and has another excellent year on his resume. There's no longer a window to save big on Pollock, that time has passed. For now, the money spent through arbitration is a bargain. Whether Pollock remains affordable through 2018 is a serious question; as arguably one of the three most valuable outfielders in baseball, an arbitration award of $6M or more is not outside the realm of possibility, even in Pollock's first year of eligibility. If you think deleting Hellickson's projected salary was enough to change the team's offseason outlook, consider 2018, when Pollock might be in line for $12M in arbitration — or $20M.
The extent to which the D-backs can estimate their 2017 payroll may be very important in weighing offers this winter, and extending Pollock for two of his three arbitration seasons seems like it offers nothing but upside, marginal as it may be. For Pollock, there's every reason to guarantee his first fortune, and eliminating some of the variability that would otherwise be decided this particular winter also should have some appeal. For the club, they get cost certainty for 2017 — and they eliminate the nightmare scenario in which Pollock's 2017 arbitration salary is high enough that he becomes very difficult to afford for his last arb season in 2018. The club can almost definitely afford to "front load" these two years, making it so that Pollock's second arb salary is lower than it should be (at the expense of a higher-than-expected first year salary). And because money today has more value than money tomorrow, it seems unlikely that Pollock would object to a scale of $4.75M in 2016 and $6.25M in 2017. There's something to gain here, as previous year's salary is one of the considered factors in arbitration, and this outcome might effectively limit Pollock's 2017 salary. There also appears to be very little risk. Even in the face of a very significant injury in 2016, the D-backs probably would have tendered Pollock a contract for 2017 anyway.
Arbitration
The Contention Window almost definitely includes both 2016 and 2017. Whether it extends to 2018, however, depends largely on how the team conducts its arbitration affairs in the next two offseasons — especially this offseason. The stage, however, is littered with props that make that especially difficult. The way the team went about its business last winter with Addison Reed and Mark Trumbo didn't undermine the long-term viability of the franchise and didn't concern large sums of money, and yet it could be fairly said that, realistically, neither arbitration case could have gone worse for the club. It's for that reason that we strongly urge a file-and-trial approach to arbitration for this winter and beyond, wiping the slate clean and causing agents to approach this process much differently. And while there are several arbitration players this winter who are important parts of the team, the first-year cases of A.J. Pollock and Patrick Corbin alone make arbitration this winter a very important focus for the team. This should be a fascinating process this winter; Daniel Hudson's arb situation may be unprecedented, although he is not included here because how the team handles his arbitration case this winter just isn't that important. There's just no one formula to follow for any two of the D-backs six remaining arbitration cases — the file-and-trial strategy is less about a winning strategy and more about setting favorable rules.
Hold Welington Castillo to $3.6M
Castillo fills a big need for the Diamondbacks as things in the catching department for Arizona were horrendously bad before he arrived from Seattle. The situation hasn't improved around Castillo either – Tuffy Gosewisch is barely a MLB backup, Jarrod Saltalamacchia won't be back (thank goodness), new 40-man resident Chris Herrmann has fringy defensive skills and a fringy bat, and Oscar Hernandez is probably two years away from being ready to contribute in a meaningful way. That leaves Castillo as the only viable starting option, and as we saw in 2015, he can certainly push the boundaries of what "viable" means with some strong performances.
There's little reason to get very aggressive or creative in Castillo's arbitration case; we have a fair idea that he'll make between $3M and $4M in arbitration this winter. If the team is very motivated to make sure that Castillo is in the fold for 2018, we might see an extension offer this winter — something that guarantees Castillo his 2016 and 2017 salaries in exchange for an option year and buyout for 2018 ($4M and $6.25M salaries, with a $10M option and $1M buyout?). In our view, however, Castillo may still be the catcher of necessity more than the catcher of long-term strategy. A catcher with better framing skill is ideal, and by not guaranteeing Castillo a contract, the D-backs can stay flexible.
Hold Rubby De La Rosa to $3M
Let's talk this one out because it's not nearly as cut and dried as the two previous decisions. Rubby De La Rosa was bad last year. And he was kinda bad in the years leading up to last year. There's some things to like about him – he throws hard and breaking pitches that can be effective – but those things just haven't fully manifested themselves when he's taken the mound. As a starter, Rubby got absolutely crushed by left-handed hitters to the point where you basically just give up the notion that he'll ever be able to manage them. And as you know, this team needs far better starting pitching than what De La Rosa can offer, which is why, in this scenario, we're moving him to the bullpen. Velocity should tick up and he can be aimed away from tough lefties.
The D-backs had every reason to try him out in the rotation in 2015, but that experiment comes with a cost: steep arbitration salaries for what may amount to an average-ish reliever contribution. In a sense, then, the D-backs are with RDLR where they were with Addison Reed a year ago: without an aggressive stance in arbitration, RDLR may be a non-tender candidate as soon as one year from now. If the team keeps him to $3M, however — a difficult but realistic goal for an arbitration hearing — something in the order of $5M could be affordable for a decent relief option in 2017.
Hold Patrick Corbin under $2.5M
Look, you could make an argument that Corbin is a guy the Diamondbacks should extend right now. A half a season of solid performance showed that he's good to go off of Tommy John surgery and back to being the Patty C. we all know and love. But the risk factor is also high as Corbin went right back to throwing a ton of sliders and the best predictor of future injury remains past injury. Add that to the fact that this team's payroll situation in the next 2-3 years might start to price them out of some guys and it starts to look safer and safer to just take this one year at a time for now. The idea of an extension would be to buy out a free agent year or two, but by then, this team will be out of The Contention Window and Corbin will be 30 with another 500-600 innings on his arm. Now's just not the time to do it.
The D-backs just happen to have little to gain by extending Corbin right now, as they'd be taking on risk and getting very little in benefit. At the risk of sounding morbid, Corbin's extended absence did come at a decent time — Corbin's totals in terms of counting stats will not be overwhelming to an arbitration panel, and Corbin's first arb year salary could be less than half of what it may have been if he had kept up his 2013 performance levels. Now that Corbin is looking at a depressed first year salary, he's looking at depressed arbitration salaries in years two and three, as well. Unless Corbin approaches them with a creative deal, the D-backs would do well to take advantage of the arbitration process with Corbin.
Roster Alignment
Pitching Staff
It's not very likely that the D-backs haul in all three of Sonny Gray, Scott Kazmir and Kenta Maeda this winter — but landing two of the three is far from impossible, and there's a very good chance the team can snag one of them. Any way you slice it, though, Patrick Corbin and Robbie Ray are all but guaranteed spots when the season opens. With no changes to the roster, it may be Archie Bradley, Chase Anderson and Aaron Blair next out of the gate; we think it's time to pull the plug on RDLR as a platoon-vulnerable starting pitcher. If the D-backs added just one above-average pitcher this winter, Bradley, Anderson, Blair and others would enter the spring in a competition to fill the last two spots in the rotation.

With Josh Collmenter now firmly installed as the bullpen's long reliever, Randall Delgado may currently be the team's top swingman option; after him (and we do think there's a good chance of a trade), Zack Godley stands ready to step into that role.
Our bullpen, however, is embarrassingly good. With no additions, the quintet of Brad Ziegler, Andrew Chafin, Daniel Hudson, Silvino Bracho, and Collmenter is truly excellent; the out-of-options RDLR could also prove to be a force as a righty matchups man, especially if short relief gives him a tick of velocity. Matt Reynolds would most likely take the seventh spot, with Delgado or Godley serving as the bullpen's eighth man if the team goes with a thirteen-man pitching staff (likely).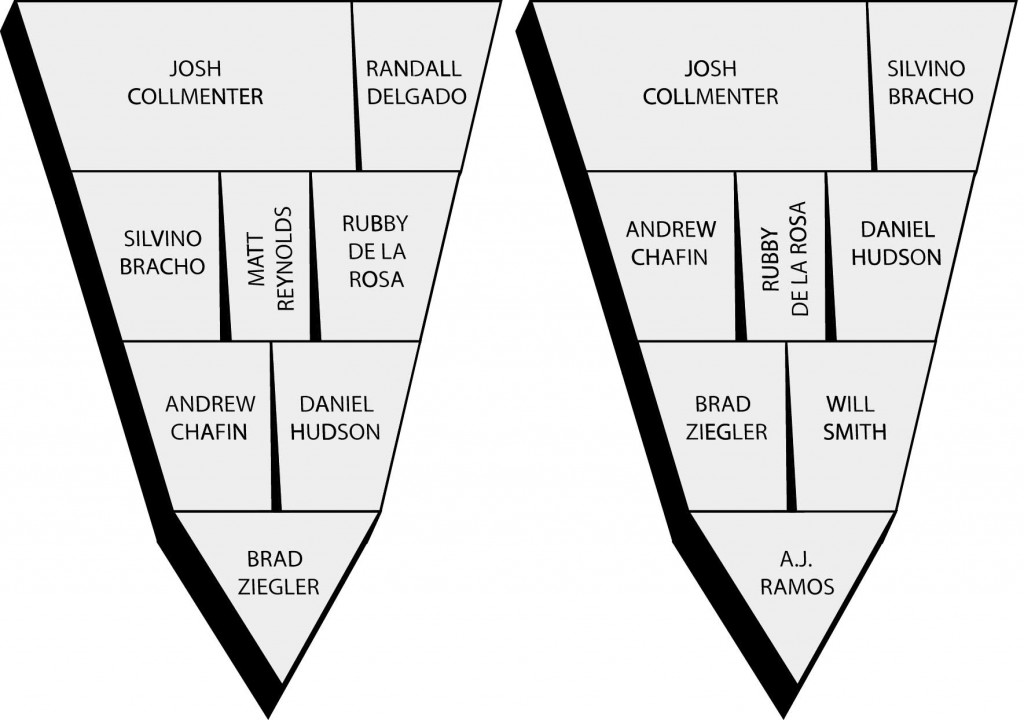 Upgraded, the bullpen goes from great to difficult to believe. The addition of Will Smith means that the team can throw a lefty of Chafin quality or better almost every game. The addition of A.J. Ramos pushes Ziegler into a situational role or a setup slot, where the submariner still profiles as one of the best and most valuable relievers in baseball. And although that bounces one or two option-able pitchers out of the major league pen, having pitchers like Enrique Burgos, Evan Marshall, Jake Barrett and a number of others available gives the relief crew its own excellent relief crew.
Those three pitchers and Keith Hessler, Dominic Leone, Matt Stites, Daniel Gibson, and Adam Miller all have questions marks, and most are unlikely to open the minor league season with complete dominance. All, however, possess that capability — and like Marshall did in 2014, one or more of those pitchers will almost definitely be pitching very well once spots start to develop in the MLB bullpen.
Position Players
On the position player side, things are a bit more complicated. Our Plan subtracts Yasmany Tomas and Peter O'Brien from the outfield picture, and doesn't include acquisitions from outside of the organization for those or other spots. Just like in pitching, the organization is not hurting for fill-ins and part time players that can be better than true replacement level; adding a complementary piece like Cliff Pennington makes very little sense in the infield or the outfield when Jack Reinheimer can fill in for Phil Gosselin, especially if Chris Herrmann serves in a bench role with sparing playing time in the outfield and behind the dish.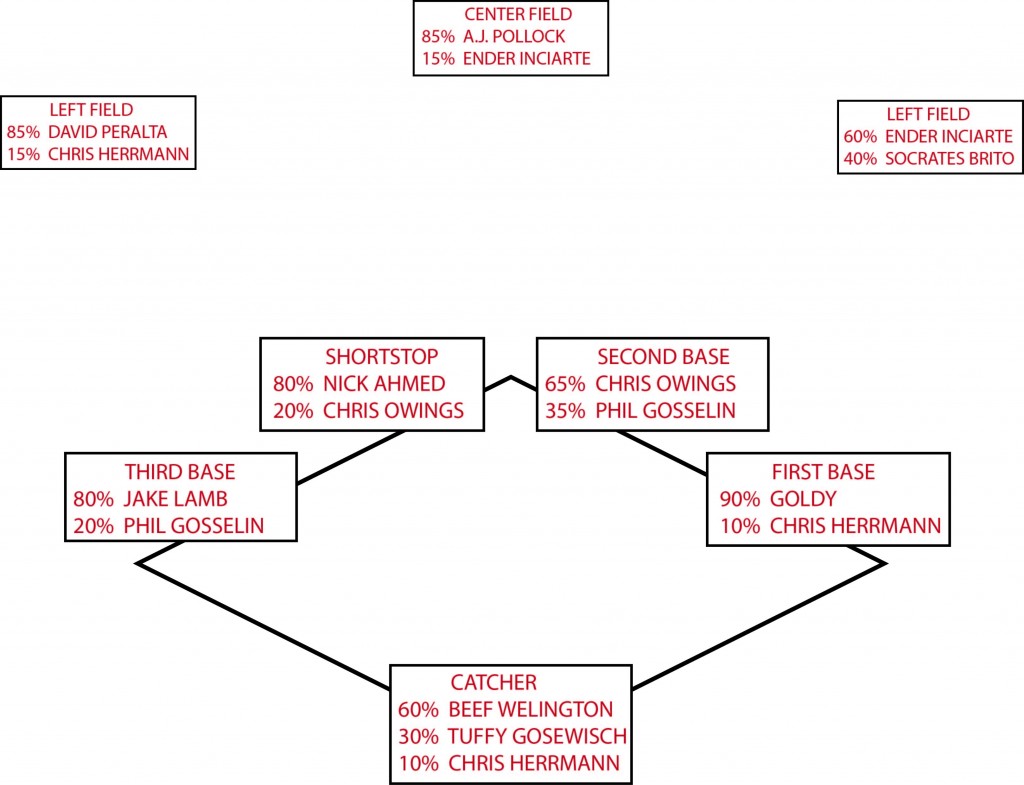 With pitching the priority, we think the team should stay committed to a largely defensive alignment, filling in most of Tomas's missed at bats with Ender Inciarte, and thrusting Socrates Brito into the role that might otherwise be adopted by Inciarte. Were Tomas to stay with Arizona, it is Brito would remain outside of the playing time picture. The key to the defense-first approach is Nick Ahmed, of course, although we do endorse playing time more similar to what he received toward the end of the season, starting nearly every game against a lefty starter and about half of the other games.
If the D-backs do more in 2016 than merely vie for a wild card spot, it may be because one or both of Jake Lamb and Brandon Drury has thrown himself a breakout party. And while the team has every reason to keep Aaron Hill in the fold through the end of spring training in case a need or trade destination develops, Hill ought not block any playing time that would otherwise go to either of those two players.
When the Dust Settles
This plan is aggressive, yet seeks to find a balance by providing the Diamondbacks what they need without breaking the bank on a single free agent or gutting the farm system to acquire one year of an elite closer. The team has major needs in the pitching department and if they can execute two of the three moves for a starter, they'll have addressed their biggest need effectively. In a best case scenario, this could add four or five wins alone. By acquiring two near-elite relievers without the elite reputation and price tag, the team could perhaps add another win and half. If you add six wins of talent, a more-full season of Patrick Corbin, more time from Jake Lamb and subtract the time given to Mark Trumbo and this is a legitimate contender for the postseason, even if it's not enough to take down the Dodgers in the NL West.
But building an immediately competitive team is only one selling point for this plan. Another takes long-term costs into account and considers what comes next when The Contention Window closes. The free agent offers are short enough in years that they won't bog the team down post-2018. If 2019 looks like a disaster, the team would have a valuable trade chip on their hands in Maeda. The same could be said if they were to acquire Gray. When it becomes clear that it's time to rebuild, these players could be moved to expedite that process. Along with the fact that this plan doesn't cost Arizona its 2016 first round draft pick, the team might just be able to avoid falling into a black hole once 2018 has passed and instead may be able to augment the remaining players with a ton of cheap, team-controlled talent, setting up this whole scenario again.
This Plan was a lot of work, took a lot of research and required us to take talent, finance, assets, the outlooks of other team and more into consideration.  We believe we struck a competitive, fiscal and asset-based balance here with a little bit of wiggle room to spare—and while we're proud of it, we're fully cognizant that this is just one set of possibilities. The principles behind it, however, should stay relevant all offseason—and in the coming weeks, we'll discuss some of the other possibilities we considered that fit these concepts.