Yesterday, the third and final installment of the Diamondbacks Top 30 Prospects was released. Dansby Swanson grabbed the top spot ahead of familiar names Aaron Blair and Braden Shipley. Fellow 2015 draftee Alex Young came in fourth and Brandon Drury rounded out the top five. Ranking Young ahead of Drury wasn't easy, but it came down to the value of a left-handed starter outweighing that of a second baseman. But the real story is how this system ranks throughout the game.
The top 30 broke down by position like this: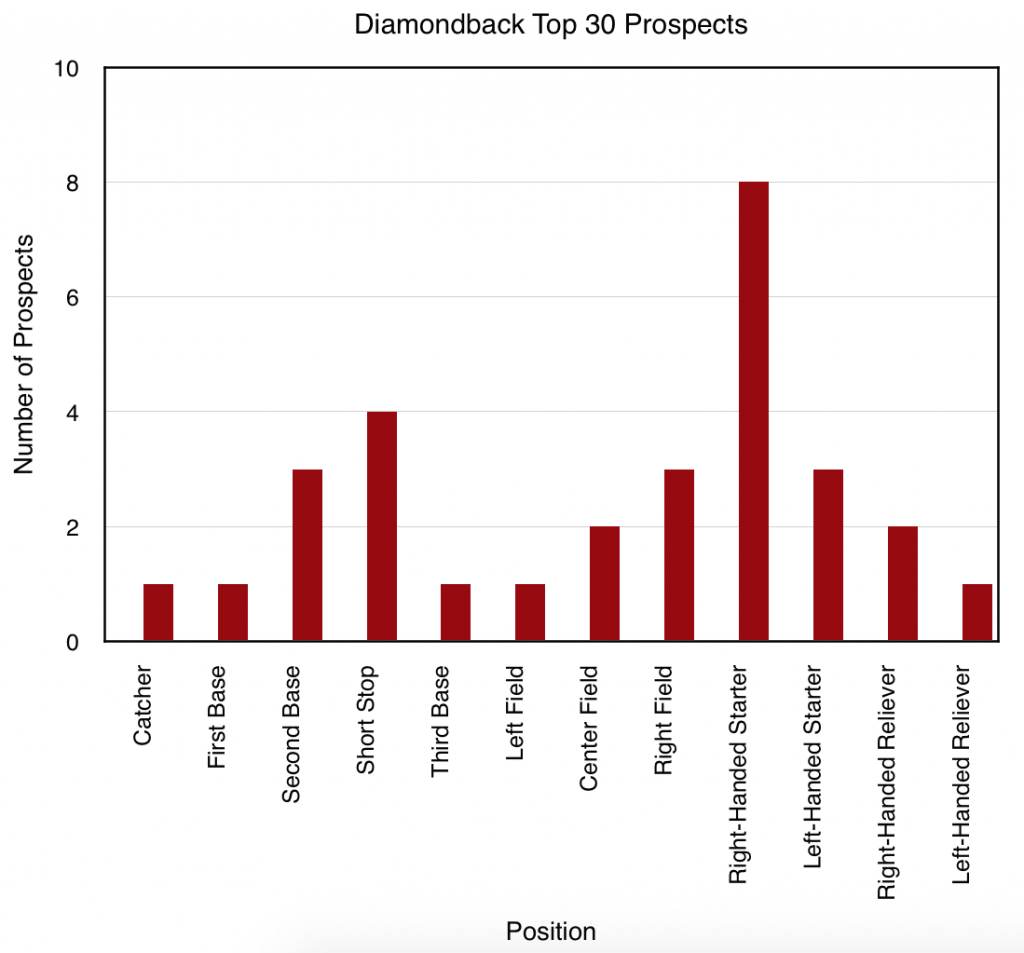 First, a couple of caveats. Domingo Leyba is counted as a shortstop, Isan Diaz is counted as a second baseman, Daniel Palka is counted as a left fielder, Zack Godley is listed as a starter, Dawel Lugo is counted as a third baseman and maybe that's it. But there will be other guys who change position down the line and that's just how it goes. You can see where the depth is: middle infield and right-handed starters. That's pretty common as teams are always trying to stay strong up the middle and you can never have enough pitching. So if you're looking for where the team can trade from depth you now have your answer(s).
But to get to the question above, I'd bet this system ranks somewhere in the neighborhood of #16-#22 in baseball when the system rankings start to roll out. That's largely due to a lack of impact talent. Among the top five prospects, only Shipley has real impact potential, and given his development, that's a long way off if it ever occurs. Swanson, Blair, Young and Drury are all more good than great. And there's value in "good," don't get me wrong, but it takes a lot of "good" to trump just a little bit of "great." And it's the lack of potential impact that'll drag the whole system down when the rankings get published.
And for as much as I like some of the guys on the list, it's important to keep the overall context in mind. When you look at top teams like the Twins, Rangers (even after trading for Cole Hamels) and Red Sox, this system starts to look pretty paltry. That's not meant to be negative, it's just realistic. By drafting safe in 2013 and 2015, trading Touki Toussaint and not being a major player on the international market aside from Yoan Lopez, this system has been engineered for depth rather than impact.
But there will be new breakouts in 2016, new guys who land on the radar, guys who fly up the list and new draftees that join it. All in all, while you'd like a more explosive minor league system, the D-backs have some depth that will give them trade flexibility as the offseason and their pursuit of pitching continues. At least, that's how it looks right now and don't be shocked if a big trade guts the Top 30 list before the winter is over. It's win-now in Arizona and the Diamondbacks know it.