We've never seen anything like Aroldis Chapman. Once upon a time, Billy Wagner seemed like a once-in-a-lifetime unicorn, a lefty closer who could regularly hit 100 mph. I once heard a report that a right-handed closer — Billy Koch — once hit 104 mph on a radar gun, a legend so unbelievable that I never expected to see that corroborated (and I haven't). Chapman is left-handed, can still hit 103 mph regularly and 104 mph occasionally, and can hit the strike zone while doing it. And his name isn't even Billy.
Putting aside the issue of salary, there's probably no reliever in the history of baseball who might command a higher price in trade for a single season than Aroldis Chapman. As Jeff outlined this morning, there's really no way to justify that kind of cost for the D-backs; after all, we're talking about a Contention Window, not a Contention Keyhole.
Braden Shipley and Brandon Drury and others, for a reliever? If that's too high a price for Chapman, the unicorn of relief unicorns, then surely it's too high a price for any reliever, right?
Maybe not. Because as someone who spends a ton of time thinking about the D-backs, there is a reliever I covet more than Chapman. And you read the title of this post, so you know his name: Zach Britton.
By RE24, the only statistic I really trust to evaluate just how valuable a reliever really is, Brad Ziegler was the 4th-best reliever in all of baseball last year (just behind 3rd place Will Harris…). He'd be an excellent reliever anywhere, in part because by keeping the ball on the ground more regularly, Ziegler gives up significantly fewer hits per ball in play than the average pitcher. By keeping the ball on the ground that regularly, though, it may also be true that Ziegler is an especially good fit for Arizona, just like he might have been for Colorado. At Chase Field, fly balls are dangerous. And it almost doesn't matter whether or not ground balls would be especially valuable to the team that played at Chase — they're especially valuable to the D-backs in part because they've built the team to take advantage of ground balls.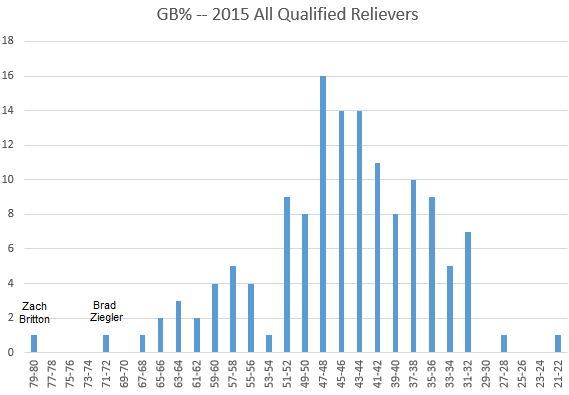 We can't know whether Ziegler breaks through the phenomena that normally ail D-backs pitchers, because there's only been one of him. What we do know, though, is that he's had a ton of success where others have failed; we also know he's gotten a ton of ground balls, more that anyone has. Except Britton, who ranked just behind Ziegler in RE24 this season, 5th among 137 qualified pitchers.
In 2015, Britton's ERA was 1.92. That makes his performance this year excellent, but not singularly excellent. According to a ridiculous 1.21 SIERA, though, a much more nuanced ERA estimator than FIP, Britton was in line to be much better than that 1.92 ERA. That SIERA wasn't just the lowest of any qualified reliever in 2015; it was the lowest SIERA I could find, for any season. It was stupid good. Remember how Silvino Bracho might be great because of his weird combination of strikeouts and an extreme fly ball profile? There was only one qualified reliever like that in 2015: Kenley Jansen, who had the second-lowest SIERA this season, 1.43.
As Jeff explored earlier this week, of the most commonly used pitching statistics, K% and GB% are the two most stable. They rarely occur together. Britton excels at both. Britton is weirdly good, and weirdly good in a way that tends to be very stable, and in a way that we strongly suspect is especially helpful for an Arizona pitcher. What's not to like?
What's more, Britton is under team control for another three seasons. They won't be cheap — Britton is a Super Two player who made $3.2M in 2015 in his first year of eligibility, and who is projected to make $6.9M in his second of four eligible seasons next year. And they won't be cheap the other way, either — Britton isn't exactly being dangled right now.
There are trade fits out there that work for both teams; areas of depth that happen to fit with areas of weakness, etc. But the Orioles are a team with an identity crisis right now, with a young star in Manny Machado who is still young enough to potentially be around if the Orioles try to rebuild. Matt Wieters accepted a qualifying offer, tying up money the team could have used to plug up holes in the outfield corners, in the rotation and in most of the bullpen. The D-backs can help on that latter point.
No, it probably can't happen. But a package of Braden Shipley, Peter O'Brien, and a relief tandem like Enrique Burgos and Jake Barrett? That would be a high price to pay, but maybe enough to start a conversation the Orioles aren't really looking to start — and not more than it might make sense to pay. As we said in the Offseason Plan, it's the pitching staff that needs to be upgraded — and above-average pitching is the only way to do that. Britton might be the ultimate pitching staff upgrade among pitchers the D-backs can actually afford. A man can dream.