Let's not let the gravity of this moment escape us. The Diamondbacks have agreed to terms on a contract that calls for over $200 million in spending, a contract that calls for an average annual salary of just under $35 million per season. This is not normal, and this may not happen again to this team for decades. For most of their existence, the Diamondbacks have had payrolls that hovered between $80 million and $100 million. You'd take my point if I said that payrolls around that mark don't normally accommodate $35M/year commitments; but then again, no MLB payroll ever has.
For better or worse, the D-backs will feel the repercussions of signing Zack Greinke in a big way for the baseball equivalent of a lifetime. It may be that good, familiar players end up signing elsewhere as free agents over the course of this deal. The team may not have the flexibility to add one last player at some point during the Contention Window, even if it seems like they're only one player away during the 2017 race or the 2018 offseason. And it's a gamble that might not work; in the event of catastrophe, the franchise might take a long time to recover. A significant portion of the deal will be deferred, but that doesn't make its affect any less significant — and it could mean feeling its effects in a meaningful way for a decade.
It's still a great decision for the Diamondbacks.
This hasn't been a long time coming, but it's been coming. And it's appropriate. Something like Paul Goldschmidt's emergence doesn't happen often. Whether it was Tony La Russa, Derrick Hall, Ken Kendrick, Dave Stewart, or a unanimous chorus of everyone in organization, from the entire ownership group to the ballpark vendors: the team recognized that. And fifteen months ago, they embarked on a new mission, an unconventional approach to roster construction that made a moment like this one inevitable.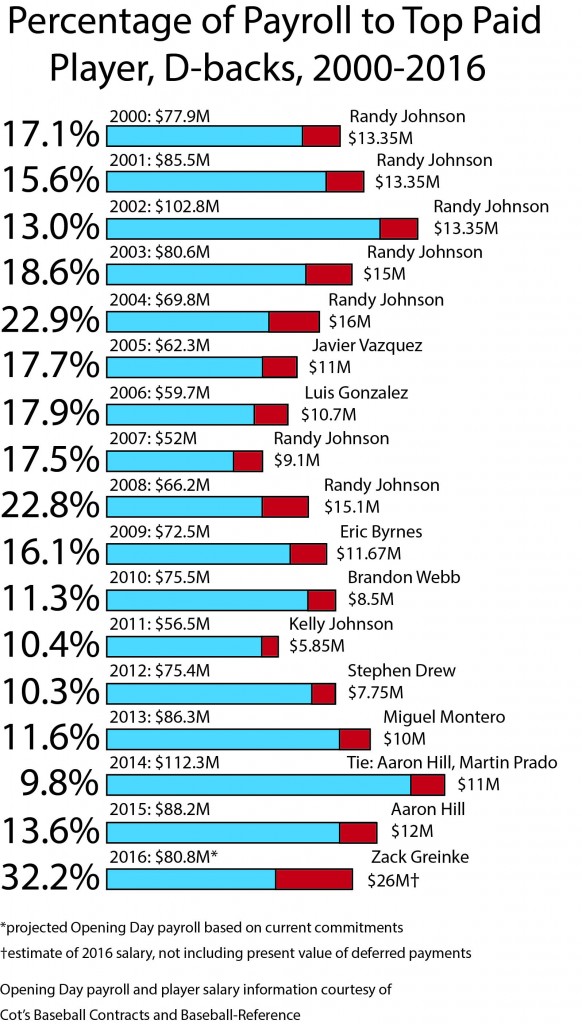 From the outside looking in, it definitely didn't look like that a year ago. Last offseason, the moves looked scattershot, like decisions made not from one script but from many. They traded a perfectly solid starter in Wade Miley, a couple of Single-A prospects for two years of Jeremy Hellickson. It was clear that the team wasn't going to wait around for a full rebuild, and by the time the team accepted two years of restrictions in the international amateur market to sign Yoan Lopez, it was clear that the near future wasn't just a priority; it was the only priority.
We knew last season was about this coming season; the team committed to experiments that didn't make sense for 2015, but only experiments that stood to benefit the team before the 2016 season began. The D-backs learned things, about Nick Ahmed, David Peralta, Robbie Ray. They saw A.J. Pollock become nearly as outstanding a player as Goldschmidt. They figured out who could help them contend in 2016, and who the team would have to leave behind. It didn't matter that Trevor Cahill and Aaron Hill were each owed a fair bit more than $10 million; the former was traded at a loss, and the latter was put out of the way of Ahmed and Chris Owings. Archie Bradley was promoted before the team could collect an additional year of control. Those things didn't matter; any player that could only matter in 2015 or after 2018 just didn't enter that math.
There are still some moves along the way with which I didn't agree; the Touki Toussaint sale did and may always seem specifically counter productive, and the Lopez signing valued present over future in a particularly extreme way. But it's all transaction costs, overall; it's all the price of poker. What's clear now, though, is that this front office's transactions were only haphazard to the extent that they were haphazard by design. Nearly everything the team has done has been an effective part of a ruthless plan to do whatever was most likely to take the team to someplace worth going as soon as 2016.
What's a team like Arizona to do? On paper, the D-backs can't be perennial contenders, can't plan as if a high level of success is permanently sustainable. That's the game that the high rollers can afford to play, and they try to play it. Sure, the D-backs could commit to youth permanently in the Oakland model, buying and selling and even making a run from time to time when the stars aligned. But what they are doing isn't just one very real option; it might be the only real option.
I've looked and can't for the life of me find what it was, but I read a short story a long time ago with something of a ridiculous premise. A writer busy writing doesn't go out with his wife to a show; she leaves him by the typewriter, where he thinks he's unraveled the great mysteries of the universe in the form of the Great American Novel or something. And some part of his stack of excellent paper is whisked away, out onto the ledge outside his high-rise window. It was too important to let it go, and so he went after it; the window slammed shut, and he couldn't get it open.
Holding on outside took real energy, and he was faced with the prospect of losing the strength to hang on before someone happened to see him and get help. He had a decision to make: hold on as long as he could, or, while he still had strength remaining — try to punch through the window, knowing that if he failed to break through, he'd bounce right off the pane and down to his death.
Paul Goldschmidt may be a once-in-a-franchise talent for this team, and the D-backs could have tried to hold onto the present and the future at the same time, hoping for the best; ultimately, they opted to do something that didn't depend on forces outside their control. This Greinke signing? The D-backs decided to punch through the pane. And from the perspective of an outsider, we all know the risks. We all know that nothing is guaranteed. As a fan, all you can ask for is that chance. We may not see the team break through, but the D-backs just took their swing: we're not going to see them fail by trying to hold on too long.
In the words of Andy Dufresne, get busy living, or get busy dying. And while there's a lot of credit to go around, I can't help but pile most of it at the feet of Tony La Russa. You need the winning personality of a honey badger to make this happen, but you also need the job security of a Supreme Court Justice. He had the latter mandate. Credit him for not caring what anyone thought about what he was doing with it, and for committing so completely to a plan this singular. Credit ownership for agreeing to a strategy that extreme, and for making it possible. It's the voice of Ellis "Red" Redding I keep hearing in my head: get busy living, or get busy dying.
That's goddamn right.