When the Shelby Miller trade was announced, the news was certainly bittersweet. Maybe bitter-bittersweet depending on what you think of Aaron Blair's value and what you think Dansby Swanson can be down the road. But it was certainly bittersweet because of the loss of Ender Inciarte, a guy who's been a much-needed spark at times for the D-backs while showing tremendous versatility in the field and relatively consistent league-average production at the plate. It really is hard to see him go.
But every departure signals a new opportunity. Contrary to what you may have heard, the Diamondbacks will not only play with two outfielders next year (unless they get really advanced on us). Someone is going to get Ender's playing time. Or, maybe, a couple of someones are going to get Ender's playing time. Saying that one man will fill his role is probably unfair to how many hats Inciarte successfully wore while wearing Sedona Red. I'm not crazy about David Peralta being the backup center fielder, but then again, if the Diamondbacks are really going to do damage this season, A.J. Pollock will probably start 150+ games in center and so I guess 12 starts from anyone else may not kill you (although you could surely do better than Peralta). Maybe they add a veteran outfielder at some point or maybe they don't. It's kind of crowded already and they just lost a guy.
And still, if Inciarte was going to be the starting right fielder 75-80% of the time, someone else is going to have to do it. That could be Peralta, but he rates better in left. Exactly which hole that gets filled isn't so important right now, but acknowledging that there are a bunch of starts open for another, or perhaps "other," corner outfielder(s) is. There are really four candidates for this work: Yasmany Tomas, Socrates Brito, Peter O'Brien and Other McOther. If you had to pick one person from that group to absorb the extra work, Tomas would seem to have the inside track. He's owed the most money, probably has the highest upside and has the most experience at the major league level despite not living in the United States for a whole calendar year to this point. That probably tells you what we're up against here.
I don't want to discredit Brito, who I think has a chance to be a really nice player, or O'Brien, who I think really could be a starter this season at first base for a second division team, or McOther, who doesn't exist but really also does, here. All of those guys bring something to the table. If they didn't, they wouldn't be in this post to begin with. But it's Tomas that commands our attention because just as he's mostly likely to absorb the bulk of the work, he's also not without some glaring weaknesses. As I've said before, his plate discipline is the most robust issue with his game:
From (Tomas') "Hitter At-A-Glance" profile:

Against Fastballs, he has had an exceptionally aggressive approach at the plate with an above average likelihood to swing and miss.
Against Breaking Pitches, he has had an exceptionally aggressive approachat the plate with an above average likelihood to swing and miss.
Against Offspeed Pitches, he has had an exceptionally aggressive approachat the plate with a league average likelihood to swing and miss.

He's, apparently, super aggressive at the plate with a strong tendency to whiff. This much has become self-evident.
Even with his power, Tomas is going to need to get on base to offset his limited defensive value. The issues above aren't going to help him accomplish that. So I really got to wondering, "what are the odds that Tomas really does improve this facet of his game?" On the one hand, you don't want to give up on the guy given that he was coming off of a long layoff, was new to the U.S., tried and failed to play third base, started his year in the minors before being rapidly called up and was just 24 when it all transpired. On the other, he looked really lost at times, seemingly chased everything and took some really ugly hacks that didn't mesh with the initial scouting reports of a slugger with plus-plus power. Weighing all of that, his trade value is as hard to peg as are the chances that he takes a big leap forward next season.
So I decided to take a look at a few key indicators: walk rate, strikeout rate, on-base percentage and weighted runs created plus. I threw isolated power in there, too, just for fun. Starting with the items that most pertain to Tomas' weaknesses (BB%, K%, OBP), I looked at 56 players who made their rookie debut between 2010 and 2012, then tracked them through their first three seasons. Players who did not play significantly, got hurt for an entire year or didn't survive three seasons were cut. This does leave a selection bias in play, just so we're all aware.
Here is how that group performed by OBP over their first three seasons:

Okay, so, maybe not the most clear. Let's instead look at walk rate:

Maybe that's a little better, maybe it's not. Try strikeout rate:

If you look closely at all three, there are little improvements to behold. The OBP's of most players improved by a very small margin as they progressed. The walk rates climbed slightly and the strikeout rates fell. But those are very small changes to the initial picture. So small, in fact, that it's probably best that we just make a table and put these funny-colored lines to bed.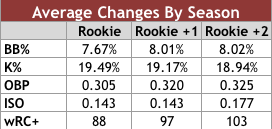 There is clearly some precedent for growth here, even if it's a relatively small one. The walk rate and strikeout changes won't wow you, but OBP does change significantly within the sample and the power does tend to come around, combining for better offensive production overall. Still, this doesn't necessarily mean that Tomas will experience some kind of breakthrough via exposure alone. Saying that "another year of experience" will make the difference doesn't necessarily appear to be true. Yes, it does give him opportunities to improve, but he'll have to do that mechanically as the virtue of time won't do it for him.
Maybe looking for comps within the sample is really the way to go. Based on walk and strikeout rates, his comparables are, and you might want to sit down for this: Chris Johnson, J.P. Arencibia, Mark Trumbo (!), Todd Frazier and Wilin Rosario. Johnson had better contact skills and more power output, Arencibia has been a perennial disappointment, Tomas struck out nearly 20% more often than Trumbo did in his debut, Todd Frazier has done some nice things and Wilin Rosario is recently out of a job. Outside of Frazier, who cut the K's a little and upped his walk rate while hitting for substantially more power, there just aren't any real success stories here. Trumbo and Johnson are useful in some capacities but worthless in others. I'm not even going to bother writing about Arencibia and Rosario.
This isn't to say that Yasmany Tomas is doomed. Maybe my sample of players is unjust to him. To be fair, none of these guys fled from Cuba and tried to acclimate to U.S. baseball at the same time they broke into the majors. They all had a much more straightforward entry into the big leagues with far more normalizing exposure along the way. But based on these admittedly small pieces of information, it would seem that a major leap forward might be wishful thinking. And it's going to take some wishful thinking to come to fruition if the Diamondbacks are going to accomplish what they've clearly set out to achieve. So here's to hoping that Yasmany Tomas defies these odds. Here's also to hoping that you won't be astonished if he doesn't.