Double Plus: The Deferred Money Cycle Begins Again
Depending on how you look at it, the D-backs will only pay substantially over the major league minimum for sixteen players in 2016. One of them is Bernard Gilkey — and his is not even the lowest figure. The way things stand, the D-backs payroll is not very top heavy, despite the large commitment to Zack Greinke; the second-highest commitment is to Yasmany Tomas ($7.5M), and the portion of Aaron Hill's contract to be paid by the team still comes in second ($6.5). It's a much longer way down from Greinke to Tomas than it is from Tomas to the sixteenth over-minimum salary, the $675,000 arbitration salary with Matt Reynolds. In the context of paying Gilkey nearly $1M, even that Reynolds salary looks comically low.
With the new television deal kicking in this season and recently shedding about $4M by trading Hill, there may be some financial room to maneuver at the moment; with the addition of about twelve major league minimum salaries to fill out an Opening Day roster, the D-backs might start with a payroll of about $91M this season. That's slightly up from last year, but well down from the 2013 Opening Day payroll of $112.3M, and quite a bit shy of the post-World Series year in 2002 ($102.8M). Not a whole lot has changed, it seems. From Cot's Contracts (data stretching back to 2000 only, sadly):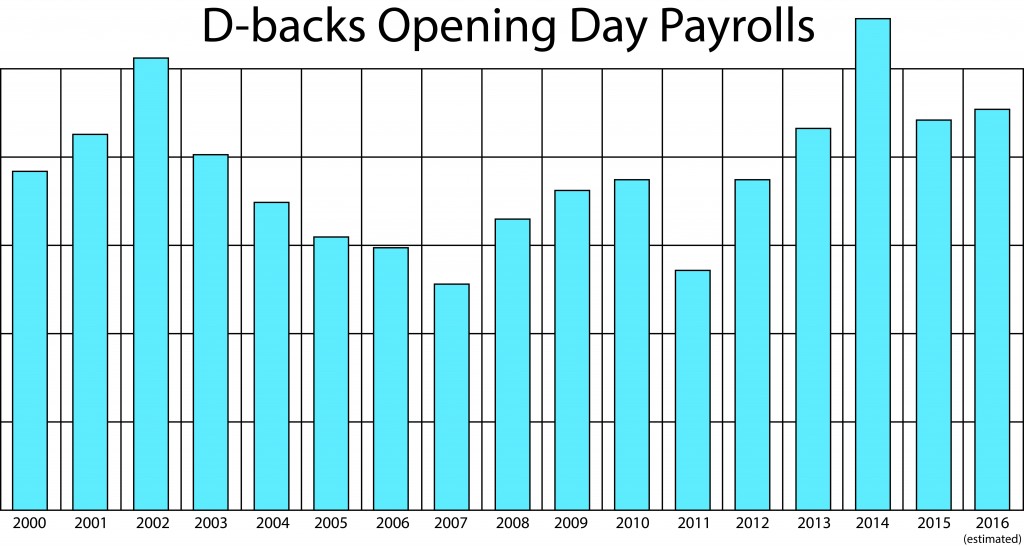 Thanks in part to shedding some salaries, the total financial commitments on the 40-man as of the end of the season ranked the D-backs just 28th among 30 teams. The revenue from the new television deal begins now, and while it's staged incrementally (and I don't know this year's exact figure), there's a big jump from the $30M a year to the $80M or so that will now come in on a yearly basis. That's a huge difference, but as Jeff predicted almost a year ago, they haven't exactly opened up the checkbook immediately, adopting a more measured approach. Still, the D-backs flexed their muscles in a big way in December by signing Greinke — and knowing that the new Greinke commitment only really brought them back to their own new baseline, maybe that shouldn't have been unexpected.
Greinke won't actually make $34M in each of the six years in his contract, of course; he'll actually make $24M per year through the final season on the contract, 2022 [correction: had previously said $21M per year here; thanks to Larry in comments] — and then he'll start receiving yearly payments of $12.5M every November, starting in 2022 (a hefty bill in 2022, in particular).  That's the power of deferred money in contracts, something the D-backs franchise is very familiar with, and something that has become in vogue again in baseball. The Chris Davis contract, hammered out between Scott Boras and the Orioles? Peter Angelos might have negotiated that himself, but he'll be 108 years old when Davis cashes his last check in 2037.
It was deferred money that fueled the fire in Arizona approaching (and after) the 2001 title run. I don't have a total for you, but put it this way: we know the D-backs were still paying $16M in 2009, $15M in 2010, $14M in 2011, and $13M in 2012, at which point the deferred money was due for a big dropoff (think: ten-twelve years later). It seems that Gilkey is the last scion of the old pay-to-jumpstart model that helped the D-backs afford a title team. In other words, the D-backs aren't just experiencing a revenue boost right now; they're also finally free of significant deferred payments.
Greinke's deferred money could be just the start. Ken Kendrick's ownership group bought the team in March 2004, apparently inheriting a decade of deferred payments — which appear to have helped to keep the D-backs payroll under $80M from 2004 all the way to 2013. Kendrick waited a decade while paying for the past, and once that red ink was taken off the balance sheet, you can't really blame him for going for it. He also has that experience of knowing just how much a title run can affect a franchise's prices.
Think about it. We've just watched the Yoan Lopez signing cut off the team's ability to sign international amateurs for more than $300k for two years (through July 2017), the Jeremy Hellickson deal, the Toussaint sale, the Miller trade, and more recently an Isan Diaz going away party. Acting like the future matters little is entirely consistent with the heavily deferred Greinke contract. So you're hearing it here: the next year or so could see a lot more deferred money added to the D-backs' future commitments, through signing of 2016-2017 free agents, through extensions (could that be the hangup with A.J. Pollock?) and maybe even through trades. And when those future dollars come home to roost — it might be a new ownership group that lives with it.