It's February now and baseball is coming. It seems like a long time ago that we were stuck in the dead zone of baseball past, back when the only thing to do was talk about prospects. Then there were trades. Players have left the organization at a rate that's frankly shocking. Even with a win-now mentality, no one wants to see a lose-later one as a result. Sometimes that's the tradeoff  and sometimes moves are made that just don't seem to add up. The D-backs have surely cost themselves a lot of future value this winter in order to add to the present, something that is understandable even if we don't always agree with how they've gone about it.
Back in November, we released the new Diamondbacks Top 30 Prospect List and, frankly, a lot of that talent is gone. As I alluded to, this has been a trend. Baseball Prospectus unveiled their Top 101 last week and there are a lot of familiar names on the list who aren't with the team any longer. Dansby Swanson is 27th on that list and Aaron Blair is 43rd. Touki Toussaint landed at #69 on MLB.com's Top 100 and Isan Diaz is surely one more strong campaign from finding himself on these lists as well. Put those names together with Braden Shipley, Archie Bradley and Brandon Drury and that had the makings of a really strong system. Of course, you don't build your team to earn the top org rank in the game. You build it for wins on the field. We should see a lot more of those in 2016.
So it's time to recalibrate, perhaps, create a new Top 10. It seems a little disingenuous to list Archie Bradley here as I reasoned back in November – he's a big leaguer even though he didn't pitch a ton of MLB innings. He was on the roster most of the year (albeit on the DL). So I'll continue to omit him here. A new list should look something like this: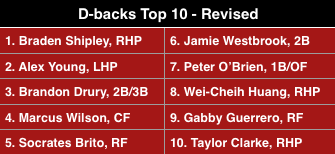 Out go Swanson, Blair and Diaz. In come Wei-Cheih Huang, Gabby Guerrero and Taylor Clarke. There's no re-ordering here – I stand by my earlier assessment. I'm higher than most on Alex Young and won't at all be surprised to see him in the back half of lists after next seasons. I put myself out there in the past on him and I'm comfortable staying out there. But having boom-or-bust players like Marcus Wilson in the top gives me pause. His volatility is unsurpassed in the original top 30. Guerrero is very similar although higher in the minors. He's young but has a lot of work to do. Jamie Westbrook lit the California League on fire last year but will move away from hitter friendly environments in 2016 and scouts don't see a good defensive position for him as he's possibly below average at second base. If he can't stick at second, where do you move a 5'9″ player without range and a strong arm? Taylor Clarke will get every chance to start and can be back end type of pitcher, but also has the kind of stuff that may play up best as a reliever. He also hasn't played above short-season rookie ball and already has one Tommy John surgery on his resume.
You get where this is going. A system that once looked pretty respectable now looks downright scary. That's what happens when a top-heavy list loses it's top. If we squint hard here, there are two potential rotation options in Shipley and Young, and an average position player in Drury. Wilson is a lottery ticket with potentially huge payoff that's hard to really see at the moment. Socrates Brito is maybe a starter, maybe a 4th outfielder. Westbrook hasn't seen AA yet and has questions defensively. O'Brien is O'Brien – a masher who belong at first or in the American League as a DH. Huang is a frail starter with mostly average stuff who hasn't even seen Visalia. Guerrero is going to strike out a bunch and may not mature enough at the plate to ever see the majors. Clarke was a pleasant surprise last fall but is untested and an injury risk.
When the final organizational rankings come out, the Diamondbacks will be buried in the back of the pack. That's to be expected. They'll need to use the 39th pick well and find value in the 2016 Draft to begin reloading because when this contention window passes, there will be needs all over the place. They can't afford to keep everyone around even with an expanding payroll. We'll have to hope for some new breakouts and a better than expected draft return in 2016 or the future will start look exceedingly bleak.