What Jean Segura Does, and Doesn't, Bring to the Table
Saturday's news of the trade that sent Aaron Hill, Chase Anderson, Isan Diaz and cash from the D-backs to the Brewers for Jean Segura and Tyler Wagner  was shocking without a doubt. The team had tried hard to upgrade second base – the price was too steep for Howie Kendrick (apparently) and Brandon Phillips  vetoed a trade (thankfully) that would have made him a Diamondback. Second base was the weakest link for Arizona considering they are committed to Yasmany Tomas and they'd already upgraded the rotation significantly. So the move to acquire another second base options wasn't shocking in and of itself. The shock came when that "upgrade" was announced as Jean Segura and not someone, frankly, better.
There are a lot of moving parts here and I think Ryan did a good job of capturing them in print yesterday. If you're the listening type, then give the latest episode of The Pool Shot a spin. We've been over our feeling on the deal and it's today that I want to start moving on from there, sort of. The D-backs have Segura for now and have added him to what is a really complicated situation involving Chris Owings, Nick Ahmed, Phil Gosselin, Brandon Drury and Jake Lamb. It's the same situation we saw prior to the trade except that Segura replaced Hill's role in this mess. Another move could come or a number of these guys (except Lamb) could see significant time at AAA. There will have to be some sort of movement here – they can't place five middle infielders on the opening day roster.
But Segura figures to be there – I mean, they did just trade for him. So let's take a minute to figure out who he has been and who he is right now. An international sign out of the Dominican Republic from the 2007 class (given $70,000 by the Angels), Segura made his big league debut in mid-2012 with Anaheim before being dealt to Milwaukee in the Zack Greinke deal. A tough debut was followed up by a strong 2013 campaign, at least in the first half before he started to trend downward. Things took a turn for the worse on multiple levels for Segura in 2014 as he hit poorly in the first few months of the season, then lost his young son unexpectedly. The rest of the seasons went poorly, as one can surely understand. 2015 didn't go any better and now Segura finds himself in Arizona.
That, of course, is the easy version that glosses over some very important details. For a player with nearly three and half seasons under his belt, we'd expect some growth. But as you'll see below, there hasn't been much improvement for Segura along the way. His value and perception as a productive player really hinges on just a few productive months.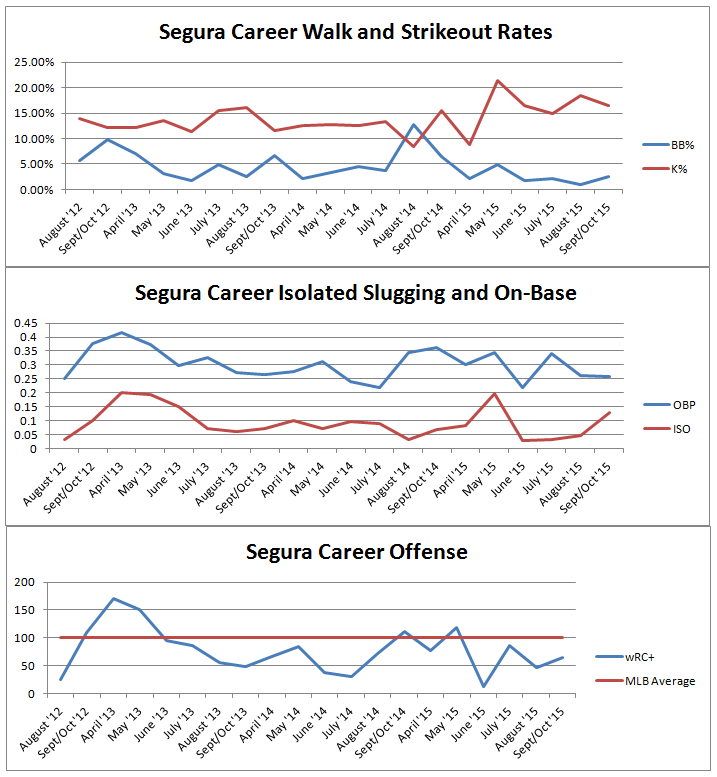 It's worth noting that every player goes these fits and starts. The ups and downs of any career will be peppered with peaks and valleys. But we can see that Segura has played the bulk of his months as a poor hitter. His hot start to 2013 showed a glimpse of what can be, but there's never been any sustained productivity since (maybe it was well-timed luck?). There are a few months here and there where he's had some success and hits have fallen in, but it doesn't look like the process has changed much over time. We don't see a drop in strikeouts or sustained growth in walks. The power comes and goes and the on-base percentages are usually far too low for a player to be a true force. There are little fluctuations – sure – but nothing that we'd see that suggests any kind of maturity in approach and/or production.
At the plate, he's been mostly a one-trick pony. He swings a lot and makes a lot of contact. He'll expand the zone and, although he has decent bat-to-ball skills, he's often making contact with pitches that are balls, especially on the outside part of the plate and beyond. As I found a year and a half ago when writing up Segura's precipitous drop-off, he loves to hit the ball up the middle or to the opposite field. Segura rarely pulls the baseball. Observe:
Aside from groundouts to the shortstop, there's not much to speak to the left side of the field. A right-handed hitter, his fly balls and line drives are routinely hit the other way. That matches up well with how pitchers have decided to approach him.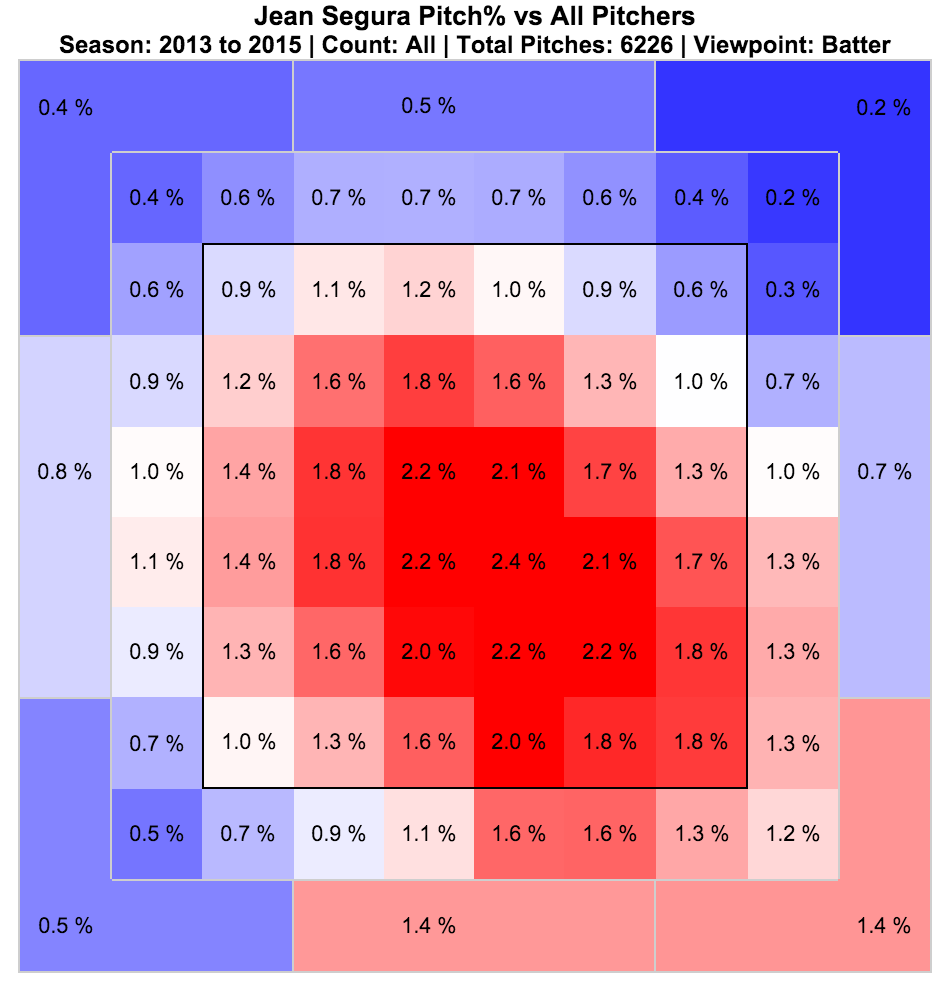 Segura is pitched in the zone a lot. If you see all of that bright red, you'd think he could really do some damage. Instead, he's thrown to in the zone frequently and the results are what they are – underwhelming. Pitchers seem content to throw him middle-away and just let him slap the ball. In fact, let's have a look at Segura at the dish and see for ourselves.
The first thing to note here is that Segura is in 3-1 count. He should be in the driver's seat. Jaime Garcia locates his pitch down and away and Segura obliges him by hitting the ball on the ground to the right side. Also, Kolten Wong is fun.
Here we have Segura leading off the inning with a 0-0 count. He gets a two-seamer over the plate and proceeds to pop it up to the shallow outfield where Jason Kipnis make a heck of a catch. But sitting 0-0, you'd think Segura had to be looking for a pitch to drive if he were willing to swing at the first pitch he saw. He got the fastball and he got it in a good location but the result is similar – a ball hit to the right side when you'd expect him to be sitting dead-red and trying to do damage.
Here Segura is facing one of the guys he was traded for, Chase Anderson. In 0-1 count, he gets a high fastball that's up and directly over the plate. Rather than pull the ball or hit it up the middle, he shoots a laser down the right field line to score a pair of runs. Whatever works, I guess. But this is a pitch that he could have, conceivably, hit in a lot of other locations yet he let it travel and worked a level swing to hit the ball the other way.
This is cherry-picking, of course. But combine the video with the spray charts and the heat maps and you can quickly see where Segura's approach comes into play. It's a quiet swing and he has some pop but he's not making much of it by pounding the ball to the right side routinely. Even in counts and on pitches where a different approach would be advisable, Segura seems content to do his thing despite the results.
If we're thinking about the future, there's no obvious reason to think he has changed or will change. In fact, changing any ball player is a risky proposition. By this stage in the game, most guys are who they are. And as Ryan noted yesterday, Segura is only an upgrade over Chris Owings if you truly believe that Owings will not rebound from his 2015 shoulder woes. It stands to reason that Owings will in fact improve as he's pronounced himself healthy, but maybe the D-backs know something about his medicals that we don't. Still, the middle infield is awfully crowded. Steamer sees a 2016 uptick for Segura (wRC+ 78) and Owings (wRC+72), but Phil Gosselin (wRC+ 81) actually projects as the best hitter of the trio with Brandon Drury (wRC+ 76) squarely in the mix with clearly the most upside.
None of these options project as real difference-makers at the plate when it's all said and done. Despite the move, the middle infield looks paltry unless Drury quickly turns into the hitter scouts think he can be. With a wRC+ range of 72-81, we're basically splitting hairs over who's "the best" option. None are particularly good. Segura gives the Diamondbacks a contact-oriented player but he should never lead off no matter what Dave Stewart says. In fact, comparing Segura  to Ender Inciarte is laughable despite the fact that they're both contact-oriented, high speed players. From Stewart (h/t to the guys at AZ SnakePit with a bunch of fun Stew quotes):
"After losing Ender Inciarte, we had a little bit of discomfort about where we were offensively… Jean Segura is a guy we can hit at the top of the order if we chose to, and with the opportunity to make a move like that, we felt we would do it."

The words above are probably GM-speak to a degree, but Inciarte has a noticeable lead in virtually all categories. Segura does have more plate appearances to his credit, but has been trending down for over two years while Inciarte has trended upwards. A reported 20 GM's were calling Atlanta upon the news that he had been traded while we haven't heard much at all about teams in a frenzy to acquire Segura. Replacing one with the other is simply not a good idea.
As it stands now, Segura does give Arizona another middle infield option, albeit one that cost them a pretty penny. He does give them options at both up the middle infield positions and does legitimately provide some insurance for both Owings and Ahmed. What he doesn't give them is a strong offensive option and he simply can't pick it like Ahmed at shortstop (very few can). It's more of the same here on a number of levels – poor evaluations of future assets, a prioritization of cash over talent and a light return given the cost. You could justify it for Shelby Miller. It's hard to do so for Jean Segura as the number just don't show us any definitive reason to think he's about to turn a corner. We can never say for sure what the future holds, but based on the information we have available, this move may change the faces we see around the infield, but it's unlikely to alter the outcomes.