The Race for Fifth Starter May Already be Decided
When the D-backs reported for spring training a year ago (yes, it really is February!), the roster had been partially blown up. For the rotation, there were at least twelve candidates — and only Josh Collmenter and Jeremy Hellickson had slots essentially locked up. They don't have rotation slots locked up this year.
What a difference a year makes, right? Barring injury, there are now four slots that already have engraved nameplates. Zack Greinke could insist on throwing left-handed and still have a slot.

Meanwhile, everyone is on board with Patrick Corbin being part of the future — Shelby Miller came at too high a price to question — and both pitchers are way too good not to start for any team. They are undoubtedly joined by the only winner in last year's sweepstakes, Robbie Ray, who despite pitching just 127.2 innings had nearly double the value of any other D-backs pitcher last year according to BP's pitching version of wins above replacement.
Ray is not just the only sweepstakes winner, but the only true survivor of that battle, maybe. Behind Ray in PWARP was Patrick Corbin, despite being limited to 85 innings, and then Chase Anderson, traded to the Brewers on Saturday. Next on the list were a few of Ray's competition mates last year who are no longer rotation candidates in Daniel Hudson, Randall Delgado and Collmenter — as well as a handful of long gone relievers, like Addison Reed, Vidal Nuño, J.C. Ramirez and Oliver Perez. It truly boggles the mind that Nuño was the 8th-most valuable pitcher for the D-backs last year, what with pitching just 14.1 innings… but I digress.
If Ray stands head and shoulders above the other rotation candidates a year ago, one might think that we'd still have a race for the fifth starter role this year. But do we?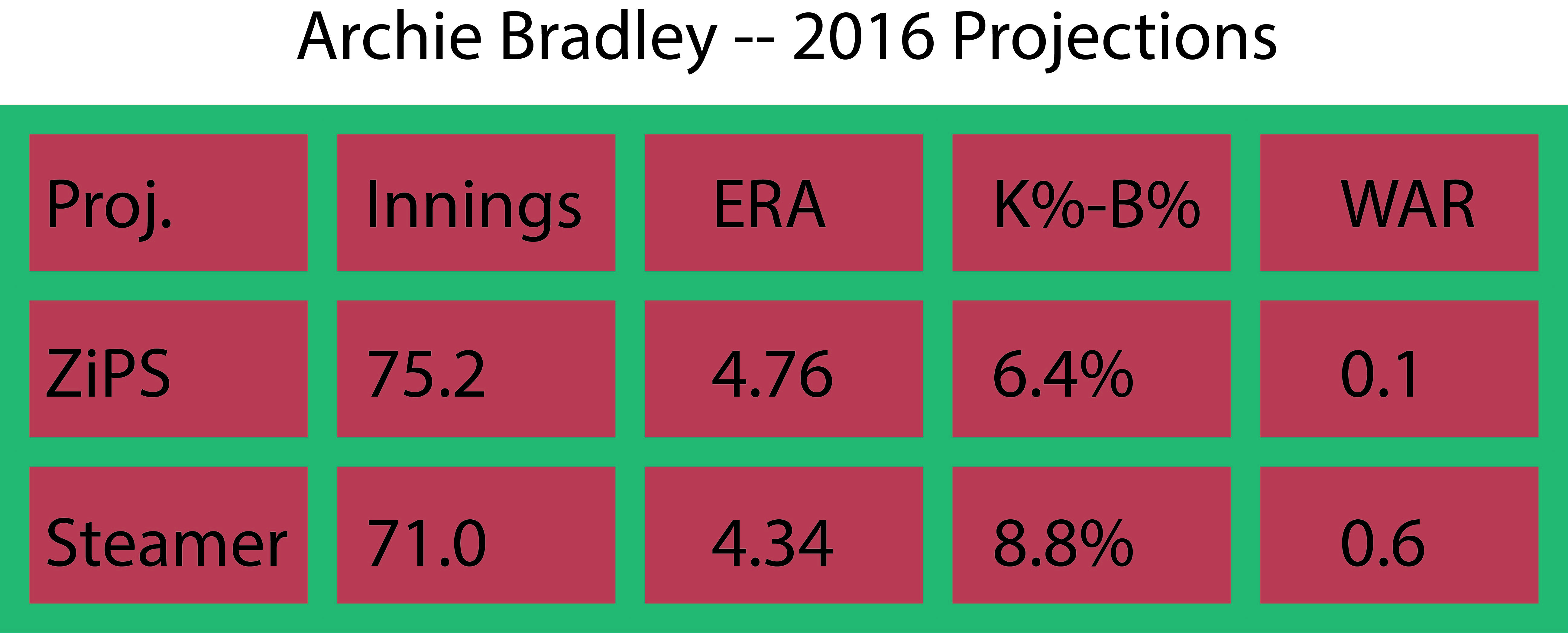 It seems like we've been waiting for Bradley to be a permanent member of the rotation for eons — and yet we may or may not need to wait longer. In discussing the young starter aspect of the Grand D-backs Experiment set to begin last spring, Jeff queued up the promise of the youth contingent of those twelve rotation candidates:
Archie Bradley: high ceiling, great stuff, relatively high floor, close to ready for the majors

Aaron Blair: moderate ceiling, decent stuff, high floor, needs another minor league season

Rubby de la Rosa: moderate ceiling, good stuff, relatively high floor, major league ready

Braden Shipley: high ceiling, great stuff, moderate floor, needs at least one more minor league season, maybe two

Allen Webster: average ceiling, good stuff, low floor, major league ready

Robbie Ray: average ceiling, decent stuff, low floor, needs at least half a minor league season
Only Bradley appeared to have a high ceiling and a high floor, and by the end of the spring, Bradley had earned a rotation spot. All he's really done since then is pitch strangely but strangely effectively with the big club at the beginning of the 2015, get knocked out of the rotation by a Carlos Gonzalez line drive, pitch strangely and not effectively for four games, then get shut down for almost two months before a strong stretch in the minors as he worked his way back from arm troubles.
Considering the D-backs' commitment to ground balls, Bradley would seem to have an inside track on a starting job — and yet that doesn't appear to be the case. Coming back from getting hit by a line drive can't possibly be easy, and others have tried and failed to do it; if the event almost definitely will play around in your mind while on the mound, I imagine that nightmare is more vivid if the ball hit you flush on the face instead of the side of the head. In addition, Bradley has dealt with arm issues now for more than two years, and might be unlikely to win a spot for the sole reason that he's among the less likely of the candidates to keep it.
Braden Shipley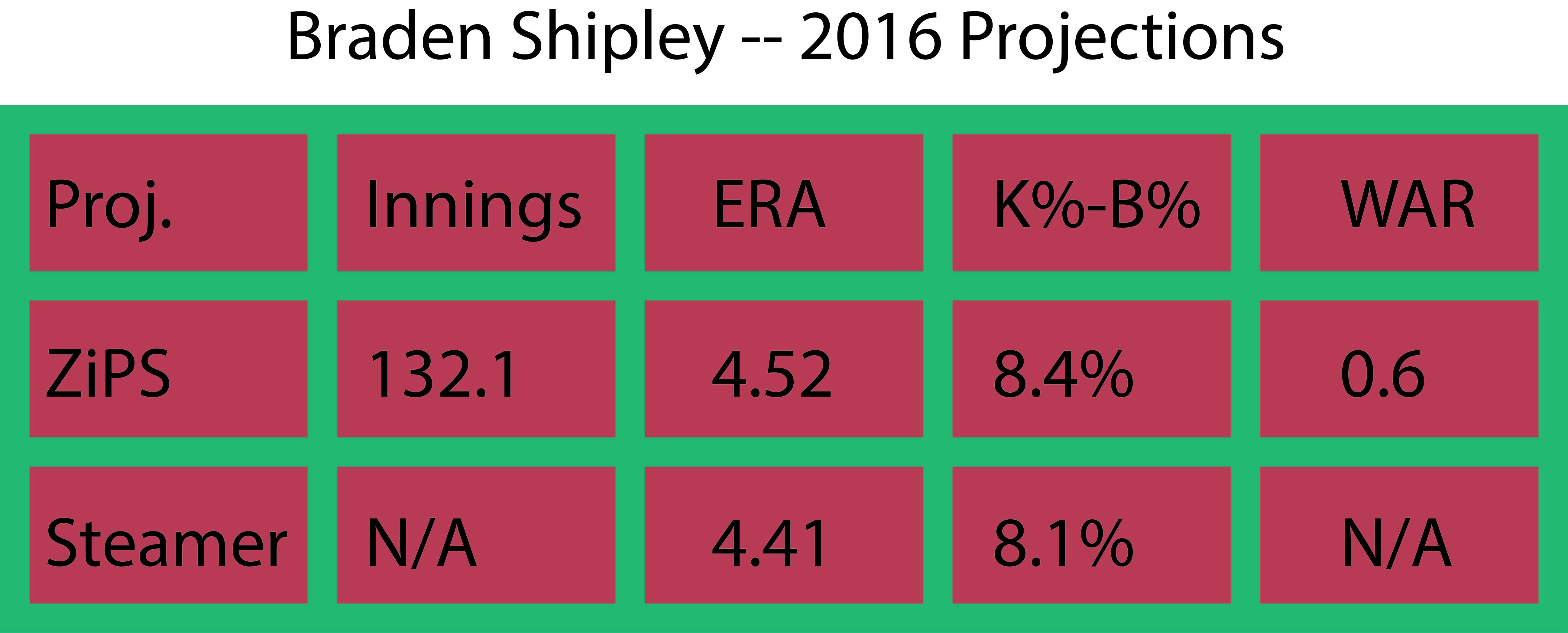 What about the other young pitcher thought of as having a high ceiling? Shipley's minor league track record has been solid but not necessarily spectacular to date. He ended 2014 with a short stint in Mobile, and repeated at Double-A for the entire 2015 season, throwing 156.2 innings with a 3.50 ERA. Shipley's marks don't necessarily stand out in the Southern League, and while that number was backed by Shipley's peripherals, including good control and great success avoiding home runs — Shipley did have the lowest strikeout rate of his career to date, an unspectacular 6.78 K/9.
From what I can gather, there is still hope that Shipley can further improve his command — and if that were to happen, he has the chance to be a front of the rotation starter. For that reason, the general expectation seems to be that he will spend all or most of this season in the minors, possibly at Double-A. Shipley may or may not be in the picture more immediately, however, and he'd hardly be the first pitcher to jump straight to the majors from more than a full season in Double-A. This is still the same organization that promoted Zack Godley, after all.
One thing points strongly against Shipley earning a rotation spot in spring training: he may not have gotten the whole ground ball thing down, the thing that punched Godley's ticket to the majors. Shipley's dip in strikeout rate last year was not due to a new batted ball profile; according to mlbfarm.com, Shipley actually moved away from ground balls slightly, dropping from a 48.7% GB% to 46.2%.
One thing points strongly in favor of Shipley getting a spot earlier than expected, though. The front office was only put in place after the 2014 minor league seasons were complete, but Tony La Russa has been in the fold and evaluating the organization since mid-May of that year. In addition, La Russa has his relationship with Dave Duncan, stretching the institutional knowledge back into 2013. So consider this: the contingent of minor leaguers that the new front office inherited is mostly gone now, to the point that we might be able to start to conclude that if the team did keep a pitcher, they must really like him. Touki Toussaint and Aaron Blair were both traded in what appears to be the D-backs' preference, rather than that of the Braves. Maybe the D-backs really like Shipley, and in the past, when they've really liked someone, they've acted aggressively.
Zack Godley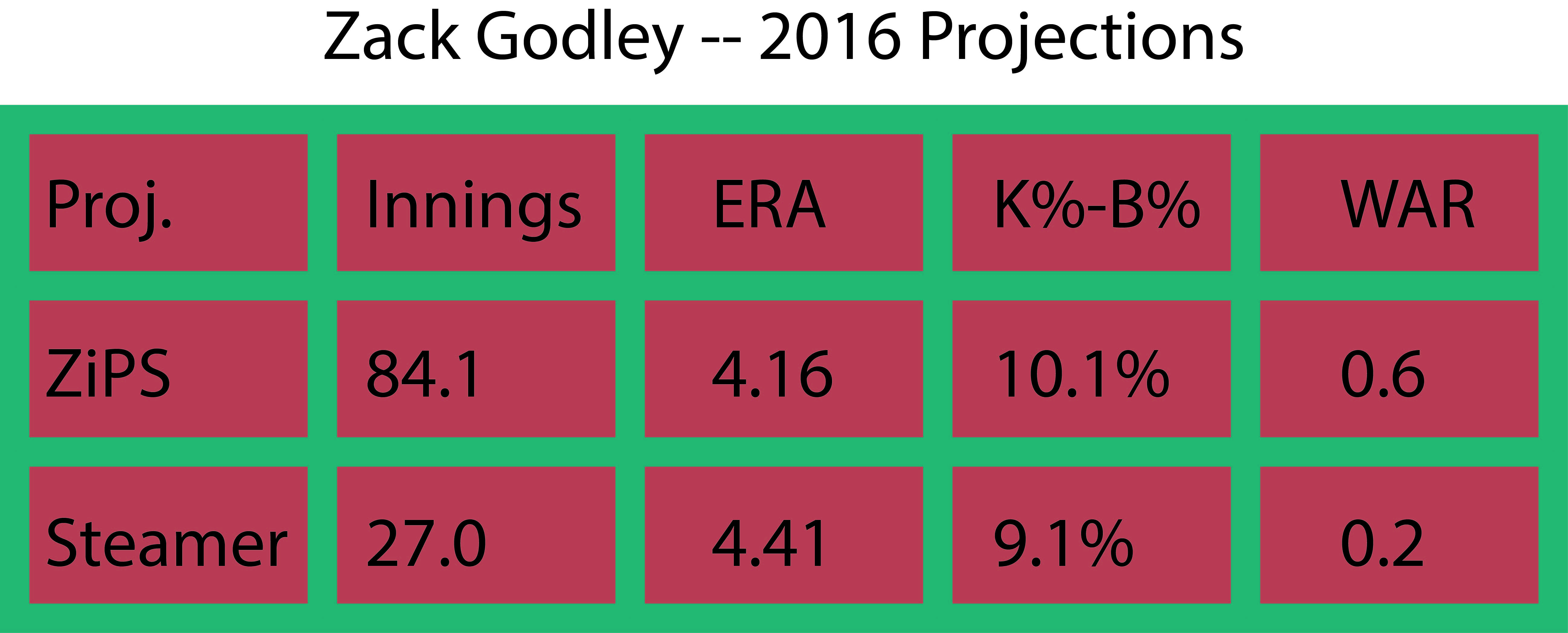 Godley wasn't among the twelve or even fifteen top candidates for the rotation a year ago, but many of those folks have moved on, or in the cases of Josh Collmenter, Randall Delgado and Daniel Hudson, seem certain to be pegged for bullpen roles. Of all of the candidates for the fifth starter job now, however, there may be no one higher on the list than Godley, at least as far as a demonstrated commitment from the organization goes. Godley has had an unusual approach, throwing in the zone just 41.75% of the time in his not-actually-that-brief MLB cameos in 2015. Whether that's sustainable is anyone's guess — only 7 of the 255 pitchers who threw at least 1,000 pitches last year had a zone rate lower than that — and of those, a few feature great sliders and one is Dallas Keuchel (another is Wade Miley, but I digress).
It might only actually happen if one or two of the other candidates doesn't look very good, or if one of the front four men can't pitch to start the season. Godley may also be the best candidate to be a spot starter, bouncing between the majors and minors all season, all under one option. But would we really be all that shocked if Godley was installed in the rotation in the early going?
The main impediment to having Godley work as a year-long starter is the workload; after throwing 55.1 innings as a reliever in the Cubs organization in 2014, the D-backs used Godley for 136.1 innings last year. Getting all the way up to 180 seems unlikely, and probably unwise. Chances are, then, that Godley will either fill that spot starter role or will act as a kind of Patrick Corbin handcuff, what with Corbin's own possible innings limitations looming as an extended issue over the 2016 season.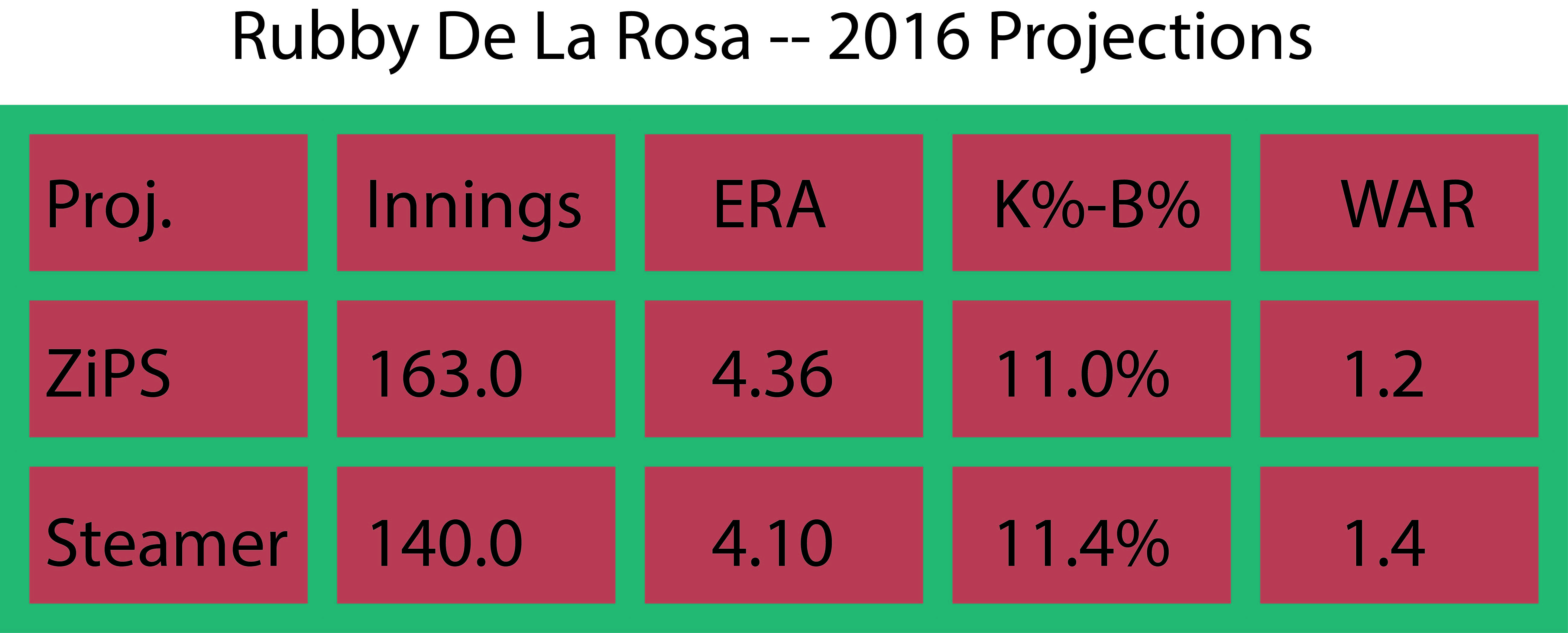 There are Your Guys, and there are Other Guys. This is just my impression, but it seems like any time GM Dave Stewart talks about pitching or about the rotation, Rubby De La Rosa is always mentioned with optimism. Maybe it's that RDLR seems similar to Stewart at this stage of his career. The trade on Saturday of Chase Anderson seems to express confidence in RDLR all on its own.
Remarkably inconsistent and remarkably mediocre in 2015, RDLR has long given us plenty of reasons to dream, his heater at the top of the list. He was completely dismantled by lefty hitters and left-leaning lineups last year, and as of right now, we haven't gotten a new reason to believe that that won't continue. Like Anderson, RDLR threw his sinker more to lefties than to righties, and that still looks like it was a terrible idea.
Just as with Anderson, though, that is something that RDLR can change. The way that RDLR's fourseam has looked very solid but his secondary pitches have all seemed to get punished — that profile looks a lot like Delgado's, but probably worse. Why the team gave up on the idea of Delgad0-as-starter but appears poised to double down on RDLR is a mystery, but one that could be explained by RDLR's fits of dominance.
We end here because this is the end: despite an unexpectedly low arbitration settlement, it appears that the team still thinks of RDLR as a starter, rather than as a reliever. Since the team does not have option years left, he'll be on the Active Roster one way or the other, either as one of the 25 players to suit up every day, or on the DL. It looks a whole hell of a lot like RDLR's most optimistic (but still reasonable) outcome in 2016 is right around where Anderson's floor would have been, but there's not always an accounting for taste — and if RDLR manages to improve some part of his game, the results could really look good.
Last year, the D-backs had what looked like an open tryout for the rotation, but this year should be anything but that. RDLR has the job, it looks like, with Godley acting as the sixth man and Shipley turning over like a rotisserie chicken at Reno for all or most of the year. It's just Bradley who kind of throws a wrench into the plans — and if there's a competition this spring, it will probably be between Bradley and RDLR. Most of these roster questions solve themselves, or at least change before we can pin them down — all it takes to shift things around is a single twinge in a single elbow. Still, it sure looks like the D-backs know exactly what they want as Plan A in the rotation to start the year. And Plan A is not too shabby at all.