After signing Zack Greinke and trading for Shelby Miller (albeit with Aaron Blair), the D-backs had more major league starters than they were likely to need; it made sense to move some of that depth for other kinds of talent more likely to help the team in the immediate future. With Nick Ahmed a staple of the ground ball plan, Jake Lamb entrenched, and Brandon Drury apparently ready, there was also little need to keep Aaron Hill, as of Hill, Phil Gosselin and Chris Owings, only Owings could help take pressure off of Ahmed at short.
On Saturday, the D-backs made a trade that seems strangely simple and strangely complicated at the same time. They traded from that starting pitcher depth and moved Hill and his contract, kicking in 2014 #70 overall pick (and Jeff Wiser #6 prospect) Isan Diaz and $5.5M to the Brewers for listless shortstop Jean Segura and "D-backs stamped all over him" righty Tyler Wagner.
I probably like Chase Anderson more than most. There are reasons — the changeup isn't going anywhere, and even before last season began, we probably should have realized that throwing a ton more sinkers to lefties would be a bad idea. That last was so significant a problem that Anderson could be quite a bit better if that were reversed — and while you can't simply choose to be a more accurate thrower or to have better stuff to throw, choosing what you throw really is a choice. That doesn't make this a bad trade; in fact, sometimes having the other person think they're smarter than you helps facilitate a move. It also gives a trade partner a reason to dream, to imagine writing off some of the bad when they see it. Trading Anderson made sense, especially if he could be turned into something that actually fit the roster.
Whether it was because of a potentially once-in-a-franchise talent like Paul Goldschmidt or something else, the D-backs put their foot on the gas. That's not a very efficient way to use gas, I think we all know, but we've all done it at some point — and sometimes, that's the risk averse move. You can do that, if you feel like you need to reach top speed quickly. It's a lot less likely to make sense to drive from Phoenix to Los Angeles that way. Sometimes, inefficiency is good. It's never always good.
Trading Anderson also made sense because the D-backs are already speeding along. He was helpful to the club in the sense that he would have been one hell of a spot starter — but if the team gets to the point where spot starters are having a large impact on the season, the season already isn't going according to plan. Betting to win completely fits here, and the only way to turn Anderson into something else was to trade him — as fascinating as it would be to see him in short relief, that's just not an experiment the D-backs would have tried right now.
We talked about this trade on The Pool Shot yesterday morning, and tried to figure it out. I'll be honest, folks: I don't get it, really, unless trading (rather than cutting) Hill was worth more to the club than the dollars they owed him. We like "but have you tried looking at it this way" pieces around here, especially when it comes to transactions. This is not that.
Sales Calls
It's not as obvious, but unless results and my meek impression of Segura are wildly inaccurate and the D-backs' impression of him is wildly accurate, this is another talent sale. A few weeks ago, Jeff ran down the grand total of recent draft talent the D-backs have lost in less than a year: three consecutive first round picks, including the lost 2016 pick from signing Greinke, their after-first-round comp pick in 2013, Aaron Blair, the Comp B pick after the second round in the 2015 draft, to the Braves for taking some Trevor Cahill money… and now their Comp B pick in the 2014 draft, except that he had actually begun to pan out somewhat.
The lost 2016 pick is from spending money, and trading Dansby Swanson and Aaron Blair was about talent, and landing Shelby Miller. That still leaves quite a lot in sold talent, and this whole business started before the front office took over.
Remember this?
Holmberg, who might be something of a poor man's Joe Blanton, just did not fit the needs of the Arizona organization well.  It would not cost much to replace a true #5 starter (Holmberg's ceiling), and it would cost almost nothing to obtain a true mop up man (Holmberg's floor).  I wonder if Towers has been quietly shopping Holmberg for a while (like for Tim Collins of the Royals, a useful LHP reliever who was no longer cheap).  Maybe he found that Holmberg's value just wasn't very high, and that he wouldn't have returned much, or anything.  It wouldn't surprise me.  And in those circumstances, wouldn't the salary relief be a very good value for the club?

Put it this way: Towers just sold David Holmberg for $5.5M.  Sounds like a good deal to me.  If Towers had simply held a fundraising auction, offering to sell Holmberg to the highest bidder, what price would he have fetched?  My guess is that it might have been a lower figure.  Accordingly, didn't Towers do pretty well, here?
It was actually $6M, not $5.5M, by the way, but the figure is still weirdly similar to the Anderson trade. and Hill salary relief.
Remember this?
Hearing cash in #Dbacks Cahill deal is about $6.5 million going to #Braves

— Steve Gilbert (@SteveGilbertMLB) April 3, 2015
Of $12M owed Cahill. In other words, $5.5M in salary relief. And while Josh Elander was essentially a non-prospect moved to facilitate the deal, that transaction wasn't actually completed until the season began — when the D-backs were actually allowed to trade their Comp B pick in last year's draft, the one referenced above, for Victor Reyes. Reyes isn't chopped liver, but, yeah: another sale, this time without knowing who the player would be.
Remember this?
Well, no one saw that coming. Saturday evening, while the Diamondbacks were taking part in their arduous journey to reach .500, they completed a trade with the Braves, sending Bronson Arroyo and Touki Toussaint to Atlanta for infielder Phil Gosselin. The idea was obviously to clear the remaining salary owed to Arroyo, which at this juncture was somewhere between $9-$10 million dollars. They had to ship Toussaint, one of the game's best young pitching prospects, to get Atlanta to take on the remaining money. The deal was discussed over a month ago, and once Toussaint had cleared one calendar year from his draft date, it was completed. Atlanta essentially bought Touki for $10 million and gave away a piece they didn't need in the process. Arizona cleared some salary and lost its third-best prospect. And while that may sound troubling on the surface, let me assure you that it's a whole lot worse when you start digging deeper.
Depending on whether or not you include Toussaint's rich signing bonus as a cost (it probably doesn't make sense to do that here), that's… yeah. $10M. Above the going rate, apparently, but not by a whole lot, and Toussaint was a strong prospect picked right around where the D-backs would have picked in 2016.
That's just over two years, and the D-backs have used talent to sell nearly every financial liability they have. Think about it: you can only pull off this kind of sale if you have a bad contract to burn (that's the loophole), and the D-backs really haven't had many in the last two years beyond Bell, Cahill and Hill. The only missed opportunity was Cody Ross, it seems like, but maybe his name ended with the wrong double letters.
The Value Proposition
I thought at the time that the Holmberg sale was clever and smart, and maybe even a good value proposition to boot. But Holmberg was and is a very particular kind of player: the ceiling just hasn't been there, and you had to squint real hard to even picture a #4 starter outcome in your mind. He actually was not worth much to the D-backs specifically, and was probably worth more to some other team. Not just less; not much. And so Holmberg's principal value to the D-backs was as a trade chip.
I'll repeat one part of the above:
If Towers had simply held a fundraising auction, offering to sell Holmberg to the highest bidder, what price would he have fetched?  My guess is that it might have been a lower figure.  Accordingly, didn't Towers do pretty well, here?
Back end of the rotation, not really in the picture for a rotation gig — the Holmberg situation sounds a lot like Anderson, but it's not the same, not nearly enough. If the D-backs had been able to auction Anderson, what price do you think he would fetch? Keep in mind he has less than 2 years of service time, and that while he might end up going to arbitration 4 times, he's controlled for five more years, mostly at reasonable rates, and all at his team's year to year option in terms of whether to keep him.
A year ago, projections had Anderson as the best starting pitcher on the club, and it wasn't just that they were down on Allen Webster and Rubby De La Rosa. I have no blooming idea how much Anderson is actually worth, in part because we have no baseline at all for player sales, at least in modern memory, and because there's no way we'll all agree on how well Anderson is likely to pitch, anyway. GM David Stearns knows everything that the Astros knew about D-backs pitchers. Remember Will Harris? Tony Sipp? Both cut by the D-backs, and both just had well above average seasons in a not particularly friendly home park.
Anderson probably isn't going to force you to miss him as he pitches in Milwaukee. But you will see him, often. The guy could hang. Who knows? Maybe the high-spin curveball craze that led to the Astros picking up and installing Collin McHugh (and the Dodgers to buy Mike Bolsinger from the D-backs) is over, officially, with Rich Hill getting a real one year deal. Maybe flexible changeups that do more than one thing are cutting edge right now. I don't know.
In that post a few weeks ago, Jeff had the 2015 Comp B pick valued at $8M. Let's say that crept up a little bit for 2014 pick Isan Diaz, if only because he hasn't flamed out. I really wish I knew how to calculate Anderson, but let's try it this way: if he were a free agent this year and wanted to sign a one-year deal, he'd probably be worth $6M or in that ballpark (yes, I did think about hedging into $5.5M, but that wasn't my first thought). With arbitration raises cutting into that rate, that might be something like $20M over the next five years. And, yes, the fact that Anderson survived in the majors is worth something, and yes, the fact that the Brewers can go year to year with Anderson and can cut him if they wish adds value to Anderson as an asset.
I do think that Hill would get more than $500k to play this season if he had been a free agent and he wasn't owed money; call it $2M, making it $10M in liability. They saved $4.5M, then, rather than $6.5M, even though he wasn't worth $2M to the D-backs in 2016. Or call it $1M and $5.5M, if you want; it all matters, but in the context of the trade, it doesn't really matter enough to change how we look at this.
From a value standpoint, maybe Jean Segura and Tyler Wagner are assets that, together, are worth more than $40M right now on the open market (by the way, an end-of-round Comp A pick is worth around $10M, according to Jeff's piece from earlier, and Howie Kendrick signed for 2 years and $20M). But that's what we're talking about: a really big dollar figure for one little trade. Talent is really expensive; that's why the Red Sox spend a mint to sign Yoan Moncada to go outside the system, too, and that was the theory behind signing Yoan Lopez. And I just don't really see it. Segura does have a pretty wide range of outcomes, and he absolutely could benefit from playing regularly in Arizona. And as for Tyler Wagner, a year ago, ZiPS had him as the worst pitcher included in the organization report.
Fit: Close, No Cigar
Wagner is the most fungible player among the five in the deal, and he actually did do remarkably well in 2015 after finishing very strong in 2014. The poor projections come from him not being a guy that Fielding Independent Pitching statistics tend to enjoy. You guessed it: he's an extreme ground ball pitcher, the kind of pitcher the D-backs have gotten as a throw-in in nearly every deal they've pulled off since the middle of last summer. Wagner also happens to have done remarkably well in High-A and Double-A in the last two seasons, pitching 25 games and about 150 innings in each, with a 1.86 ERA in High-A and a very attractive 2.25 ERA in Double-A. Ground balls.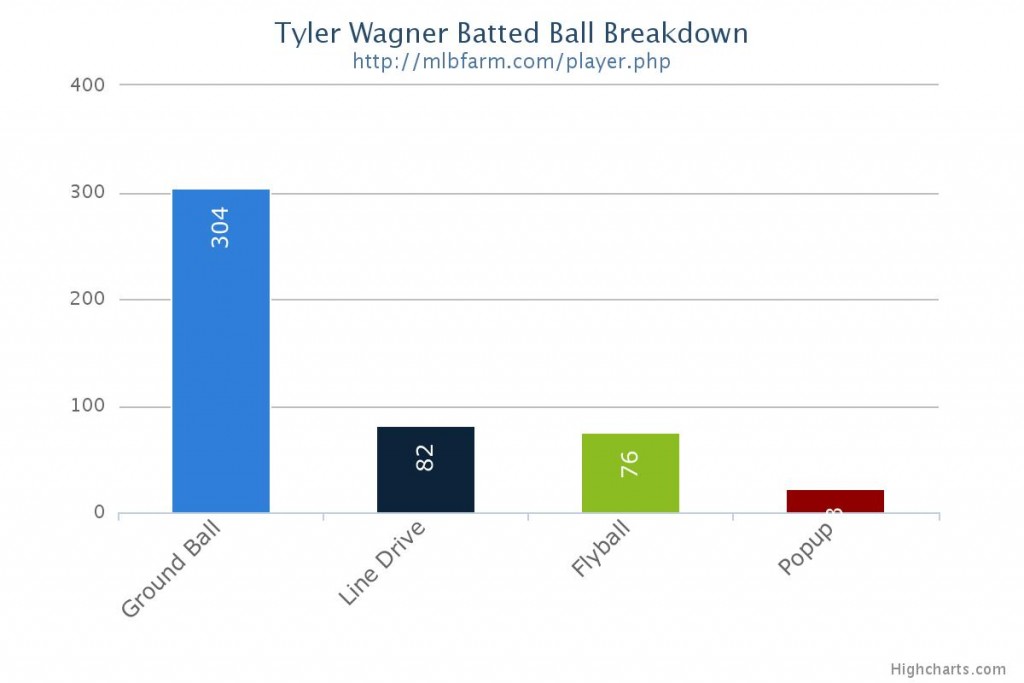 Of course Wagner fits the D-backs, in part because that's a 62.7% GB% you're seeing right there, a near-Ziegler GB% but out of a starter. Wagner will definitely be one to watch.
But:

Which one is Jean Segura, and which one is Chris Owings?
Segura is graded as a better defender than is Owings, but their hitting lines are very similar, at least in terms of the story they tell. In 2013, the world was their oyster. Whereas Player A has been mired in hell at the plate for two years, though, Player B has only really been there for one.
Segura and Owings are almost exactly the same player. As we noted on The Pool Shot, if you had two position players with similar results at the plate and one had been in Arizona and the other not, you'd pick the "not" — you never know if Chase Field would help the newcomer. In addition, second base had been in kind of weird spot, as noted here last week — in part because Owings was the only second base option that could also spell Nick Ahmed more than sparingly at shortstop.
Trading Hill helped make that situation less awkward, except that it completely didn't — Segura will play more, and now, one or maybe even two of Ahmed, Owings and Brandon Drury will be plying their trade at Reno. A stressful situation only getting more stressful. And don't forget that Phil Gosselin came here in one of the other prospect sales.
Segura is Player A in the table above. He's the player that has been really pretty bad now for two years coming. Are you sure you want him playing instead of Owings?
Once again, the D-backs traded talent for money. Once again, they made a move that on the surface looks like a poor value play. Once again, it doesn't feel quite right, and in this case, it probably shouldn't.
The Shelby Miller deal was a horrendous value proposition, but there was really a good chance that it made the immediate club immediately better. Here, unless Wagner is the second coming of Brad Ziegler as of April, it's really hard to see that. Paying a very high price for a smallish upgrade is a debate that depends on context. Paying a merely high price for what might not be an upgrade presents a different kind of problem. Considering the sale of prospects and other young players is becoming comfortable and normal with the D-backs, that kind of debt will have to be paid back with interest.