The game of baseball is in very good hands. With the influx of young talent over the past several years, baseball has been lent an opportunity to turn the chapter from the awkward post-Steroid Era years and entrust the game to an exciting crop of diverse talent. Young phenoms Mike Trout, Manny Machado, Kris Bryant, Bryce Harper, Noah Syndergaard, and Jose Fernandez are all off to outstanding starts this season and hit the trail blazing venturing back to their rookie campaigns. The spoil of riches is real but perhaps it's skewed our views and expectations of prospects. Perhaps it's time to start labeling these performances with a Results Not Typical tag. In the Mike Trout Era (2012 – now), for every qualified rookie that has put up at least two fWAR, six others haven't; for every rookie with six fWAR, there are 39 without.
I'm not here to ask you to forgo a cup of coffee every month to put an end to this injustice. Rather, I find it arbitrarily important for people to remember that many prospects are still figuring things out when they initially reach the majors. Archie Bradley could likely be seen as one of those guys as things haven't transitioned very smoothly for the former top-prospect.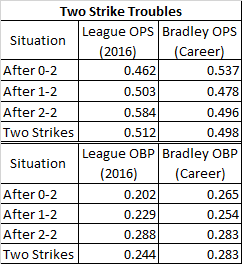 Being right around the MLB average in first-pitch strikes, starting off with the advantage hasn't been a source of quarrels for Archie. Nonetheless, some of his trials have radiated from his struggle with putting batters away. When a pitcher is ahead in the count, the slash line against him on average is .200/.208/.303 – for Archie Bradley it's .255/.268/.418. With the specific advantage of having two strikes on the batter, Archie does start to fare better in the OPS department – having an OPS .014 lower than league average. However, this surface look can be deceiving. His OBP allowed after two strikes is nearly .040 higher than the league average, struggling especially after reaching 0-2 counts.
These issues relate to additional problems Bradley has faced. For his career, he has thrown 282 pitches with two strikes on a hitter, coming into Sunday. With those pitches being spread out across 106 different plate appearances, that averages out to about 2.66 additional pitches thrown after having reached two strikes. To illustrate that briefly, (it is a bit confusing) if Archie has a hitter sitting at 0-2, it would take him, on average, about 2.66 more pitches until the result of the plate appearance has been decided. On the whole, Archie's 4.14 pitches-per-plate appearance this season would have tied him with Robbie Ray for being the worst in baseball for qualified pitchers in 2015. Ineffective and inefficient results in situations where Archie should have an advantage are perhaps his harshest flaws thus far.
Indeed, Archie's time in the big league has been mostly sporadic and often frustrating. Hit in the face with a comebacker and enduring shoulder tendinitis, last season was woebegone in almost every sense. His 10.1 IP this season haven't been much kinder, with an ERA over 7.00 and his walks-per-nine exceeding his strikeouts-per-nine. The last year-and-a-half has taken him from elite prospect to still-pretty-good-but-struggling prospect. Sunday, however, was a throwback of sorts. Though it's hardly responsible to read too much into one start, on Sunday, Archie flashed signs of why he was once referred to as "the best pitching prospect in the game" by Keith Law.
Despite the challenges facing him, on Sunday, these problems were not in attendance – instead an effective and efficient Archie appeared on the bump. In 7.1 innings, he allowed only four hits, with nine strikeouts and a walk. Perhaps taking a note from Daniel Hudson, there was a difference in Bradley's approach, perhaps aided by a better ability to control his pitches. Throwing around 59% of pitches for strikes in his career, he pumped 73% of his pitches in the zone on Sunday.
96 pitches for Bradley today, SEVENTY strikes. #Dbacks

— Mike Ferrin (@Mike_Ferrin) May 29, 2016
After reaching two strikes in the count, Archie was able to efficiently average only 1.57 additional pitches from that point until the conclusion of the plate appearance. Compare that to his aforementioned career average of 2.66 additional pitches after reaching two strikes in the count, and he saved himself roughly 12 pitches total over the 15 batters he dug into a two strike count.
When it came to his two strike approach, Archie did two things quite effectively: bury the knuckle curve and paint with the heat. Notice in the top chart how he has had success getting whiffs on curveballs down and fastballs up. On Sunday, Bradley was pitching to his strengths. A problem in the past has been with leaving hittable two strike fastballs over the plate, but Sunday was different. He was able to command his fastball around the corners – two of which went as called third strikes – and avoided making any real mistakes, hit or otherwise, over the plate. The story was similar with his knuckle curve, again keeping it where hitters have had a tough time making contact with it. He typically throws the knuckle curve only about 28% of the time with two strikes, but that was up to nearly 40% on Sunday afternoon. His only two strike mistake with the knuckle curve was one that hung a little bit off the plate that Yangervis Solarte was able to drive to left-center field for a double. Of his nine strikeouts, five came via the fastball and four via the knuckle curve. Though his day ended with a four pitch walk, the only one he yielded on the day, the control and even command seemed to be there for Archie Bradley.
It's tough to draw too many conclusions off of 7.1 IP but this latest call-up could be the turning point for Archie. There are certainly a few underlying reasons for optimism after Sunday's start – at least ones not present before. His control was on-point and the command with two strikes he exhibited was promising as was his efficiency. In a game where prospects seem to be much more commonly hailed as stars compared to years past, maybe Archie Bradley is starting to find his shine.