Speaking with Top Draft Picks: Previewing D-backs Short Season Affiliates
With the draft completed, the Diamondbacks are at full capacity on the farm. With four full-season affiliates underway already (Kane County/Visalia update, Mobile/Reno update), the team has five short season teams now in action. That's another roughly 135 players to keep track of, making my life busy, but giving us hope for the future as things at the big league level have started to fall by the wayside for 2016. I had a chance to scout and speak with a handful of top Diamondbacks prospects last week, and here are some names to watch at each short season level this summer.
DSL Diamondbacks 1 and DSL Diamondbacks 2 (Dominican Summer League)
First, if you've followed the team's international efforts over the last few season, you might be surprised to see two team listed here. It's not wholly uncommon for organizations to have more than one team playing in the Dominican Summer League, but the Diamondbacks haven't been one of them in recent memory. When they overspent their bonus pool and signed Yoan Lopez in 2014, they disabled themselves from signing international players with large bonus demands for the next two signing periods (the one that took place last July and the one that's just around the corner). That strategy made little sense at the time because the team didn't continue to spend big in that cycle, plus it undercut their future opportunities. We're still shaking our heads on that one.
To circumvent the problem to some degree, however, the team has taken a shotgun approach to the international market, inking a ton of low-bonus players and getting them into the system. This quantity over quality approach is intriguing as the bust rate on all prospects is huge and the bust rate at the international level is seemingly higher. There's more to adjust to for these players, plus they sign at younger ages. Their eventual move stateside, at least for the ones who play well enough to make it to the U.S., presents another level of adjustment that's proven plenty troublesome in the past. Even bonus-baby Lopez had some off-field issues in his debut season last year. With the risk as high as it is, the team has diversified its portfolio appropriately and at least suggests that because they're not able to spend big doesn't mean they aren't willing to spend at all. That's certainly a welcomed sign.
With virtually no press and/or scouting reports available for the bulk of these players, I don't have a much of an update for you, unfortunately. What I will do is provide some names, measurements and ages of players that, from the roster at least, look intriguing. With just a dozen or so games played to date, there's no real use in listing stats for a 16-year old that's pitched once. We'll eschew a deep dive for now, but here are the names I'm following for both squads.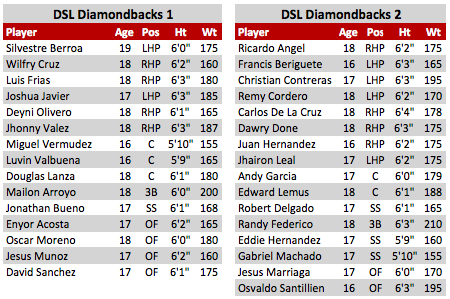 The methodology here is quite flimsy given the lack of background available. I'm really looking for player that are young but considered skilled enough to play organized baseball. The other clue is size — you're looking for projectable bodies. A 16-year old outfielder that's 6'3″ and 195-pounds like Osvaldo Santillien draws a pretty picture in one's mind, at least in terms of baseball prospects are concerned. Mailon Arroyo and Remy Cordero have been written up here before but debuted at 16 and are making a second trip through the DSL, which isn't uncommon. Until they come stateside, or rather if they come stateside, we'll learn far more about these players
AZL Diamondbacks (Arizona Summer League)
Mack Lemieux, LHP: drafted in the 6th round out of a Florida JUCO, Lemieux's velocity jumped this season after he was drafted in the 14th round by the Nationals out of high school in 2015. He can be a little stiff, but it's a 93mph fastball and big curve from the left side with an idea of where the ball's going. I caught him at D-backs minicamp and he was quite athletic with his future remaining as a starting pitcher.
Jake Polancic, RHP: the 6'3″ righty was a 11th round choice out of a British Columbia high school two weeks ago and features a low-90's fastball and a solid curve. He's got some projection left and will get his start in the AZL against tougher competition than he saw in Canada where he was as standout. He was part of the D-backs' Canadian scout team in B.C. playing for the Langley Blaze and did enough to get selected.
Francis Martinez, OF: the hulking right fielder has plus raw power and made his stateside debut last summer in the AZL. He'll get another crack at it as he was just 17 last season and showed some problems making contact with lots of swing-and-miss. Martinez signed for $350,000 out of the Dominican in 2013, has likely spent the last ten weeks in extended spring training and will hope to show improvement this season.
Missoula Osprey (Pioneer League)
Andrew Yerzy, C: the team's 2nd round choice this June will likely get his feet wet in the Pioneer League (although we don't know for sure) where the ball can really fly. Yerzy has impressive raw power to all fields and Scouting Director Deric Ladnier commented that in Yerzy's pre-draft workout, he hit ten consecutive balls at 100+mph at one point, making the bat something special. Drafted as a catcher, there's considerable work to be done behind the plate for the 18-year old out of a Toronto-area high school. The team will keep him behind the plate for now, plus work on his swing mechanics, as he gets his feet wet in pro ball. The odds of him staying behind the dish seem low at this juncture, so his defensive development will be something to watch.
Jose Herrera, C: unlike Yerzy, the switch-hitting catcher has been long noted for his ability to receive and throw from behind the plate. He has a line-drive, contact-oriented swing that has served him well as he's climbed the ladder. The power hasn't shown to date and it'll be lucky to get to average, but his quiet hands when receiving the ball and his ability to throw out runners are his ticket to advancement so long as he can hit at a reasonable clip.
Ryan January, C: Arizona's 8th round choice out of a Texas JUCO, January looked good in minicamp a long, lean catching prospect. He can really hit and the bat is ahead of his defense, but he has the athleticism to play an outfield spot as he did at times while playing for San Jacinto, one of the nation's best junior college program. With room to fill out, it'll be interesting to see how much the organization has him catch with at least three other catchers on the roster (he's started 2 of the team's first 3 games behind the plate).
Luis Madero, RHP: the Venzuelan righty has proven effective in the DSL and AZL in his first two professional seasons, striking out plenty and limiting the walks with a career ERA of 2.52 over his first 121.2 innings. He'll face a tougher test in the Pioneer League, which isn't generally unfriendly to pitchers. He's been tough for hitters to square up to date and, at 6'3″ and 175-pounds, he may start become a real prospect for the organization with a strong showing. He'll be adding a sinker this season after consulting with Freddy Garcia over the winter.
Gabe Gonzalez, RHP: Gonzalez has been drafted twice before and signed the third time around after being popped in the 27th round. He's got a live arm with a fastball that can reach the mid-90's and he compliments it with a slider and changeup. He may be a reliever in the long run, and that's how he's been used by Missoula to start the season.
Jazz Chisholm, SS: the Diamondbacks' biggest signing last July, Chisholm has a plus-plus name and quick-twitch abilities. The shortstop has tremendous hands and showcased them during minicamp where he looked incredibly smooth at short. At the plate, he has plus bat speed from the left side and showed some sneaky pop for a guy that stands just 5'11", and that height might be generous. The 18-year old Bahamian will make his professional debut in Missoula after not competing at any pro level last year after he signed.
Yan Sanchez, INF: listed as a shortstop, the 6'2″ Sanchez had a good season last year in the Dominican Summer League and has skipped over the AZL to make his debut in the Pioneer League. He likely won't play short and it's unclear just what he is at the plate, but the 19-year old has performed well in the past.
Hillsboro Hops (Northwest League)
Anfernee Grier, OF: the team's first round choice this June, Grier will get his start for the Hops where he'll take his approach to pro-ball. Speaking to Grier at Hops Media Day, I asked him about what kinds of adjustments pitchers made against him in the SEC this year. He replied, "Mostly they just stopped throwing me strikes and they just wanted me to get myself out so I had to learn quickly to slow down, be patient, don't let the pitcher dictate your at-bat… I had a rough patch for a while, figured that out and started performing again." I asked if that was a lesson he'd bring to pro ball and he responded, "Oh yeah, that's what baseball is, a game of adjustments… Being able to make adjustments in college, that's something I'll bring with me to the pro level."
Grier will have his hands full this season as he's likely to see the most advanced pitching of his career and every pitcher will have the bullseye on him knowing he's a top-flight talent. He brings plus speed, plus defense and plus raw power the plate, part of an intriguing package for the D-backs. He can swing and miss some, so keeping the strikeouts in check will be a key for him.
Jon Duplantier, RHP: selected in the 3rd round of the 2016 draft out of Rice University, Duplantier put 2015 shoulder troubles behind him by ranking second in the NCAA in strikeouts this year. With a mid-90's fastball that has some arm-side run and wipeout curveball, plus a developing changeup, he'll bring a strong repertoire to the table for Hillsboro. Asked about his college approach against hitters in generating those strikeouts, Duplantier replied, "It's a mix of having an out-pitch and a lack of command, as bad as that sounds (laughs). One thing I struggle with personally, as a pitcher, is fastball command, so if I get into trouble it's because I can't always throw the fastball for strikes or throw it where I want to." He added, "(The curveball) I get a lot of swings and misses on it… If I had to guess, 85-90% of my strikeouts are swinging." Asked if fastball command is his biggest room for growth, he responded, "That's the number one priority, especially being a Diamondback, that was one of the first things they talked about… They want fastball command in order for you to advance and move up the ranks. You're not pitching in the big leagues without it."
Having thrown a lot of innings for the Owls in 2016 after missing an entire year to injury, it won't be surprising to see Duplantier used out of the bullpen this season, then stretched back out next season as the team did with Taylor Clarke a year ago. Having a first-round talent come out of the bullpen could be a huge luxury for Shelley Duncan and the Hops this season.
Marcus Wilson, OF: the toolsy outfielder was a 2nd round pick back in 2014 and has steadily progressed. I caught him in his first spring training in March of 2015 and he looked much better this spring as he was visibly stronger with the bat. Asked about his physical development, he said, "I added a little bit, since I've been drafted. I've added 25 pounds. I've still got room, I'm still growing. I eat everything I can." Asked about what he'd worked on in extended spring training over the last two months, Wilson said, "I was really working on steals, stealing bases in different counts, picking up certain keys to steal bases and little adjustments with my swing. I feel like I've really smoothed it out."
With Grier being on the team, the team can only play one center fielder at a time. Asked if he's alright playing in a corner, he said, "I'll play anywhere they put me, I'm good in a corner. I'll catch if I need to." While he'd be an entertaining backstop, Wilson will continue to refine his swing and let his plus-plus speed play dividends on the bases and in the outfield. There's arguably no prospect with a higher ceiling than Wilson in the system and scouts will finally get a good, long look at him this summer.
Tyler Mark, RHP: Mark spent a couple weeks in extended spring training to start the year, then went to Kane County where things didn't go so well. His strikeouts were up, but he proved too hittable. He said, "Hitters (in the Northwest League) have more experience, they're a little smarter, they don't chase as much." He added, "You can't just go up there throwing fastballs all the time… I had a bit of a problem (at Kane County) throwing too many strikes, too many fastballs over the white of the plate, they're going to get hit eventually."
Mark will continue to work as a starter for the Hops, as he did last year after he was selected in the 6th round of the 2015 draft. Long term, he may convert to relief as none of his offerings grade out as more than average.
Jose Martinez, RHP: Martinez was a guy who showed up on the radar in a big way after the 2014 season, topping out as the D-backs #4 prospect. Since then, he's overcome an elbow injury that required microfracture surgery, a pulled hamstring and a myriad of other issues. Just staying on the mound for him would be a victory. When he's on the mound, it's a mid-90's heater and a nasty curve that can be a legitimate out-pitch. He's been converted to relief full time and has a chance to really climb if he can stay healthy.
Anfernee Benitez, RHP: the 6-foot Panamanian right-hander has been a durable starter through four professional seasons and hits the Northwest League at just 20. While his stats have never been amazing, he's been productive and will remain a starter in Hillsboro where the ballpark will help him keep his ERA manageable.
Manny Jefferson, 2B: drafted in the 13th round out of Pepperdine, Jefferson will stay up the middle for the Hops. Seeing him in minicamp after being drafted, it's clear that he has some leverage in his swing, thanks to his length at 6'3″. He has a bunch of room to fill out and more power may come as he learns to use his lower half more and adds strength. He's relatively polished for a mid-round pick and could have a solid showing this season.
Matt Railey, OF: drafted in the 3rd round of the 2014 draft out of a Florida high school, Railey has played just 32 professional games. Injuries and off-field issues have hardly allowed him to play and he's looking forward to a full season on the field. He has good raw power, a plus arm and he can run. He'll likely play an outfield corner for the Hops and needs to show progress or his stock will will really start to trend downward.