When the Diamondbacks traded Aaron Hill, Chase Anderson and Isan Diaz to the Milwaukee Brewers for Jean Segura and Tyler Wagner, I didn't exactly like the deal. I can't say I hated it either, but losing Diaz seemed like yet another instance of the team shipping away a talented young player for present value. Given the contention window, it made sense, and ditching Aaron Hill was critical for the roster's well-being. Chase Anderson was mostly frustrating as he'd churn out a couple good starts, then tank, only to rebound momentarily and the whole cycle would start again. He had value and it seemed like there were changes that could have been implemented with him to even things out a bit but they were never tried. Regardless, the deal was struck and the waters were muddied yet again.
As Ryan noted after the deal, Segura seemed like a duplication of efforts:
Segura and (Chris) Owings are almost exactly the same player. As we noted on The Pool Shot, if you had two position players with similar results at the plate and one had been in Arizona and the other not, you'd pick the "not" — you never know if Chase Field would help the newcomer. In addition, second base had been in kind of weird spot, as noted here last week — in part because Owings was the only second base option that could also spell Nick Ahmed more than sparingly at shortstop.

Trading Hill helped make that situation less awkward, except that it completely didn't — Segura will play more, and now, one or maybe even two of Ahmed, Owings and Brandon Drury will be plying their trade at Reno. A stressful situation only getting more stressful. And don't forget that Phil Gosselin came here in one of the other prospect sales.
Some of this was alleviated by A.J. Pollock's untimely demise and Owings' smooth transition to centerfield. It was also temporarily alleviated by Segura hitting like 1.000 in Spring Training and then going HAM in the first month of the season. But quietly, that's fallen by the wayside as he's cooled off in a major way. And, sadly, this isn't the first time.
Segura has been known to get off to a hot start or two in the past. His 2013 breakout with the Brewers was largely aided by a strong first half in which he lit the world on fire, but again, he quietly tapered off down the stretch. Expecting on him to hit .325 the rest of the way with a .349 BABIP wasn't a good bet, but he hit just .241 the rest of his rookie season, a drop that was steeper than we would have expected. You could blame it at the time on a rookie hitting over his head in his debut, the league catching up while the young player tired. But this pattern has repeated itself in subsequent seasons. Observe his career offensive production by month: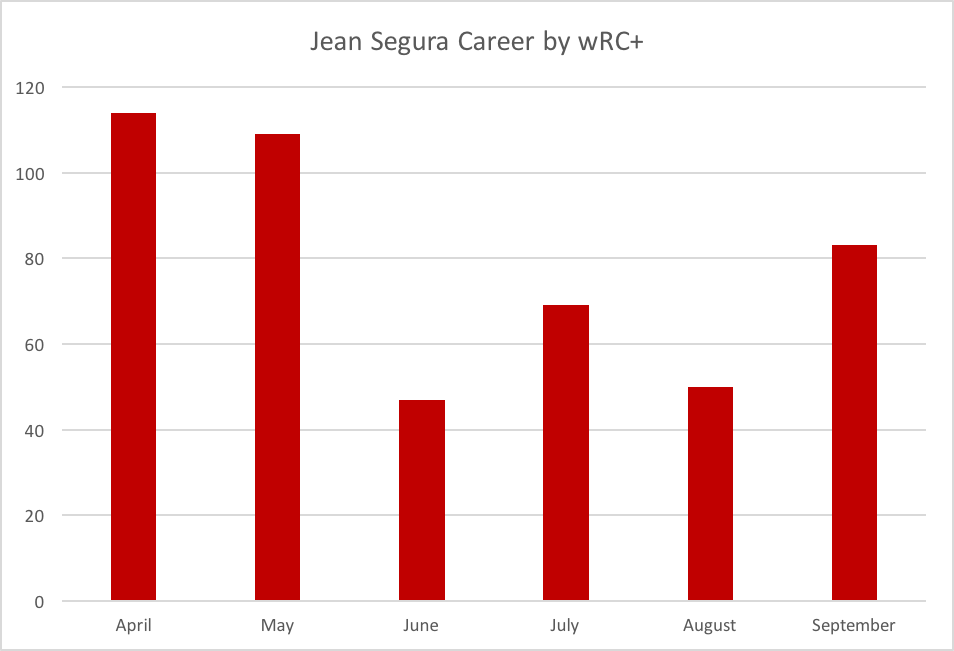 It doesn't take a very smart person to acknowledge that this sort of thing has happened before. After the deal went down, I spoke with J.P. Breen of BP Milwaukee about Segura and he'd noted this type of a pattern and suggested we stay on the lookout for it. As if on queue, Segura has dipped while still hitting in the leadoff spot nearly every night for the D-backs (not that Arizona has a ton of great options there).
Digging in, it gets difficult to really diagnose the situation. Segura has and always will be a free-swinger. That's just who he is. But he sees the same number of pitches per plate appearance in the first half that he does in the second half, so it's not like he starts giving away at-bats later in the year. Without access to swing and contact rates by month, a quick check on his plate discipline gives few clues.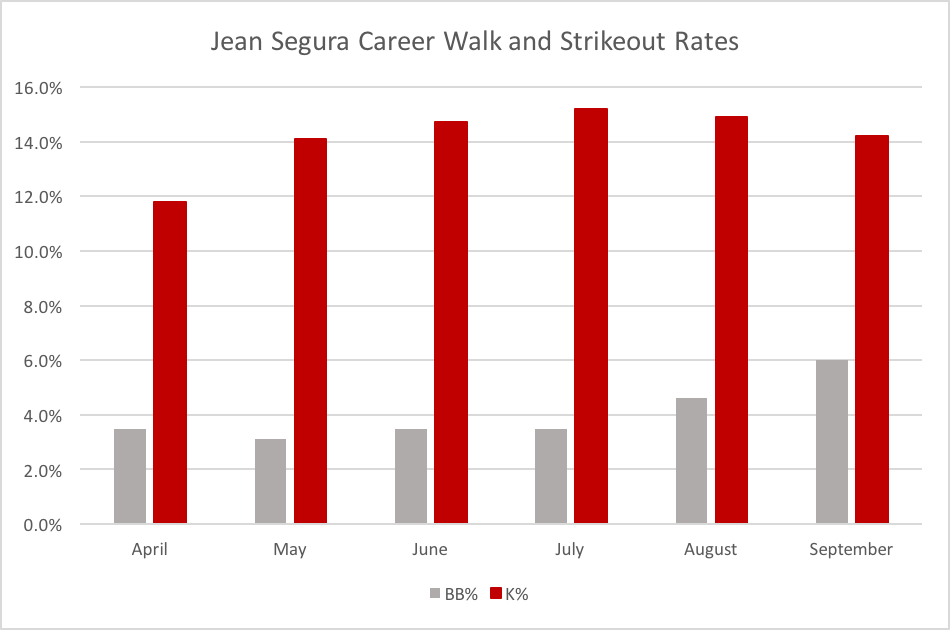 His strikeout rate does trend upward into the summer, but curtails a bit by fall. His walk rate actually climbs as the season progresses and nearly doubles from April to September. Given that he's seeing no fewer pitches from the first half to the second and, while the strikeout rate climbs a little, it's hardly a stark difference.
Segura's biggest decline is in the power department, however, one you wouldn't usually worry too much about in the first place from a 5'10" middle infielder with 28 career homers in nearly four full seasons. But check out his precipitous drop in extra-base hit production:

The decimals might make it tough to gauge, but he essentially generates 26% fewer extra-base hits in the second half of the season. For a guy who somehow only has 66 career doubles while being a plus runner, this is a huge drop in production and takes him from a first half singles hitter to a nearly second half singles-exclusively hitter. The drop in batting average takes it's toll especially hard on the power department, and given what we know about the value of extra base hits, this hurts Segura's second half values in a major way, even with the extra walks accounted for.
Forgive me for repeating myself, but I can't help but come back to the fact that Segura sees almost the exact same number of pitches per plate appearance in each half of the season. That tells us that the process isn't changing drastically. The results, however, do change in a big way and even with his attempts to buoy is his production with some hot starts, the end results are somewhat mediocre. A good month or two can only do so much for you when the season is six months long.
And if I really had to venture a guess, I'd go right back to what J.P. Breen said initially: Segura wears down. That's an easy answer — every player wears down. But relative to his peers, Segura's regular declines in the summer stands out as a trouble spot that needs addressing. Even in the strikeout and walk rates, it's as if he makes a ton of contact, starts to miss more as the season goes on and then he eventually says screw it, I'll just take a walk. I'm sure it's not that simple because baseball almost never is.
Still, it might behoove Chip Hale and Co. to give Segura some extra rest in an attempt to keep him as fresh as possible. It's not like Brandon Drury has been a good defender in the outfield and I'm sure Phil Gosselin wouldn't mind playing a little more often. With this team on the brink of dropping out of the playoff race already, they'll likely try to squeeze everything they can out of Jean Segura, but that's been tried before and it hasn't work. Sometimes less is more and this might just be one of those times.