There's no way around it: 2016 has been a big disappointment for the Diamondbacks. A mixture of injuries and sub-par performances has pushed this team near the bottom of the NL West as we've reached the halfway point in the season. 85 games into the season, Arizona is 11 games under .500, 16 games off the pace set by division-leading San Francisco and 9.5 games out of the Wild Card race. The Mets pulled off a crazy second half last year to overtake the Nationals in the NL East and at this point in 2015, they were a game under .500, ultimately finishing the season 18 games over .500. If the D-backs pulled off a 19 games over .500 effort over the rest of 2016, they'd finish with 89 wins, a mark that wouldn't have been good enough to get them into 2015's postseason. It feels like the deathblow has already happened.
D-backs Chief Baseball Officer Tony La Russa doesn't seem to be willing to admit defeat, however. "We just started July. We've got a whole month to play with the one big interruption (the All-Star break). Don't want to get too cute," La Russa told AZ Central's Nick Piecoro in a revealing piece last week. A month to play, or just 19 games thanks to that All-Star break, isn't enough time for this team to make up the ground required to jump into the fray. They'd seemingly need to reach .500 by the end of the month, and that'd require going something like 15-4 against the Padres, Giants, Dodgers, Blue Jays, Brewers and Reds to finish the month. With San Francisco, Los Angeles and Toronto on the schedule, this just doesn't seem like a possibility. Honestly, there's no combinations of teams would make this seem like a possibility. The Diamondbacks just aren't good enough.
But it's worth re-hashing an old theme: were the Diamondbacks ever good enough?
Preseason projections didn't think so, much to Dave Stewart's chagrin. "They think we only win 78 games? That's a joke," Stewart said to the Washington Post before the season. Truth be told, Ryan and I thought this team was better than that, too, seeing lots of room for growth. Sure enough, Jake Lamb has broken out as we'd expected (although maybe not to this degree), Rubby De La Rosa turned a corner, Chris Owings showed signs of getting back on track, and Brandon Drury has been serviceable (though he's getting killed by playing out of position on defense). None of that can overcome an implosion by Shelby Miller, losing A.J. Pollock before the season started and only getting 41 games from David Peralta so far. Add a downturn from Patrick Corbin, a loss of an effective De La Rosa and, well, it's pretty easy to see where this whole thing got off track.
But what if we baked in some of that progress we've seen and kept the production from injured/imploded players we'd expected? Does that make the Diamondbacks a contender? This is obviously a pipe dream; injuries and varied performances are part of the game. But if we rolled out of bed today and everything went according to plan, how does that re-shape things?
Using 2015 as a baseline, we can see that the five teams that made the playoffs had fWAR totals at the end of the season around 46 fWAR between pitchers and position players. If that's the benchmark, and if we were to strip out all context and just focus on talent, Arizona would need to be on a pace to reach that mark by season's end to enter the postseason picture. They're currently on pace to finish with about 30 fWAR, highlighting just how far off the pace the club is. But what if A.J. Pollock had played 150 games, David Peralta 150, Shelby Miller had pitched like he did a year ago, De La Rosa hadn't gone down and Corbin was the 2015 versions of himself? Would that put the D-backs on track to reach the postseason?
Full disclaimer: this is some serious short-hand math here. Using my best estimation efforts, here's a perhaps irresponsible snapshot as to what might have been.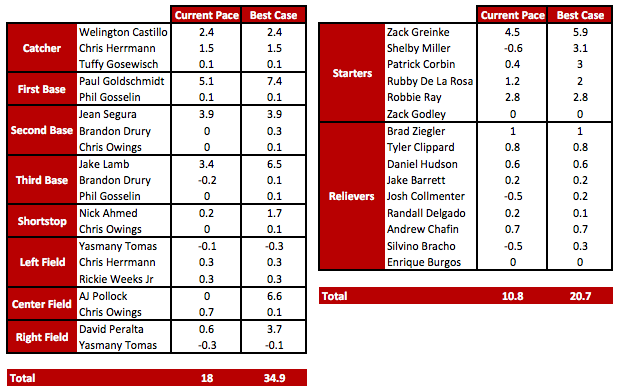 If we take the best case scenario, which includes no time lost to injury and no drops in performance, the Diamondbacks are one of the very best teams in the National League. A mixture of 2015 breakouts and 2016 breakouts with none of the effects of aging or random drops in performance paints a beautiful picture. Using a rough estimate of where things will stand at the end of this season, however, shows that the D-backs are one of the worst teams in the National League. Some guys are having better seasons in 2016, but the injuries and declines in performance swamp them. There's a massive win difference here, one that takes Arizona from 95+ wins to something around 70. Sequencing and context aren't baked in, so this is talent only. Still, you get the idea: the D-backs are far off the best-case pace.
But we have to acknowledge that they were never going to be on the best case pace. Injuries always happen. Players' performances always vary. There are things like service time, the bereavement list, the paternity list and other external factors that all play a part in what kind of production a team gets from it's players. There are issues like hitting with runner's in scoring position, one that Kelvin explored last week. There's the matter of getting enough innings out of your starters to not over-expose your middle relief. We know these things. Best case isn't happening just because Pollock is hurt and Miller has been inexplicably bad — it's not happening because it never happens.
So let's say we split the difference. That seems responsible and that seems like a reasonable rate of return. Yeah, you're not expecting the best case scenario, but you're not expecting the worst case, either. The difference here is about 83 wins. If we assume that an equal amount will go right and an equal amount will go wrong, 83 wins won't get you into the playoffs. The team would still need some combination of luck and/or further upgrades to reach the postseason. With 88-90 wins needed to reach the playoffs, we can see that the D-backs are still off the pace if we split these differences.
Was a healthy and predictively productive Diamondbacks team worth the 78 wins that PECOTA suggested? I don't think so, I think they were better. It wasn't hard to see a few guys performing better than their projections. It was hard to see them being this bad way back in March as no one thought this would happen. But it stands to reason that the team is still short on talent, because even weighing the good and the bad and not praying for luck and/or magical improvements just wouldn't be enough for this squad. They're short in the pitching department with Zack Greinke and a host of average starters. The outfield, even with Pollock, would have at least one hole. They hemorrhage runs when it comes to pitch-framing. The bullpen is okay, but when you get beyond Brad Ziegler, Tyler Clippard and Daniel Hudson, it's very pedestrian.
Health alone is not going to save this team. Fixing Shelby Miller and getting Patrick Corbin back on track is not going to save this team. The idea of running the same squad out there in 2017, plus Pollock, is not going to get it done. The team might be more competitive, but it's hard to see them being a 90-win squad. This study is hardly science, but it would appear that there's still work to do. With the trade deadline approaching and another offseason looming, the Diamondbacks would do well to keep seeking improvements, even if they're small ones.