The 2016 Diamondbacks Midseason Top 10 Prospects (Updated)
So, way back when, we published a little thing called the Diamondbacks Top 30 Prospect list. That seems like a long time ago now. So much has changed. With prospects, things are always changing and it's occasionally difficult to not get caught up in a particularly bad or good half of a season. That makes the midseason list even more difficult. Without the benefit of the a full year's worth of performance one can easily be swayed. So this is a strange mixture of staying the course and weighing the most recent of performances. All in all, I always feel slightly uneasy about the midseason list, but here we are.
Complicating matters is the fact that the Diamondbacks have lost or graduated a number of players since the winter. One needs the baseball equivalent of whiteout when looking back given the all of the trades and promotions. Dansby Swanson, Aaron Blair, Isan Diaz, Brandon Drury, Yoan Lopez, Zack Godley and others are no longer under consideration. A new wave of talent from June's draft will help fill the gap to a degree, but there's no other way to say it: this system was thin and has gotten considerably thinner.
What we're left with is a crop of potential everyday guys without loud tools and low impact potential. That's not good, and when coupled with what's taken place on the field, the long term outlook is pretty shaky for Arizona. You can rearrange a number of guys on this list depending on your penchant for risk and upside and I wouldn't argue. That's simply due to the fact that there is so little distinguishing the overall role these guys will play.
Now, on to the list.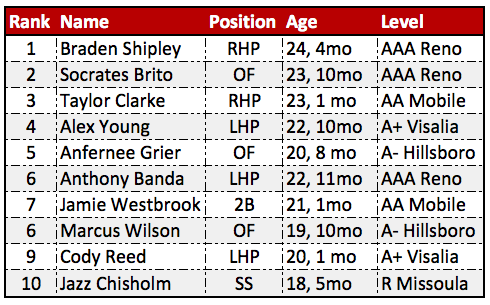 Considered for the list was 3B Dawel Lugo, RHP, Wei-Chieh Huang, C Andy Yerzy and others. Lugo has been hot this season and has been recently promoted to AA Mobile. Huang has struggled this season after a strong debut last season. Yerzy was the team's second round choice with big power but significant work to do behind the plate. Simply put, the crop is thin and with another half a season to go, consider this list to be a work in progress.