With 2016 being clearly out the window, the Diamondbacks' attention will shift to 2017. That likely means using the balance of the remaining season to run some experiments, something we saw plenty of last season. The key idea here is identifying who is and is not part of the team's future as they continue to build towards attempted contention. Brandon Drury is squarely in the crosshairs as a promising bat that's currently playing out of position defensively. But as the season's progressed, Drury's performance has varied.
When most young hitters arrive on the major league stage, pitchers begin attacking with a simple plan: a steady diet of fastballs. It goes without saying, if a hitter can't handle major league heat he won't stick around long. Like many others, Drury had to establish that he can handle that heat, and by and large, he has. This season, Drury has done well consistently against fastballs. In fact, it's really the only type of pitch that he's proven himself able to handle well. When you show that kind of ability, well, pitchers have a way of tipping the scales.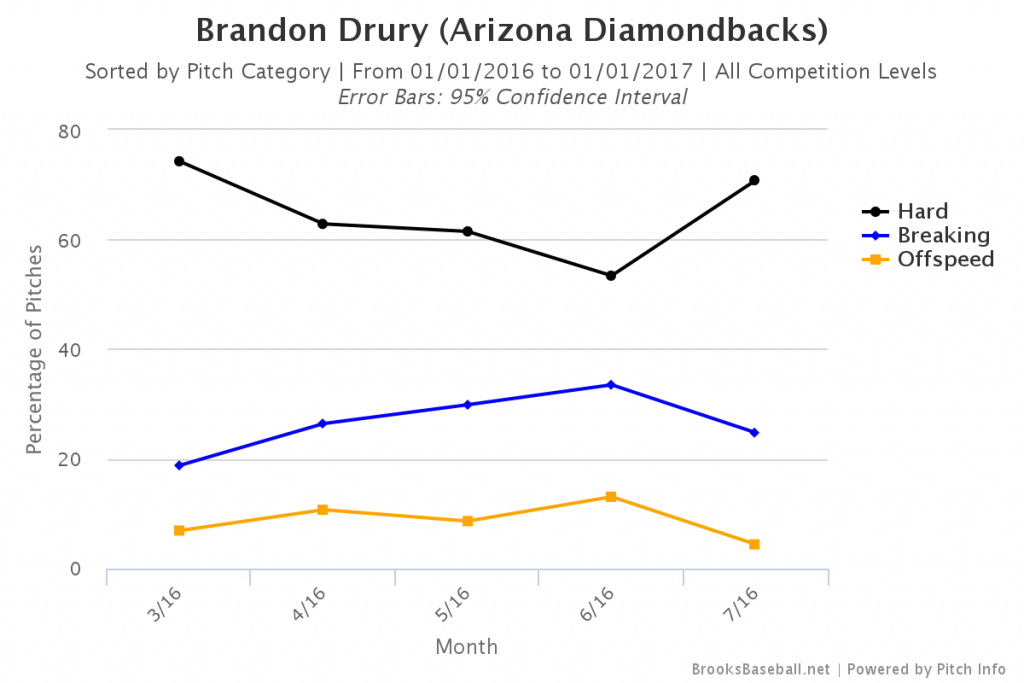 To start the season, Drury received a ton fastballs. Getting a fastball three out of every five pitches (or more) doesn't exactly leave a lot of guessing for a hitter — he knows it's coming, he just has to hit it. Drury did that and then pitchers did what they do, namely stop throwing so many heaters. By June, he was barely over 50% fastballs thrown, still a reasonable mark, but far fewer than before. Instead, pitchers started supplementing with breaking balls and a few more changeups. To date, Drury hasn't hit those pitches nearly as well. It should be noted that few guys do, but it seems there has been some lag time in the change in offerings and the adjustments Drury has been forced to make at the plate.
Sure enough, as the rate of fastballs fell and the rate of secondaries climbed, Brandon Drury's production waned.

May was the only month in which he received more than 100 plate appearances, though if it weren't for the All-Star break he may have been on pace to reach that number in July, too. It's a little interesting that he's seen a ton of fastballs again in July, but that's just an eight game sample, so try not to draw too many conclusions. It's likely a function of which pitchers he's run up against this month more than anything.
A part-time player, Drury has seen his playing time ebb and flow as well, which may not be helping speed up his learning curve. It would stand to reason that if Brandon Drury has some growing up to do at the plate, he'd best be standing at that plate in the first place. It's not uncommon to see pitchers start with this kind of plan against a rookie, and our old friend Trevor Story experienced the same phenomenon, only to adjust and keep on hitting. Drury will surely need to do the same. He's not getting the Peter O'Brien treatment just yet, but he's going to have to show some merit against non-fastballs if he wants to keep receiving his favorite pitch.
In the field, it's also been a work in progress. Drury has played four different positions this season. Of his 69 games played, which is nice, he's logged the bulk of his time in the outfield where he hadn't played until this year. Coming up as a third baseman, it's pretty clear at this juncture that he's blocked there and while he'd made a mostly-smooth transition to second, he's not seeing a lot of time at the keystone either. Instead, he's played right and left field where the metrics and our very own eye test tell us he's not exactly a defensive wizard. Instead, he's hemorrhaged value there and it's taken a massive toll on his overall value this season.
With some adjusting at the dish, Drury can be a better than league average hitter, if only by a little. But where the team plays him on the diamond will truly determine his worth. In the outfield he appears to be a liability. At second, he looks like he can be average. With more line drive than over-the-fence power, a corner is a tough place to play him in Chase's sprawling outfield. With his profile fitting best at second, the team once again needs to decide what its every day middle infield will look like in the near future. Nick Ahmed certainly assists a pitching staff that's not all that good and Jean Segura has played himself into the long-term asset discussion, but that still leaves Drury on the outside looking in. Shifting Segura back to short and giving Drury the keys to second base job would help give the offense more punch, but it would take its toll on the other side of the ledger by decreasing run prevention abilities. There's no win-win here.
At the end of the day, all of that could make Brandon Drury a trade chip, though there are reports that the team would like to hold on to and won't consider dealing him. If that's the case, the D-backs might be best-served to limit Ahmed's playing time next season rather than forcing Drury into the outfield where he struggles. Selling low on Ahmed or high on Segura might be better than running Drury out there as an outfielder next season. Brandon Drury will be a good player in time, and while he's got some growing up to do at the major league level, it's still unclear where that will take place. The Diamondbacks would be best-served to at least make sure he keeps playing regularly in 2016 so that growth can occur, then they can make a call on how best to arrange their assets.