Moving Yasmany Tomas Should Be a Priority This Winter
Yasmany Tomas' production this season leaves the Diamondbacks at a bit of a crossroads. On a back-loaded deal with an opt-out after year four, his contract is team-friendly in the near-term. That changes significantly, however, as his salary increases to $10M in 2018, $15.5M in 2019, and $17M in 2020. The timing of those increases is poor, as the team will have significant arbitration salaries to pay to players like A.J. Pollock, Patrick Corbin, David Peralta, Jake Lamb and others during that span, not to mention considering a long-term deal with Paul Goldschmidt and the continued cost of Zack Greinke. We can see a bubble looming, one that will have real consequences.
Tomas, of course, failed to live up to expectations in his first big league season, producing offense at a rate 12% below league average. Coupled with hide-your-eyes defense in the outfield, it wasn't clear that Tomas was even a big league talent, let alone someone worthy of a $68.5 million investment out of Cuba. With a notably questionable approach at the plate, we wondered whether or not Tomas was even worthy of a roster spot.
The team cleared that up by trading away Ender Inciarte, a successful but not overpowering player, this winter. Tomas was going to play every day, it seemed, and to date, he mostly has. There's been some growth in production this season to go along with his playing time, most notably some strong power output. To date, he's one of only 45 players with more than 2o home runs and one of only 33 players with an ISO above .230, placing him in the top 20% in isolated power. His second-half surge has been notable, as he's hit .342/.366/.679 since the All-Star break.
Streaky at the plate, Tomas has simply not improved in the outfield. His failings at third base pulled the plug on that experiment early on, but his move to the outfield hasn't provided a respite. Among all qualified outfielders, he's seventh-worst in UZR/150 and tied for seventh worst in DRS. Even though he's producing runs at the plate, he's hemorrhaging them in the outfield, weighing down the total package. In fact, the offense is barely enough to make him more than replacement level, which while an improvement over his 2015 effort, still leaves plenty to be desired.
This left me wondering, as the game has gotten smarter about valuing defense and overall production over offense alone, does Tomas' 2016 season seem like an anomaly? How many players have hit for his kind of power recently and been worth less than a full win? He seems like a lock to amass 25 or more home runs but unlikely to surpass 1-win as measured by fWAR. How common is this today?
As it turns out, pretty rare. Over the last five seasons, this has only happened nine times. Tomas would be the 10th occurrence.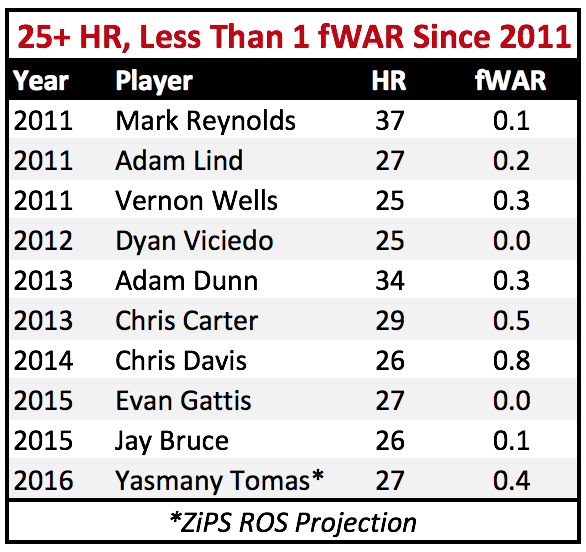 We know what kind of players these guys are — sluggers without a defensive position, either relegating them to designated hitter/first base duties or some poor coverage in the outfield. Of these players, we see guys that were usually much older than Tomas' current age of 25. Simply put, these are generally aging players who have either been hampered by injuries or are simply slowing down. Tomas has neither excuse. He's got a sore neck at the moment, but he's just not up to par on defense and the Diamondbacks' pitching staff is paying the price, even if he is providing some run support.
And this brings us back to the crossroads. Tomas has shown notable growth in his power output, but little growth elsewhere. He's still not walking much, instead opting to chase pitches at a concerning rate. He strikes out plenty as his contact rate leaves a little something to be desired. His plate discipline simply hasn't improved at all, and while he's hitting the ball out of the park more, he's not doing much else. He doesn't appear to be turning a defensive corner any time soon and his physical skills are likely to begin slowing down throughout the duration of his contract. The metrics like him better in right field than in left, so maybe there's something to be said for just letting him play right as long as he can, because there's no DH spot in the NL and he's not about to displace Paul Goldschmidt any time soon.
As we discussed in The Offseason Plan, he's simply not an asset for the Diamondbacks. The NL West is chalk full of big outfields. While his power has been impressive at times, Tomas' overall skill is just a poor fit for Chase Field. It can be tempting to see if he'll improve down the stretch and wonder just might come of a third full season in the majors, but with his peripherals not showing signs of improvement, we're left to assume that what you see is what you get with Tomas or pray he decides to become a more discerning swinger.
This winter could be the time to sell on Tomas, even if the return isn't all that big. Getting out from under the money he's owed would be an accomplishment in its own right and help ease the team's financial future to a degree. 25+ home run threats are often tough to acquire and there is some reason to believe his services could be desirable on the market. The Diamondbacks should try to trade him while they can, as aside from hitting some home runs, there's not much to be gained from employing Yasmany Tomas.