It's important to take a step back sometimes. The view from 5,000 feet can be useful. Getting into the nitty gritty is mostly what we aim for here, but every once in a while you've really got to examine the whole thing. The Diamondbacks have been bad this year and everyone knows it. The team has stunk, the front office has been an embarrassment, and at the end of the day, the Mega Dog might have just been the best part of this season. Well, that and Jake Lamb. The D-backs have fallen so far below the bulk of their competitors, I feel like we need to know just where the gaps and are and how big the void is. With about five weeks left to play, Let's just see how weak the weak links are.
We'll do this using FanGraphs' version of WAR, and it's got some flaws, especially for pitchers. A while back I advocated for looking at things through the lens of DRA because it's a superior metric to FIP, but we'll just run with fWAR throughout here for consistency's sake. And it's not like fWAR for teams does a bad job or anything. Look at how well the win totals correlate to fWAR. There's a pretty strong tendency there.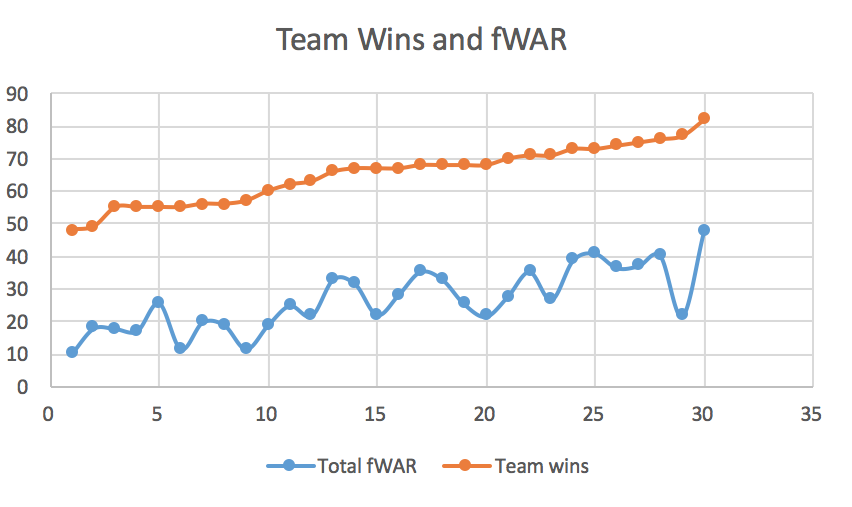 But when we break it down a little further, we can see where Arizona has struggled so much this season. Let's run through the positions and see where they stack up.
Catcher
Welington Castillo continues to provide for the offense, even if the defense leaves much to be desired. He has technically improved in that area, though, and the team is considering an extension for him. Chris Herrmann provided a nice boost before his injury, too. The team appears set here, even if many of us would like to see a better defender behind the dish.
First Base
I really do think we may be seeing the decline of Paul Goldschmidt, and while he's probably got another monster year or two in him, he'll probably just be "very good" rather than "great" going forward. Oh well, that's nothing to sneeze at.
Second Base
Second base is a deep position around the game right now, but Jean Segura has proven to be a real asset this season in his transition to the keystone. The team doesn't seem keen on moving him back to short and it looks like he'll likely stay in their 2017 plans. There are plenty of serviceable backup options at this spot as well.
Shortstop
The shortstop position has been a thorn in the side of the D-backs for some time now. They let Didi Gregorius go and he's looking mighty fine in those pinstripes. Chris Owings has battled the injuries and been forced to play elsewhere. Nick Ahmed has never figured out the whole hitting thing and there's really no one waiting in the wings here.
Third Base
Jake Lamb's obviously proven to be a talented hitter, but his recent slump and missed time have cost the team. His defensive woes don't help, but it's not seemingly a matter of being incapable of playing the position, but rather fine-tuning. The team is 3rd in errors at third base with 21, 19 of which belong to Mr. Lamb. This is fixable.
Right Field
MLB Rank: 30th
fWAR: -1.5
Ouch. David Peralta dealt with injuries all year and for all the homers Yasmany Tomas hits, his defense is basically terrible, putting him in rare territory. Socrates Brito couldn't add anything and the team's best option going forward might be a guy who requested his own demotion last year in Mitch Haniger. It's that bad.
Center Field
MLB Rank: 27th
fWAR: -0.1
A.J. Pollock is back, finally, and for all that Chris Owings and Michael Bourn have done to try to fill in, it's been mostly in vain. Luckily a healthy Pollock for 2017 will solve this problem by itself, because there's no one else capable of doing much to improve the situation.
Left Field
MLB Rank: 29th
fWAR: -1.9
The other outfield corner has been just as bad because, well, it's the same guys playing it. Brandon Drury has been really bad out there while he's trying to figure out how to hit, Tomas has had his share of troubles and the occasional start by Rickie Weeks Jr. doesn't help. Only the Phillies have been worse in left field.
Starting Pitching
I don't know, I kind of expected this to be worse. The staff has been bad, make no mistake, but there are plenty of teams that have performed more poorly. Greinke will do his thing again and hopefully Robbie Ray can, too. Behind them, it's anyone's guess. Can Patrick Corbin get back? Shelby Miller? Does Archie Bradley become more consistent? Can Rubby De La Rosa make his way back into the rotation? How the team decides to bet on it's own starters this winter will be fascinating.
Relief Pitching
MLB Rank: 29th
fWAR: -0.2
The team's most valuable reliever (Brad Ziegler) hasn't played for them in over a month, their second-most valuable relievers (Tyler Wagner and Andrew Chafin) have been on the DL for a long time. They've got a bunch of dudes who are mostly not very good and it's looking more and more like the team will need to rebuild the bullpen if they want to be taken seriously next year.
The Wins
Catcher, first base, second base, third base and center field are all set. There's a core here that's capable of buoying the offense. Many teams around the league are in far worse spots offensively, and with Chase Field providing a boost, the offense should be alright.
The Losses
There's a lot to be done on the defensive side of the game. The corner outfield spots have been brutal, and it's not a surprise that the outfield is the worst in the majors, just as I wrote early this season. The pitching staff needs all the help it can get and with plenty of big outfields to patrol, there's a big incentive for the team to employ some more-capable corner outfielders. Shortstop provides it's own challenges, but if they can keep getting good defense there, the team may choose to fight its battles elsewhere.
The starting staff is full of question marks, and for good reason. Something has to change and now would be a great time for the team to prove they are capable of fixing a starter or two. While some struggles were unforeseen, it's the Diamondbacks' responsibilities to fix those struggles. That's what coaches get paid for. The relief side of the equation is a little more straightforward — they're just short on talent after trading Ziegler and Tyler Clippard. They need more arms and better arms here. That'll likely take some investment this winter.
If you were to choose, which is the biggest priority for the team this winter?

Loading ...