A Little Less Golden: the Slow Decline of Goldschmidt May Be Here
It's funny how easy it is to lose sight of a great player when that player is routinely great. As good as Paul Goldschmidt is, one can lose sight of his production when looking for storylines. It's only when he gets off to a slow start or hits a walk off home run that we stop and take notice. One for three with a double and a walk? That's a pretty routine night for America's First Baseman. We hardly take notice.
And it wasn't all that long ago that we legitimately worried about Goldy. After all, his start to the 2016 campaign was noteworthy for the wrong reasons. He slumped by Goldschmidt standards to open the year and at that time, the buzz was centered around whether or not there was a problem with Arizona's slugger. Sure, he appeared to be in a bit of a funk, but there were no major red flags. He was walking more, but his BABIP was down. Really, we chalked it up to a small sample size and assumed that he'd get back on track.
By and large, that's what's happened. He was an All-Star yet again and rest among the league leaders in fWAR for players at his position. Just Goldy being Goldy, right? Yeah, that's mostly true. But if we take a look at a few indicators of performance, we see some interesting things. First, the data.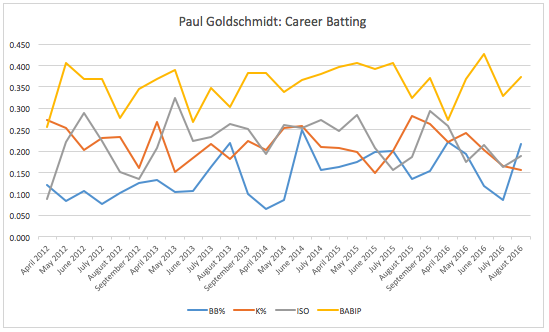 Maybe it's just me, but for a player that's been so consistently productive, there are a lot of peaks and valleys here. Part of that is just the nature of baseball — even Mike Trout goes through a tough stretch every once in a while. But as it stands, Goldschmidt's production has always waxed and waned. We've been told that numbers like walk rate and strikeout rate tend to stabilize pretty quickly, but just two years ago, Goldschmidt walked like Yasmany Tomas for a whole month, then was walking like Barry Bonds just two months later. That's a pretty big difference.
His strikeout rate has gone through plenty of fluctuation as well, as you can sort of tell when Goldy's "feeling it" and when he's caught in-between. We see those things with our eyes while watching ball games, but they can avail themselves here as well. Perhaps the most interesting part of his strikeout woes is that they never last. Like, ever. Goldschmidt pulls himself out of whatever funk he might be in time and again. He's just so good understanding himself as a baseball player that he's able to make the necessary adjustments to get back on track. That ability is uncanny and is part of what truly separates the good from the great.
Batting Average On Balls In Play (BABIP) is always a fun one, and gets to the heart of something we talked about with regards to pitchers a few weeks ago. Once thought to be out of the control of the pitcher and batter (for the most part, considered random), we're learning through exit velocity and other indicators that players do control their outcomes to some degree. Paul has been a BABIP monster since his days in the minors, and it was a mirrored effect showcased by Jake Lamb that put him on our radar in the first place. Throughout his career, Goldy has always exhibited fantastical BABIP numbers, thanks to hitting the guts out of the ball more often than most. And while we know BABIP can vary wildly, it's almost remarkable how little it's fluctuated for Goldschmidt over the years. The dive in BABIP he experienced in April of 2016 coincided with his funk as he just wasn't putting quality swings on the baseball, but that's apparently been righted as he's spiked back up to where we'd expect.
As a first baseman, power is always the hallmark. Isolated Slugging (ISO) captures that for us here, and there's no place Paul Goldschmidt has seen more variance than in his power output. It comes and goes, and when he's hot, the homers can come in bunches. When looking at his future Hall of Fame candidacy in the past, I made a special note about his power output being the key to his case, because at the end of the day, dingers count for more than Gold Gloves when you play first base. And unfortunately, it would appear that his power output has been down for the bulk of the season.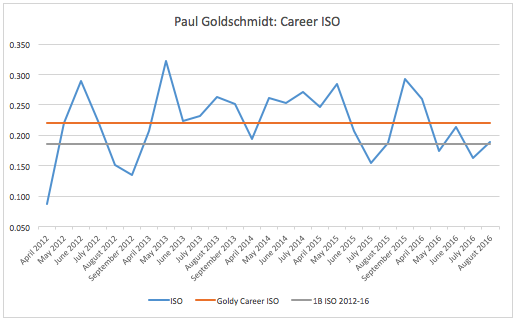 As you'll notice, Goldschmidt's been below his career average in the power department (red) for every month this season beside April, where a limited number of batted balls in play helped prop up his ISO. He's mostly hovered around the average for all qualified first basemen from 2012-2016 (grey), and that's just not what we're used to seeing from Goldy. And that power output, well, it's pulling down his entire offensive value to some degree.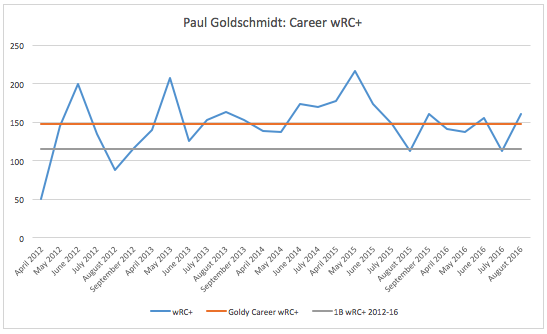 While maybe it seems like a long time ago, Ryan wrote what is still one of the best posts this website has seen, partly because he chose the words and partly because the topic was so closely tied to the success of the Diamondbacks. When projecting the career of Paul Goldschmidt, Ryan noted that the first basemen compared to Goldschmidt through his age-26 season started to experience significant downturns in production by the age of 33.
Goldschmidt's about to turn 29, so he's still a little way off the projected danger zone, but there's still some expected slippage in production as he ages. He's not supposed to "crater," per se, but what I'm telling you is that we've probably already seen Paul Goldschmidt's peak. And while it was glorious and beautiful and he batted golden rainbows into the loving arms of fans in the outfield with high frequency, the overall package isn't likely to improve aside from a random hot month here or there. From Ryan's original work, exactly 18 months ago (to the day!), here's Paul's projected performance over the coming years: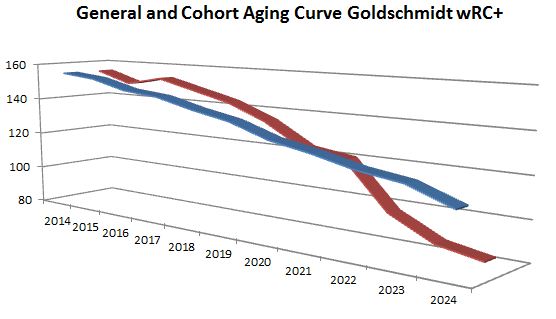 Goldy's not getting younger and as he ages, he's not supposed to be getting better. He's supposed to slowly show signs of that age. He can still rake, he's still got power, he can still field his position incredibly well, and he's now just one of three first basemen with multiple 20 home runs/20 stolen base seasons in MLB history. Paul Goldschmidt is still a marquee talent and is still one of the very best players in major league baseball at any position, but we very well may be witnessing the gradual downturn in his production and value. It's sad, but these things happen.
This has implications for the Diamondbacks. Losing a few points of wRC+ means someone else needs to pick them up. Goldy's deal is up in 2019 as his option is almost 100% certain to be picked up. Any effort in extending him will have to take his slow decline into account, as Ryan already shared way back when. The Contention Window is largely built around Paul and the team is pissing it away at the moment. No matter how you look at it, this is a monumental thing. He's meant that much to the franchise. Fortunately, he's still going to be pretty damn good for the foreseeable future. After that, well, it's anyone's guess.