Is the Chris Sale Trade a Blueprint for Trading Paul Goldschmidt?
In case you missed it, we published our Offseason Plan the week before last. In that piece we, like we have done every year, looked for ways to the make the Diamondbacks a better baseball team. As we started out we developed some large goals, ones that are hardly unique if you read this site regularly. Upgraded catching, more athletic corner outfielders, impact pitching, that kind of stuff. Well, the D-backs did some of the work for us, trading for Taijuan Walker, DFA'ing Welington Castillo and signing Jeff Mathis before we were set to publish. But the organization as a whole isn't deeply talented. There's still some talent missing from the larger picture when compared to the teams that are well positioned to contend for the foreseeable future. That's a goal that has to be addressed and I'm sure it's not something that's lost on Mike Hazen. The question is, how do you achieve it?
The 2017 MLB draft is about six and a half months away. That's one way to add more talent, and while the team has the 7th overall pick, the top of the draft isn't perhaps the most exciting in recent years (though there's some notable depth). The team forfeited their first overall pick last season in signing Zack Greinke and have traded the likes of Dansby Swanson, Touki Toussaint, Aaron Blair in recent seasons. Those moves have left the cupboard barer than you'd like and, given the team's financial constraints, a steady pipeline of young, cheap talent will always be in order for success. A single move to address this deficit could be made, one we didn't include in the offseason plan: trading Paul Goldschmidt.
The idea of it makes one a little queasy, but just because something doesn't taste good doesn't mean you shouldn't eat it (see: broccoli). It's been hard to peg Goldy's potential trade value in the past given that trades involving players of his caliber are pretty rare. These are, after all, the kinds of players organizations build around, not sell off unless they have to. The Diamondbacks don't need to sell Goldschmidt. That time hasn't quite come yet. But if the team slogs it's way to another early season disappointment then the wave may begin to crest. Thankfully, we now have a better idea of how to value America's First Baseman because a trade of this nature did go down recently when the Boston Red Sox traded for Chicago's Chris Sale. It's not a perfect comparison, but let's use that blockbuster as a model and see how we would need to adjust it, shall we? Some important information to consider: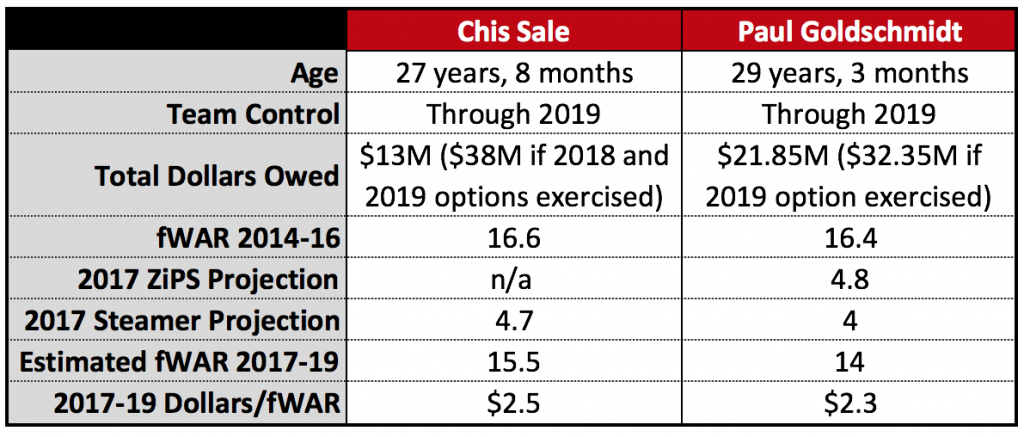 There are plenty of similarities here between Sale and Goldschmidt. Both have been very productive players over the last three years and both are forecast as impact players in 2017. Both are also on team-friendly deals to the point where they'll be paid at something like 25-30% of the going rate for their production on the free agent market. Goldy is about a year and half older than Sale, but Sale's a pitcher and pitchers are more prone to injury (though his unteachable mechanics have proven efficient enough at avoiding the DL to date). While I'd say Goldschmidt might be on a pace to decline a little more over the course of the next three seasons thanks to his age, he's also probably a safer bet to produce than Sale thanks to the relative safety of first base over the pitcher's mound.
That last statement underlies a larger discrepancy, however, as it's clearly easier to plug a hole at first base with just about any warm body than it is to replace a top of the rotation arm. The gap between Goldschmidt and the average first baseman is a bit smaller than the gap between Sale and your average big league starter, which might make Sale a smidge more valuable. Ask most GMs if they'd rather have an actual "ace" or a Silver Slugger first baseman who is usually a bit light in the HR department and I'd bet that the vast majority would take the ace. Positional scarcity matters here, but it's likely negated to some degree by the propensity for pitcher injury. Just because Sale has remained (mostly) healthy through his age-27 season doesn't mean he'll never get hurt. Still, I'd suggest that Sale, with age on his side and his profile as an elite starting pitcher, is a little more valuable.
Even so, the kind of package that Sale returned was stunning and a Goldschmidt trade right now could net something similar. Yoan Moncada is an elite prospect for a reason, with potentially plus tools across the board. Michael Kopech turned heads with his ability to routinely pitch in the triple digits with his heater and spin an effective breaking ball. Both are headed for the front half of most top 100 lists later this winter. Luis Alexander Basabe (twin brother of Luis Alejandro Basabe, a top D-backs prospect) is an interesting centerfield prospect with big league upside, and Victor Diaz probably profiles best as a upper 90's reliever long term. All four have more than a passing chance to reach the majors (Moncada already has) and stick. Moncada and Kopech are better prospects than anyone the D-backs currently have in the pipeline (by a wide margin, I might add), while Basabe would easily crack the top 10 and Diaz would fit somewhere in the middle of the top 30. Moncada alone has a chance to become the kind of player that Goldschmidt is and even if Kopech eventually moves to relief, he could become one of baseball's top closers sooner than later. You get the idea — these are the kinds of players that can help turn a franchise around.
If we assume that Goldschmidt can elicit a return nearly equal to that of Sale, then trading him may become the rational move. Even if you decrease the return by a small margin, it's still a compelling package. It should be noted, however, that the longer he's in a Diamondbacks uniform, the lighter the return becomes. While we didn't trade him in the Offseason Plan for a reason, by midseason that tune might change. If this team goes into some kind of rebuilding mode, trading Goldschmidt is a hell of a place to start and can help jumpstart the turnaround. Deals for Pollock and Greinke might follow, pulling in more prospects and helping shed future payroll obligations. Arbitration eligible players like Patrick Corbin and Shelby Miller could follow and the franchise could, conceivably, go from also-ran to looming on the contender horizon in relatively short order. There's a boatload of risk here to be sure, but doing nothing is unlikely to change the organization's future.
Maybe some things click in 2017 and Mike Hazen chooses to selectively re-tool around Goldschmidt. Perhaps with proper strategy and just by avoiding some awful, obvious mistakes this team is much improved next season. If so, the idea of trading Paul Goldschmidt could be something we laugh about in the future ("Hey, remember when we talked about trading Goldy? What were we thinking?"). Short of that, however, dealing Goldschmidt may be become a near certainty and a question of not if, but rather when. No matter how much it hurts in the event of a trade, it's clear from the Chris Sale deal that Paul Goldschmidt can still be the player that changes the fate of the franchise even after he's gone. How this team gets out of the gate in 2017 and plays the first half of the season will be critical because it could truly lead to a wild change in direction, including a trade of perhaps the franchise's all-time best.