Change is inevitable, and it seems as if there's been nothing but change for the Diamondbacks since their disappointing, 69-win 2016 season came to a close. Out went Dave Stewart and Tony La Russa from lead roles, and in came Mike Hazen, Amiel Sawdaye, Torey Lovullo and others. After pushing hard for contention in 2016 under Stewart, the team is looking for a new direction under new leadership, and while we don't exactly know what that approach will be just yet, we've already started to see some clues. The huge December, 2015 signing of Zack Greinke has stressed payroll and the trade of Dansby Swanson, Aaron Blair and Ender Inciarte for Shelby Miller left the organization with fewer assets to cash in. The win-now-at-all-costs methodology has expired but the Contention Window we saw open up isn't completely closed, though resources are clearly dwindling.
That leaves the team in an interesting place, bordering on the dreaded no-man's land that's essentially baseball death. With limited payroll and roster flexibility, the team still has plenty of ways to improve. Some of that improvement can come by way of subtraction. Other improvement can come by way of being smarter. That might mean platooning players, avoiding third trips through the orders, or throwing fewer sinkers to opposite handed batters. There's growth to made just by implementing things differently and avoiding poor strategies, yet these are the hardest types of growth to project. Simply put, we just haven't seen it yet, and while we can estimate, we just don't definitively know.
As with our three previous Offseason Plans, what we lay out below is not a prediction of what the team will do, although the gulf in thinking between us and the D-backs front office is probably a lot smaller than it's been in the past. Instead, this is the result of three people scouring all MLB rosters, payrolls, and minor league systems, and trying to bring our knowledge of the state of the sport to bear on the goals we'd like the team to attempt to accomplish for this club. For purposes of discussing these transactions, we do assume that these moves would work — but we are fully cognizant of the fact that it always takes two to tango, and that with respect to trades, free agents and extensions, a team can only control the offers it chooses to make. Please take this Plan for what it is: an academic exercise. If the team were to follow this template, we think it would create a more competitive team while also positioning the team for the future.
The 2016-2017 Inside the 'Zona Offseason Plan:
Trade Brandon Drury, Steve Hathaway and Jamie Westbrook to the New York Mets for LF Michael Conforto and C Rene Rivera
Trade Yasmany Tomas and $6 or $12 million to the Texas Rangers for LHP Alex Claudio and RHP Jose Leclerc
Trade Chris Herrmann to the Baltimore Orioles for RHP Cristian Alvarado and LHP Tanner Scott
Offer a 1-year, $8 million contract to RHP Greg Holland with performance incentives
Offer a 1-year, $750,000 contract to RHP Seth Maness with a $1 million option and $250,000 buyout
Offer a 2-year, $12 million contract to OF Rajai Davis
Offer a 1-year, $2.5 million contract to OF Ben Revere
Offer a $30.5 million, five-year extension with a $13.5 million option ($2 million buyout) to Jake Lamb
Offer a $3.5 million, two-year extension with a $4.5 million 2019 option ($1 million buyout) and a $6.5 million 2020 option ($1 million buyout) to Robbie Ray
Trades
Trade Brandon Drury, Steve Hathaway and Jamie Westbrook to the New York Mets for OF Michael Conforto and C Rene Rivera
Trading 2016 Gold Glove recipient Ender Inciarte opened up a spot in the outfield for Yasmany Tomas. If that sounds like a bad idea, it's because it was. David Peralta's injuries didn't help, pressing Brandon Drury into action somewhere he shouldn't have been. It doesn't take a ton of analysis to see that Drury's outfield experience was rough, though if you want to go the analytics route in a very small sample, he was worth -9 runs according to DRS and worth -18.4 runs per 150 innings according to UZR/150. Defensive metrics have their issues, but that's still very bad.
Of course, trading Jean Segura opened a spot for Drury at second base, but scouts don't like his defense there and while we've seen him appear passable, he'd still be a near-lock to be a below average at the keystone. With his best defensive position blocked thanks to Jake Lamb, Drury is still without an obvious fit for the Diamondbacks, and while the bat showed progress down the stretch, it's still unclear that this team could use him effectively.
Thankfully he's young and still has plenty of trade value. The Mets convinced Yoenis Cespedes to take mountains of money, and with Curtis Granderson, Jay Bruce and Juan Lagares still in the mix, they're looking to offload an outfielder. The Diamondbacks aren't likely to want one of their aging veterans, but lefty-hitting Michael Conforto makes a ton of sense. He's an on-base machine, an above average defender in left field, and young enough to hope that his bat will rebound from a tough 2016 where he was constantly jettisoned between AAA and the majors, often riding the pine for seemingly no reason. Terry Collins didn't do Conforto any favors, but he's young, was very recently one of the baseball's top prospects, should hit for some power, and has five years of team control remaining. The Mets get a player that can fill several voids for them, as Drury can play third in the broken David Wright's absence, play second once Neil Walker moves on in 2018, or cover an outfield corner in a pinch. They can bring him along slowly and use him as a utility guy who simply fits their roster well at the moment, and even better in the future, with offensive upside.
In the deal, the Diamondbacks also receive catcher Rene Rivera who's a similar catcher to Jeff Mathis, giving them a framing-conscious duo behind the plate. Rivera will earn $1.75 million next season in his last year of team control. There's nothing much in the way of upside, but it provides some protection for a team shallow on catching depth after non-tendering Welington Castillo. The D-backs will have to send lefty Steve Hathaway to the Mets in the deal, along with 2B prospect Jamie Westbrook. Hathaway can provide the Mets with a cheap bullpen piece from the left side while Westbrook may just hit enough to make his average defense at second base platable. Put it all together and both teams get young players that fit their rosters, while receiving some supporting pieces to bolster their reserves.
Trade OF Yasmany Tomás and $6M or $12M to Texas Rangers for LHP Alex Claudio and RHP Jose Leclerc
Tomás simply does not belong on a National League team with a giant outfield like that of the D-backs, who have the second-largest outfield in the NL. You can't be surprised that we've included a Tomás trade in this Plan; we've dreamed about it before, and included a trade to Hazen's Red Sox last July in our Midseason Plan. The thought there was that Boston might move dead money owed to Rusney Castillo for the Tomás contract, adding in a fringe lefty starting prospect and an honest-to-goodness catching prospect for the privilege. No dice, of course, but also the situation has changed completely.
Tomás finished the season hot, slashing .294/.329/.584 in 64 games after the All-Star Game, a 133 wRC+ over that span that made him look like a well above average hitter. That's better than his less impressive 109 wRC+ for the season, and Tomás got there by feasting on lefties and "finesse" pitchers, but unlike last summer, Tomás looks like he could be an asset to a team—so long as he's used the right way. His youth lends credence to the idea that the most recent version of Tomás is the one that teams are more likely to get in coming seasons, particularly after he spent so much time not playing baseball before the 2015 season began.
Still complicating the possibility of a trade is an unusually-shaped contract that makes it hard for teams to know what they're trading for. Technically, Tomás is owed $55.5M over the remaining four years on his deal—but it's an expensive $55.5M. After he earns salaries of $9.5M in 2017 and $13.5M, Tomás has, essentially, a two-year player option for $32.5M. Right now, the first two seasons of the deal look reasonable, albeit not much of a discount. The last two years look pretty scary.
The team that owns Tomás's contract at the end of the 2018 season will lose Tomás that year if he thinks he can get higher salaries on the open market, or if he can get salaries in that $16M/year range over a longer span of years. If he's not worth that much, the team will pay him the $32.5M. It's a no-win situation for that team, and a situation that could get even less appealing a year from now. If the D-backs succeed in trading Tomás before he makes his opt-out decision, it's going to be now, or it's going to be after a year of sustained improvement and success in 2017.
We've already seen this new front office make some bold choices to add through subtraction, but they can't do the same thing with Tomás. Most of the time we hear things like "you gotta play him, he makes too much money," those statements are meaningless: once obligations to pay are set, any gap in value under that is a sunk loss. And that's the thing: the D-backs' obligations to Tomás are not set. If they don't play him full time or near full time, the chances a market will develop for him after the 2018 season plummet. Once that happens, the chances Tomás does not exercise his opt-out skyrocket. The team won't be able to cut its losses, because if he got cut, the D-backs would foot the entire bill (minus the major league minimum, if he is rostered by another team). It's like a player option, but it isn't one, exactly — and so Tomás could end up playing for the minimum for other clubs all the way through 2020. Not a great look.
We think there are only a handful of clubs that might consider taking on Tomás's contract: after Texas, perhaps Baltimore, and less likely, Oakland, Cleveland, Cincinnati, and Kansas City (as a DH). A deal could make sense for Tampa Bay, as well, but we can't think of a way to make that work financially. Toronto seemed like a strong possibility, but no longer does now that the Jays have signed Steve Pearce. More realistically, it's just the Rangers and the Orioles, the latter of which made a strong bid for Mark Trumbo within the last few days that fell short of filling that spot in their 1B/DH/OF mix.
We think the Rangers present the better trade partner, because by kicking in some cash, it's possible that Texas may be willing to move something that every team needs: promising relievers who still have option years. Relative to how the Rangers value their own relievers, Alex Claudio looks like a prize for Arizona: he is the closest thing to Brad Ziegler this side of Ziegler himself, and he happens to throw from the left side. Simply put, we have some reason to believe that Chase Field will not affect Claudio negatively the way it generally affects most pitchers. In Jose Leclerc, the D-backs would also pick up a different type of pitcher who might not see his stuff spiral out of control in the desert: a pitcher who already doesn't have much control, but one who could succeed anyway with high strikeout rates. Walks are never good for pitchers, but as we've seen with Robbie Ray, it's possible that the break-even point on walk rate for the D-backs is higher than for most teams. Contact turns into hits more often against Arizona, and so avoiding contact has just a bit more value.
It could be that the Rangers are willing to ship both in exchange for Tomás, who appears to be a great fit for their ballpark, if not necessarily their division — so long as some money is kicked in. Prince Fielder is now permanently on the shelf, and Mitch Moreland is no longer under contract, and recently signed by Boston. Can Jurickson Profar play first base? Sure. But Tomás could slot in nicely for the Rangers even if Joey Gallo takes a lot of DH at bats. The two players complement each other well in terms of pitching matchups, while both could play in the event Profar could be played usefully at other position(s). It could work, and so we propose it.
One last note: when the Rangers received $30M in their trade with the Tigers to get Fielder, the money wasn't attached to the contract—had Fielder been claimed on waivers, for example, the Rangers would have kept the cash. To facilitate a deal, we'd be happy to kick in about $3M per season. We want it attached to the contract, however, more like how the Rangers kicked in money for Alex Rodriguez when they traded him to the Yankees. If Tomás actually does exercise his opt-out, we don't want to be paying Texas anyway.
Trade Chris Herrmann to the Baltimore Orioles for RHP Daniel Alvarado and LHP Tanner Scott
Chris Herrmann was a trade win for Dave Stewart as Herrmann started his Spring Training by going 0 for 20-something, but really turned it on in May, then hit well again in July. Defensively, he just doesn't fit the new, and more precise, mold the Diamondbacks are looking for, however. It's true, he can play catcher, first base, an outfield corner and even run around in center field on command. But that doesn't mean he should play those positions with any kind of regularity. A new swing paid dividends, but his defensive flexibility is more of a contingency plan than something you want to bet on routinely, especially considering the front office's new emphasis on pitch framing and the big outfields of the NL West.
Fortunately, he could play in more friendly outfield confines in the AL East where Baltimore boasts a much smaller outfield and they've been more than willing to use below average defenders there in the past if it leads to more offense (see: Trumbo, Mark). The team's long term catcher, Matt Weiters, is a free agent and while Chance Sisco is the next in line to hold down the position on a mostly permanent basis, he may still be a half season or more from seeing the majors. With Francisco Pena and Caleb Joseph in line for the lion's share of the catching duties, adding Herrmann to the mix could help provide some support for Baltimore. Mix in some starts in the outfield and at first base on occasion and Herrmann makes a ton of sense for Baltimore, a team with needs, a ballpark that fits his abilities, and some big contracts that need subsidizing (see: Davis, Chris).
In return, the Diamondbacks receive a pair of pitching prospects who occupy two different ends of the TINSTAAPP ("there's no such thing as a pitching prospect") continuum. Cristian Alvarado is a thin 6'2" and has posted solid numbers throughout his career. Now 22, he'll likely head to High-A for 2017 where he'll put his command/control repertoire to use. His stuff won't excite, but he's shown plenty of pitchability in his minor league time, suggesting a back of the rotation profile. Tanner Scott is a lefty who throws hard and can reach the triple digits, but hasn't exactly figured out where the ball is going. He'll turn 23 next season and make another run at AA where he pitched to a 5.63 ERA (4.11 FIP) in just 16 innings last season after performing reasonably well in High-A for most of the season. While he's walked a boatload of batters, Scott has routinely generated a high number of ground balls and provides an upside play for the D-backs.
Free Agent Offers
Offer a 1-year, $8 million contract to RHP Greg Holland with performance incentives
The Diamondbacks need bullpen help, even after trading for your ground ball machine Alex Claudio and signing Fernando Rodney. Specifically, they need help at the back of the bullpen supporting young pitchers like Jake Barrett, Andrew Chafin, and others. Those pitchers are talented, but they've also seen up and down performances aplenty, something that has seemed to plague D-backs relievers not named Brad Ziegler. While Ziegler himself is a potential fit, his probable deal just doesn't fit a team with a to-be-determined sense of direction like Holland's potentially deal does.
Greg Holland, if you remember, hasn't pitched since September of 2015 as Kansas City's closer. Since then, he's had Tommy John surgery and is on the road back. Though he routinely sat 94-95 before his injury, he was sitting 88-90 in his early November showcase. The drop in velocity isn't as concerning as it may appear on paper, however, as Holland's reduced velo was part of him getting stretched out and building back arm strength. Improved velocity should come, and best of all, Holland was throwing free and easy just a year after going under the knife. By Spring Training, he'll be nearly a year and a half removed from his procedure and, while he may not be the same elite closer he was before, he could survive some regression and still be effective.
Holland's deal is unique in that it includes a reasonable base salary, but there are some sweeteners attached. He'll earn $2 million for 40 appearances, another $1 million for 50 appearances, and $1 million for 60 appearances. While someone could make a bigger opening bid for Holland, say 2/$18, this type of contract gives him the opportunity to maximize his earnings in 2017, then hit the open market again in the winter of 2017 with no strings attached. Should the Diamondbacks go south in 2017, he can be flipped midseason for a strong haul from a contending team. Should Holland go south in 2017, as in not make a successful MLB comeback, the commitment will stand at $8 million without impacting 2018 and beyond. Even with Fernando Rodney signed to a team-friendly deal, it's worth taking a shot at Holland, though he may find more guaranteed money elsewhere. Rodney can be dumped midseason if he doesn't work out while Holland offers greater upside, both in terms of quality innings on the mound and potential trade returns.
Offer a 1-year, $750,000 contract to RHP Seth Maness with a $1 million option and $250,000 buyout
The D-backs will have so many moving parts this winter that we only advise this move as a possible offer come spring training, but with Maness almost definitely on the shelf for all of 2017 after Tommy John surgery, there's a good chance he'll still be available after getting non-tendered by the Cardinals last month. It could be that the Cardinals themselves will approach Maness with an offer, but it's also possible that despite a 3.19 career ERA in 237.1 innings (244 appearances), and despite the fact that a signing team would inherit club control through arbitration through the 2019 (!) season, Maness is just not different enough from the anonymous-faced masses of recovering pitchers for someone to approach him with a deal before he gets healthy and ready to pitch again.
Maness had a rocky 2016, in which he lost about 2 mph on his average fastball velocity. His effectiveness actually slipped before that — for a pitcher who frequently comes in mid-inning, ERA is a terrible and horribly misleading way to measure effectiveness. As a rookie, Maness was outstanding: a 14.48 RE24 that made him look like the second coming of Brad Ziegler, if at a (somewhat) higher arm angle. He hasn't quite matched his fantastic ground ball habits since then, and while his 2014 season was still significantly positive (4.26 RE24 still showed him to be better than the average reliever), his 2015 was merely average (-0.49 RE24). Maness is a double fixer-upper; he needs a healthy elbow, but he also needs to see if he can regain some of his past effectiveness, perhaps by foregoing his four-seam fastball as he did at times in 2016, to carve up right-handed hitters with a devastating sinker, change and slider combination.
For $750,000 (a guaranteed $1 million), the D-backs can monitor his recovery, and get what will essentially be two one-year options at depressed salaries. If Maness doesn't sign until next winter, there's a good chance he'll get a two year deal, or a yearly salary over $1.5 million. With our proposal, however, the D-backs could end up getting one year of Maness for a total of $1.75 million, plus the ability to take him to arbitration for 2019 on a second one-year deal, using a depressed $1 million salary from the season before as a starting point. When possible, going year to year with pitchers is greatly preferable to the point of being worth a fair bit of extra money. Here, the D-backs have an opportunity to see if Maness can really be an heir to Zeigler, and fairly immune to Chase Field and other large NL West parks.
Offer a 2-year, $12 million contract to OF Rajai Davis
With the aforementioned trades of right handers Yasmany Tomas and Brandon Drury (plus the trade for Michael Conforto, the emergence of Jake Lamb, and the return of David Peralta), the Diamondbacks quickly flipped from a right-handed lineup to one that boasts some serious lefty power. That's not necessarily a bad thing, but the Dodgers are expected to roll out a rotation brimming with lefty starters in 2016, plus Madison Bumgarner remains a force in San Francisco with functional lefty Matt Moore in tow. Put simply, the Diamondbacks can't afford to run out a lineup with little right-handed capacity and expect to remain relevant very long in the NL WEST.
Enter Rajai Davis, a veteran righty who has hit well against opposite-handed pitchers throughout his career (112 wRC+). He fits the team's needs at the plate, providing some balance to protect Conforto and, to a lesser extent, Peralta from same-handed pitchers. Davis is best in left field at his advanced age, but he's capable of spelling Pollock in center field, too. He's a good baserunner and while he's not about to reach new career highs in his age-36 season, he does help provide some balance, whether that's starting against left-handed pitchers or coming off the bench. Keep in mind the injury histories of Pollock and Peralta and the need for another option, especially a right-handed one, becomes rather clear.
The cost to balance the lineup and continue adding defense, however, is not one to take lightly. With the Diamondbacks having a major payroll crunch looming in 2018 thanks to escalating arbitration salaries, a two-year deal is risky. Offering a second year is critical for securing Rajai Davis' services in the first place, but he may not stick around long enough to play the whole thing out in Sedona Red. Still, at $6 million per season, he'd be easily tradeable if/when the need arises. It should also be noted that signing him in the first place is contingent on trading Yasmany Tomas, which is no small task. The right-handed outfield market is incredibly small, however, so Davis fits in a myriad of ways should the Tomas deal work out.
Offer a 1-year, $2.5 million contract to OF Ben Revere
Two of the more interesting infusions into the Arizona lineup during the Dave Stewart era were Ender Inciarte and Jean Segura. What Ender started in 2014 and 2015, Jean Segura proved himself to be the spiritual successor of in 2016 – taking advantage of Chase Field's size. With dimensions as roomy as they are at Chase Field, guys with contact skills are better positioned to take advantage of this feature. Segura was able to improve upon where Inciarte left off, trading some contact for more power and posting a slash of.319/.368/.499 with a showy .353 BABIP. Like Ender before him, Jean Segura's chapter in Arizona is now closed, but the lesson of their tenures remains.
2016 also introduced a new lesson that was learned rather painfully, the importance of outfield depth. Regardless of whether or not the team is able to dump Tomas and acquire Michael Conforto from the Mets, outfield depth will still need to be addressed. Thanks in part to injuries and further exacerbated by Inciarte's departure, outfield defense was also a substantial issue for the team last year. Arizona graded as the worst defensive outfield in the NL by both DRS and UZR. Contrast that to 2015 when Arizona lead the NL in DRS and was second to only the Rays in all of baseball.
Working with these two lessons,  ideally, the Diamondbacks should target an outfielder with contact skills and defense that plays in all fields. One such candidate worth consideration is Ben Revere, who was non-tendered by the Nationals. ZiPS projects Revere to be worth about a win of value over 500 PAs with an OPS+ of 78. Certainly, that isn't the profile of a starting left fielder, but Arizona's need is depth – especially considering the injury profiles of Pollock and Peralta –  and that is a skill Revere can no doubt provide. His defense will play in all fields and he fits the contact profile sketched out by Inciarte and Segura. While his potential for power is far less than that of even Inciarte, Revere has proven himself capable of creating contact, with a career K% under 10%. Until falling off a cliff last year, Revere has also consistently been able to sustain higher BABIPs thanks to his speed. Revere turns 29 in May and after his gaudy 2016, will likely be looking for an opportunity to re-establish some value. The Diamondbacks won't be able to offer him a starting position to do that, but there's a good chance whoever the fourth outfielder for the team is will see over 300 PAs. Add that in with a park that might allow him to optimize his talents and things appear to be a fit for both sides.
Arbitration
One of our guiding principles: it's always best to be able to go year to year with pitchers, as Patrick Corbin's extended Tommy John recovery highlights. Regardless of what moves the D-backs make to make Arizona a more friendly place to pitch, there will always be a lot that can go wrong for pitchers, and pitchers are more likely to suffer long term injuries that occasionally obviate the need to pay big dollars, and not infrequently affect future arbitration awards. On the position player side of things, we generally try to respect the effect that friendly hitting environments have on performance, and therefore arbitration figures and awards. Nonetheless, it would rarely make sense to get creative in the arbitration procedures for position players unless the team can be confident that it will want that player rostered.
One year ago, the team had several players hitting arbitration for the first time, and we sounded the alarm: mishandling of arbitration last winter could have had the effect of closing the team's intended contention window one year early, because those players were all due to get very expensive at the same time for 2018, while commitments to Paul Goldschmidt and Yasmany Tomás rose even higher. The D-backs had bungled their 2015 arbitration cases, and we advocated that the team adopt a file-and-trial approach to veer strongly in the opposite direction.
In breaking down the player and team strategies for the seven arbitration players (here and here), we worked through how the D-backs could stave off the possible 2018 apocalypse.  We pushed for a two-year deal for A.J. Pollock to help keep his 2018 award low, reasoning that even if he suffered a long-term injury, the team would very likely tender him a contract in November 2017; that's exactly what they did. We suggested the team get very aggressive with Rubby De La Rosa, noting the possibility he'd head to the bullpen. Noting that Randall Delgado could get too expensive to keep in 2017, we suggested the team offer just $1M or $1.2M, and that they file at under $1M if they didn't settle first; if they lost, the outcome would be about the same as settling higher than those offers.  We stressed that it was preferable to go to year to year with Welington Castillo, despite the likelihood of continued hitting success, and noted that Chase Field was so likely to lower Shelby Miller's star that any departure from the general year-to-year pitching strategy would be especially ill-advised.
In sharp contrast to the 2014-2015 offseason, the D-backs front office fared tremendously with its arbitration cases last year, and in conjunction with non-tendering Castillo and De La Rosa, that takes a lot of pressure off of this time around. In the face of one big possible future crisis, the D-backs deftly employed a scattershot approach with a lot of nuance. This winter, things are much more simple.
No nuance is needed for the arbitration cases of Patrick Corbin, Shelby Miller, or Randall Delgado; there's no reason to stray from the common sense approach of retaining flexibility by going year to year, and trying to keep each year's award as low as possible. At the MLB Trade Rumors projection of $1.9M, Delgado would be on the bubble in terms of being tendered a contract a year from now—but that would be the case even if his 2017 salary were a bit higher or lower. If we could choose how to deploy the D-backs' arbitration resources this winter, we'd apply them to the first-year arbitration case of Taijuan Walker, but not because his situation is unlike those of Corbin or Miller; more because the stakes are higher. Because a player's salary from his previous season is one of the most powerful touchstones in arbitration, Walker's case simply has more impact, because he's likely to stick around for a while, and his 2017 salary could have consequences in 2018, 2019 and 2020.
On the position player side, the first arbitration salary for Chris Owings also has the potential to snowball, with a miscalculation of $100,000 theoretically costing the team four or five times as much. Still, there isn't a high likelihood that Owings's star will suddenly rise after parts of four seasons in the majors, and no strong incentive to keep him from being expensive. Further, although position flexibility has real value for teams in real ways, they don't translate to the arbitration process in a way that favors the player. The D-backs' negotiations with Owings may always fare better when done in the shadow of what is likely to happen in arbitration, as directly as possible.
Extension Offers
Offer $30.5M, five-year extension with a $13.5M option ($2M buyout) to Jake Lamb
General arbitration principles also apply to extension questions. Overall, we'd like to see the team do more with very, very early extension offers to fairly promising position players, as we suggested with A.J. Pollock and Jake Lamb before breakouts. There are simply too many ways for position players to make large, positive strides in the majors with Arizona unless they struggle to hit the ball hard with regularity, or unless they sell out for big flies like Mark Trumbo, or, arguably, Yasmany Tomas.  There's also a potentially huge benefit for a club, in that the first big dollars guaranteed to a player have more actual value to that player than dollars after that. Knowing things could go wrong, many players may be loathe to turn down lifelong financial security, their "first fortune."
As it happens, there aren't budding position players in this category on the squad right now, particularly with Brandon Drury shipped to New York as part of this Plan. Still, in our Midseason Plan we suggested a last-ditch extension offer to Lamb, noting that we thought if the team waited longer, it could no longer lock him up to a Paul Goldschmidt-style contract that the team could enjoy for several years. Lamb's late-season swoon reopens that window a bit, and so we're including a substantially similar extension now, with slightly lower dollar figures.
Why offer Lamb $32.5M guaranteed? Because a precious few major league players possess the skill to hit the ball hard with regularity, and for the D-backs, it's the best possible profile to bet on. If Lamb's defensive regression in 2016 sticks with him, eventually the team may need to consider moving him off of third base, which would admittedly affect his value. As part of a reboot a year or two from now, though, Lamb could still fetch a princely sum in talent. Also, one of the biggest benefits of Goldy's extension is also possible here: with our suggested deal, Lamb is locked up for his age-30 season, which would be his first free agent year, with control over his age-31 season. Wait to extend him until later in the process, and the chances of getting exactly one or two extra years evaporates, as it has with Pollock. Do it now, and you can retain his services for what should still be peak performance seasons—without doling out similar salaries for seasons beyond that.
The D-backs have told us they see Lamb as an everyday player, and that would have an effect on the counting statistics relied on in the arbitration process. There's potential for Lamb to take a step forward at the plate while simultaneously faring better in the field; if so, we're looking at Pollock-type arbitration figures. Even if he is more of a 2.5 or 3 win player, with inflation, he could end up making around $21M for his three arbitration seasons. As noted, it's not realistic to think the D-backs could go year to year with Lamb, then sign him to a one-year extension with an option. Still, with an extension, the team could stand to save a cool $5M or so through Lamb's last club-controlled year, in addition to the two additional seasons at what may be more similar to a market rate.
Offer $3.5 million, two-year extension with a $4.5 million 2019 option ($1 million buyout) and a $6.5 million 2020 option ($1 million buyout) to Robbie Ray
It's worth a shot, right? We prize going year to year with pitchers, but just as we opined with respect to A.J. Pollock a year ago, even if things go terribly wrong for Ray this coming season, it's highly likely that he'll be tendered a contract for 2018, likely his first arbitration-eligible season. Because this offer concerns only club control seasons, this is really just about cost control. After racking up an amazing 218 strikeouts in 2016, though, and with the promise of better catcher and outfield defense, there's a really good chance that Ray will enter arbitration a year from now with a pretty compelling case to get paid.
Consider for the 2010 season, nine years before Ray's first arb year in 2018, Jonathan Sanchez took an ugly 4.81 career ERA into his first arbitration season with the Giants. Over those 413.3 innings pitched, though, Sanchez had 429 strikeouts—and he came away with $2.1M. That was a long time ago, in baseball salary terms. Sanchez pitched to a 3.07 ERA in 193.1 innings that 2010 season, with 205 strikeouts. Despite leading the majors in walks with 96, the leap in salary in 2011 was to $4.8M.
Strikeouts get pitchers paid, and there are reasons to think Ray can improve on his 4.90 ERA from last season, even if he does not actually improve as a pitcher. A cautiously optimistic estimate for Ray's arbitration salaries could net him over $20M, and while salaries of $4M, $6.5M and $10M won't exactly break the bank here, there could be a way to cut down on those numbers significantly with a "first fortune" guarantee of $4.5M, $500,000 of which he'll be making next season, anyway. There's no telling if Ray will consider this kind of contract, but if he did, the D-backs would stand to save maybe $5M-$10M while guaranteeing him not much more than they would just by tendering him a contract a year from now, and while minimizing the contract's impact on the post-contention period if things go wrong for the team.
Roster Alignment

In lining up their rotation, the Diamondbacks will have to make some space by whittling away a number of capable, or at least mostly-capable, MLB starting pitchers to arrive at a rotation of five. That five will be Zack Greinke, Robbie Ray, Taijuan Walker, Patrick Corbin, and Shelby Miller for Opening Day. Braden Shipley, Anthony Banda, Zack Godley and Matt Koch will all make their starts in Spring Training, but will ultimately up in Reno to start the year. The biggest change is moving none other than Archie Bradley to the bullpen.
With two pitches that can be plus, Bradley can pair his fastball and curveball together to create a one-two punch out of the 'pen where he can work on his command and toss a few changeups in an attempt to refine the total package. He'll get some starts at some point as he'd be the first to get bumped to the rotation in the event of an injury or ineffectiveness. Ideally, he'll continue to work multiple innings, often pitching on the days that Robbie Ray and Patrick Corbin take the hill, exploiting what will be righty-heavy lineups. In this way he can stay somewhat stretched out while trying to become a better pitcher. Or, perhaps, the bullpen fits him.
So, about that bullpen… The additions of Bradley, Fernando Rodney, Greg Holland and Alex Claudio provide stability to a group that has been shaky. Holland can absorb saves, helping keep Jake Barrett cheap in the process, while Claudio can be used get ground balls against both lefties and righties, though pointing him at more lefties is prudent. That moves Rodney into a setup role while Jake Barrett and Andrew Chafin will be ready for the 7th inning depending on matchups. Archie Bradley can fill his multi-inning role and Randall Delgado remains in the fold as the utility reliever that can pitch in 70 games if needed.
Of course, that leaves some guys on the outside looking in, most notably Enrique Burgos. There's no doubt that Burgos' 96mph heater can get past hitters and that his slider can elicit some silly swings and misses. Unfortunately, he's doing much missing of his own when it comes to the strike zone. Joining him is the once-promising but lately-disappointing Silvino Bracho who needs to just be better at everything in 2017. Zack Godley, Evan Marshall, Jimmie Sherfy and Daniel Gibson (assuming he survives the Rule 5 draft) are all capable arms that should and will get a big league look at some point, with Godley being able to fill in as a starter or reliever on command. There's plenty of reason to think that this surplus of relievers can lead to midseason trades, too. The extra dosage arms does create a 40-man crunch, so if Holland does accept our offer, someone on the 40-man would need to be DFA'd, likely Bracho or Marshall, with Bracho having more minor league options remaining (2) than Marshall (1).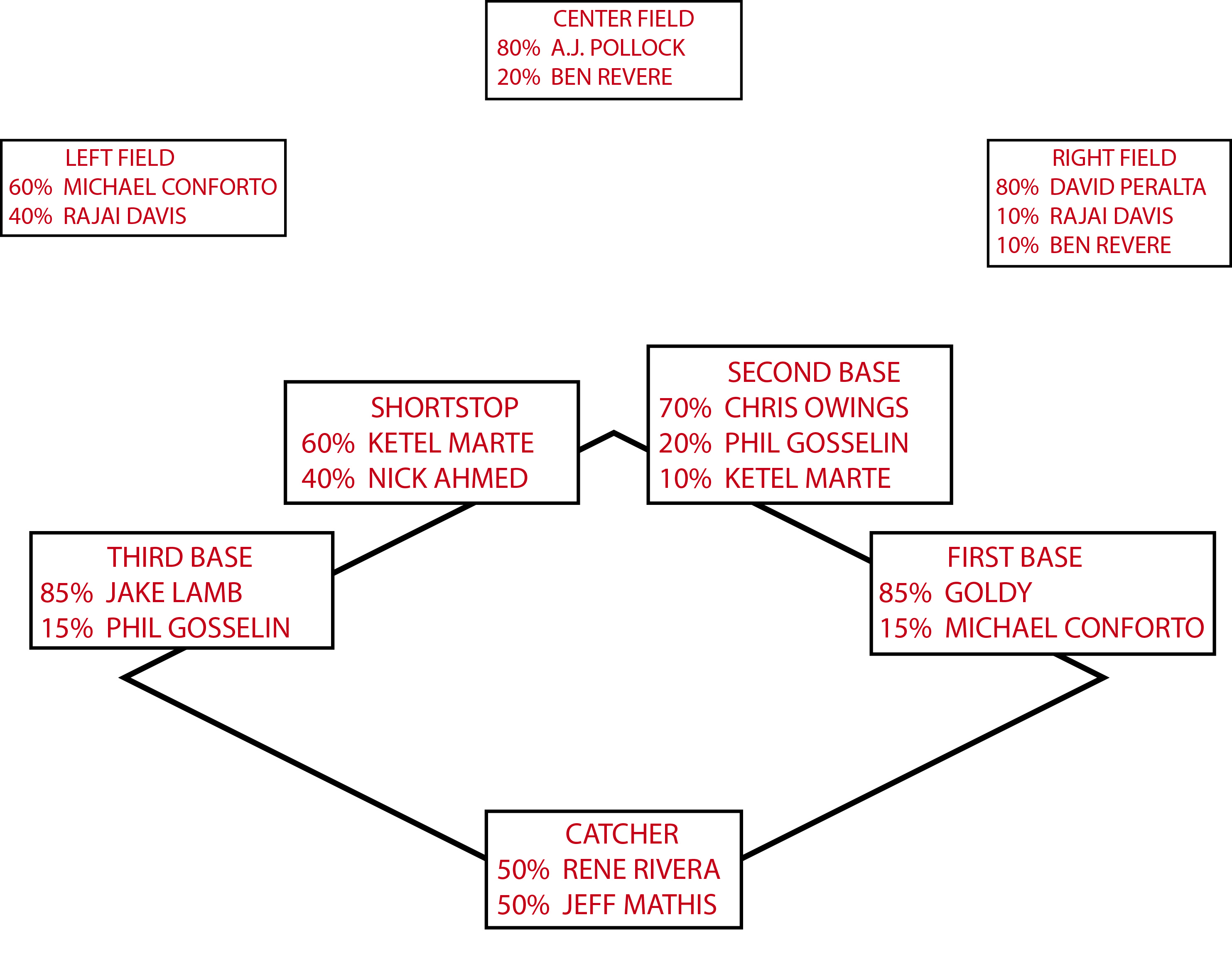 On the position player side, the D-backs will have the somewhat clogged major league roster to which they are accustomed — but, perhaps, a better plumber at the helm in GM Mike Hazen, who saw first hand how a roster can be successfully balanced despite one or two too many full time or near-full time players. We see the Rivera/Mathis partnership behind the plate as being fairly even, keeping the veterans fresh in the event one is dinged up enough to need consecutive days off. With both hitting from the right side of the plate, matching up to the opposing pitcher is not much of a concern. Instead, it's more likely that the coaching staff will allow the two catchers to jell with particular starting pitchers — Rivera may play more to Robbie Ray's strengths, for instance, while Mathis could be the go-to catcher if Braden Shipley or Zack Godley were to have stints as starters.
On the infield, it could be that Nick Ahmed's time has come to take a seat and a role as the less featured half of a shortstop platoon. Assuming full recovery from his hip injury, Ahmed's defense is still second to none on this team, but with enormous platoon splits and the switch-hitting Ketel Marte slightly better against RHP, there is the makings of a natural platoon, with Marte starting occasionally at second if Jake Lamb has the day off at third and Chris Owings is not ready to go. Although Lamb and Phil Gosselin are both capable of filling in at first base, Michael Conforto is said to be working out there this offseason already, and we think Goldy could use more of a sprinkling of days off after playing as many as 158 games for the third time in the last four years.
Also making Conforto a natural fit to back up at first: a gnarly platoon split in the majors that was not present in his minor league numbers. It may be that it is in the team's interest to let Conforto work against LHP so as not to hold him back, but if the team is in contention, it could be appropriate to hide him from lefties. With the presence of David Peralta (who has had fairly significant splits) and the addition of Ben Revere (who hasn't), Conforto makes for a third lefty-hitting outfielder in the outfield mix.
In our scenario, the team will count on Rajai Davis to help make the outfield mix work, likely taking over near-full time duties in the event of an injury to one of the other four outfielders. Revere backs up Pollock in center, but Davis is also capable of playing there, even if much of his recent experience is in left field. Either Conforto or Peralta would sit when the team faced a lefty starter, and in some cases, both would start those game on the bench. Depending on Pollock's health and whether Davis is available or still in the game, Revere could also finish games in right as a defensive replacement, most likely in conjunction with a double switch.