More than with any other positions, the path to outfield playing time tends to look like a revolving door. That's been particularly true for the D-backs, who have played no less than 29 different outfielders in the last three years, from stalwarts like David Peralta and A.J. Pollock to short- and medium-term fill-ins, like Chris Owings and even Shelby Miller. With Peter O'Brien designated for assignment to make room for Juan Graterol, the team now has just six players on its 40-man roster listed at the position, and that includes Brandon Drury, who has been told to focus on second base this offseason. Still, it wouldn't be a surprise if as many as ten outfielders took the field for the team this year.
How the playing time actually breaks down will depend on too many factors to guess right now — injury being the most significant example — but beyond the likely starting trio of Yasmany Tomas in left, Pollock in center, and Peralta in right, we can look at how priorities will affect those decisions as they arise.
Unless you count Chris Herrmann (I do not), all of the team's current outfield options can be deposited in the minors to start the season, be optioned during the season, or both. That means in-season performance could be a larger-than-normal factor in playing time decisions this season, one that we can't exactly guess at in December. Still, the other considerations that loom large are unlikely to change: the handedness of the outfielders, which positions they may play, whether the D-backs will be willing to use players in reserve roles for extended periods of time, and general expectations about defensive skills.
For reasons we've explored before, the D-backs can't really afford to dock Tomas on playing time — the lower his stock, the more likely he chooses not to opt out of $15.5M and $17M salaries for 2019 and 2020. For reasons we all remember, Pollock isn't likely to play 90% of games in center — even if he avoids the DL, his recent injury history and obscene production in 2015 when playing somewhat less point to six or seven off days per month. Peralta is probably more of a question mark: we don't know if he's fully recovered from his wrist injury, and we also don't know the extent to which the new Red Backs regime will prefer to start Peralta against lefties.
Chances are that there are 600-1000 PAs left to be claimed by outfielders other than those starting three. Before returning to some playing time considerations like handedness, defense and outfield size, let's take a gander at the candidates, and what they bring to the table.
The Candidates, Beyond Pollock, Peralta and Tomas
Outfielders on the 40-Man
Jeremy Hazelbaker. There's a fairly small window for waiver claims, typically 48 hours — and when the Cardinals ran him through waivers in advance of the Rule 5 deadline to outright him from their 40-man roster, GM Mike Hazen had been on the job for less than three weeks. When in doubt, though, go with what you know — and Hazelbaker was in the Red Sox system for five years during Hazen's tenure supervising player development. Hazelbaker first reached Triple-A in the Sox organization in 2012, working there for a full season in 2013 before a trade to the Dodgers in his first winter of Rule 5 eligibility.
Hazelbaker first excelled in Triple-A in 2015 with the Cardinals, but apparently made some significant changes to his swing a year ago before providing some MLB average hitting in the majors last year. He's been aimed at RHPs in recent seasons, especially in the bigs, but has produced almost as steadily against lefties in his more recent minor league work, seeing a dropoff mostly in the power department. Chase Field and other NL West environs reward hitters who can regularly hit the ball to the outfield, but we've also seen a line drive/high strikeout approach work for many hitters. Weighted for plate appearances, Hazelbaker has a strong .343 minor league BABIP, some indication that he gets more oomph from contact than his unimpressive home run totals would imply. Defensive metrics weren't complimentary of his major league work last year, but in that small sample, he made some impressive plays in addition to making all but one easy out. If Mitch Haniger was a poor man's Jake Lamb, Hazelbaker might be a poor man's Haniger. The difference here is that the D-backs are more likely to treat Hazelbaker as a part time player.
Socrates Brito. We still have questions for Brito, and we may always have questions for him — after his impressive cameo in September 2015, Brito was hot garbage last season, posting a 34 wRC+ in 97 PA in the majors and hitting at a merely decent clip in a half season of Triple-A games. Still just 24 years old for the upcoming season, Brito still offers some upside, and might be more likely to see MLB time as a stopgap in the event of injury, rather than as a part timer for the entire season. Further, if the season gets away from the D-backs, 2017 is something of a make-or-break year for Brito. With just one option year remaining, Brito will be on the bubble next November, and the D-backs need some understanding of his future promise, or some feel for whether he's likely to succeed as a part time player entrenched on the 25-man roster in 2018.
Like Hazelbaker, Brito bats from the left side, and may fit best as a complement to Tomas in left field; he posted an anemic .610 OPS in 100 PA against lefties between the majors and minors last season, which was actually a modest improvement from a .558 OPS in 106 PA against them in 2015. Unlike Hazelbaker, Brito is capable of a totally acceptable center field. There may not be much separating Brito from Peralta defensively, but other than Chris Owings, Brito is probably the most qualified player on the 40-man to play center when Pollock doesn't.
Infielders On the 40-Man Who Can Play Outfield
Chris Owings. Owings was pressed into center service last April out of a kind of myopic, last-minute necessity. He was a productive fielder in center once he got going, even though he played farther from home plate than we're accustomed to seeing. That's not as likely to continue — if the D-backs inherit positioning pointers from Mike Fitzgerald's Pirates, playing shorter in the outfield could be a Thing in 2017. If Nick Ahmed is even slightly limited defensively in spring training, it's likely he'll spend much of the season with Triple-A Reno — leaving Owings with a bulk of the shortstop playing time, either in something of a platoon with Ketel Marte, or as the starter. If the D-backs roster Drury and Phil Gosselin, Owings may not get many starts at second, and so his overflow playing time could still come in the outfield. We'll definitely keep a lookout for comments this spring about whether the new regime likes the idea of Owings as a "Zobrist type," or whether they'd like him to focus on one position, as they've counseled Drury.
Ketel Marte. Yes, Marte. The Mariners thought enough of Marte's defensive abilities to have him fill in for a handful of games in the outfield last season, and if he's not a starting player (something we will have to try to assess in the spring, as uncomfortable as that may be), outfield work could be the key way in which he sticks on a roster that is unlikely to include Ahmed if Owings is the shortstop starter. Not especially likely, and it would take some specific planning in the spring, but Marte's role in the infield is complicated at best, and if the D-backs were to roll with just four true outfielders on the 25-man roster, someone has to back Pollock up in center. Owings could do it, but considering Pollock is most likely to sit against RHPs, the switch-hitting Marte is the better fit from a platoon perspective.
Brandon Drury, Phil Gosselin, Ildemaro Vargas. In roster construction, left field is the last position generally worried about — you can fake it most effectively, and no special skills like throwing arm are glaring omissions. If need be, either Drury or Gosselin could be pressed into left field service again, either in a pinch or as part of a more deliberate plan. Vargas probably belongs here, too, but not because he's likely to be hanging around on the 25-man roster — merely because he's on the 40-man to stay, for now, and because the D-backs are likely to have some serious 40-man pressure for the duration of the season. Further, behind Drury and Gosselin are a handful of other fairly promising 2B/3B types on the minor league horizon, including Domingo Leyba (#6 in Jeff's offseason top prospects list), Jazz Chisholm (#7), Dawel Lugo (#9), Jamie Westbrook (#22) and Jack Reinheimer (#24). It wouldn't be strange if Vargas or one or more others were turned into a center-capable outfielder. We think of players like Peter O'Brien being "players without a position," but there's another class of player that isn't great enough defensively to be a strong asset at second, but isn't good enough at the plate to be a strong option at third (remember Matt Kata?). If that kind of player can play an above-average center field, a 4th outfielder role could be a better fit. Add to that the fact that nearly every other OF option bats left-handed, and one or more conversions to the outfield seems likely.
Other Outfielders in the Organization
Oswaldo Arcia. Jeff talked through the Arcia signing just last week, but color me at least as "confused" as Jeff is. Sure, he doesn't cost anything — but it seems like even in a best-case scenario, he might be a poor man's Yasmany Tomas, while hitting from the left side like nearly every other option. In other words, even if things worked out well for Arcia in the D-backs organization, even in the majors he might be a sub-1 WAR player, while blocking another player's opportunity. It's an odd move, particularly since the D-backs have designated O'Brien for assignment. Still, he's a different kind of player than some of the others not on the 40 man. On a minor league deal, he could be added to the 25 man at any time, so long as he's also added to the 40 man. Once called up, he can't be sent to the minors (no more option years). Still, Arcia only has just over 3 years of service time — if they did add Arcia to the 25-man, the D-backs could choose to keep him for subsequent seasons through arbitration.
Reymond Fuentes, Kelly Dugan, Jason Pridie. We should pay some special attention to the other outfielders that GM Mike Hazen has added on minor league deals in the last two months — particularly Fuentes, who was selected by the Red Sox three rounds ahead of Hazelbaker in the 2009 draft (i.e., in the first round). Hazen didn't oversee Fuentes's development for as long as he did Hazelbaker — Fuentes was traded by the Red Sox to the Padres with Casey Kelly and others for Adrian Gonzalez, at the end of the 2010 season. Like Hazelbaker a year ago, Fuentes is in danger of being dubbed a Quad-A player, but Fuentes can play a mean center field — and until an underwhelming 2016 with the Royals in Triple-A and the majors, he'd posted very reasonable minor league rates. Fuentes is unlikely to break camp with the club, but if he can show the D-backs at Reno that he can successfully cut down on his strikeout rates, there's a non-zero chance that Fuentes could do a pretty convincing Ender Inciarte impression for the D-backs at the major league level. Pridie is probably more of the obligatory depth signing at 33 years old, but we'll see a lot of him in center in March. Ditto Dugan, who has shown some on-base skill and non-homer power in the minors, but is more likely than the others to be an org signing to fill out the Mobile or Reno squad. What are we to make of the fact that all four minor league OF signs by the new front office bat left-handed?
Zach Borenstein, Victor Reyes. The last scion of the first Mark Trumbo trade, Borenstein is old (will turn 27 during the coming season), not exactly a whiz defensively, and is limited to the corners. He does show what looks like some hard-hit skill, at least as far as BABIP goes, but not much pop. Lefty. Reyes, meanwhile, showed a little pop for the first time last season, but has a long ways to go before contributing at the major league level. The team is unlikely to play him above the Double-A level this year, or to mess with his opportunity to get full time at bats — although he's probably not a Rule 5 candidate next December, he will technically be eligible unless the team protects him with a precious 40-man spot.
Who Plays in Right?
One of Chase Field's fun outfield nuances is that, over and above being enormous generally, it has a particularly cavernous right field — according to research by Andrew Fox, only the home parks of Atlanta, Boston and Kansas City have larger right fields, and I think that's slated to change for Atlanta soon. Check out the outfield size of each park in which the D-backs will play this season.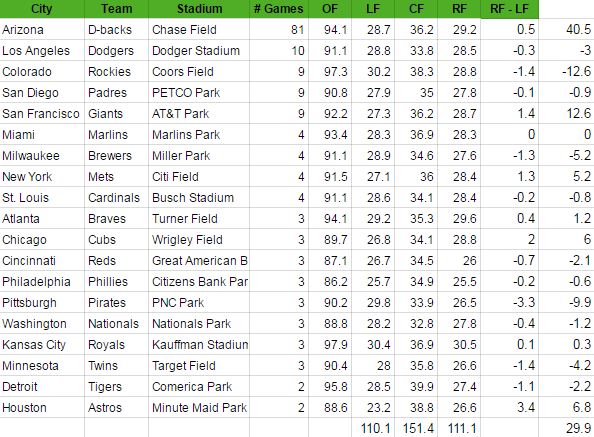 The question really is: how would you split David Peralta and Yasmany Tomas between right and left, given that both have been statistically better in right than they were in left? In fairly small samples, Peralta has a -5.9 UZR/150 in left field (1,243 innings), but a 8.6 UZR/150 in right (743.1 innings). Tomas has posted a horrific -25.4 UZR/150 in left (497.2 innings), but a merely terrible -14.2 UZR/150 in right (1,160.2 innings). Both players have been "better" in right field than in left for a handful of reasons, but one of them is that having more space to patrol can help defensive stats generally. Chase Field's RF is so much bigger than most that D-backs right fielders get more opportunities than most right fielders (think high fly balls with 4+ seconds hang time, that most fielders would get to if there was room to get to them).
These numbers above, in thousands of square feet, tell us that there's about 500 more square feet to cover in Chase Field's right field than there is in left. Note, though, that overall, the rest of the D-backs schedule shifts in the other direction. Over 162 games, there'll be a total of 29,900 extra square feet to cover in right field, but 40,500 of that can be credited to Chase — for the rest of the season, there's 10,600 more square feet to cover in left. Coors Field and AT&T Park loom especially large here, with enormous differences between right and left that flip flop. Despite the large differences in some of the outfields the D-backs will tour this season, though, it probably doesn't make sense to constantly flip back and forth — the size of outfields would better factor in for rest day considerations (if Tomas is playing left, for example, Coors could be a poor time to play him, for defensive reasons).
The outfield size has real consequences. According to the Baseball Savant tool now at MLB.com, last year there were 44 more balls hit to right at Chase against D-backs pitchers (444 – 400), but 53 fewer balls to right against D-backs pitchers on the road (338 – 391). That doesn't seem like an outlier, either; right field at Chase got just 12 additional plays in 2015 (416 – 402), but D-backs pitchers saw batted balls go to right 72 times fewer on the road that season (336 – 408).
To get a little bit more information than the simple UZR/150 stats, I took a look at the Inside Edge numbers of Peralta and Tomas. Both have all made the routine plays, considered to be plays that are converted 90%-100% of the time: Peralta biffed just one of 389 total such plays, Tomas just four out of 289. The main difference is in plays that are generally made 40%-90% of the time. Tomas converted 44% of such plays, and never made a single one in left. Peralta managed a much more respectable 58%.
Splitting those up by left and right, I tried turning those stats into something that I could more easily conceptualize as a playing time consideration: I took all of the "plays made" in the 40%-90% categories by each player at each position, subtracted routine plays missed, and turned them into "per 9 innings" numbers. This is what I got:
Tomas, Left: -0.02 plays per game.
Tomas, Right: 0.09 plays per game.
Peralta, Left: 0.11 plays per game.
Peralta, Right: 0.17 plays per game.
These numbers don't compare either player to a league average or a replacement level, but they do just fine when compared to each other — and they tend toward putting Tomas in right, and Peralta in left, albeit slightly; we're talking 0.05 plays per game difference, and a value of about 2 runs over the course of a season, a difference not really significant enough to care about. Tomas has to play somewhere, and right or left doesn't seem to matter a whole lot. The two players do field with gloves on different hands, but despite Mark Trumbo's protestations, there really is no evidence that having one's glove on the side closest to one's foul pole makes for easier fielding.
With no other considerations to make, I'd lean toward putting Peralta in right field, in large part because Tomas could be rested liberally at Coors when it mattered most (but for marketability considerations), and because I believe a lot more in Peralta's throwing arm. In addition, it isn't all about catches — it's about cutting balls off before they roll to the wall, retrieving would-be triples quickly, etc. Those last considerations are not something I can value accurately, but letting 5 doubles turn into triples would still swing the balance, I think. Nonetheless, there's at least one more consideration to make: the backups. And that's how we come back full circle.
The Playing Time Puzzle
Everyone is left handed. Putting aside Pollock and Tomas, every other outfielder the D-backs could have play bats left-handed. Everyone! O'Brien is gone. Even Chris Herrmann bats from the left side, although let's say Torey Lovullo is unlikely to pencil him in at center field. It's only the bevy of infielders, including Owings, Drury, Gosselin and maybe Vargas who could bat right handed. That's a little bit troublesome, because left field is easier to pick up than right, and none of Owings, Drury, Gosselin or maybe Vargas are likely to get any playing time in right, at all. Sure, you could shift Tomas over, but then we're back to flip-flopping him instead of treating his defense with kid gloves. If Peralta gets right field, as things stand, Peralta's replacement would also bat left-handed, and that's particularly tough in that backups tend to have particularly large platoon splits (especially lefties!), and one would prefer to rest Peralta against LHPs.
The problem is much less of a problem if Peralta is in left field, where a handful of position players who hit LHPs well could stand in for him. Meanwhile, Hazelbaker and Brito and a litany of others could stand in as capably for Tomas in right as they could in left.
So let's put Tomas in right. If that were the case, here are how the "most ideal" backup might work out at each position, if roster size and PA availability were no considerations:

Roster size and PA availability ARE considerations, however. Although it's common to roster 5 OFs at any time, particularly in the AL, it's highly like that the D-backs will need to carry a 13-man pitching staff for much of the year again, and there are a number of infield options (and the team is once again throwing around the idea of carrying three catchers). The most likely solution is that the team will essentially carry 4.5 OFs, by drawing an infielder into the playing time shuffle as a matter of design.
If that's the case, the infielder(s) would most likely help at left field (Owings, Gosselin, Drury, Marte), and less likely help at center (Owings, Marte). The D-backs would probably be best served, therefore, with a 4th outfielder who makes sense in right field but can also play a capable center field. Here are a few schemes that could work:
Gosselin backing up in left, Fuentes in center and right.
Gosselin backing up in left, Brito in center and right.
Marte backing up in left, Fuentes in center and right.
Marte backing up in left, Brito in center and right.
Owings backing up in left, Fuentes in center and right.
Owings backing up in left, Brito in center and right.
Hazelbaker backing up in left and right, Owings in center.
Hazelbaker backing up in left and right, Marte in center.
Things are cleanest from a platoon perspective if the infield refugee is backing up in left field; even if a backup is filling in for Pollock about six times per month, only Fuentes would be likely to get additional time as a defensive replacement (probably for Tomas in right), and overall, that may not be considered enough playing time to stay sharp. Six games a month at center and another four games at right field, on the other hand, means starting about 40% of games, more than enough to stay sharp. If the infield refugee is also getting playing time in the infield, the same could be true for Gosselin, Marte, etc.
I'm not sure Hazelbaker is a great fit as a part time player on this squad, but that's only part of the story. The D-backs will almost certainly burn an option year on him this coming season anyway, and he may be a more likely fit for stretches in which Peralta or Tomas hit the DL (an even more likely occasion now that the DL period has been shortened to 10 days, making it likely that the D-backs will resort to the DL more frequently). The same may be true for Fuentes in the event of a Pollock injury, with the team patching together time with both Brito and Fuentes. Injuries can and will happen.
It's also possible that the D-backs will make another acquisition this winter — or that they already have plans to do something we haven't anticipated, like switch Marte to an exclusively outfield role. Stay tuned. Covering corner outfield time will probably be uncomfortable at times this season, a side effect of having Peralta and Tomas, who will both get long shrift as starters when healthy.