There have been few times when stats have screamed something at us the way they did with respect to Jake Lamb's work at High-A and Double-A; it seemed nearly certain that his minor league BABIPs revealed a sustainable source of extra bases, even though he didn't have the home run numbers a power hitter typically shows at those levels. Despite a prolonged slump that seems to finally be over, Jake Lamb has certainly graduated in that respect, armed with a new swing that starts a bit lower in the zone. As Albert Chen recently reported for Sports Illustrated, although Lamb wasn't taking the baseball world to start the season with his new swing, Statcast data revealing a very high average exit velocity emboldened him to continue with the new swing.
Extremely high BABIPs at the minor league level seem all the more meaningful after Lamb's breakout this season, and when they go along with smallish home run numbers, we might find another breakout candidate like Lamb, or like Paul Goldschmidt, who made a similar leap in a similar way, but during his minor league career instead of after it. When we set out to do our research for our Offseason Plan two months ago, we made finding another Lamb part of the search. The problem: the stats don't scream for anyone the way they screamed for Lamb two years ago at this time. The Orioles' Trey Mancini seems like a pretty good candidate to blossom the same way, but for the most part, there really aren't that many minor leaguers who have posted BABIPs in the .370-.400 range in consecutive seasons.
Within the D-backs organization, just one player caused us to even ask the question of whether he could tap into a BABIP-fueled power source. There is nothing remarkable about Mitch Haniger's record in the Brewers organization, from before he came to the D-backs in the Gerardo Parra deal in 2014. In 2015 and 2016, Haniger started the year at Double-A, and in both years, he manged to keep his BABIPs up in the .340-.350 range. Other than that, though, the 2015 and 2016 seasons have been completely different; in 2015, he finished the year at High-A, whereas in 2016, he launched himself to Triple-A, and the majors.

*among hitters with at least 200 PA; for 2015 Double-A, where Haniger would have ranked if he had had 200 PA at same BABIP
Even at Double-A last year, Haniger was beating the odds and getting hits on balls in play more often than his peers; it's just that only a quarter of his hits went for extra bases, and all but two of those were doubles. Fast forward to Triple-A in June, July and August of this year, and Haniger hit 40 extra base hits along with 42 singles, the polar opposite — with as many home runs as doubles.
Part of why the Lamb stats screamed were that he had sustained them for what constitutes an eon in minor league time. Haniger has sustained a "very good" minor league BABIP for about as long a time frame, which probably means something. And what Haniger appeared to accomplish at the Triple-A level looks a hell of a lot like what Lamb has done this season, and very similar to what Goldy sustained for two full seasons at High-A (2010) and Double-A (2011). Haniger's 2015 season has a lot of David Peralta to it, with a less than impressive HR total and walk rates below 10%, but Peralta never struck out in the minors the way Goldy, Lamb or Haniger have. No, of all of the suddenly-developed-fairly-old-for-a-prospect-power-hitter-that-didn't-necessarily-hit-many-homers guys, Haniger's recent profile looks most like Lamb's Double-A season in 2014, if you pay special attention to the walk rate (Lamb's at that level was 11.4%).
Haniger's track record doesn't scream "high ceiling" like the other guys, necessarily, and it certainly doesn't scream "trust me" like Lamb's did. At the same time, Haniger's recent record does point in the direction of him being an impact hitter, maybe a 125 wRC+ guy with reliable doubles power and the chance to hit 15 or 20 MLB homers almost by accident. Haniger's track record before this season does not point in that direction. Haniger's pre-season Steamer projection was for a 83 wRC+, the type of player who doesn't get featured in anyone's lineup, and who doesn't get a full time job for many teams (certainly not as a corner outfielder).
Fortunately, stats aren't all we have, right? Haniger has done this for too long this year to write it off as a complete fluke, but in terms of how much to trust it, other information would be helpful. That's where the intrepid Nick Piecoro comes in. At azcentral earlier this month:
Haniger says swing changes he implemented over the past year help explain the offensive outburst.

A year ago, he was getting inconsistent at-bats with Mobile when the organization demoted him to High-A Visalia. While there, he began incorporating a leg kick. Then in the offseason, he continued to tinker with his swing mechanics, adjusting where he holds his hands and altering his swing path.
Piecoro went on to explain that Haniger studied the swings of Josh Donaldson and A.J. Pollock and the hitting philosophy of Bobby Tewksbary, who helped both of those hitters. Sound familiar? Jake Lamb also changed his approach at the plate over the offseason in a similar way, and Lamb, too, was fascinated by the way Pollock loaded at the plate (Piecoro in March). Sources have told Jeff Wiser that Haniger was involved in the demotion decision in 2015, and that it was about giving him a chance to work on his swing at least as much as it was about getting full time at bats.
The change in load and lower hands born by a more pronounced leg kick didn't do a whole lot for Lamb beyond altering his launch angle; with all of those minor league BABIPs, Lamb demonstrated an elite talent at hitting the ball precisely while swinging for power. The change in launch angle changed where those balls went. What we've seen in Haniger this season is a little different, because in addition to hitting many more balls over the fence, he is also getting more hits. Hitting the ball hard is a good strategy to rack up hits; that's what this BABIP business is about. If we buy into the narrative, though, Haniger has improved his bat-to-ball skill while also making that launch angle leap. There may be an explanation in the same Piecoro piece from earlier this month:
I feel like now I'm able to recognize pitches better," Haniger said. "I can make up my mind whether to swing or not later than I have in the past because my swing is deeper in the zone. I'm able to stay off close pitches. It's easier for me to use all fields and to see pitches better."
You never know if the narrative is built from the numbers instead of the other way around, but the numbers do match Haniger's explanation here; at Double-A and Triple-A this season, he had better plate discipline, collected hits more often on his swings, and hit for more bases all at the same time. In the spring piece, Pollock and Lamb also cited a greater opportunity to adjust after their swings started — not just in terms of location, but also for timing, with Lamb in particular identifying an ability to hit a changeup hard with the new setup even if he started early.
It's still too early to draw strong conclusions from major league data, but in the two weeks since Haniger was promoted from Triple-A, exit velocity data does corroborate the story that Haniger has at his disposal the rare talent of hitting the ball hard very regularly. We only have 27 tracked balls in the database, but Haniger hit a groundout 112 mph in his debut on the 16th, adding a double and a triple that were both 102 mph off the bat. Exactly one-third of his tracked balls have been 98 mph or harder, an excellent ratio that is not very far from Lamb's percentage of 43% (of tracked balls at 98 mph or harder), and within one batted ball of Lamb's percentage of 37% last year. And although the dropoff below 98 mph is precipitous, there's still a very big advantage of 90-97 mph balls over their weaker-hit relatives; another 10 of Haniger's batted balls are in that bucket, meaning two-thirds of his batted balls have had a better-than-average chance of becoming a hit.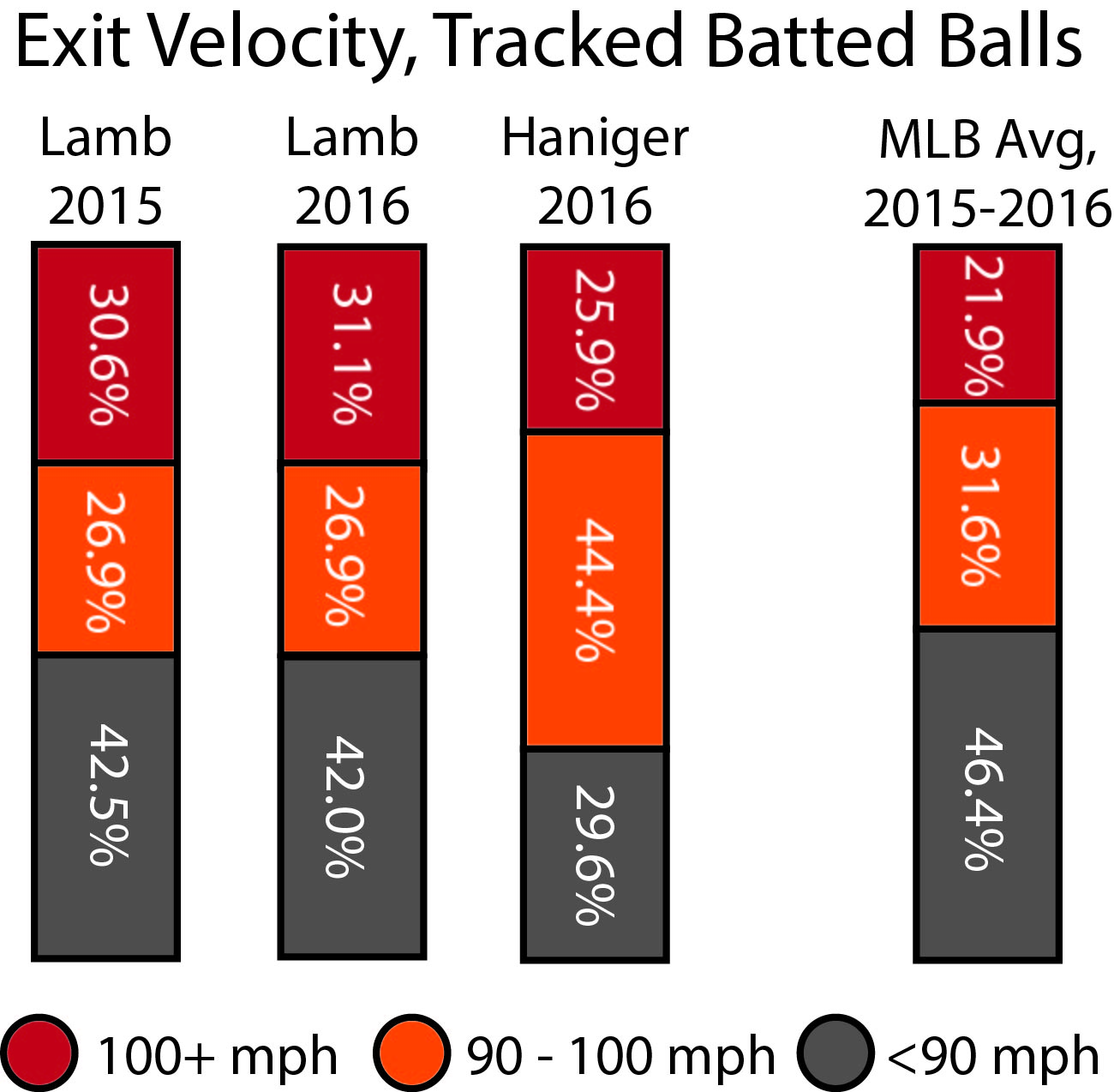 In just 10 games, Mitch Haniger has proven that he does have the ability to hit the ball very hard very regularly, and while hitters can seem "locked in" in a variety of ways, usually when a hitter is on a tear, there's a lot of luck involved. It seems from the batted ball data that with a .237 average despite very good exit velo numbers, Haniger has been somehow unlucky so far.
No matter. We know from experience that an ability to hit the ball hard regularly plays up in a huge way for a D-backs hitter, especially at Chase Field but also while playing another 38 games at other NL West parks with large outfields. Given Haniger's recent rise through the system and the way in which it looked like he was tapping into a skill that was already there, we have had reason to suspect that Haniger can hit the ball hard regularly. The early returns are: that impression is correct. There isn't as much in Haniger's past as there was for Lamb, so maybe if you gave Lamb a 70 grade on the "hit the ball hard more often than most" skill, you'd tentatively consider a 60 grade for Haniger. That's still a pretty fine player, especially if he is the defensive asset in the outfield that he's seemed to be so far. If Haniger's habits continue and things start to break in his favor in the majors over the final 30 games of the season, we might have enough evidence to suspect that he is just the next man in the Goldy-Pollock-Peralta-Lamb line of surpassing expectations by punishing baseballs.