The Diamondbacks won their first game of the season in dramatic fashion. The Diamondbacks lost their second game of the season in dramatic fashion. The definition of drama, as it pertains to game two, includes Gorkys Hernandez driving in four runs (which is a lot for a guy who only had 17 career RBIs in 104 career games before last night), Jake Lamb and Paul Goldschmidt hitting dingers, Brandon Drury notching a trio of singles, and Chris Owings making a critical error. Sure, that's no walk off effort, but it was still plenty exciting even if the D-backs were on the losing end of things. And hey, they're still .500, so that's something.
But it wasn't any of these things that stole the show last night. That honor belonged to uber-prospect-turned struggling starter-turned reliever Archie Bradley. While he made some relief appearances in the spring, they were mostly up and down. Last night, instead, he just threw what amounted to laser beams to, and sometimes at, Giants hitters with wild success. Let's review the tape before we go any further.
Bradley threw to 14 hitters last night. He struck out seven of them en route to recording ten outs. He scattered three hits and walked one, but it was the dramatic strikeouts that propelled his entertainment value. He threw 57 pitches over his 3.1 innings and this is what happened to them.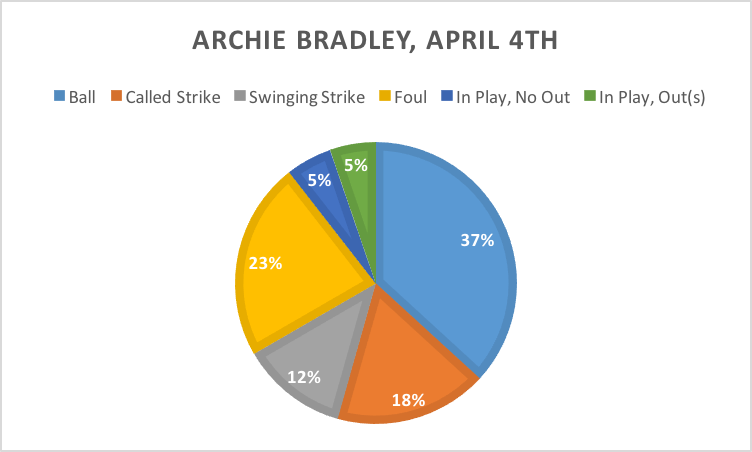 Sure, there were plenty of balls in there (21 total balls), but he got more than his share of whiffs and that's real story. Last season, Bradley managed swinging strikes on just 8.2% of his pitches. That's a Jered Weaver level of whiffs. Last night he recorded swinging strikes on 12.3% of his pitches. That's more than Justin Verlander averaged last season. It seems to me that there's a big difference between Jered Weaver and Justin Verlander these days and I'm sure you won't argue.
So what was working so well for Bradley last night?
First and foremost, there was a new mentality that was ever-present. Let's call that mentality Archie the Destroyer. Bradley didn't fool around with hitters as we've seen him do in the past as he wasn't trying to be too fine, something that's virtually never worked. Instead, he let it all hang out and his raw stuff did the talking. He also didn't avoid the strike zone, as his zone percentage was considerably higher than in past years. While his heat map might look dangerous, it's also the sign of a pitcher that went right after hitters. Again, Archie the Destroyer: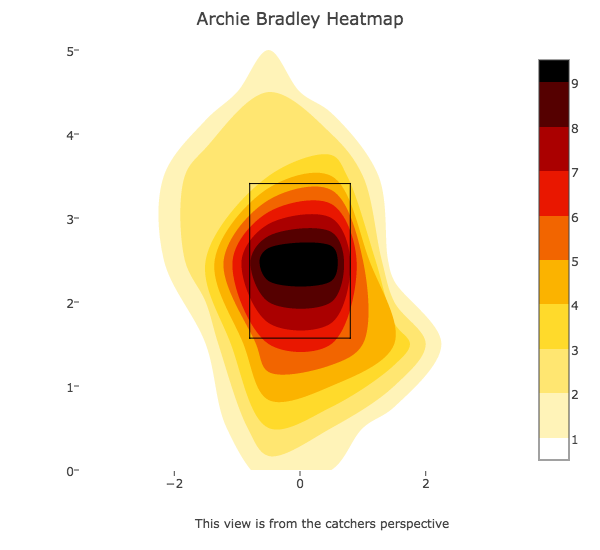 In his new role, Bradley also adjusted his pitch repertoire. He's always been reliant on his fastball to do the heavy lifting and that didn't necessarily change last night. He threw 72% four-seamers. His knuckle curve has always been an out pitch for him, but he threw it less often than we might have expected at just 10.5%. It did get a couple whiffs, a called strike and a groundout, but the biggest change was the emergence of his cutter (which many have called a hard slider). It's a pitch that had scouts excited a few years back when he was blowing hitters away with it in the Arizona Fall League in 2014. Bradley then showed up in the majors in 2015 but the pitch was gone and he virtually never threw it until this spring. Last night he used it 17.5% of the time, throwing 10 total, half of which went for strikes. He threw exactly zero changeups which is a good thing — the pitch has never been effective for him. Instead it was a steady diet of hard fastballs, some cutters to show a different look and that gnarly Uncle Charley doing the work, a mix that was effective for at least one night.
Of course, I'd be remiss not to mention Bradley's increased velocity. We've seen it at times this spring, but he was letting go in his first relief appearance of the season. His four-seamer averaged nearly 96mph and he peaked at 98.5mph (a pitch that was thrown for a ball with a whopping 15″ of rise). His four-seamer averaged just a hair over 93mph in 2016, and even with there being some reports of hot radar guns to begin the season, it's clear that Bradley is throwing harder than he has in the past. His knuckle curve is a bit harder, too, checking in at 82mph last night (it averaged 80mph last season) and the cutter/slider was a nice, firm 90mph. The extra juice has given the fastball more rise and more arm-side run, but it's also straightened out the curve a little bit. It'll be interesting to watch the curve in particular and see if throwing it harder is actually better, but given its late movement and sharp break, Bradley may be just fine throwing it a touch firmer.
It's way too early to call Bradley a relief ace or make comparisons to Andrew Miller or Wade Davis (you know who you are). He's going to need to keep this up for a prolonged period of time to give those ideas much merit. But as Mike Ferrin discussed in a late spring radio broadcast, the move to the bullpen might just be the thing that Bradley needed to get on track. The mentality was certainly different, and different in a good way. The stuff has ticked up as predicted and the total package looked pretty damn impressive last night out of the bullpen. Will he stay in that role if/when an injury arises in the rotation? Will the team try to transition him back to the rotation if he's pitching so effectively, attempting to maximize his value? That's all still to be seen, but let's all just relish for one day the awesomeness that was Archie the Destroyer.