The season's upon us. The time has come. Opening Day is just three days away and the roster is taking shape. Everyone's asking how good this team is, or at least, how good they can be. The problem is, it's complicated. There are plenty of moving pieces and plenty of question marks. There's a way this team can be pretty lousy, but there's also a way this team can be pretty decent. Arizona is unlikely to run away with the devision, but can they still contend? Possibly. So let's see where the team ranks according to the projections (ZiPS and Steamer), position by position, for the National League and see where this squad stacks up, shall we?
---
Catcher: 14th out of 15 teams, 1.1 WAR
The team remade the catching position over the winter, letting Welington Castillo and Tuffy Gosewisch go and replacing them with Chris Iannetta and Jeff Mathis. Iannetta will look to improve his framing while running into the occasional long ball and taking his walks while Mathis will add his value receiving. The team appears primed to carry Chris Herrmann, too, but the real problem is that no part of this timeshare stands out. Overall, they should be more valuable than what we saw a season ago, especially given the uptick in framing, which isn't accounted for in the WAR totals above. A slight improvement won't do much to help the overall product, but it's a step in the right direction.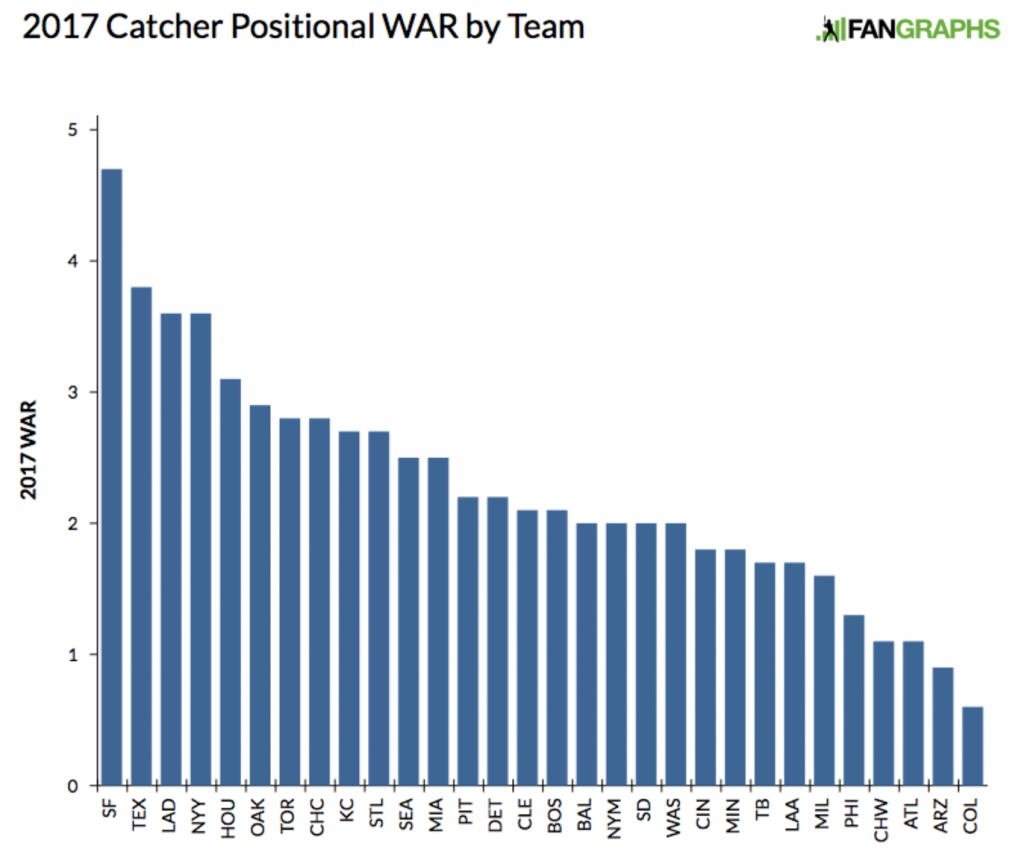 ---
First Base: 2nd out of 15 teams, 4.3 WAR
Paul Goldschmidt will once again serve as the team's anchor. He's projected for 4.3 WAR but could easily exceed that projection if he stays healthy and a few more balls find their way over the fence. There's little in the way of compliments behind him (the team claimed Christian Walker earlier this week), but that's alright as Goldy will take the field 155 times this season. For the Diamondbacks to make waves, they'll need him to do a bit more damage than the projection suggests. Luckily, he's met or exceeded this level of production each of the last four years.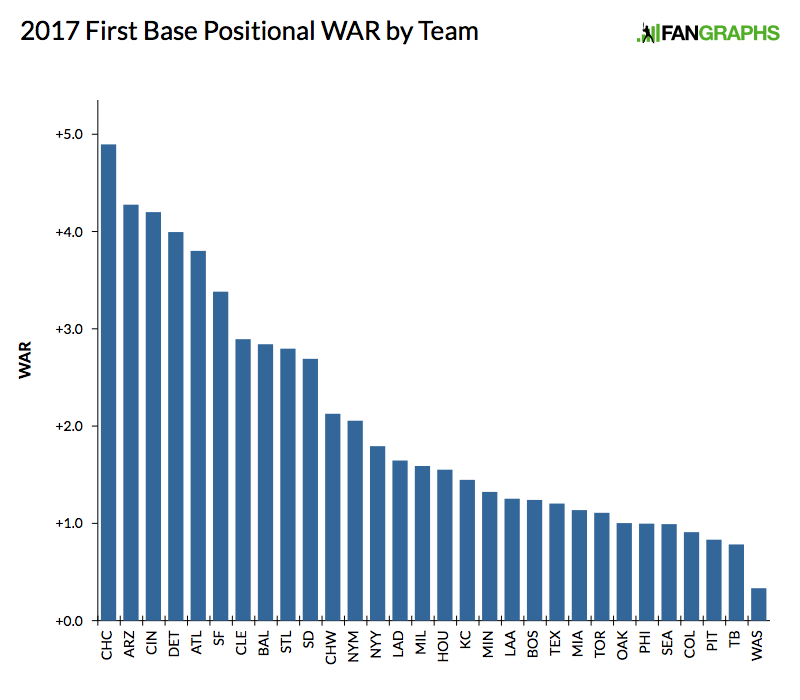 ---
Second Base: 15th out of 15 teams, 0.4 WAR
Brandon Drury has made the move to second base this spring, and truth be told, he's looked excellent at the plate. He leads the team in doubles (7) and is hitting a cool .385/.397/.625 in March. The problem is, March stats don't translate particularly well to the regular season and if you want to poke holes in Drury's game, he's walked just twice while striking out eight times in 56 at-bats. That's not a problem in terms of K's, but getting on base will still be an issue. Defensively, reports have been less than stellar of his work with the glove as was predicted. Can he do enough defensively to approach league average? That's unclear as he's still adjusting. The bat looks just fine, but the defense may be enough to drag the overall production under.
Meanwhile, Chris Owings will likely see some time at second base, as could Daniel Descalso and Ketel Marte if/when he returns to the majors. Put the whole package together and one could see Drury make enough strides to produce more than his projected 0.3 WAR, but how much growth potential exists is a mystery. He'll have to play consistent, steady baseball and avoid the prolonged slumps that did him no favors in 2016. Simply put, the team needs far more production from this unit and it'll come down to how well Drury can carry over his hot hitting and improve his fielding. If he does, this could be a nice bonus for Arizona. If not, it hurts the team's production dramatically.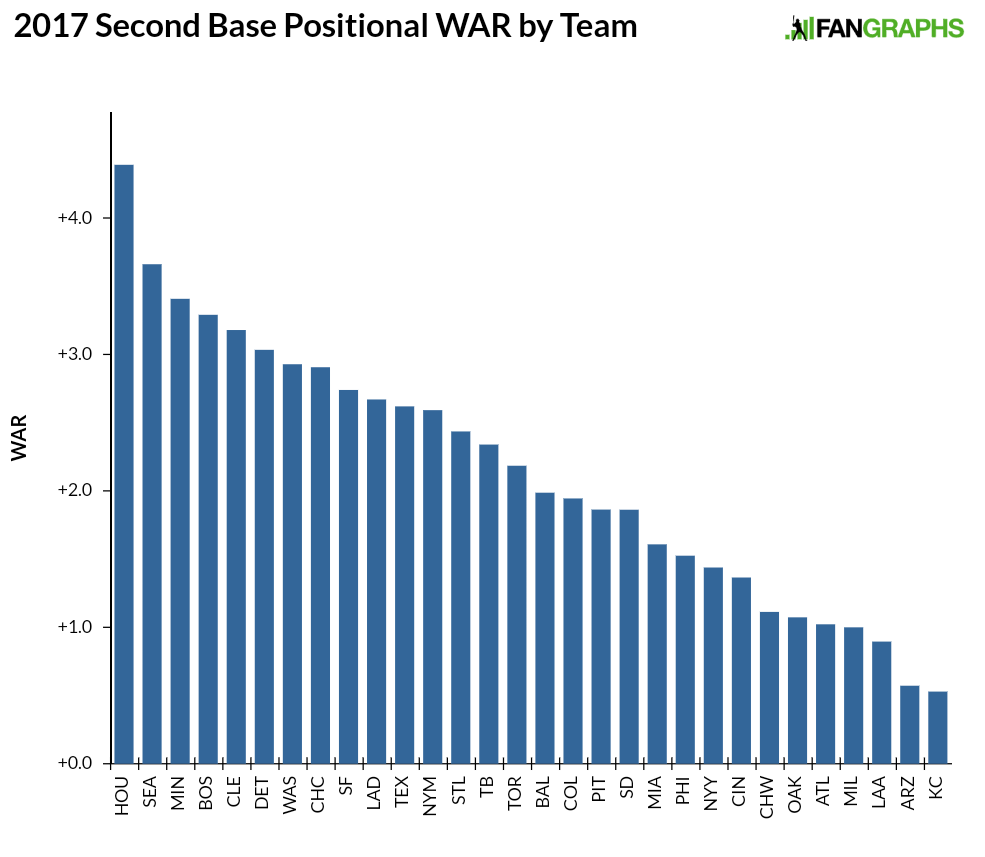 ---
Shortstop: 13th out of 15 teams, 0.7 WAR
The Shortstop position remains unsettled to a degree, and though Chris Owings appears primed to get the Opening Day nod, Nick Ahmed will fit into the equation. Owings is likely to play some kind of super utility role where he could see time at any of the three outfield spots and even kick over to second base on occasion. At short, he's adequate with the glove, but is no Nick Ahmed. He'll need to hit his way to value, something that's a shaky bet. He's recovered nicely from a shoulder injury that's held him back in recent seasons and he's hit well this spring, but as was the case with Drury, that's not a lock to continue. Owings will always struggle to post good on-base percentages as he rarely walks, and while his strikeout rates aren't a glaring issue, he could stand to be more patient and get his speed on base.
The aforementioned Ahmed is intriguing here, too, as the team has been said to be listening to offers on their slick fielding shortstop. We have to essentially give up on the bat at this point (though he does still hit lefties well), but he can make up the difference defensively. Right now, it's unclear how much he'll play and what his role will be if Owings wins the battle. Will the team shift Owings into the outfield regularly enough to provide Ahmed with ample playing time? That's unclear as of now. To be sure, however, the team needs to get more production out this unit than 0.7 WAR, and if Owings can grow into his own and hold the job down, that's a possibility. Any increase would be welcomed, though the upside of the position is somewhat limited.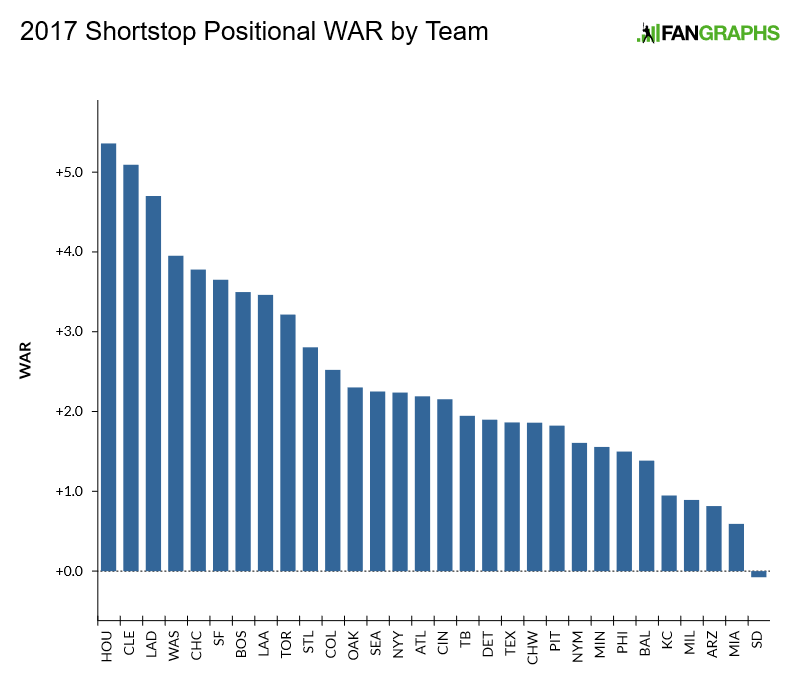 ---
Third Base: 10th out of 15 teams, 2.0 WAR
Jake Lamb's 2016 first half breakout was tempered by his second half slump. He's hit very well this spring, tying for the team lead in homers (4), and has even hit them off left-handed pitching. It appears that he'll get the bulk of the work at third base, though it wouldn't be a shock to see him get a few off days against guys like Clayton Kershaw and Madison Bumgarner. Still, he should see more lefties this season than he has in years past. His projections call for something resembling league average offense, and facing more lefties may pull his overall numbers down some, but there's plenty of room for growth for the 26-year old. He's capable of producing more value here, though his defense will need to be more consistent to do so. The book isn't written for Lamb just yet as some upside exists, and if he can play more like a an above average regular, the D-backs could find more value at the hot corner.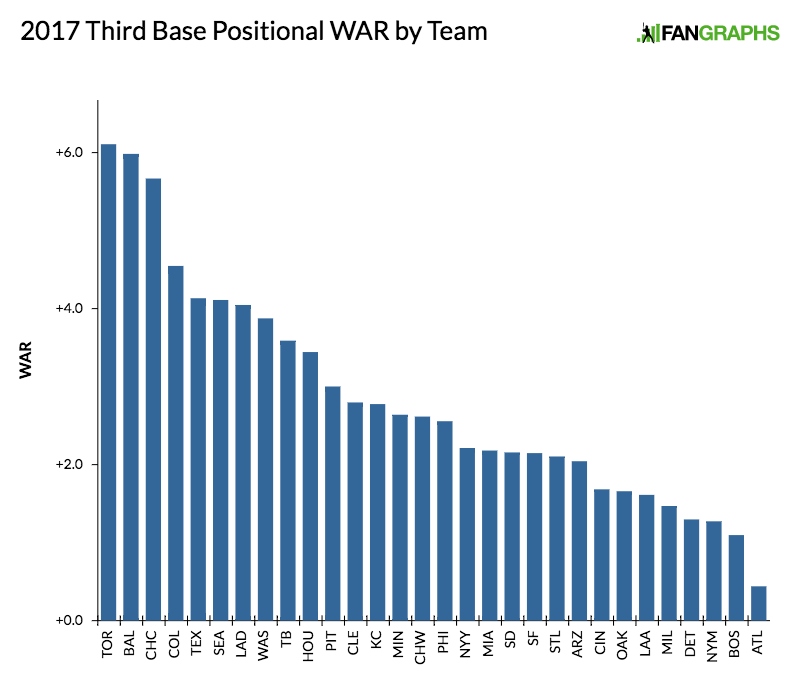 ---
Left Field: 15th out of 15 teams, -0.3 WAR
You know what this is all about. Yasmany Tomas, the unmovable object, is set to do more harm to the Diamondbacks' roster with his poor fielding than his bat can possibly carry. He's simply not suited for a role as an outfielder, and the team knows that, but has little choice in the matter. Where the team could find some extra value is just by simply playing Tomas less. Jeremy Hazelbaker, Gregor Blanco and Chris Owings are other alternatives (as is Chris Herrmann, but well, that's not a big upgrade). Tomas is working his back from an oblique injury that cost him some time this spring and he's not looked especially sharp. For the Diamondbacks to make waves, something has to give here, either Tomas breaking out in a major way, or them finding some combination of playing time to limit the damage. It's not going to be good, but finding a way to be less bad would be a small victory.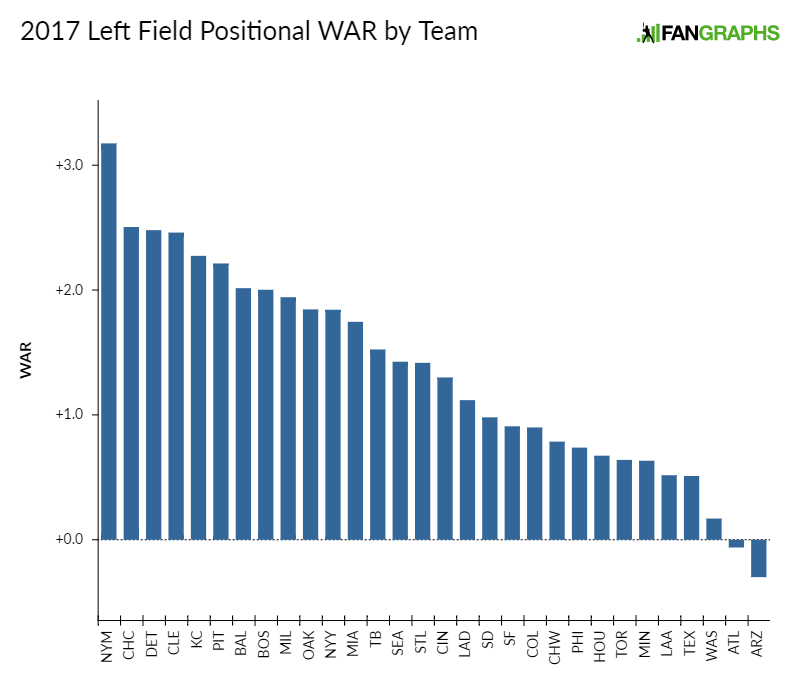 ---
Center Field: 3rd out of 15 teams, 3.7 WAR
A muscle strain has kept A.J. Pollock out of action a bit this spring, but as his home run yesterday showed, he's still got the bat speed and power to put a charge into the baseball. He's complained about some of his at-bats this spring, being hard on himself for not working counts better and swinging at better pitches, but that'll come with time, and given his lengthy layoff, it's no surprise he's not fully back in the groove just yet. His talent, however, is undeniable as he's a plus center fielder, gets on base, can hit for average and power while swiping a few bags along the way. Perhaps nowhere else on the position player side of the roster are things less certain, however, as Pollock has been a bit injury prone over the course of his career. The Diamondbacks will need to find a balance of playing time to ensure that he can stick around for the full 162, even if that means a few more days off along the way. Should Pollock be injured for a lengthy amount of time, things may spiral downwards rather quickly. Should he stay healthy, he's capable of producing far more than 3.7 WAR. The swing of production in centerfield will have a big effect on the production for the team overall.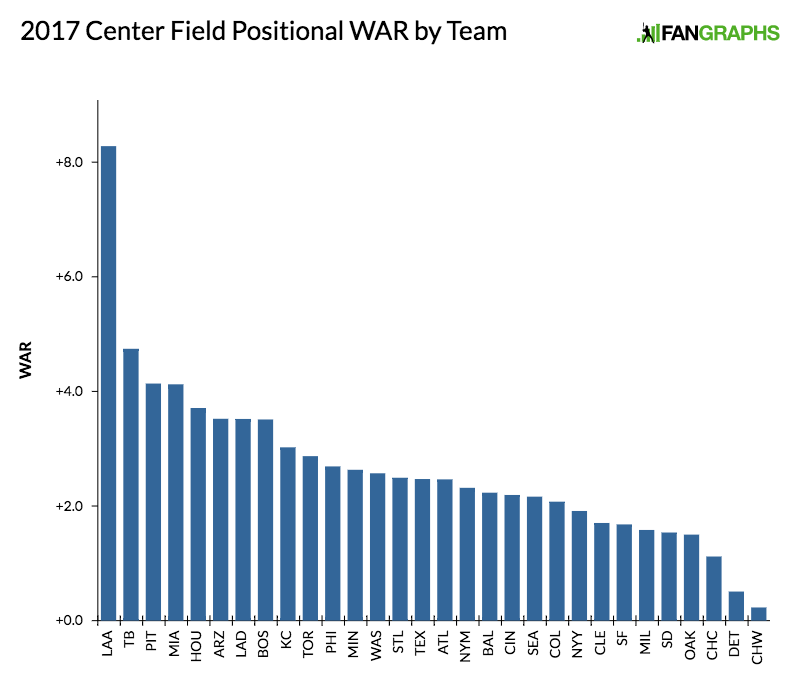 ---
Right Field: 9th out of 15 teams, 1.1 WAR
David Peralta never got right last season. Injuries nagged him and he just never seemed to find comfort at the plate. 2017 brings a new lease on life and The Freight Train looks poised to use it to his full advantage. We know he's a reasonable defender in right field, and while he won't win a Gold Glove for his efforts, he can hold the position down. We also know that he can really hit and provides some balance to the lineup. What we dont' know is how close he can come to producing like he did in 2015 when he hit .312/.371/.522 and put up nearly 4 WAR. This projection seems questionable, but it's up to Peralta to prove it wrong. If he can play like an above average regular again and remain healthy, the D-backs could find two extra wins here. If not, they're in real trouble.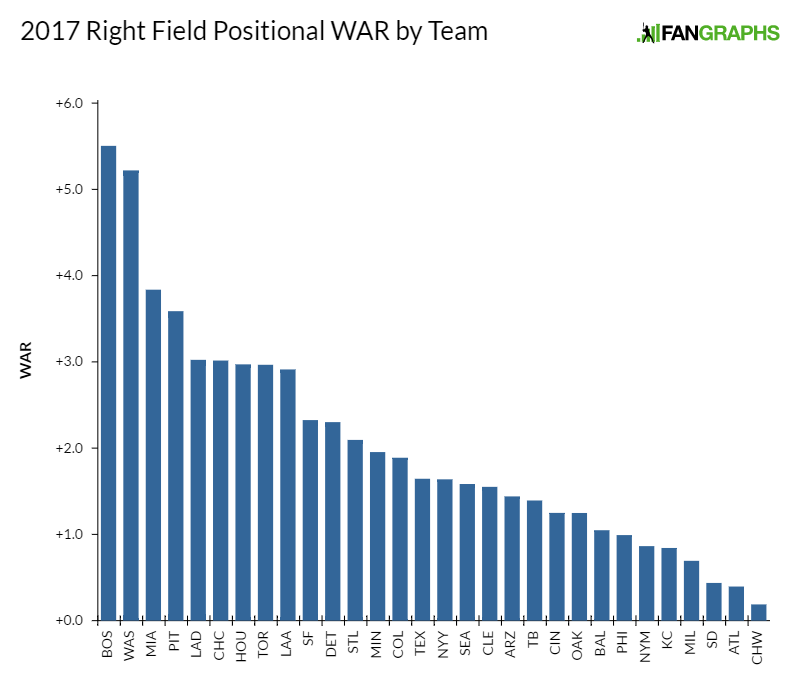 ---
Rotation: 9th out of 15 teams, 12.9 WAR
Despite everything written above, it might just all come down to pitching as has been the case in the past. Zack Greinke (3.2 WAR) and Robbie Ray (3.3 WAR) are projected to be above average starters, but both have had their struggles this spring. As we looked at last week, Grienke may be able to survive his velocity issues by disguising his pitches while Robbie Ray doesn't fool hitters and is stuck trying to blow guys away without strong secondary offerings. The D-backs will need to rely heavily on these two to produce, no matter their issues, because behind them…
Taijuan Walker (1.9 WAR) has had a fabulous spring but is yet to really put a solid campaign together in the majors. Some mechanical tweaks has seemed to help him in March, but whether or not his effectiveness carries over to the regular season is something everyone is waiting to see for themselves. Shelby Miller (1.8 WAR) and Patrick Corbin (1.4 WAR) have had good springs, too, but both are coming off disastrous 2016 seasons. It's another case of "I'll believe it when I see it" when it comes to these two, though the team needs them to improve. Behind them is a cast of characters that don't inspire much confidence, so it'll be on these three to remain healthy and somewhat effective to protect against having to expose young pitchers, such as Braden Shipley and Anthony Banda, to the league while they still have some growing to do.
Nowhere else on the roster is the production so questionable. Greinke hasn't been great, but would it shock anyone to see him but some kind of phenomenal run together? Absolutely not. Ray made his arsenal work last season, and while it wasn't optimal, he did face some bad luck and still made it work. Could Walker blossom? Will Miller's new velocity hold and will he bounce back? Does Patrick Corbin pitch like, well, Patrick Corbin? We could answer "yes" to all of these questions, but we could also find ourselves asking "what the hell were we thinking?" come season's end. There's enough talent here for the team to find some additional wins, but there's enough uncertainty for it all to fall flat at the end of the day, too.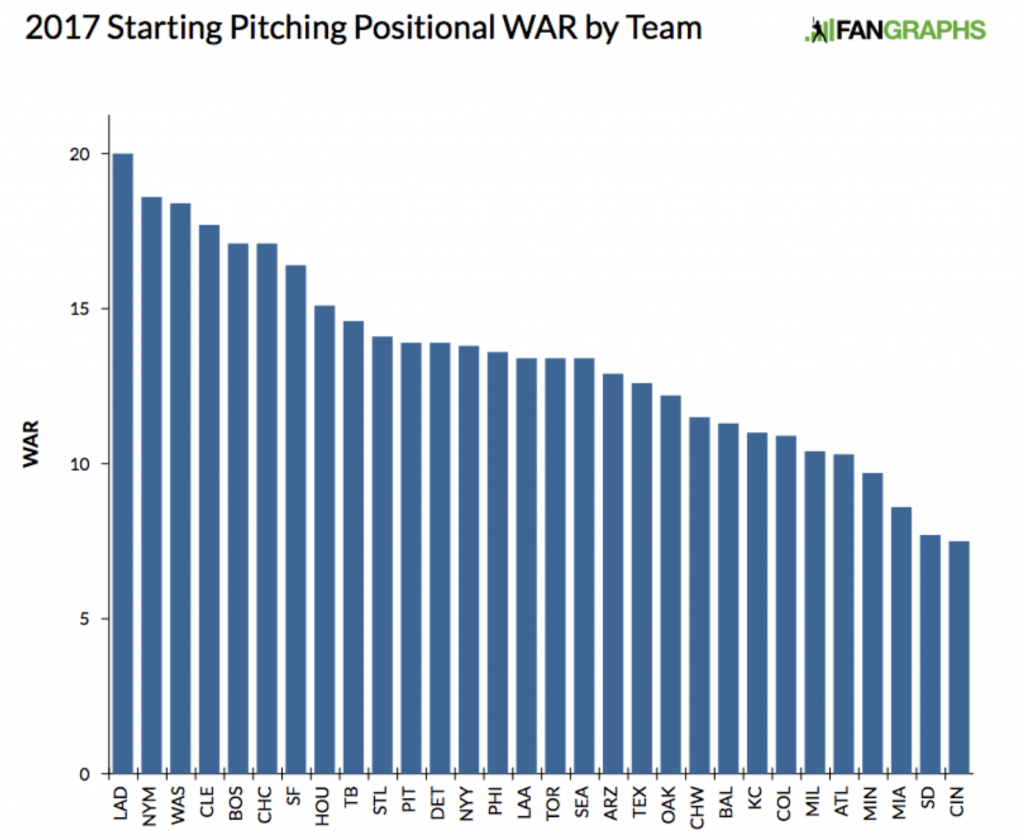 ---
Bullpen: 15th out of 15 teams, 1.6 WAR
Fernando Rodney will do his thing, and while he's not who he once was, he can still be effective, getting ground balls and strikeouts. Jake Barrett should set him up once he returns to health, but behind these two there is plenty of uncertainty. Archie Bradley will move to the bullpen where he could see his stuff play up, but how he takes to the role shift is a question that needs answering. Tom Wilhelmsen won a job on the roster and has been very sharp this spring, has closing experience, and can be flat out nasty when he's on. The problem is that he hasn't been "on" consistently in recent years. Jorge De La Rosa will take a job as a lefty and didn't have good spring results, but has been clocked at 95mph in his relief appearances. Randall Delgado is doing Randall Delgado things as a utility reliever and he is what he is at this point. Silvino Bracho, Andrew Chafin and J.J. Hoover are competing for spots and each has had strong performances at times this spring. There's no star power here and the unit as a whole is short on impact.
There are depth pieces, too, with Zack Godley, Rubby De La Rosa, Enrique Burgos, Jimmie Sherfy and others kicking around in the minors to open the year. Each has his flaws and none inspires much confidence at this juncture, though we've seen Godley have success before and De La Rosa, when fully healthy, could turn into something useful. Burgos and Sherfy need to iron their propensity for walks to creep back into the picture, but both will likely get a look in 2017.
Overall, it's a thing crop in the bullpen, and given Chase Field's impact on pitchers, it wouldn't be a shock to see the bullpen become the team's undoing. Late leads will be precarious more often than not, and given the rotation's issues getting deep into games, this unit should get plenty of work. The group will have to exceed expectations for the team be successful, and that means betting on a 40-year old closer, a setup man dealing with injuries, a young starter being transitioned to the 'pen, a couple of non-roster invitees, and plenty of youngsters with walk problems. Is there upside? Sure, if you squint one could see them being better than what's projected. There's a more likely scenario, however, that this is just simply one of the worst bullpens in baseball.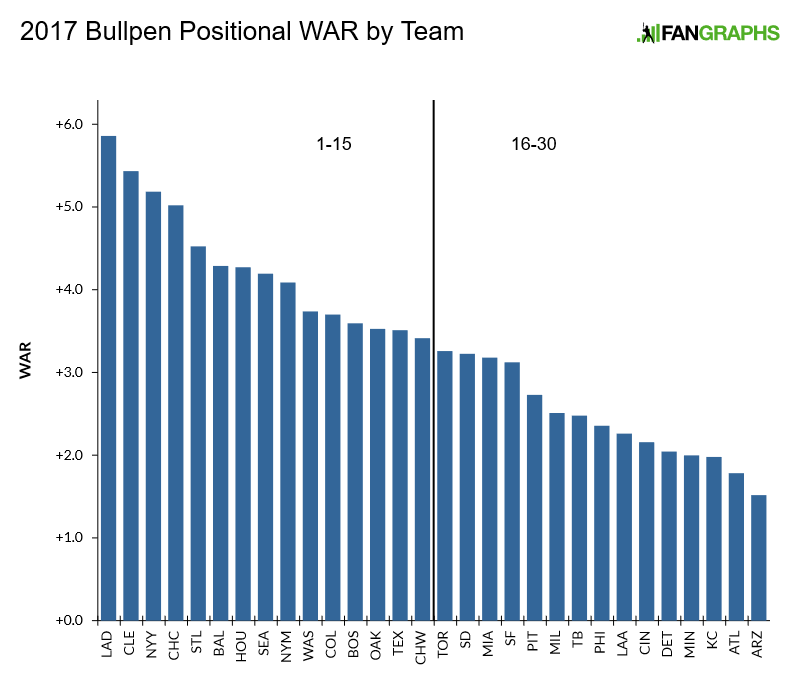 ---
Only As Strong As The Weakest Link
While there's reason to think this team has players that can be better than the projections, there are just too many areas where the team is extremely weak to get your hopes up. It's always best to approach the season with a wait-and-see mentality, but with major issues in the middle infield, behind the plate, left field and the bullpen, there may just be too many weak links to save them. They'll need breakouts from several players in addition to steady performances from their known quantities. In essence, everything has to break right and injuries have to be avoided for this team to make a push. That's not impossible, but it's a very narrow path to contention. It'll be incumbent upon the stars to float the scrubs and for the scrubs to simultaneously play better than they have in the past for this team to be a contender. The more you look at it, the more this looks like a team that just doesn't have what it takes. But hey, that's why they play the game.