If you missed the news that the Diamondbacks closed out the first full week of the season with a record of 6-1, it's time to move out from under that rock you call home. The pitching hasn't been great, but the bats have been lively. The bullpen hasn't been a disaster and the starters, while more solid than great, have been, well, solid. Taijuan Walker is the only starter with an ERA over 4.00 at this very early juncture and he faced his share of poor luck in his first outing (his second is later today). Meanwhile, every hitter has a wRC+ that's league average or above except for part-timers Daniel Descalso and Chris Iannetta. Simply put, this team is on fire and just a week in, this season has already been a lot of fun.
SWEEP. #DbacksWWWWWin! pic.twitter.com/NgxZ5e7oL6

— Arizona Diamondbacks (@Dbacks) April 9, 2017
Now let's make something clear, if this team were 1-6 rather than 6-1, we'd still be rooting for this team. But it's important not to get carried away and keep things in perspective. You won't be surprised to know that we don't expect the D-backs to finish the season 139-23. The pace surely won't hold, but if the team were to go on to play .500 ball the rest of the season, they'd have a fighting chance at a wild card birth. Playing .500 ball isn't outside the realm of possibility if Arizona can avoid injury, something else that's unlikely to happen. Guys get hurt — it's part of the game. The team will face some adversity this season undoubtedly, and how they respond will have a lot to say about how this whole thing shakes out.
But that can't take away from the hot start and how much fun it's been to see this team find some success early on. Leading the league in batting average, on-base percentage, slugging percentage, hits, doubles and runs scored is pretty entertaining. Being in the top half of the league in ERA, WHIP, strikeouts, batting average against and home runs allowed has been great to watch, too. After a couple of disappointing seasons, the D-backs have been a must-watch affair thus far and I couldn't be happier for this team and the fans that have stuck by them through some seriously trying times.
But the question we all should be asking is how this hot start will carry forward. What's it all worth? If the team wen 6-1 over a seven game span in August, would we be getting this worked up? Are games in April more valuable than games in August? Most certainly not, they all count the same. And it's not like the D-backs are the first team to put together a strong start to the season. So how have other teams in a similar position fared over the course of 162 games? That's worth digging into.
Looking back five years, the 2017 Diamondbacks aren't exactly in rare company. There's seemingly always a team or two (or three or four) that have gotten off to hot starts through the first week of the season. Since 2012, I've identified 14 of them, looked at their PECOTA projections and their final standings. Take a look at the table below to see how these teams have done come season's end.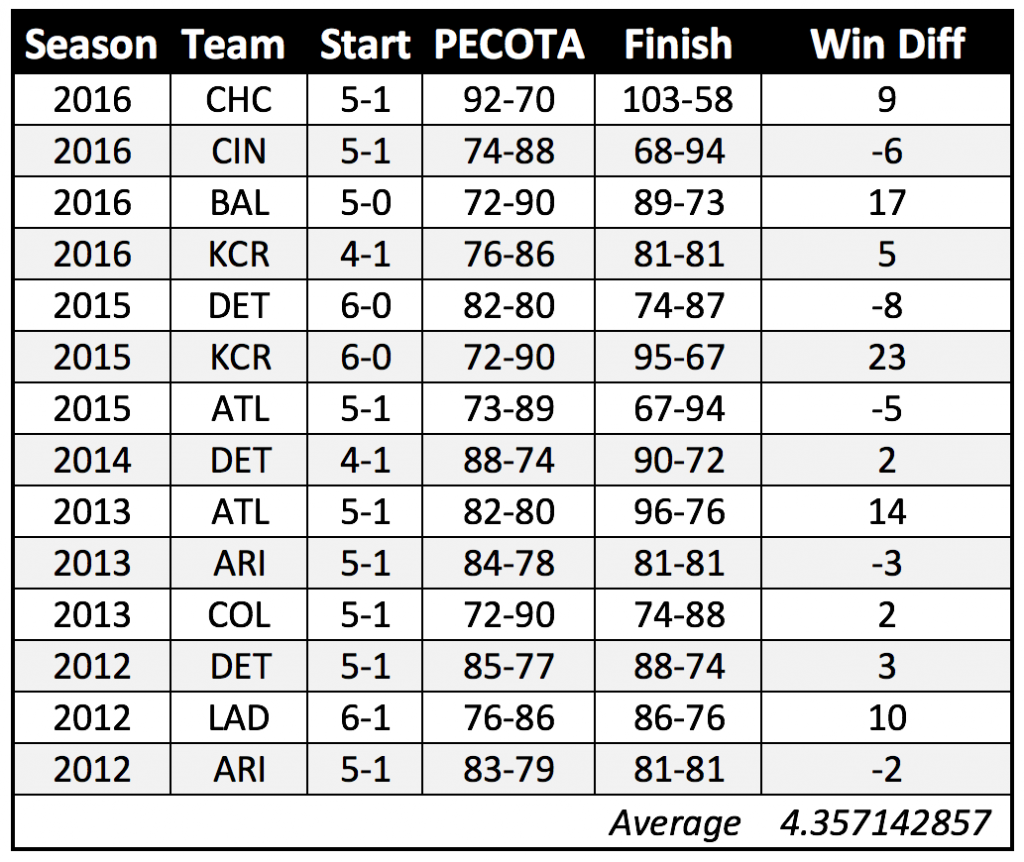 On average, the teams that have gotten off to hot starts have won four more games than they were projected. The D-backs were projected to win 78-games entering the season by PECOTA, and if you're as good at math as I am, that would seem to put them on pace to win 82 games. Finishing over .500 would be an accomplishment for this squad considering all that's gone wrong in seasons past, but clearly that wouldn't put them in the wild card picture. The team would need to win ten more games than they were projected for that to become a reality.
Fortunately, that appears to be within the realm of possibility based on the table above. Four times in the past five seasons this has taken place for teams getting out of the gate hot. The Orioles pulled this off last season and the Royals did it the season before. The Braves exceeded expectation back in 2013 and the Dodgers did, too, back in 2012. In these cases, the hot start seemed to portend the notion that the team was better than predicted. Surely that's not the only thing at play as luck can have the biggest influence, but perhaps there was more reason for optimism than the projections understood. The Diamondbacks could fall into this category as there was plenty of room for upside on the roster. The projections took recent injuries into account and, again, just keeping guys like A.J. Pollock, David Peralta and Zack Greinke healthy can make a big difference. So could breakouts from Brandon Drury, Archie Bradley and Taijuan Walker. You get it — there were reasons to believe this team could be better than forecast entering the season, even before they played a lights-out opening week.
Of course, not every team that got off to a great start stayed potent. The Reds were supposed to be terrible last year, and even after a hot first week, they were still quite bad. The Tigers had their issues in 2015, as did the D-backs themselves in 2012 and 2013. Both squads were projected to finish above .500 but couldn't get past 81 games. We've seen this before right before our very eyes, so we'd do well to remain cautiously optimistic.
It's easy to be all about the Diamondbacks right now. There's even some precedent for teams that get off to hot starts exceeding expectations. The D-backs might just be one of those teams. But Jeremy Hazelbaker won't keep hitting .867/.889/1.000. and Archie Bradley is going to give up a run at some point. The non-roster invitee trio of Jorge De La Rosa, Tom Wilhelmsen and J.J. Hoover may not be able to anchor the bullpen all year long — they were left hanging for a reason. But maybe there's enough here to think that they can exceed expectations in a meaningful way. It's far too early to make that call, but even if this just holds for a week, that week was a boatload of fun.