Playing the Long Game: How Can the D-backs Afford to Compete?
Well, April was really something. The Diamondbacks looked competitive entering the season, but after seeing them on the field, the term "competitive" might come off as pejorative. "Dominant" would be too much, but there's surely a descriptor in the middle somewhere. Meanwhile, the Dodgers have gotten off to a slower than expected start and the Giants are without Madison Bumgarner for a prolonged period of time. The Nationals just lost Old Friend Adam Eaton. The Mets are a mess. The Pirates are without Starling Marte for 80 games and the Cardinals are good, but beatable. To put it bluntly, the National League is about as topsy-turvy as it comes right now and the Diamondbacks — and I can't believe I'm saying this — have a shot at the playoffs. Clearly there's a long way to go and a ton of things have to break right, but if you could dream up a scenario where Arizona found itself playing meaningful games in October, it would probably look something like this.
The here and now is rather exciting. But the future, well, that's still murky. The organization decided not to become sellers over the winter as GM Mike Hazen clearly, and rightfully, liked his young core and is letting things play out. Come the end of June, the team should have a clearer direction. At this point, barring a rapid change in fortunes, that direction may include fortifying the bullpen in an attempt to make a run. Long-term, there are some issues, though, namely escalating salaries. The team inked a new television deal but payroll hasn't changed much. Zack Greinke will continue eating about a third of the team's finances for the foreseeable future. Paul Goldschmidt won't be cheap forever and there are plenty of arbitration-eligible players while Yasmany Tomas' salary grows (provided he doesn't opt out of his deal). In short, there's a crunch coming that we've forecast for a long time.
Let's look at the big picture, coming to a head in the 2018 offseason.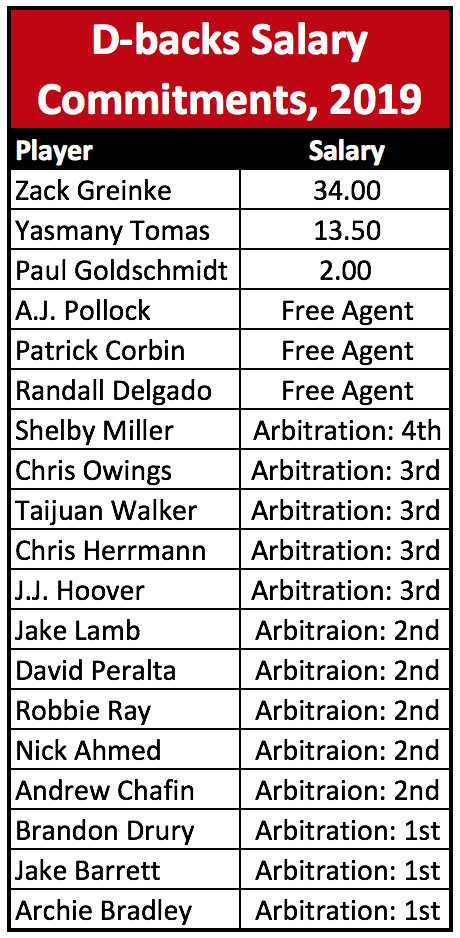 The team is only committed to $52 million dollars. That includes $34 million to Zack Greinke, $13.5 million to Yasmany Tomas and $2 million to Paul Goldschmidt as a buyout should the team not exercise his final contract year. Of course that'll happen, so a more realistic figure would include the $14.5 million to Goldy, raising the commitments to $64.5 million. A.J. Pollock will be a free agent and so will Patrick Corbin. Randall Delgado could be let go, so that's not much of an issue. Shelby Miller will be in his fourth year of arbitration as he falls under Super Two status. A number of other "core" players will be arbitration eligible, including Taijuan Walker, Chris Owings, Jake Lamb, David Peralta, Robbie Ray, Brandon Drury, Archie Bradley and others. It's hard to know exactly where that'll put the final bill, plus there are salaries to be paid to all of the guys playing at the league minimum. One thing is clear, however: at the team's current threshold around $105 million, they can't keep all of these guys.
Given that they can't keep all of these players, they'll have to fill the positions with other players, namely cheaper players. The minor league system isn't exactly stacked, however. Complicating matters, the 2018-2019 free agent class is simply loaded with talent. Here are just a few of the marquee free agents that'll hit the market that winter: Bryce Harper, Manny Machado, Yasmani Grandal, Brian Dozier, Daniel Murphy, Josh Donaldson, Adam Jones, Hunter Pence, Matt Harvey, Dallas Keuchel, Drew Pomeranz, Cody Allen, Kelvin Herrera, David Robertson, Zach Britton and Andrew Miller. You can see more here, but you get the idea. There's going to be a flood of talent on the market come the 2018-2019 offseason.
If the D-backs can't afford their internal players, chances are that they won't be big players on the free agent market, either. There's going to be some room in the budget, but how they choose to spend their dollars will be interesting. With so many guys on the market, some will see their prices fall and teams may be trading pieces to make room for some of the bigger names on the list. Either way, there's going to be a lot of movement on big league rosters and that talent has to land somewhere, even if it's not in Arizona.
So the D-backs are going to find themselves in an interesting situation. They'll have to expand payroll just to keep their players, many of whom will be entering their primes, and have to add even more space if they want to be fortuitous buyers. No matter what, the payroll situation is going to have to change. Some of the names above will surely find their way into the NL West and many in the NL in general, so if the team wants to stay strong they'll have to up the ante in a big way.
As things stand now, the team ranks 26th in payroll. They're over $30 million below league average. With so many players hitting the open market in two winters, the average payroll should grow in a major way. You don't have to spend a ton of money to be a quality team, but it sure helps. That's surely not something that's lost on Mike Hazen as the team not only has to worry about positioning themselves well for the rest of 2017, but they also have to keep the bigger picture in mind. That might mean eating cash on deals for Greinke or Tomas or letting Goldy walk, not-resigning Pollock, Corbin or any number of things. It's a tough spot to be in. Even if payroll picks up some, they'll be forced to make some difficult decisions. Talent will shift teams and vacuums will be left. The Diamondbacks have not often found themselves in the position of "the buyer" in recent years (outside of Greinke's surprise contract) and even with a small bump in the budget, they'll likely be forced to sit out what is shaping up to be the biggest free agent season in the last decade.
Of course, there's another scenario, one where ownership believes in the vision of Mike Hazen and opens up the purse book. While we have no indications that this will happen, it is within the realm of possibility. Trades are tough because there are so many pieces to make fit, but money is just money. All it requires is for someone to sign on the dotted line. With so many talented players set to change zip codes, the D-backs will be forced to spend more just to keep their core in tact and, hopefully, re-sign Paul Goldschmidt who won't be taking a hometown discount this time around. If things don't change in a major way, the organization could find themselves in an unenviable position with a weak farm system and a lagging payroll. Surely they'll do their best to avoid that scenario and it'll take money to make it happen.