Home runs are all the rage across baseball. Since mid-2015, the ball has been flying out of every ballpark at historic levels. It's not just sluggers putting the ball over the fence these days — even the little guys are doing it. Chris Owings is half way to double digits already and is one away from tying his career high set back in 2014 over 91 games. He's needed just 27 games this season to reach five dingers, putting him on some kind of pace to reach the 20-homer level, a mark achieved last season by Jean Segura after he averaged 7.66 home runs per season over his three full years with Milwaukee. The sluggers are hitting more, but the "other guys" are hitting more, too. That makes for some exciting baseball, but it comes at a cost.
Pitchers are surrendering these home runs, of course. They're the ones paying the price. Home runs have long been a problem for D-backs hurlers as Chase Field surrenders them at rates far beyond normal. A humidor is on the horizon, but for now, games at Chase are unaffected. Games on the road, of course, are being played under "normal" circumstances, too. For now, we have normal data regarding home runs, and through 33 games this season, the Diamondbacks have surrendered 34 home runs. Over the last five seasons, team has averaged 34.4 home runs allowed through their first 33 games. To that end, it seems as if little has changed.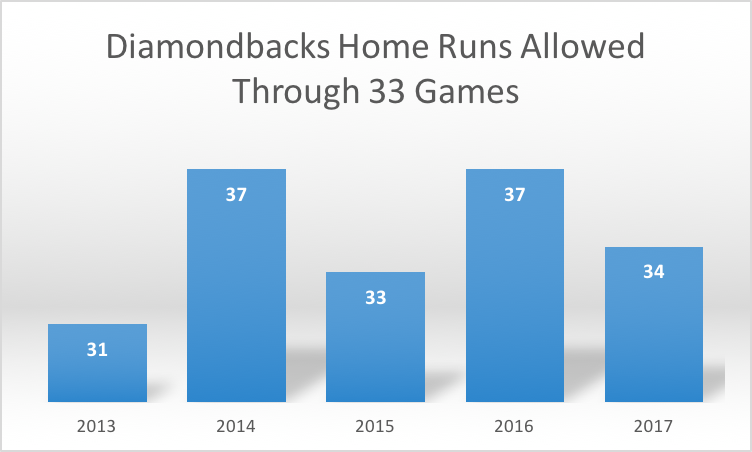 The team's best pitcher, Zack Greinke has surrendered the most long balls with six surrendered in seven starts. Patrick Corbin has allowed five while Robbie Ray, Taijuan Walker and Randall Delgado have given up four each. It's not as if there's been a particular absence of home runs, but the entire staff has allowed the seventh-fewest homers in baseball. Thats's certainly solid.
But where this gets interesting, perhaps, is that as the rate of home runs has escalated around the game, the Diamondbacks pitchers themselves have actually kept their home run totals somewhat in check. Take a look at the home run rates on balls in play over the last 63 years, courtesy of Jeff Sullivan and FanGraphs who detailed this relatively new trend.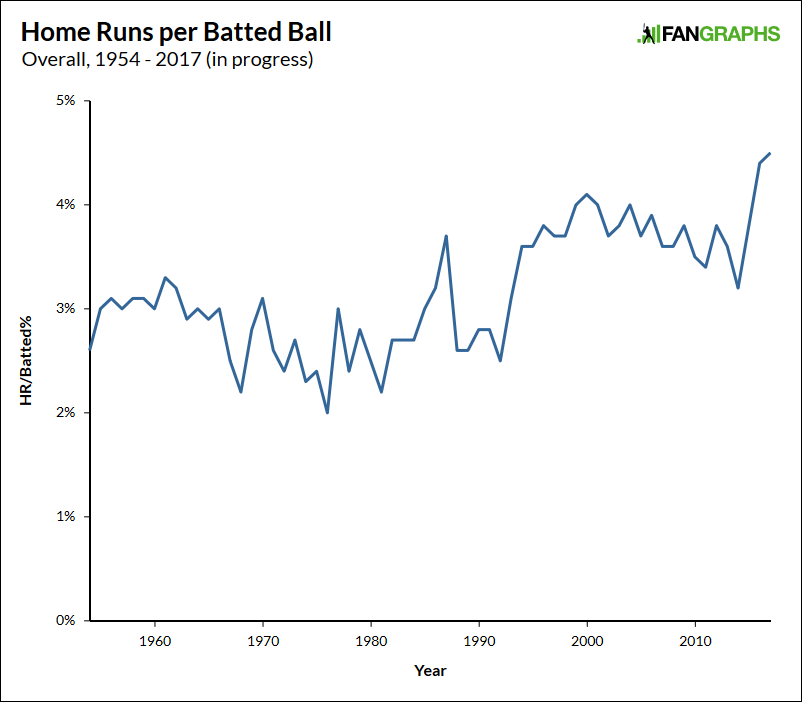 And, as Jeff showed, this isn't some early season blip…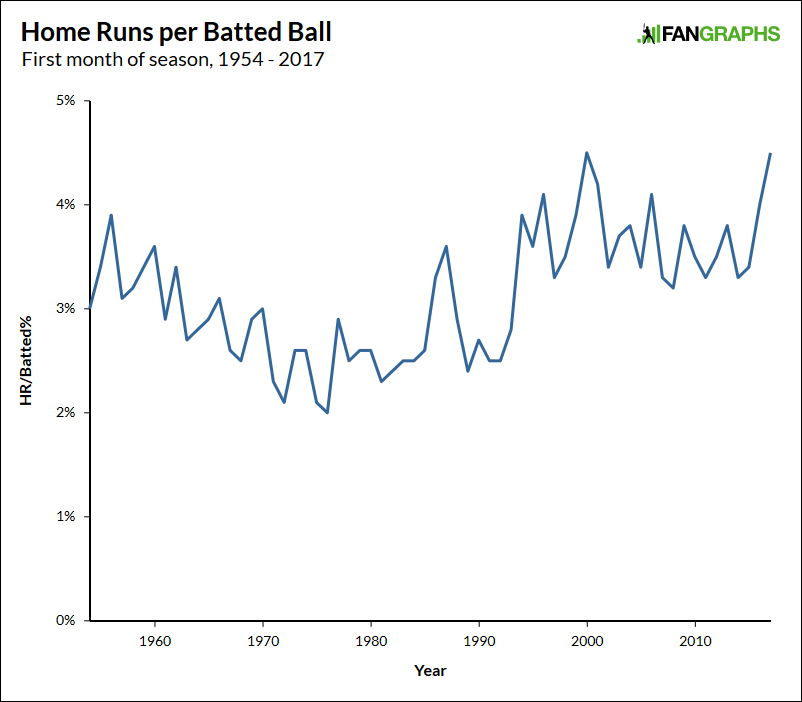 Home runs on balls in play are up, whether we look at seasons as a whole or even just the month of April. The dingers just keep coming. Meanwhile, the D-backs have been largely unaffected. From 2013 through 2016, the D-backs gave up home runs 4.03% of the time the ball was put into play. So far this season, the D-backs have given up home runs 4.10% of the time the ball has been put into play. Again, almost unchanged. The league average for the month of April for all 30 teams was allowing home runs 4.50% of the time the ball was put into play. Simply put, the team is well below league average in home runs allowed on balls in play, even if we've seen more long balls than we'd like.
The reason for increase in home runs is a topic of debate. More data means more information. Hitters have talked about consciously trying to hit more fly balls and have tweaked swings to do more damage. Hypotheses of "juiced" baseballs coming from MLB have run rampant, too, though there hasn't been much information to confirm a change (despite some actual studies on the matter). Hotter weather has also contributed as conditions have been more favorable over the last few seasons to hitting home runs (and melting icecaps).
We're not likely to find a single culprit here, but it's important to note that the pitching staff has held their own. Raw home run totals aren't nearly as helpful as rates of home runs allowed are, and to that end, we should be pleasantly surprised. While it still feels like the team struggles at time in allowing home runs, they've actually held the pace while the rest of baseball has inflated around them. Despite playing 23 of their first 33 games at either Chase Field or Coors Field, the D-backs are keeping their home runs allowed at a manageable rate and that's certainly a welcomed sign.