When I began my professional career, I started it as a high school teacher and sports coach in the Seattle metro area. I had a frequent saying that was far from original, but fit the bill nonetheless: better late than never. Students were often late to arrive to class, but I was just happy when they showed up. They'd turn in papers late and get penalized, but any score was better than a zero. We'd be getting blown out on the football field, but score three touchdowns in the fourth quarter against the other team's backups, proving that we could at least show some level of competence. As life has progressed and time gets harder and harder to come by, getting things done can be a challenge. But I've stuck by that motto I said a thousand time to my students — better late than never.
That's all a long way of saying, the right time to talk about Chris Herrmann resides somewhere in the past, but here we are today, talking about Chris Herrmann. Better late than never. Though the D-backs' roster has several All-Stars and the team just swung a big trade for J.D. Martinez, perhaps no player is tweeted about as often as The Herrmannator. Those tweets seem to look something like this…
I don't even have jokes anymore. Chris Herrmann isn't nearly good enough to start as much as he does. https://t.co/tgVXyvuMc0

— Scott Howard (@ScottHoward42) July 23, 2017
Sooooo are they DFAing Chris Herrmann yet or what?

— F. Rodney hat club (@Greinkschmidt) July 18, 2017
I really need someone to explain the Chris Herrmann thing to me.

— Alex Williams (@AlexHWilliams) July 9, 2017
These are not your garden variety tweets of encouragement and support. Rather, it's been a long troll game that's nearly spanned the entirety of the season given Herrmann's struggles. He's seen plenty of action this year, getting playing time in 74 of the team's 98 games through Sunday. Despite the performance issues, he's still getting reps and that hasn't sat well with many fans. This is understandable. Less so is the reasoning for keeping Herrmann on the roster and in the field, it seems.
In case you don't recall, Herrmann's career trajectory has gone something like this:
He was never a top-20 prospect in the Twins' system as a prospect
He was a replacement level (or below) player in parts of four seasons with the Twins in his age 24-27 seasons
He was represented by Dave Stewart's agency, then acquired by Stewart and the Diamondbacks from Minnesota in the 2015-2016 offseason
He had the best season of his career at the plate in 2016, thanks to a power spike from some mechanical adjustments, and was a useful player in limited time, for a limited time
He has fallen back to a Twins-era level of production in 2017
Through it all, Herrmann has provided little to no value defensively whether at catcher or in the outfield
To take it a step further, let's look at Herrmann's offensive production for every month he's been in the majors and played in at least five games. You'll notice a few trends…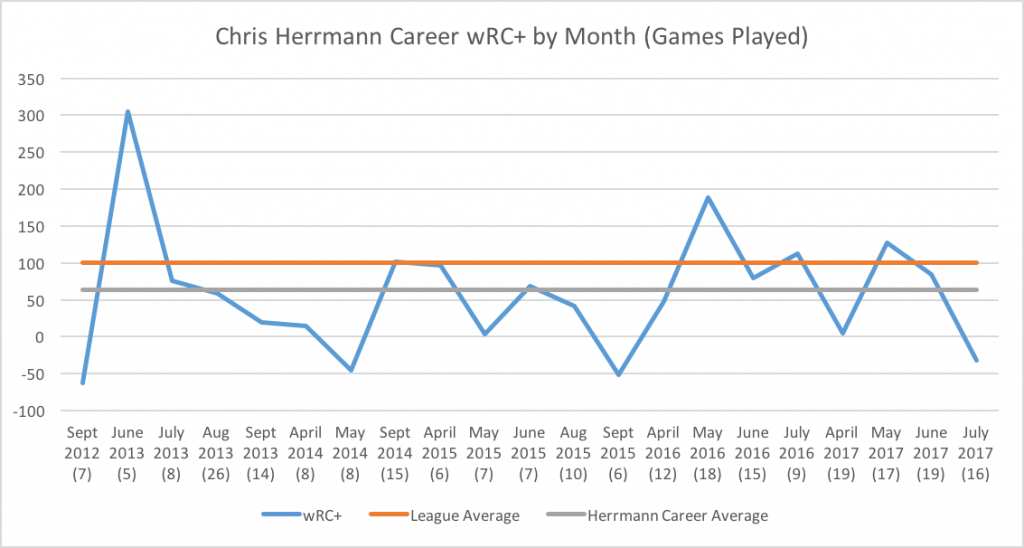 For his career, Chris Herrmann has been a 64 wRC+ hitter while the league average is 100. That means he's been 36% worse than league average, even when adjusting for ballparks. Of the 21 "months" counted here (the months where he played at least five games), he's been above league average five times. The biggest figure came in a five-games stretch back in June, 2013 when he went 5-10 with a pair of walks, a double and a homer. He went on a small tear last May, but has otherwise been pretty pedestrian. It'd be difficult to even refer to Herrmann as a streaky hitter, mostly because there have been so few "streaks." The first observation is just stating the obvious: Chris Herrmann has been a very poor hitter for the vast, vast majority of his career.
I'll admit that the x-axis of this graph is a bit distracting. Rather than creating a separate graphs displaying playing time, I decided to put it all in one chart and you'll note the number of games played in parenthesis for each month counted here. Aside from a lengthy audition in August of 2013, a ton of Herrmann's career playing time has come in Arizona, especially when you consider that he was injured last July and missed almost the full remainder of the 2016 season (he played in two games in September). In parts of four season in Minnesota, Herrmann played in 142 games. In just eight healthy months (plus his tiny return from injury mentioned above) in Arizona, Herrmann has played in 130 games. And, this July isn't over yet. The second trend is that, in Arizona, Herrman has seen increased usage across front office two regimes, one that professionally represented him and one that inherited him.
But, it's not as if he's played particularly well and earned that playing time in the traditional sense. He's not forcing his way into the lineup thanks to his production. And, the team has two other catchers, Herrmann's "primary" position, so it's not like he's absolutely vital. His fielding in left field is suspect, too, and sticking around to fill in for Paul Goldschmidt isn't actually a thing. As you'd expect, he's at his worst against left-handed pitching, something that the team has struggled with as a whole and acquired J.D. Martinez in part to shore up. You could argue that he's a lefty bat to bring off the bench, but that's really Daniel Descalso's job, and if he's in the lineup for the day, you still have Gregor Blanco. Neither possess Herrmann's power, but it's not like Herrmann's power is exactly something to fear. So why is Chris Herrmann still here?
For that, I don't have a good answer, other than to acknowledge that Herrmann is out of options, meaning the team can't send him to the minors without designating him for assignment and exposing him to waivers where another team could claim him. Perhaps they fear losing him because he technically can back up so many positions, doing the work by himself that it may take two or more players to do otherwise. But would they really miss him?
Teams need a super utility player on the roster, but Descalso has that job, and with J.D. Martinez now ensconced in left, Descalso needs to find his playing time elsewhere, further cutting into Herrmann's opportunities. The team has two proper catchers already in Jeff Mathis and Chris Iannetta, both of whom are superior behind the plate. At the minor league level, the team would probably turn to Hank Conger (who's been in Reno all season) in Herrmann's absence should an injury arise. Socrates Brito can fill in at an outfield corner if there's a real issue, so the team has that scenario covered, too.
But that's not really how you go about making decisions. The team will undoubtedly utilize projections to make sure the most productive players are on the roster. And, this needs to be crystal clear: current performance is only so helpful in predicting future performance. Models and analysis will tell the team what to expect going forward rather than just looking at a player's current stat line. So the question isn't really about who is playing the best right now, but rather who projects to play the best going forward. We can approximate this with ZiPS, and while the surely has their own projection system that's far more advanced, let's pretend to be a far-less competent version of Mike Fitzgerald and use ZiPS to decide if it's really worth keeping Chris Herrmann around. Below are the pre-season, current and future outcomes projected by ZiPS for a handful of relevant players in this discussion.
Heading into the season, Herrmann was projected to hit about as well as Conger, Descalso and Brito, a bit behind Blanco, and well behind Hazelbaker. Those forecasts have been altered, however, and now Herrmann has the lowest projection of the bunch going forward. If the team DFA'd him and suffered an injury behind the plate, it looks like Hank Conger could mostly hold down a backup job. If they needed an outfielder to fill in, they have plenty of other options. In Descalso, they already have their utility guy. They have their bases covered, essentially. You could make the doomsday argument that if they lost a catcher and had to bring up Conger, they'd have to DFA him if/when Mathis or Iannetta returned from injury, and then they might find themselves without Herrmann or Conger and you're staring at Oscar Hernandez again. Seems unlikely, but you could make that argument.
More than anything, Chris Herrmann has served as a cheap insurance policy, albeit one that plays more than you'd like to see. He's been a decent fastball hitter and has had more success against righties than lefties, so perhaps the team just really picks their matchups wisely and uses him in some very specific formats going forward. Or, maybe it's time to just move on, call up another relief pitcher or Jeremy Hazelbaker or Socrates Brito. They could gain some defensive coverage in the outfield while retaining left-handed bats, or add depth to a bullpen that's going to be relied upon heavily down the stretch. Another trade may be just moments away and perhaps that's when Herrmann goes. Either way, it looks like that time has come. Perhaps it already did. Better late than never.