Things have tightened up a bit lately. Much has been made of the Diamondbacks' shrinking wild card lead as the Brewers sit just 3.5 games out, the Cardinals are 5 games back and the Marlins just a half game further behind. It's hard to imagine the Brewers willing their way to the postseason — they'll likely need some help. The Marlins don't have great odds, but the Cardinals are still sniffing around and they've got some talent. A 4-5 road trip wasn't exactly electric, but it was on pace with what Arizona has done all year. The Mets series was particularly close, even if it shouldn't have been. Two games were decided by one run, one was decided by two, and the other by three. Those kinds of close contests have put the D-backs' bullpen squarely in the spotlight.
On the season, the team's bullpen has been about average as a collective unit. For a group that entered the season with low expectations, one really can't complain. The group has pitched well enough to put the team in the driver's seat for a playoff berth (though they've obviously not done it alone). At times, they've been flat out dominant. At others, it's looked like they can't get anyone out. There have been plenty of times in between. And really, that's just how bullpens are because most pitchers who wind up in the bullpen are there due to one issue or another (i.e. no third pitch, lack of command, raw stuff isn't good enough in a starter's role, etc.). When you have a collection of guys with one obvious weakness or another who are forced to work on a whim, there are going to be rough patches. The Arizona bullpen is no exception.
Let's take a closer look at seven relievers who have pitched the vast majority of the season. We'll exclude Silvino Bracho, Jake Barrett, Rubby De La Rosa and a few others. Instead, we'll hone in on the core relievers Torrey Lovullo has had to work with most of the season, noting the fickle nature of their individual seasons, starting with…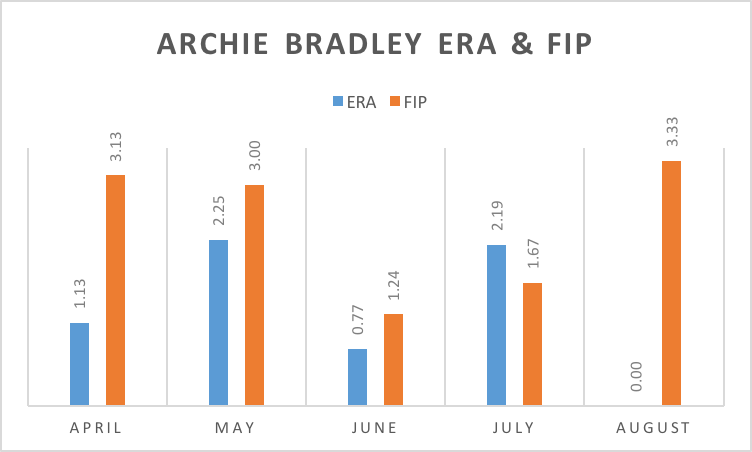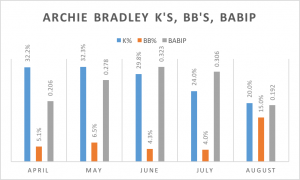 It's easy to see Bradley's dominance. He's yet to post an ERA in any month higher than 2.25 and his FIP numbers are consistently good, too. But for as strong as he had been in the first four months of the season, he's struggled in August. The walks have spike and the strikeouts have fallen. Even for a reliever as good as Archie Bradley, staying consistent is a mighty tough task.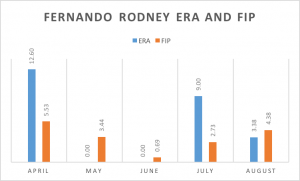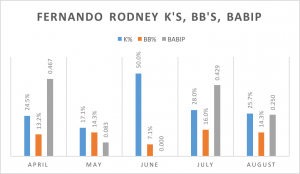 Well, isn't this a big departure. April was a mess for Fernando Rodney, then he went two months without giving up a run. He had some tough luck in July and has been okay in August. But look at the guts of his performance. His BABIPs are all over the place, and while we know that pitchers don't have a ton of control over what happens once the bat meets the ball, we do know that he's made some bad pitches and they've gotten crushed. Sometimes, however, bad pitches go unpunished. Put it all together and you can visually see the Fernando Rodney Experience. In a season where he's been labeled as bad, he's also been very good. The question becomes how well he holds up going forward.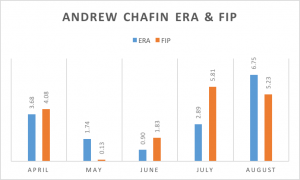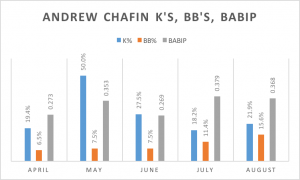 From an ERA standpoint, Andrew Chafin has had a very good year, though that's tapered off this month. As is the case for many relievers, it's boiled down to his ratio of strikeouts to walks. He's made 57 appearances, but 31 of them have lasted less than a full inning. He's especially vulnerable in those shorter stints. If he comes in to dispose of a lefty hitter and walks the guy, then maybe gets a fly ball out, then is removed, well it drastically impacts his line. This is why it's so terribly difficult to judge relievers in the first place and even more so for guys with specialty roles. In aggregate, Chafin has been okay if not outstanding. But if we looked even deeper than this, the tolerances would be wild. As the season has worn on, his walks have increased and his usage has dwindled, suggesting that something may not be right with the southpaw.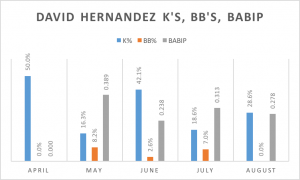 The Diamondbacks needed bullpen help at the trade deadline and they got some by adding Old Friend David Hernandez via the Angels. Not dislike Fernando Rodney's season, although not nearly as extreme, Hernandez has had a couple months where he was either completely unhittable or nearly so. May saw the strikeouts drop and the BABIP rise while in August he's frankly been unlucky. April, June and July have been very good and even May wasn't terrible. Unfortunately, those months were spend in a Halos uniform and not Sedona Red. Still, he's walked just eight batters all year and none with the D-backs. The strikeouts have been up and down and, as expected, the BABIPs have fluctuated over the course of the season.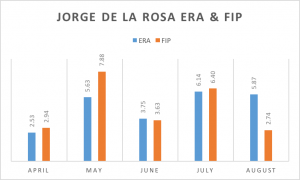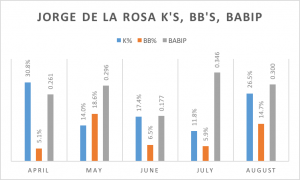 De La Rosa came cheaply to the team this spring as a non-roster invitee who won a job out of camp and hasn't looked back. He's pitched like a middle reliever if you look at his overall performance, but he's had struggles when facing right-handed batters (.346 wOBA) as compared to lefties (.223 wOBA) where he's been quite good. That said, he's faced more right-handed batters (129) than left-handed batters (67) this year as Torrey Lovullo has used him primarily as a one-inning man, not a lefty specialist. Stress gets put on bullpens and sometimes you just have to make due. Throughout the season, De La Rosa's outcomes have been all over the map. There's been little to no stability, which is probably what you should expect from an NRI middle reliever who is 36-years old.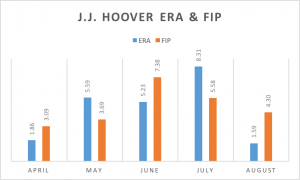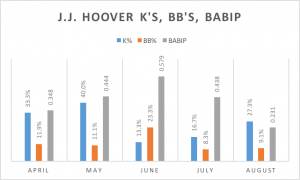 Copy/Paste much of what was said about De La Rosa above. He's had bouts of dominance and a time or two when the wheels have really come off. And look at the indicators — he's had poor BABIPs most of the season, and while he's had some good strikeout months they haven't always been able to save him. It's simply hard to survive when so many balls in play are going for hits. There's some bad luck in there but he's also made his luck at times, too. That said, much like De La Rosa, he's been a valuable bargain for Arizona, even considering the struggles in May, June and July.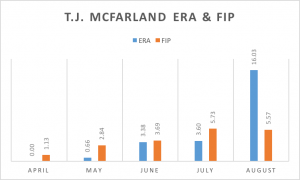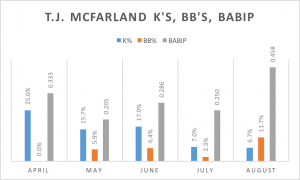 Simply put, T.J. McFarland was not supposed to pitch this much. Injuries to a few guys opened the door, including Randall Delgado, and McFarland has stuck. He's a lefty who is capable of eating some innings, and while that's not exactly sexy, he's been more than proficient for much of the season. He only pitched one inning in April, but May, June and July were all productive months. August is an eye sore, but he surrendered 13 earned across two appearances that have distorted reality. McFarland has survived on low-ish BABIPs, which is good because he doesn't strike out many batters. That said, he's limited the free passes, too. With less than stellar raw stuff, McFarland has been more than advertised even if July wasn't super sharp and August has been an aberration.
---
That was probably too many words on too many relievers. But there are a couple of takeaways that I hope jump out. First, it's hard to have everyone clicking at the same time. Every pitcher has had ups and downs this season. Some of those are within their control (K's, BB's) and some aren't necessarily (BABIP). Making it all work at the same time is a tall order. Second, the swings in performance can be pretty wild. With such limited sample sizes in a given month, it can hard to clearly evaluate a reliever. If you've seen much baseball, you know that a pitcher's stuff can vary each and every time out. For example, Archie Bradley was tasked with getting six outs on Thursday against the Mets. He got the outs, but it wasn't pretty as he didn't have his best stuff and didn't look like the dominant reliever that his season stats would suggest.
The last point is pretty simple. For all of the success the group has had (and remember, success is relative to expectations in many ways), the most important days lie ahead. Sure, a loss in April costs just as much as one at the end of September. But it won't feel that way when the bullpen comes in to protect a lead and doesn't convert. How does the group fare down the stretch with elevated expectations? Projections are helpful here, but there's a human element, too, worthy of consideration. And sometimes, timing is everything most of all. Some pitchers have had a lot of work this season already and there's plenty of baseball yet to play. Will the stars align for the bullpen? We'd better hope so, because the season just might hinge upon it.