In Genius Move, Arizona Sells David Holmberg to Shed Heath Bell's Contract
The Heath Bell Experience is over in Arizona.  We will never forget.
For the privilege of ridding itself of Heath Bell's contract for 2014, Arizona has traded away David Holmberg and $500k, receiving minor league LHP Justin Choate from Cincinnati and a player to be named later or cash from Tampa Bay.  Bell will head to the Tampa Bay bullpen, while Holmberg will go the Cincinnati organization.
The "or cash" part of the return from Tampa Bay is a strong indication that the PTBNL is not a significant prospect.   According to Jack Magruder, the PTBNL will be one player from a list.  My guess is that at least one of the players on the list is eligible for the Rule V draft next week.  Such players cannot be traded until after the draft, so it may be that if a particular player  preferred by Arizona gets plucked, Arizona will get the cash instead.
David Holmberg has been a consensus top 10 prospect for Arizona for some time now — we have him ranked 6th overall.  That's some real value, although he was never likely to rank among the game's top 100 prospects overall.  Justin Choate, the other minor leaguer identified in the deal, seems to be what is called a "non-prospect" in the industry.  His peripherals in 40.2 IP in low A were not very good, and he was very old for that level, playing the season at age 22.  That means that Towers has done an extremely rare thing — trading away a legitimate minor league asset for the privilege of shedding an albatross contract almost completely.
In our Offseason Plan, we recommended that Bell be simply released — saying, essentially, that nearly all $6M of what was owed to Bell was a sunk loss.  Yes, we suggested that Towers wait to see how the spring worked out, if he wasn't able to find a team willing to take on more than $1M of Bell's contract (if he was released and signed by another club, the new club would pay the major league minimum — so the baseline is $500k, not zero).  Since even a replacement-level player costs $500k, this means we thought that Bell was worth about $500k ($1M – $500k = $500k) as a major league asset.  With the D-backs on the hook for $6M, that meant that we were on record as valuing Bell's contract at about negative $5.5M (since the 2015 option is a vesting option without a buyout, it doesn't affect the math).  In other words, Bell's contract was something like a $5.5M liability for the club.
Towers will have his detractors for this move, but I think the inclusion of Holmberg to absolve the team of that liability is genius.  Here's what I wrote about Holmberg last week (end of this post):
Arizona doesn't have a whole lot of use for Holmberg, who will top out as a #5 starter in all likelihood.  The D-backs have guys like Zeke Spruill and Delgado coming out of their ears, and is there a genuine risk that without Holmberg, Arizona would end up playing a replacement-level fifth starter?  I don't think so.  Since Holmberg's game is mostly about repertoire and command, I also don't see how his stuff would play up in the bullpen, making his usefulness to Arizona about nothing.
Holmberg, who might be something of a poor man's Joe Blanton, just did not fit the needs of the Arizona organization well.  It would not cost much to replace a true #5 starter (Holmberg's ceiling), and it would cost almost nothing to obtain a true mop up man (Holmberg's floor).  I wonder if Towers has been quietly shopping Holmberg for a while (like for Tim Collins of the Royals, a useful LHP reliever who was no longer cheap).  Maybe he found that Holmberg's value just wasn't very high, and that he wouldn't have returned much, or anything.  It wouldn't surprise me.  And in those circumstances, wouldn't the salary relief be a very good value for the club?
Put it this way: Towers just sold David Holmberg for $5.5M.  Sounds like a good deal to me.  If Towers had simply held a fundraising auction, offering to sell Holmberg to the highest bidder, what price would he have fetched?  My guess is that it might have been a lower figure.  Accordingly, didn't Towers do pretty well, here?
I applaud this deal.  I think it demonstrates a commitment to trying to build cheaper bullpens — not because Justin Choate is part of the solution, but because the D-backs clearly just treated Bell's contract as a sunk loss, and a significant one at that.
Trying to build cheaper bullpens is important, because bad cheap bullpens are much, much easier to fix than bad expensive bullpens.  A bad cheap bullpen doesn't require trading a legitimate prospect just to get rid of someone — it might only ever require trading a legitimate prospect to replace someone.
I do hope that moving Bell frees up payroll room for some other move that might make the Diamondbacks better for 2014.  But much more than that, I hope that moving Bell at a loss signals a shift in philosophy, away from overpaying relief vets.
If Arizona fills this extra payroll space by signing another reliever at $5M or more, then this deal is a colossal failure.  If it does not, however, then I will be optimistic that David Holmberg was used to ransom the D-backs' soul, and glad that we'll be much less likely to be saddled with a contract like Bell's, ever again.
Update: Nick Piecoro reported on Twitter that the D-backs are saving $6M, not $5.5M.  I think the above reasoning only gets more compelling if you substitute $6M for $5.5M everywhere it shows up — but it looks like that's what you have to do.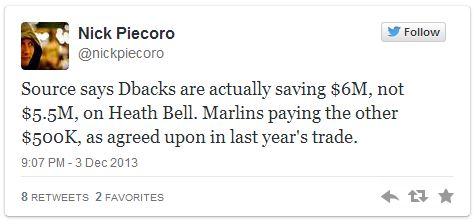 For other takes within the SweetSpot Network:
Rays to Acquire Ryan Hanigan & Heath Bell – The Process Report
Hanigan to Catch some Rays; Greetings, David Holmberg – Redleg Nation