Bradley and Drury Battling, Relievers Shining in the Arizona Fall League
The Arizona Fall League is a lot of fun. It's loaded with top talent, especially on the position player side, and the small crowds give off a sort of intimate feeling with the game. I'll be checking out the Rafters in person next Friday and taking in the AFL All-Star Game on Saturday, but even then, I'm not overly concerned with each players' performance. The Diamondbacks have seven players currently on the Salt River Rafters' roster, and although it's worth following them, it's important to take a handful of innings pitcher or a couple dozen at-bats with a grain of salt. Instead of getting wrapped up each player's AFL performance, it's best to use it as just another piece of the prospect puzzle as it pertains to each player (sorry for the alliteration). Let's take a minute to scope each Diamondback's performance thus far within the scope of their 2014 campaign
Note: if you missed it, I've released full breakdowns of each minor league affiliate over the last couple of week, which contain more thorough analysis of each player below.

Enrique Burgos put together a solid 2014 in relief, pitching the entire season at High-A Visalia. The closer has a big arm and was dominant for the Rawhide, racking up the K's and the saves. He's struggled to control the zone at times, however, as his walk rate was higher than one would like. Thus far in the AFL, however, he's cut back the walks and has surrendered only one hit in six innings pitched at the highest level he's ever seen. After a season in which he improved his stock, it looks like Burgos is keeping the positive momentum going. The Diamondbacks have surely taken notice having just recently placed Burgos on the 40-man roster to protect him from being selected by another team in the upcoming Rule 5 Draft.

Similarly to Burgos, Kaleb Fleck has done wonders to his prospect stock in 2014. Although he was 25 all year long in Double-A, he was murderous on opposing batters. His strikeout rate was fantastic but the walks were a bit higher than one would like to see. Like Burgos, Fleck can sling it with velocity and in the AFL, and his strikeouts are actually up from what they were during the regular season. He's been somewhat hittable, surrendering six knocks in 6.2 innings, although he's scattered them, giving up only one run in six appearances. He's not on the 40-man roster at the moment, meaning that Arizona will either add him, trade him, or risk losing him to another team this winter. This showcase is meaningful for Fleck, no matter who he pitches for in 2015, and he's doing a nice job at the moment.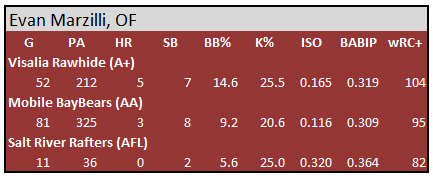 Evan Marzilli is an under-the-radar prospect who's "overachieved" in the the words of Fangraphs' Kiley McDaniel. He has very little pop and doesn't steal many bases, but he can play center field. He's never hit for much average, yet maintains a solid OBP thanks to good walk rates. He's only 23 and was okay in Double-A this season after playing well for Visalia. For the Rafters, he's limited action, playing behind Byron Buxton (although Buxton's fractured finger will end his season as of Tuesday and Marzilli should see more time). In his 11 games, he's been as advertised, hitting a little below average but providing coverage defensively. At this point, he profiles as fourth outfielder.

There's been a lot made about Peter O'Brien since he came over from the Yankees in the Martin Prado trade. Here's what we know: he has a ton of power, he strikes out quite a bit, doesn't walk much and doesn't have a defensive position. I have it on good authority that he won't catch at the major league level, at least not on an every day basis. He's played in the outfield some but is lining up at catcher for the Rafters. I'm most curious to catch a few glimpses of O'Brien in my time in Arizona as I'd like to try to gauge his athleticism as I think left field is probably his best chance to be a regular major league player. In 14 games with Salt River, he's hit three homers and taken an uncharacteristic number of walks. He's not hitting for much average, as expected, but the power is his calling card and that's showing through. At first glance, he seems like a Mark Trumbo clone, but I'm excited to investigate as much as possible this weekend.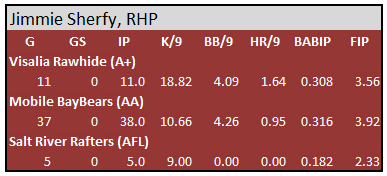 Jimmie Sherfy is yet another Diamondbacks reliever in the AFL, joining Burgos and Fleck. His strikeout rates have always been good since being drafted in 2013, but his walk rates have climbed as he ascended the minor league ladder. By Double-A, where he finished the 2014 campaign, he was walking well over four bates per nine, something that will have to change for him to succeed. Part of the equation is that he's funky and dangerous against righties, but lefties have hit him very well. In the AFL, Sherfy has maintained the K's and, surprisingly, not walked a batter in five innings of work (small sample size alert). Add the fact that he's given up just two hits and one can see that Sherfy has done a nice job for the Rafters. He's got a chance to become a middle reliever if he can find a way to dispatch lefties more regularly and limit the free passes.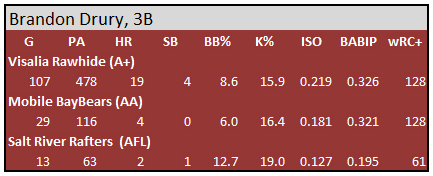 Brandon Drury's 2014 campaign has been well-documented as he crushed in High-A, then earned a late season promotion to Double-A where he was just as good as a 21-year old. He hit for both average and power, crushing a career-best 23 homers while maintaining his stature as a doubles machine, notching 42 of those over his 136 games. For the Rafters, Drury has struggled some while maintaining his ability to control the strike zone. The power is still there as he's hit two homers in just 13 games. But hits have been hard to come by for him in the small sample. There's been some talk of Drury moving to second base for the organization and he saw some time there at Mobile, but the big, physical prospects projects best at third and that's where he'll eventually end up in all likelihood. This is the stiffest competition he's faced in his career and the struggles should be accepted as part of the growing process.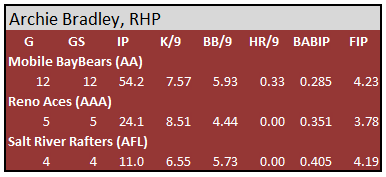 Here's the guy everyone's watching, as Archie Bradley is arguably the top pitching prospect in the AFL. Early season injuries have created a need for Bradley to log some extra innings and this is just the place to do it. His 2014 season was marred with inconsistent performances as his command waxed and waned between starts all year long. It was the walks that punished Bradley as he was inconsistent in the strike-throwing department for both AA Mobile and AAA Reno. In the AFL, most starters only pitch four innings or less, and in four abbreviated starts Bradley has still struggled with his command, walking seven in just 11 innings against only eight strikeouts. It's obvious that something's going on mechanically and in speaking recently with Baseball Prospectus' pitching guru Doug Thorburn that Bradley's issue is repeating his delivery. I'll be watching closely to see if I can pick anything up if/when he pitches over the weekend. This season has clearly been a step backwards for Archie and the organization is going to have to make some adjustments to the young prospects mechanics in order to get him back on track. While this isn't  a reason to hit the panic button, it's not exactly encouraging, either. Instead, I would address it as something that needs to be closely watched next spring, then we can form a more complete picture.
Cumulatively, we have a strong showing for Diamondbacks prospects in the AFL on our hands. The struggles of Bradley and, to a lesser extent, Drury, a simply blips on the radar, although the same can be said for the small sample successes of O'Brien and the relievers. While Arizona Fall League performances can easily capture attention, it's just another piece of information in the grand scheme of prospect evaluation, no matter the favorability of the outcomes.
Note: the Inside the 'Zona Top Prospect List will drop next week, so stay tuned as we rank our top 30 Diamondback prospects.