Andrew Chafin Leading Race to Be Only Real Bullpen Lefty
When the Diamondbacks opened camp, they had a handful of lefties competing for spots in the bullpen to open the season. Oliver Perez was the only one with a firmly entrenched spot on the active roster. Robbie Ray, Vidal Nuno and Andrew Chafin were brought in to work as starters, but all have been considered for bullpen slots. Recent 40-man addition Will Locante brought some heat into the mix, and 60-day DL returnee Matt Reynolds seemed to have the inside shot. Non-roster invitees Justin Marks and Dan Runzler were also in the mix, and Patrick Schuster and Daniel Gibson were minor leaguers who at least theoretically could have been considered. But with the season set to start in less than two weeks, that puzzle is starting to get sorted out.
Oliver Perez: Lefty in Name Only
As we noted when he was signed, Oliver Perez been pretty consistent as a reverse platoon split guy since moving to relief with the Mariners in 2012. Perez pitched the most relief innings in his career in 2014, and the trend continued: he dominated right-handed hitters to the tune of a .180 batting average and .276 wOBA, but was fairly ineffective against lefties with a .278 batting average and .347 wOBA. Collectively, the 106 lefties that Perez faced in 2014 slugged .438, about equal to last year's lines from Alex Gordon and Carlos Santana. Mark Trumbo slugged .415 last year, and the only D-backs with over 100 PA to best the .438 Perez-versus-lefties slugging percentage were Paul Goldschmidt, A.J. Pollock and David Peralta.
I can't really tell you why. Since becoming a reliever full time, Perez has abandoned a cutter, curve and change, although it was only the change that he had really thrown with any frequency anyway. Perez is a three-pitch pitcher now: fourseam (47% in 2014), sinker (23%), and slider (30%). And the weirdest thing: the fourseam and sinker have some tremendous arm-side run that you'd think would work really well against lefties.
When Perez throws his slider against lefties, he goes low and away for the most part, looking to get out of reach and pick up some called strikes along the way. From ESPN Stats & Info, looking at pitch frequency: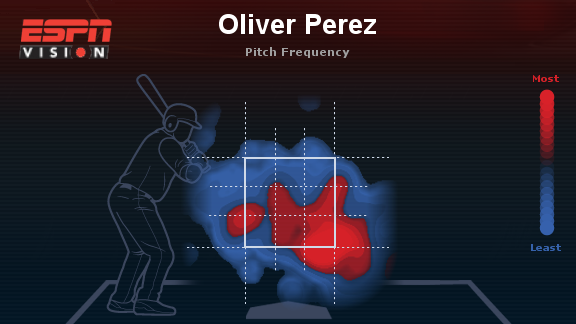 That works. The pitch was a strike 64.5% of the time, even though it was in the zone just 46.6% of the time. When lefties swung at it, they hit nothing but air 55.1% of the time. That's pretty damned good.
On the fastballs, lefties swung and missed just 17% of the time (which is actually fairly good). They put it into play about twice as frequently. But they weren't that hard to hit hard; lefties had a .409 BABIP on Perez's fastballs, with a jaw-dropping .250 Hard Hit Average. Perez tends to throw the fastballs right in the middle of the plate. The other thing he tries for is backdooring them middle-away, with the help of that tremendous arm-side run: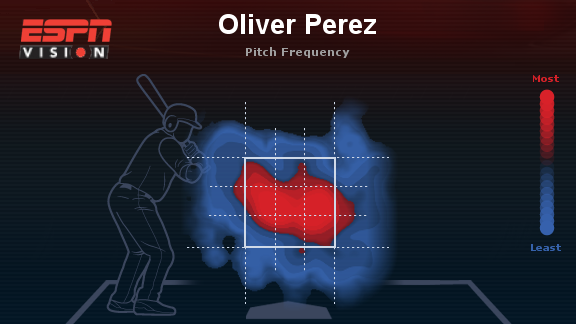 That just didn't work. Lefty opponents slugged a crazy .571 off the fourseam and .500 off the sinker, as those pitches are classified at Brooks Baseball. It's time for a new pitching plan against lefties, because it's not like Perez is especially hittable; righties slugged just .268 off the fourseam and a good-not-great .383 off the sinker.
Simply put: Perez is not the guy the D-backs want to bring in mid-inning in the seventh to take care of lefties like Corey Dickerson or Justin Morneau. Which is fine, because the team hasn't used him that way and probably has no plans to do so in 2015. Perez is a setup man, and he's good at it (and could be great with some better success against lefties).
We learned from Chip Hale through a recent Nick Piecoro piece that the team does expect to go with a 12 man staff, with 7 relievers. That almost definitely means that a second lefty will make the bullpen as more of a matchups guy, or LOOGY (Lefty One Out GuY).
The Dwindling Number of Candidates
Justin Marks was reassigned to minor league camp on March 15, and was always a long shot to fill that matchups role with the major league team. Will Locante was optioned to Double-A Mobile last Friday, but could remain in the picture for later this season. It's now a five man race, between Dan Runzler, Robbie Ray, Vidal Nuno, Matt Reynolds and Andrew Chafin.
No pitcher's spring training stats are particularly meaningful, but it's worth noting that Runzler — who is still in major league camp — has pitched in 8 official spring games, tying Enrique Burgos for tops in D-backs camp. He's making a pretty strong go of it, but with a combination of getting hit pretty hard (.303 AVG) and dispensing more than his fair share of free passes (6 walks in 8.1 innings), he probably hasn't done enough to squeeze out any of the other options.
Meanwhile, Ray and Nuno have both allowed 7 earned runs, Ray in 12 innings and Nuno in 7. I have little doubt that Ray could be at least average as a matchups guy, especially armed with a real breaking ball, but while he's technically in the bullpen mix, it seems next to impossible that the team would turn him into a matchups man right now, effectively killing his chances of starting.
Nuno fits better as a long man (or, better yet, emergency starter). Considering the team's depth in starters, it seems unlikely that Nuno will start for the D-backs anytime soon, so there's an argument to be made that he wouldn't be "wasted" as a matchups man.  Trying Nuno out as a matchups man seems like a pretty good plan to me; in MLB, he's held a significant number of lefties (178) to an excellent .188 AVG and .269 wOBA. Still, he's never been a short reliever in his career between signing with the Indians in 2009 and now, as best as I can tell, and if the D-backs put this plan in motion it still probably wouldn't make Nuno a candidate to take the matchups role as early as April 6.
I thought Reynolds was the favorite when camp opened; the timing of the Tommy John surgery he eventually had at the end of the 2013 season and the rehab that followed would have put him in line to rejoin the major league team in October of last year, if that was a month in the season. The team as brought him along slowly this spring, with the gap between March 18 and March 21 the only time thus far that he's pitched in a game on fewer than three days' rest. He's looked really good, and in his last two games the team has let him unleash his splitter — but while he was never a fireballer, averaging 89 or 90 mph on his fastball, he's been more in the 87 mph range in PITCHf/x games this spring. He's still probably the best candidate to put in quality relief appearances against lefties this year, but if a LOOGY needs to do one thing, it's be able to pitch in consecutive games if needed. With the team treating him so gingerly, it's just hard to imagine him thrust into that role to start the season.
Andrew Chafin Emerges as Bullpen Weapon
That leaves Chafin, and: Chafin looks good. As Nick Piecoro reported last week, Chafin is only being considered for a bullpen role at this point (along with Nuno), at least in the context of the Opening Day active roster.
Chafin has been a fringy D-backs prospect for a while now. Walks have been a problem, at times a bad one. As Jeff wrote in his recap of the Triple-A Reno club last year:
I've been on the record for a while now suggesting that the Diamondbacks shift Andrew Chafin, who was once a highly-regarded pitching prospect, to the bullpen. He was alright at AA Mobile, then got crushed in the PCL with the Aces over 92 innings (5.00 FIP, 11 HR allowed, 1.87 K:BB ratio). Somehow, he still managed to log three big league starts for the Diamondbacks and just as my prediction was looking pretty solid, Chafin was somewhat decent in a short 14-inning sample. Of course, he still didn't strike many guys out, walked too many but wasn't too hittable and kept the ball in the park. I'm still not sold on his potential in the rotation as the K's have slipped further and further the higher he's climbed the ladder and so has his ability to command the strike zone. I'd like to see his stuff play up in the 'pen, but for now, he'll probably head back to Reno where he'll get one last shot to improve his stock as a starting pitcher.
Based in large part on his probable future as a middle reliever, Jeff didn't have him in his most recent top 30 prospects list.
I've been on the same page as Jeff. As I explained while discussing the virtues of planning for a young bullpen (mostly because of options-derived flexibility) at the end of 2013:
But if in 2015 it really doesn't look like there's room to try him in the rotation, we should be thrilled about the possibility of seeing him in relief.  Good relievers are valuable too, especially in contrast to an overpaid veteran — and as "relief prospects" go, it may be that a higher quantity of the promising guys have profiles more similar to Chafin's than to guys like Jake Barrett.  Yes, it's easy to be in a situation like that of St. Louis, and believe that both Trevor Rosenthal and Carlos Martinez are greatly underutilized assets as relievers.  But since they're definitely valuable that way, it might not be worthwhile to flip an organization on its head or trade away legit starters to create opportunities.  Just ask Boston how that turned out with Daniel Bard.
The point I was making was that MLB relief innings are still MLB innings, and they matter, especially when they're likely to be high leverage. Yeah, we can fret over maximizing every last player asset, and yeah, sometimes that's warranted — but in many cases, it still helps to win games to have a particularly good backup catcher or matchups reliever. And now? It's 2015, and it really doesn't look like there's room to try Chafin in the rotation. And it remains true: we should be thrilled about the possibility of seeing him in relief. Jeff wrote about seeing Chafin's stuff play up in the bullpen. So far, that looks promising.
As measured by Brooks Baseball (which infers speed out of a pitcher's hand, instead of five feet in front of the mound), Chafin averaged 88.4 mph with his fourseam in the AFL in 2013. In his stint in the big leagues last August and September, he was up to 91.7 mph — a couple mph above average for a lefty. And this spring? 92.6 mph. That spring average comes from two appearances as a starter on the 7th and 12th of this month, so it remains to be seen if his velocity will tick up in short stints.
The sample is tiny, but he's now pitched in three more games since being put in a relief role. On Monday, he pitched 2 innings — but threw just 10 pitches. He struggled on the 19th, needing 34 pitches to get through one inning then. But I had the pleasure of seeing Chafin throw his first "relief" inning on the 15th, and he put on a clinic — if one can put on a clinic with just three pitches (he also dodged this liner, which was terrifying).
Last year — including his majors stint and work in the minors — Chafin induced 261 ground balls to just 143 fly balls, for a high 51% GB%. Against lefties, that GB% rose to 62%, a stratosphere we call "near-Ziegler" in these parts. He also had an impressive 22% strikeout rate against lefties in 2014, meaning that as a lefty matchups guy, he might be a more limited version of rare strikeout/ground ball artist Evan Marshall.
This is a good thing. Barring something unexpected or a team decree that Matt Reynolds is ready to be treated as if he's past Tommy John, Chafin is the probable "real" lefty in the bullpen. And if his statistics last year are any indication, he might excel in that role for the big club for several years.