It's one week until the Diamondbacks take the field for Opening Day. Of course, that will be their second game of the season for them since they play on Opening Night against the Giants, but baseball's right around the corner. Finally. And, with this being the final week without real baseball, everyone's releasing their final predictions. The trend for the Diamondbacks is that they're going to be bad regardless of what the front office has said. The math that we've referenced all offseason backs that up and the eye test can tell us the same. The stars have aligned and they paint the picture of a tough year in Arizona.
The question though, is, why? We have some insight here and we can, to a reasonable degree, pinpoint the culprit. Over at FanGraphs, they've been publishing positional power rankings over the last ten days or so. On the position player side of things, here's what we find: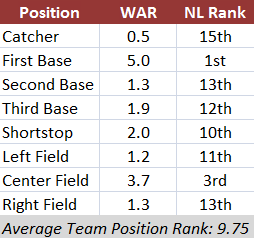 Ok, so not good, but also not horrendous. The team's cumulative rank places them two-thirds of the way down the league, and while that's not enough for the playoffs, it is good enough to presumably keep the team out of the cellar. But they're predicted to finish in the cellar by a ton of people and I'm not too far away from projecting the same. And it all lies at the feet of the pitching staff, and more specifically, the rotation. Here are the FanGraphs projections for said rotation: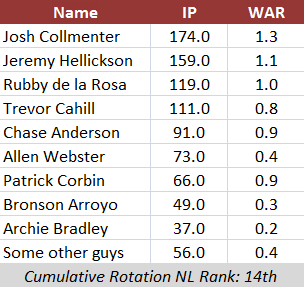 If you've been hanging around here for long, you've picked up on all of this because the fact that the Diamondbacks have a bad rotation isn't news; it's common knowledge. And when pitchers are bad, they tend to pitch fewer innings per start. It's no wonder that the pitchers who compile the most innings tend to be the best pitchers in the game. You don't pull a guy who is dominant, whereas you're looking to get poor starters out of the game as soon things turn south. There's bound to be plenty of "south" for the D-backs in 2015 and it's going create a different and unique need: pitchers out of the bullpen who are capable of throwing multiple innings.
Ryan and I took a stab at projecting that bullpen in Episode 20 of The Pool Shot over the weekend. Although there are a boatload of options, we decided on the following (along with their projections):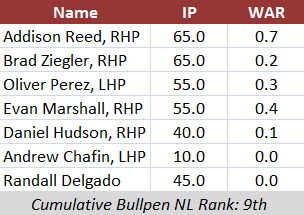 There are clearly four one-inning guys at the top of the list in Addison Reed, Brad Ziegler, Oliver Perez and Evan Marshall. This group of four is pretty good, at least insofar as relievers not name Kimbrel or Chapman can ever be deemed solid. Relievers are volatile and can more or less blow up at any moment. You don't need me to remind you of that so long as you can remember the last few years of Diamondbacks baseball (or really any baseball, because this happens regularly throughout the league). While it's hard to ever bet on relief pitchers, betting on these four is a reasonably good strategy.
But they're one-inning pitchers and the Diamondbacks are going to need guys capable of going multiple innings. Need proof? Take a look at the number of innings per start for some notable D-backs starters in 2014: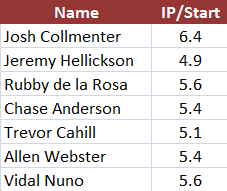 *For reference, excellent starters, like Adam Wainwright, averaged more than seven innings per start
The Diamondbacks relief corps threw the 9th-most inning in 2014 because, let's face it, the rotation was an abomination. Some of those guys have been held over for this season and there are some new faces, too, but it's not like the rotation as a whole got any better. In fact, it may have gotten worse. The starting staff totaled 8.6 WAR in 2014 but is only projected for 7.1 this season. That means more bad starts, and with more bad starts comes a frequently-used quick hook from Chip Hale. Someone's got to take the ball and given that every D-backs starter, aside from Josh Collmenter, had a tough time making through six innings last season, there should be plenty of work for the bullpen once again. When those starters are pulled midway through the fifth inning or sooner, something that could take place at an unprecedented pace this season, the burden is going to have to fall on relievers who can at least help the team get through a few innings. Trying to string to together one-inning performances to get through the remaining five innings of a  game will simply wear out the bullpen far faster than it can heal.
We've just outlined the four "core" relievers, but there are three spots left. Randall Delgado is a shoe-in for the traditional long relief role and he can go three innings easily. That's good news, but what if the team suffers bad starts on back-to-back days? Let's say Rubby de la Rosa comes out and walks the world, getting pulled in the middle of the third inning. Delgado would likely come in and try to get through the sixth and let the rest of the bullpen finish up the contest. Okay, nothing too weird about that. But what if Jeremy Hellickson gets removed in the fourth the following day? Delgado will be unavailable and the team won't want to have to tap into someone from the rotation. Who can get through a few more innings before turning it over to the one-inning guys?
Daniel Hudson, that's who.
And it's on Hudson's right arm that this whole thing hinges. His ability to throw multiple innings, albeit with a significant amount of rest in between appearances, creates a very unique situation. While he'll be listed as a middle reliever, he essentially gives the Diamondbacks a second long-ish relief option. He can come in for one inning when needed or help bridge the gap as described in the scenario above. This is key because this rotation is going to need some serious help. There's no reason to think they'll be in the top half of baseball in quality starts, and therefore, there will be extra work shifted to the bullpen. Having not one, but two options to get them out of the messes they're destined to find themselves in is critical.
There's still room for one more, and Ryan and I lobbied for Andrew Chafin in that spot. Fellow lefty Matt Reynolds was optioned to AAA Reno yesterday while Chafin remains in camp, so that seems plausible. His competition is Robbie Ray, who should probably head down and remain a starter, and Vidal Nuno, who should probably not really be a candidate for anything important in the first place. I like Chafin's chances, but he's got multi-inning upside, too. Although he could profile well as a LOOGY, he did just spend the last four years in the system as a starting pitcher. We know he's got some stamina and he even made a few multi-inning appearances this spring before moving permanently to the 'pen. It would be far from ideal, but Chafin could go two innings in a pinch, maybe more. When your rotation is full of broken and/or unwanted parts, having guys on the back end to clean up the mess is a good idea.
One long man is a given, but having Daniel Hudson available is crucial. The team seemed unsure up until a day ago to define his role as a starter or a reliever. In this sense, they didn't necessarily have to make a choice; he can still go multiple innings like a starter, but they aren't relying on him every fifth day to give them six innings. He can still ease into full time major league pitching and build some confidence. By being a long-ish reliever, he doesn't become some one-inning guy who can't transition back to the rotation if that's where the organization ultimately wants him. Instead, he can help mitigate the trouble that the rotation will undoubtedly find themselves in while building up innings and getting re-immersed in the craft of pitching against big league hitters in meaningful situations.
At the end of the day, it's about needs and about fit. Ender Inciarte is a need in that he plays stellar defense and has flexibility, doesn't have a platoon split and can run the bases extremely well. He's the kind of glue that will help hold a less-than ideal outfield together (especially once Yasmany Tomas shows up full time). Daniel Hudson is his pitching equivalent as he'll be counted on to bridge the rotation and the back end of the bullpen. Often, that'll require him to get more than three outs. He's the kind of pitcher who can help Randall Delgado keep the team in games in the instances when a starter really struggles. Given the state of the rotation, that will probably happen all too frequently. Luckily, Daniel Hudson is perfectly positioned to help save the day.