Offense in baseball is a funny thing to measure. In a sense, it's the heart of what most baseball fans watch the game for; the homers, the steals, the walk-off hits (too soon?). But the problem with offense is that it's often inconsistent. Measuring something that comes in fits and starts can be problematic, especially when just over 20 games have been played. The sample sizes can make things like batting average, slugging percentage and other traditional stats tough to fully embrace. Last week I wrote about Mark Trumbo's approach at the plate. I checked on Monday and he was hitting .260. After a couple hot games, he was hitting .324. This is exactly why we don't use batting average to evaluate a player. Advanced metrics, like weighted runs-created plus (wRC+), can give us a better picture, and that's what we'll use here.
And just like it can be difficult to measure a particular player, it can also be difficult to measure an entire team. A team, as you know, is really just the sum of it's parts. Perhaps there's no better example of this than what we see with the Diamondbacks. You have guys like Paul Goldschmidt, A.J. Pollock and others looking like potential all-stars while the bottom of the lineup is really just pretty terrible. So measuring the team as a whole provides it's own challenges. If only there was a way to look at the whole team but also look at the parts at the same time…
That's where some (very rudimentary) data visualization can come in handy. Let's have a look at the team and through a different lens. Measuring each players wRC+ via radar graph, we can see where the production has come from: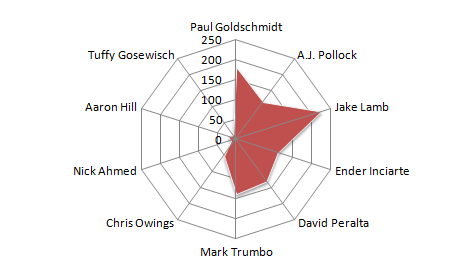 The team has really only had six producers so far in Goldschmidt, Pollock, Jake Lamb, Ender Inciarte, David Peralta and Mark Trumbo. Of course, Lamb's on the DL and Inciarte and Peralta don't play every day, so that whittles it down to Goldy, Pollock and Trumbo on a daily basis with some mixing and matching. Still, that doesn't provide a ton of context as we don't really know what this graph looks like across the league. Or, maybe I should say we "didn't" because we do now:
Atlanta Braves

Milwaukee Brewers St. Louis Cardinals Chicago Cubs Arizona Diamondbacks Los Angeles Dodgers San Francisco Giants Miami Marlins New York Mets Washington Nationals San Diego Padres Philadelphia PhilliesPittsburgh Pirates
Cincinnati Reds Colorado Rockies
If that's at all confusing, let me try to explain some ways to use these visuals for analysis. The rounder the shape, the more evenly-distributed the offensive contributions. If it were an even, congruent polygon, you'd have completely equal production across the lineup. That's a hard thing to ask for and no one ever completely achieves it, though some teams have come close than others. The more area that the shaded region occupies, the more offense that's been created by the team. Compare the the Philliles and the Rockies, for example. Not a lot of red because the Phillies are bad and a lot of purple because the Rockies can score some runs even when we filter for park effects.
So where does this leave the Diamondbacks? Well, as you can see, Arizona is sort of leading the bottom third of the league. They're not the worst offense in the league, but they're a far cry from teams like the Dodgers and Cardinals. And the main culprit is the bottom of the lineup. Chris Owings has made a tiny bit of headway, but is still underperforming. Nick Ahmed is doing nothing when he's not in the field and Tuffy Gosewisch is, well, Tuffy Gosewisch. The graph belonging to the Diamondbacks above illustrates that point incredibly well; rather than a robust shape, it's really just some shading on half of the graph. The other half just isn't contributing, and with this pitching staff, there's no room for laggards.
So how does that get fixed? Well, when your 40-man roster only has the spare parts of Brandon Drury, Socrates Brito, and, well, no one else, you're essentially stuck. What options does the team have? Calling up Drury who just isn't ready yet, starting his service time clock and shelving someone else who needs playing time to try to work out of their funk? Promoting a super-raw and underprepared Brito and inserting him into an already-croweded outfield situation? These just aren't realistic and/or helpful moves.
The teams simply stuck with what they have. I understand the clamoring for more middle infield production, but where are they supposed to find it? I've recently noted some thing in Chris Owings' swing and Nick Ahmed's approach while Ryan just laid out Aaron Hill's struggles, but those guys just aren't going anywhere and there are only so many ways to shuffle them into and out of the lineup. They're missing Jake Lamb's hot start in a big way and Yasmany Tomas is making contact that's pretty much devoid of power. Honestly, there's just no quick solution.
And that's okay, because remember that discussion we had this winter about the team experimenting? That's what's going on right now. And if you remember way back to your sixth grade science class, not every experiment you ran went as planned. It's still all about development and some struggles will continue. Let's just hope we see some improvement along the way, because the offense is what it is for the most part, and any growth that happens is going to have to come from within.