Nick Ahmed led off for the Diamondbacks last night. That was a surprise, but given what he's done against lefties (at times) this year, it wasn't a total shock. Chris Owings hit second and that was surprise, too. Considering that Owings has managed to be worse against lefties than righties in 2015, showing a neat little reverse platoon split, that was a total shock. I mean, it's not like Owings has been particularly good against anyone this year, a year in which he's battled to overcome his 2014 shoulder injury. The results have not been good, and at some point, we have to wonder if things are ever going to turn around.
It's difficult to know just how much the injury has impacted Owings' game, but the fact that it's still being brought up in interviews ins't a good sign. If he were over the injury, it surely would have disappeared into the post-injury ether by know, one would think. So we're left to presume it's still bothering him, which makes sense considering the words of Chip Hale from about a week ago:
"He (Owings) said to me that this month especially he's felt as strong with it as he has all year, which bodes well for the winter because he'll be able to get back into a more normal lifting program than he had last winter,"
Clearly the injury is still a concern and the team is monitoring his progress. Hell, it forced him to change his swing, so it must have been severe. And he may be feeling strong, but it's not exactly showing up. He's still producing offense at a horrendously low level, one that's seen him lose a few starts to Aaron HIll, Phil Gosselin and Brandon Drury in September. Part of that is his inability to make consistently hard contact. According to ESPN TruMedia, his hard hit (WHAV) has been low all year and has taken a real dive lately.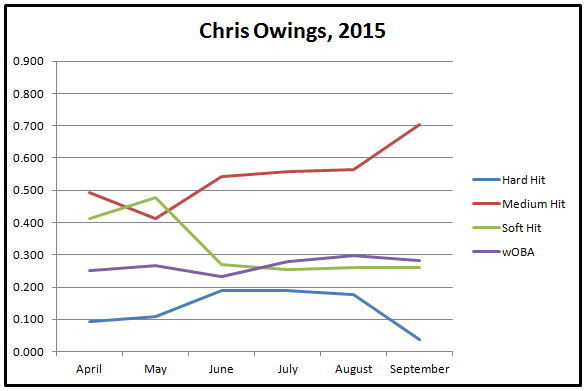 Part of the problem is that Owings has just never made a lot of quality contact in his brief time in the majors. The issues with his contact have shown up in his wOBA, which is yet to eclipse .300 this season, a mark that's barely average. While his medium-hit contact rate is solid, he just isn't producing the quantity of hard-hit balls necessary to move the needle in is favor. Considering his size and stature, his ability to punish balls is already less than given.
Although punishing baseballs is really helpful for guys like Paul Goldschmidt and David Peralta, maybe that's not actually the answer for a guy like Owings. The skill sets of Owings and a guy like Ender Inciarte aren't all that different. Inciarte is a little faster, Owings has shown a little more power. But in terms of size and ability, they aren't wildly different. Let's take a look at the same information for Inciarte this time around.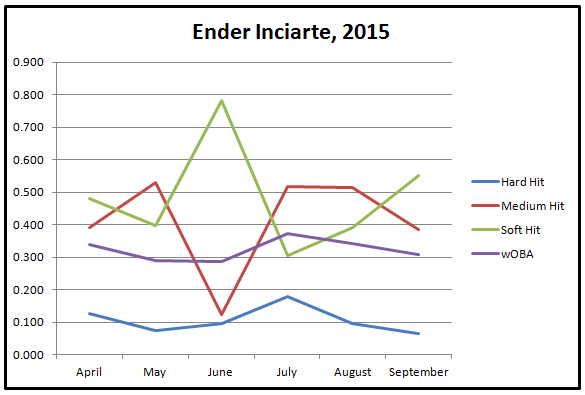 Wow, Inciarte's numbers are almost certainly worse in terms of hit types. You'd think his performance would be worse if hit types were the only way offense is produced. Alas, hitting the ball hard isn't the silver bullet to contributing on offense, but it certainly helps. Considering the relatively stark contrast between the batted ball profiles of these two, the gap in overall offensive contribution is surprising. In fact, Owings has hit more line drives than Inciarte by a considerable margin, both have the same infield hit rate and neither player walks at all. So what gives?
I'd contest that while Owings' shoulder is still probably bothering him but his plate discipline has been and is still the problem. Owings swings at everything and it just doesn't work. Inciarte strikes out about 10% of the time. Owings is striking out nearly 27% of the time. That 17% discrepancy could be more grounders that he has a chance to squirt through the infield. They could be line drives in the gaps or fly balls out of the park. Instead they're outs – all of them.
In a recent piece by Zach Buchanan of AZ Central, Owings noted that he feels like he's always down 0-1 or 0-2. This is a sentiment we've heard since mid-summer when I first remember Steve Berthuime bringing it up. And while I'd say that Owings has a point, he is often behind in the count, it's largely of his own doing. His rate of chasing pitches out of the zone are among league leaders. And this is what really separates Owings from Inciarte: he swings too much and doesn't make enough contact. Specifically, Owings swings about 7% more often than Inciarte and makes almost 11% less contact.
And there's your separator. Two guys who really aren't all that different physically have wildly different approaches at the plate. I'll buy that Owings' shoulder isn't 100%, but that isn't his biggest problem unless he and the team really believe that this approach can work. Changing players is always a risky proposition – Chris Owings got to the majors by being a hacker. But either his shoulder is going to heal and he can hack his way to keeping his job or he's going to hack his way right out of it. At this point, the latter is starting to seem more and more likely.
@outfieldgrass24

RT @dianagram: I still have 9 books from the shipment I received today. If you want a signed copy, PayPal or Zelle $20 to dbfirstm… https://t.co/5baOjxFOAW

,

12 hours ago

RT @OutfieldGrass24: Would you say you've spent __________ time on Twitter following the quarantine than you did before?

,

13 hours ago

Would you say you've spent __________ time on Twitter following the quarantine than you did before?

,

13 hours ago

This date in #DbacksDingers: April 3rd Most valuable HR: Martin Prado's 2-run shot in 2013 off of STL starter Joe… https://t.co/Rh5G1Re4wt

,

14 hours ago

RT @TheRattleAZ: Ever imagined what it's like being the mom of baseball's greatest hit batsman? Today at The Rattle,… https://t.co/pXAeC6pZlQ

,

Apr 01