Baseball players go through slumps. You never know when they'll arise, but they're part of the game. And when this happens, the question you have to ask is whether it's a case of bad luck, bad mechanics or a bad approach. Sometimes a player is just not getting the breaks while other times something is mechanically or strategically wrong. Chris Owings is in the middle of one of these slumps, and he's been in it since the season began. Given the lack of length of the Diamondbacks line up, it's time to start wondering what's wrong with CO.
After a late call-up in 2013, Owings performed well at the plate. He slashed .291/.361/.392 en route to a 102 wRC+. He'd just destroyed the Pacific Coast League and earned a shot with the big club, but the standard caveats applied to Owings as they do to any hot hitter from Reno. In 91 major league games last season, he slipped to .261/.300/.406, good for a 92 wRC+. A shoulder injury held him back, eventually forcing surgery after the injury was initially misdiagnosed. Thus far in 2015, just 11 games (through 4/20/15), Owings sits at a paltry .195/.233/.244 and a wRC+ of just 31. So what's going on?
Often when a player comes up, pitchers will throw them a steady diet of fastballs. If the batter can't compete against them, it's usually the makings of a short career. Owings was no exception. He saw nearly 51% fastballs in his short stint in 2013 and nearly 55% fastballs in his 91 games in 2014. This season he's getting less than 43% fastballs as pitchers have started mixing in more breaking and offspeed stuff. And why not? He's chasing them and just about everything else out of the zone right now. Take a look at his plate discipline over his brief career.

So far in 2015, his approach has eroded. He's swinging freely out of the zone and not making contact out there. That means lots of swings and misses, getting behind in the count and subsequently more strikeouts. Whereas Owings stuck out in just over 20% of his at bats last season, he's striking out over 36% this year. All that chasing is not helping his cause and is quite possibly the main culprit to his recent decline to start 2015.
But maybe he's swinging out of necessity. It's doubtful that he's swinging more because he's simply bored. There's a reason. Part of it is because Owings has always been a hacker. He was never a take-a-lot-of-pitches-and-work-the-count-type in the minors; his highest walk rate was 5.1% in High-A back in 2012. And sure enough, just as pitchers have started throwing Owings different pitches, they've also started locating those pitches differently. As he's moved through his career, here's how Owings has received pitches.
2013 – September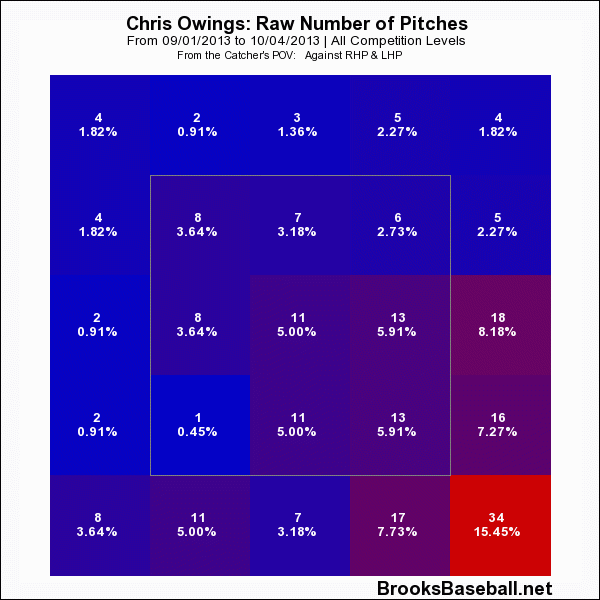 Owings is a right-handed hitter and you can tell that pitchers were deliberately throwing him down and away, trying to get him to expand the zone. It kinda worked and kinda didn't; he didn't strike out much but hit for virtually no power.
2014 – April through June
On the surface, this looks pretty similar to what you see above, but there's a big change here: Owings started getting pitched inside. In the previous September, he received about 3.5% of his pitches inside off the plate (at strike-height only). That jumped to nearly 8% to kick off 2014. There's a reason for this, of course. In his brief debut, Owings had proven that he could hit the pitch out over the plate. So, pitchers started coming inside on him and Chris struggled to adjust. This is common for a lot of young hitters and hardly a surprise, but if you have a whole in your swing, major league pitchers will find it.
2014 – September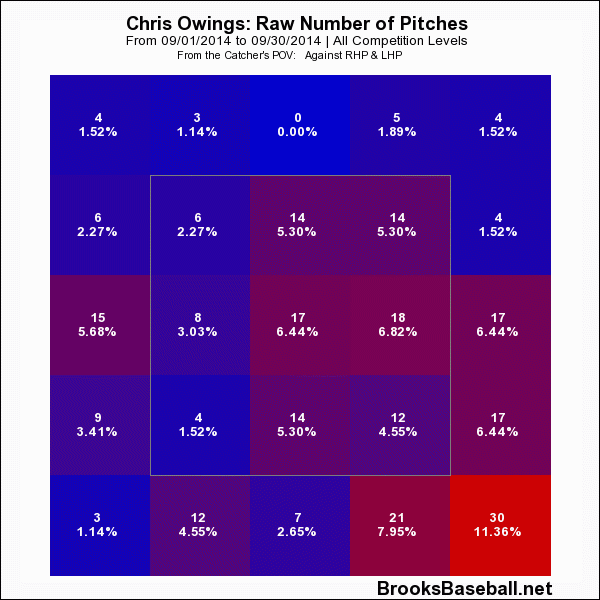 After a layoff (shoulder), Owings was back in action and opposing pitchers feasted. They threw a boatload of pitches in the zone and Owings couldn't do anything with them, racking up a 34 wRC+. At the time, it was easy to blame some rust and the injury for his performance. After all, he'd spent the better part of two months on the shelf. So, with some rehab and rest on the horizon, there were surely brighter days ahead. Or not…
2015 – April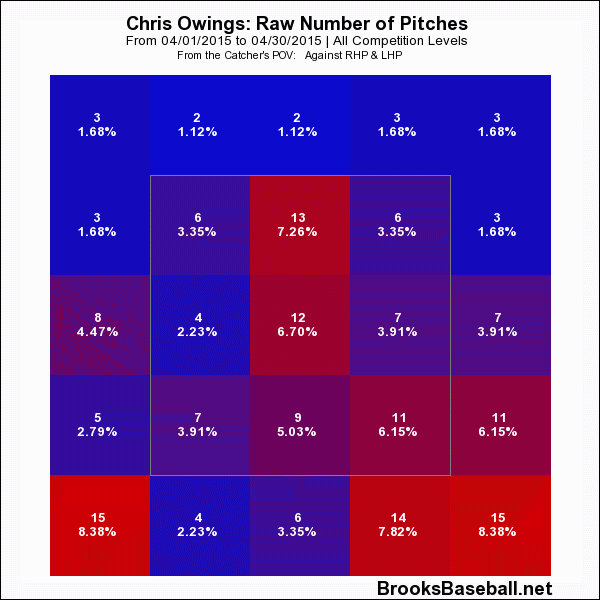 Looking at what Owings has seen this season, it's not good. He's gotten more pitches up and out of the zone, down and in and they're still exploiting him down and away. But, what's perhaps more troubling is that he's actually getting more pitches in the zone now than ever before and he's simply not handling them. Even right down the middle, Chris is getting more opportunities than ever, but the results are staggeringly poor.
And so we have to wonder what the hell is going on. It's not like Chris Owings forgot how to play baseball. Something is obviously different. Let's start with his stance.
2014 – May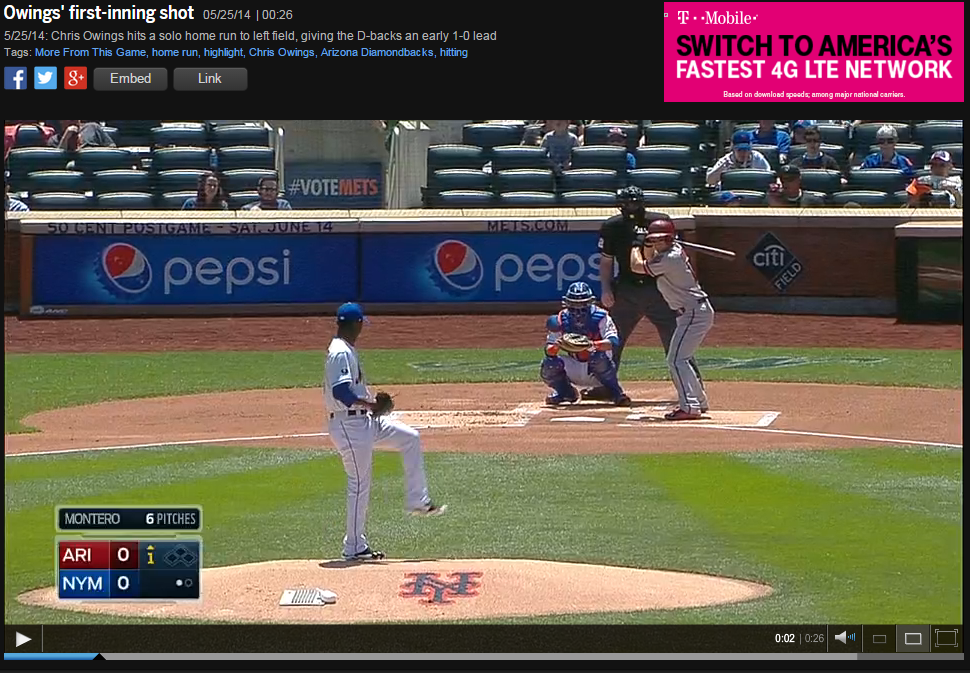 2015 – April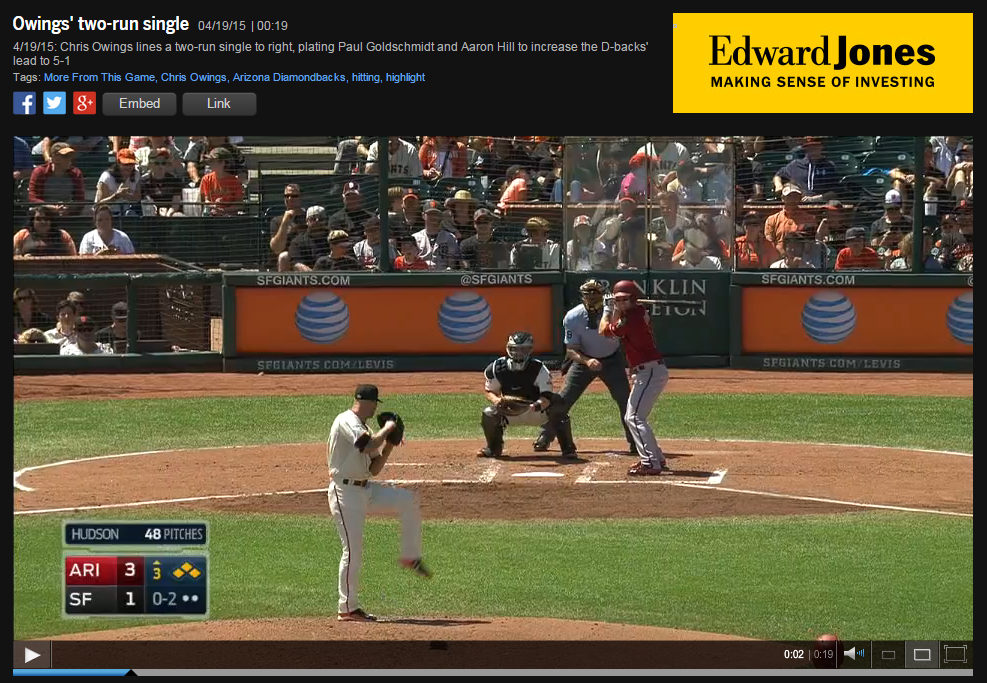 Well, there's a huge difference right off the bat. Owings is addressing the ball and the plate differently now than he did when he was more consistently successful. Back in early 2014, he had a bit of a crouch and leaned over the plate. No wonder pitchers had a hard time getting him out with the low-and-away stuff. Today, he's more upright and has eliminated the lean entirely. This should allow him to get to the inside pitches more easily, but may make it slightly tougher on pitches away. In theory, the change makes sense since he was getting busted in consistently and and not handling pitches on the inner half. Rather than leaning out over the plate and struggling inside, he's straightened up to gain some inside plate coverage. The problem is, it hasn't worked.
So the next logical step is to examine the swing. Let's start with a clip of CO from last spring, in this case May of 2014 against the Mets.
First of all, wow, that was quite the turn on a fastball. That was 92 up and over the middle of the plate and CO didn't have any trouble finding it. He starts with a very short pick-up and put-down of his front foot. His hands travel an extremely short route to the ball. There's no major load phase in his swing, it's simply a matter of him opening up his hips and firing the hands through the zone. That kind of swing is geared for consistent contact as there are almost no moving parts. There's no major bat waggle, no huge stride, no big hand load, etc. It's quick and balanced.
Now, let's look at a swing from this season.
Okay, so it's not an ideal comparison as Chris takes this up and away fastball to the opposite field, but it'll work for our purposes. Again, we have the short movement of the front foot and a short hand path to the baseball. No major load was added, no big bat waggle. It's still a pretty short stroke on the ball. But, take a look at where CO is when he steps in and what position he's in when he swings.
2015 – April – Pre-swing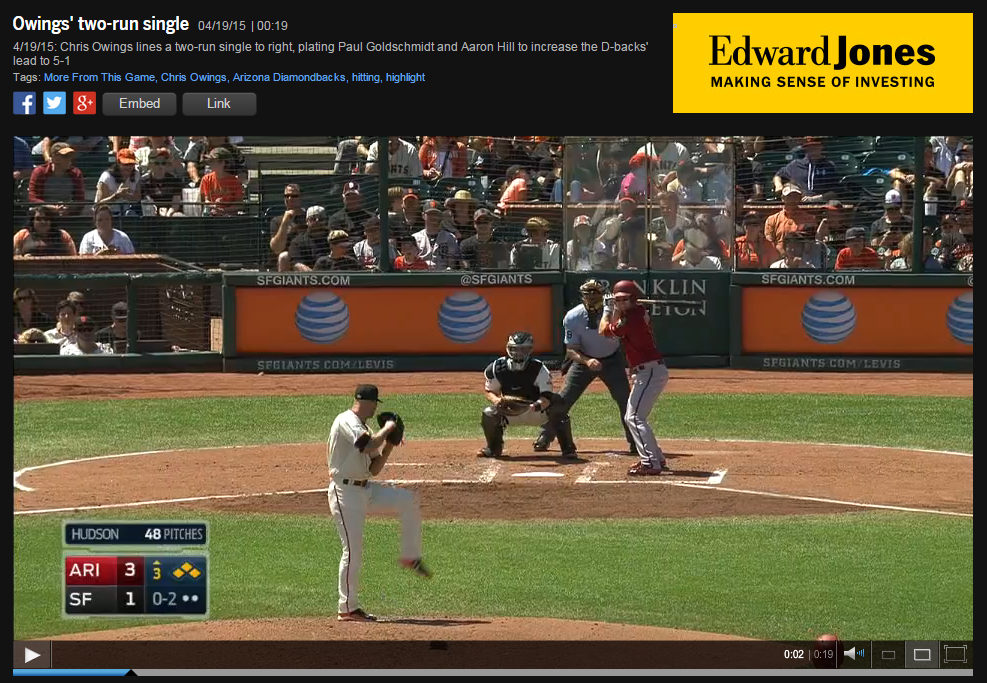 2015 – April  – Mid-swing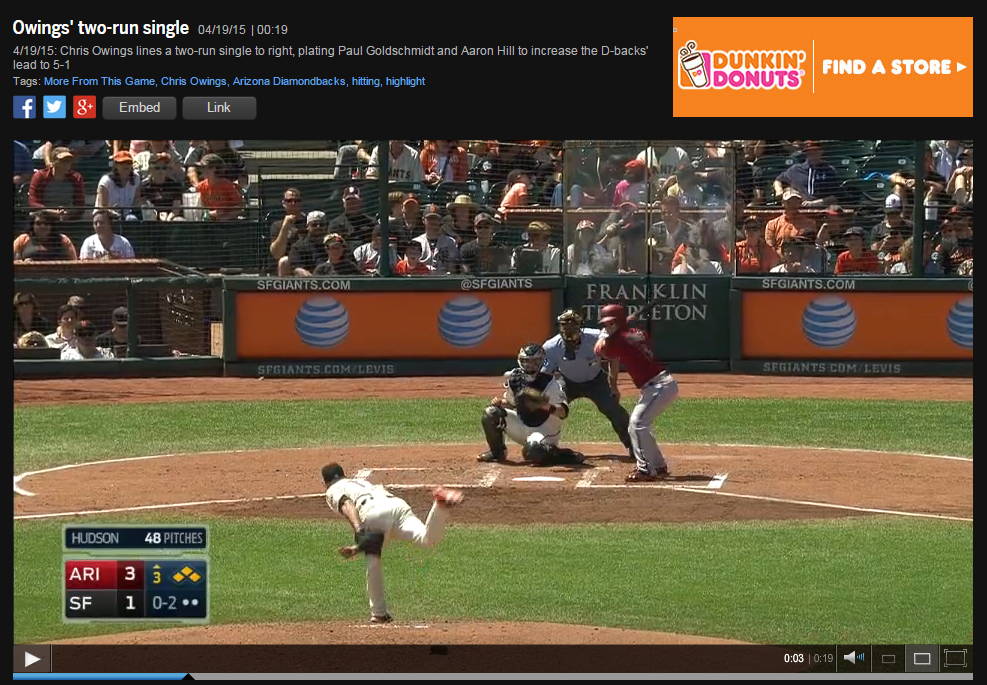 Compare those two body positions. Before the pitch is thrown, Owings is showing his new stance and is far more upright than he was last season. As the pitch is approaching, however, he starts to lean and crouch again, getting himself back into the position that he used to use in the box last season. I understand that this is the position he's most comfortable swinging from, but the extra movement needed to get him into this position from the one that he's starting the at-bat with is changing the equation.
What was so great about the swing from May of 2014 was that it had no moving parts. Everything was stationary and simple. Now, he's moving his entire upper body while the pitch is traveling towards the plate.  His head is moving, which means his eyes are moving, and that may create some problems from a pitch-recognition/plate discipline standpoint. His shoulders are moving as he leans in and that's changing the point from which the swing evolves. His hands are obviously moving, too, making it harder to get them in the right position. All this movement within the span of about a third of a second is completely different than the quiet, simple, clean stroke we say previously.
So, one of two things need to happen. Either Chris Owings needs to go back to his old stance and his old swing, or he needs to re-work his swing from the new stance and eliminate some of the movement. If you've ever swung a golf club, you know that unnecessary movement is counterproductive, and for many baseball players, the same argument applies. Why make it more complicated? There are a handful of guys with noisy swings who succeed despite them because they have freakish bat-to-ball ability. But for most hitters, that movement is a detriment, not a positive addition.
And maybe this all comes back to the shoulder injury. He could have adapted things based on the health of his shoulder or it could have been something else; it might be 100% healed or it might not. The bat speed in the two swings above are surely different, but they're based on different pitch locations, so it's hard to judge whether or not the shoulder is hampering his bat speed. Assuming he's healthy enough to play, we're left with the mechanical changes as the culprit to him falling completely off the map when in the batter's box. And if it's mechanical, it can be fixed, which is obviously good news. If it's a health issue, well, that's surely more complicated. Either way, at this point, it appears that Chris Owings needs to make an adjustment if he's going to find success.