On-Base Percentage Driving the D-backs Offense Once Again
There's this book called Moneyball. You may have heard of it. Oh wait, you saw the movie? Well there was a book before the movie and it was better than anything even Brad Pitt and Jonah Hill could produce. People know I like baseball and most of the time, they start conversation like, "Oh, you write about stuff like Moneyball where the walks are better than hitting." Usually I follow that up with, "Well, it's a little more complicated than that, but sure, I guess I do." And while walks weren't the exact theme of Moneyball (it was really about discovering under-appreciated skills and assets), getting on base was a large part of that. Getting on base was also a key to the Diamondbacks notching the 6th-best offense in 2015.
Offensively, the team took a nosedive in 2014. It's easy to look at Patrick Corbin's injury, Daniel Hudson's second injury, David Hernandez's injury and think that what ailed the 2014 club was pitching. To a degree, that's true. But they also didn't score very many runs. When you can't prevent runs and you can't score runs you get the first pick in the draft. We thought that this year's team would be good offensively; when you have Paul Goldschmidt in the middle of the lineup and an emerging A.J. Pollock in front of him, some good things are going to happen. But what eventually transpired exceeded all of our expectations.
The biggest change was on-base percentage. Getting on base advances runners and keeps the train moving. It puts runners on who can eventually score and saves a team from having to rely on the home run to cash in. Even in a park like Chase Field and with one of the game's elite power hitters in the lineup the team only ranked 17th in home runs in 2015. But by consistently getting on base (the team ranked 8th in baseball), they were able to score over 100 more runs without having to slug their way into it. Relying on the long-ball is a boom-or-bust proposition, just ask the Mariners. But getting on frequently created a lot of run-scoring opportunities.
As you'll see below, the team's offensive production has largely been tied to OBP over the last five years.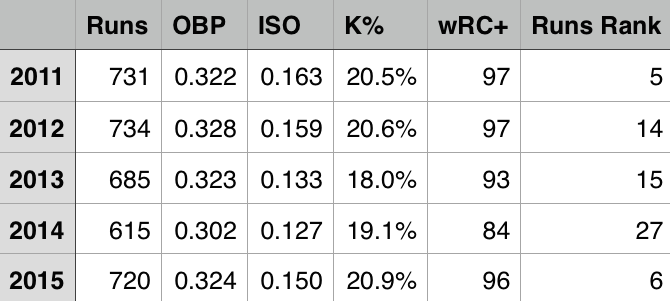 2012 was simply weird. The team got on base and hit for power without striking out abnormally, but ranked in the middle of the pack in runs scored. There were basically just a lot of teams scoring runs in 2012. But aside from that outlier, the team's offensive rank has been heavily tied to mid-.320's OBP. The power was even down this season, but the propensity to get on base made up for it.
Having Goldshmidt in the lineup obviously helps. His league-leading number of walks, coupled with his .321 average, created an OBP monster. He was fourth in baseball behind only Bryce Harper, Joey Votto and Miguel Cabrera. That's good company. While it's a big drop to David Peralta and Pollock, those guys were both well above average. The mean average this season was .334 and both outfielders were a nice clip beyond that.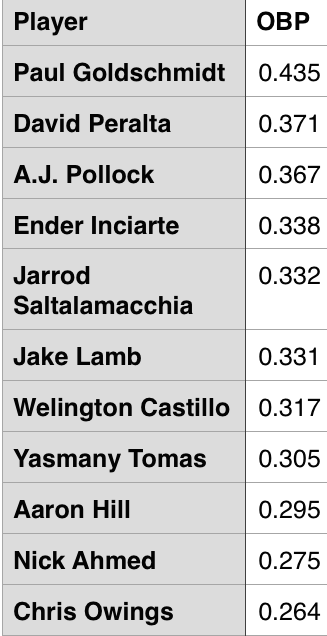 If anything, we might take away the fact that the lineup was rather top-heavy. Only the three key contributors to OBP were well above average. Ender Inciarte, Jarrod Saltalamacchia and Jake Lamb were all essentially average in this department. Welington Castillo, Yasmany Tomas, Aaron Hill, Nick Ahmed and Chris Owings were a true detriment to the team's ability to get on base. Castillo's issues can be swallowed to a degree because he's a catcher, Tomas and Hill are supposed to be bat-first players and Owings should be closer to .315 at the very least. Nick Ahmed can and should do better, but his glove is why he plays, plain and simple.
So how does the team improve the offense in 2016? They could stand to add some length to the lineup, either through internal improvements or the acquisition of a piece. This isn't, nor should it be, the team's biggest priority. Pitching is far and away the leading issue. But if they could find a way to add to OBP of several players in the bottom half of the group without experiencing too much regression at the top, they could conceivably score more runs next season.
Tomas, Ahmed and Owings all have major plate discipline issues. They seem like hard bets to swallow for major on-base improvement. Aaron Hill shouldn't be predicted to anything more than he did this season as he continues to decline, and that's ignoring the fact that he may not even be with the team come next season. Welington Castillo could possibly do better – he's hovered in the .340's in the past. But Brandon Drury's never been a walk machine in the high minors and will have to rely on batting average to drive his OBP. The same could be said for Peter O'Brien with even less confidence in his batting average given his swing-and-miss tendencies. Socrates Brito just might find himself with the club at some point but he doesn't walk any more than the other two and the hit tool is the tool still developing, which doesn't bode well for his batting average. All three will probably struggle to post league average OBP's with Drury being the easy choice as most capable to get there.
So maybe improved seasons from Tomas, Owings and Ahmed are the best bets, with a slight bump from Castillo not out of the question. If those come along, the offense should continue to roll. It's not a given that Paul Goldschmidt will post an OBP in the .430's. Pollock and Peralta could also see dips because this is baseball and nothing stays the same. So some improvement from the bottom part of the lineup, and even the bench, could never hurt. If you're looking for a reason to keep Phil Gosselin on the major league roster, this might be it. Just understand that as the OBP goes, so does the offense and while it was quite good in 2015, there's always room for improvement.