It's been an odd career for Aaron Hill, who started his career strong, missed much of 2008, logged an excellent 36 homer, 4 WAR season in 2009, and then saw things get weird. In the season when he joined the D-backs, Hill posted just 8 HR in 571 PA, with a 0.6 WAR — and then followed that with his best major league season, a 26 homer, 5.3 win effort in 2012. Since then, it's just been "decent" or "not good" performances from Hill, who had his worst season in 2014 (-0.9 WAR) and followed that up last season as a replacement level player in a part-time-plus role.
Jeff wrote about Hill's up-but-now-mostly-down career before the 2015 season began. When spring training drew to a close, the D-backs shocked the baseball community by handing Nick Ahmed the starter's role at shortstop, pushing enigmatic Chris Owings and his recently-rehabbed shoulder to second base for most games. And while Hill's late-2014 cameo at third base ended up making a big difference with Yasmany Tomas sent to Triple-A to start the season, Hill seemed to have completed a meteoric fall from grace right after his 33rd birthday, going from team asset to fill-in.
As we saw last week, there's really only one contract still on the books like Hill's. It's not just that it's a liability at this point; the team just doesn't have any significant commitments anymore to players in general. When Hill was signed to his current deal, he cashed in on his excellent 2012 season; for all of his well-timed contract moves, Kevin Towers signed Hill to an extension in February 2013 even though he was still under contract through the end of 2013 (at $5.5M for that season). The deal was designed to keep Hill from testing free agency, and it would have been a boon for the team if he had continued to produce at a 4+ win pace. Now, it's the last scion of the middle-tier deals in Towers's wake, the Bronson Arroyo contract of D-backs position player deals.
This time a year ago, Hill seemed like a mystery: 2013 was an injury-marred season in which he had produced on something like a 3.5 win pace, but in 2014 he had been on a -1 win pace. It was his first truly poor season, an outlier in terms of batting average: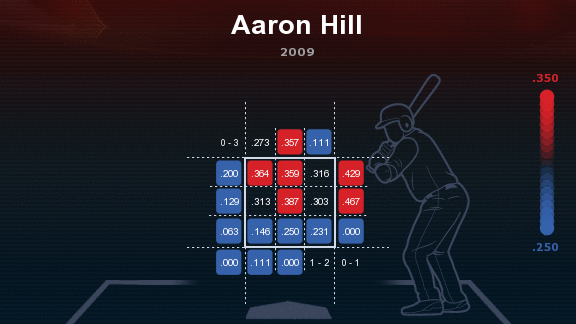 Hill had run both hot and cold before, so it was a surprise to see the team more or less pull the plug to bet on Nick Ahmed (who contributed a season on a pace of about 2 wins, but for the league minimum salary).
How much blood can the team squeeze from Hill in 2016? In the last three seasons, Hill has seen his batting average plummet against particularly challenging pitches:

From the way the D-backs front office handled the roster over this last season, I think we can conclude that the team made efforts to slough off Hill. At this point, though, he may not even appear to be a bounce-back candidate with another team; for both of the last two seasons, Hill hasn't been much more useful against LHP than he has against RHP (although chances are, especially this last season, the lefties he saw were, on average, tougher than the righties).
If the Paul Goldschmidt is to this team's recent past a beacon in the wilderness, then Hill's contract might be a foghorn warning us that a small lapse in attention can cause the team to run aground. For my part, I'm probably always going to push for Jonathan Singleton type deals, locking up the youngest players at modest deals for most or all of club control seasons. $12M is a lot of money to write off, but if it's stretched over five or six seasons, it looks a hell of a lot better, and is less likely to handcuff the roster.
It's hard to see how Hill fits into the picture for 2016. If he were to help the club more than his organizational replacement, it seems like that would be partly luck, and a short-term solution only; for all its likely effort to contend next season, the team's outlook is at least as focused on 2017. No, the team is more likely to roll with Brandon Drury, who seems likely to be better than replacement player. They may not be as committed to Jake Lamb as I'd like, but it seems they at least agree that he's one hell of an option four or five days a week. How the team handles Nick Ahmed going forward is a mystery, but it seems highly likely that both he and Owings will stay on the MLB roster next year — and both seem better bets to produce in 2016 than Hill, with much, much better promise to produce in 2017.
The writing may be on the wall with Hill. At this point, we should expect a game plan similar to the Cody Ross game plan a year ago: bring him to spring training, feel out other teams along the way, and rip off the bandaid with one motion when the time comes. As for upgrading the team this winter, though, maybe we shouldn't write off shortstop or second base as options — it's not like Hill is standing in the way.