Double Plus: Changing My Mind About Signing Howie Kendrick
The D-backs look like a good team right now. No, they probably aren't the 116 win 2001 Seattle Mariners good, but that's okay — I'm pretty sure some other team won the World Series that year anyway. Right now, I like the team's chances of making the playoffs. But that doesn't mean they couldn't be better.
With little left on the minor league shelves and the D-backs in pretty good shape just about everywhere, any improvement could be hard to come by. And with not a lot of value to work with, the team probably has to be careful at this point with marginalizing some of what they do have — they haven't yet traded away any MLB-capable starting pitchers, for example, except in the one deal where they traded Aaron Blair but got another starter back.
Add those considerations to my general love of 4-man, 3-position time shares, and my initial reaction to the D-backs' rumored pursuit of Howie Kendrick was a little something like this:
@Drich8mesa 4 men, 3 positions = awesome, 5 men, 3 positions = no go. And if Kendrick is 1 of 4, no other combo of 3 works, right?

— Ryan P. Morrison (@ryanpmorrison) January 4, 2016
But I don't know. The D-backs have done their best to position themselves to win in the short term, and I'm in favor of sticking with that strategy right now, so long as the exchange rate between present and future isn't outlandish. And also: I really like Jake Lamb.
I like Lamb because I believe other people don't like him enough, first and foremost. And if you're not going to be a monster like Paul Goldschmidt, I'd take a hard-hit skill any day of the week. How fun are hard hits? David Peralta was an absolute joy to watch. And in addition to being fun, hard hits are a very consistent way to succeed. Much more than trying to hit long fly balls and hoping for the best. The type of hitter that Peralta and Lamb are combines many of the best things about contact hitting with many of the best things about power hitting. And if you have a lineup of those guys who can run a little… that's a lot of scoring, and a lot of innings in which the team scores. The D-backs are not built as a team that depends on three-run home runs. They're built on singles that score runners from second. And there aren't a ton of hitters like Peralta and Lamb who don't also have gaudy (and expensive) home run totals.
Here's the thing: Howie Kendrick is one of those guys. Or he's close. In each of his last five seasons, he's hit between .285 and .297, which is hard to do because it's hard to hit that much, but also hard to do because that kind of consistency is just kind of weird. We're starting to understand that hard hits are a way to do this, and Kendrick's BABIPs in those same seasons have all been between .338 and .347. No, he doesn't walk a ton, but doesn't that make sense? He doesn't have a ton of power, so pitchers may not be throwing around him much. And if you can hit your way on that regularly, why wouldn't you, I guess.
The thing that makes Lamb different is hitting the ball very hard more often than the average player. And, yes, Kendrick does too.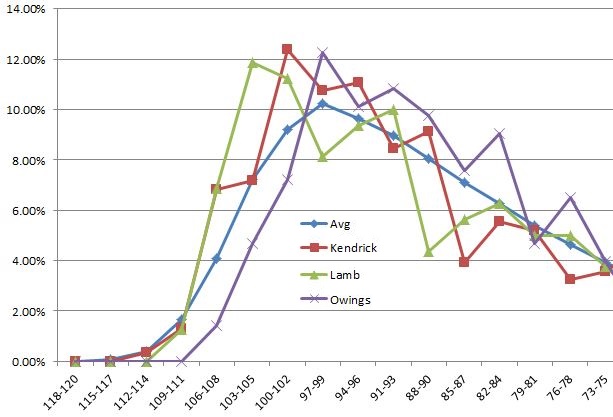 We only have just the one year of batted ball velocity data (I got this from BaseballSavant.com), and not all batted balls from 2015 have that data out there, but this is pretty stark. As we saw in looking at Shelby Miller, though, sometimes it can be a little more eye-opening to include the data from the non-tracked balls, as they tend to go for hits less often than tracked balls.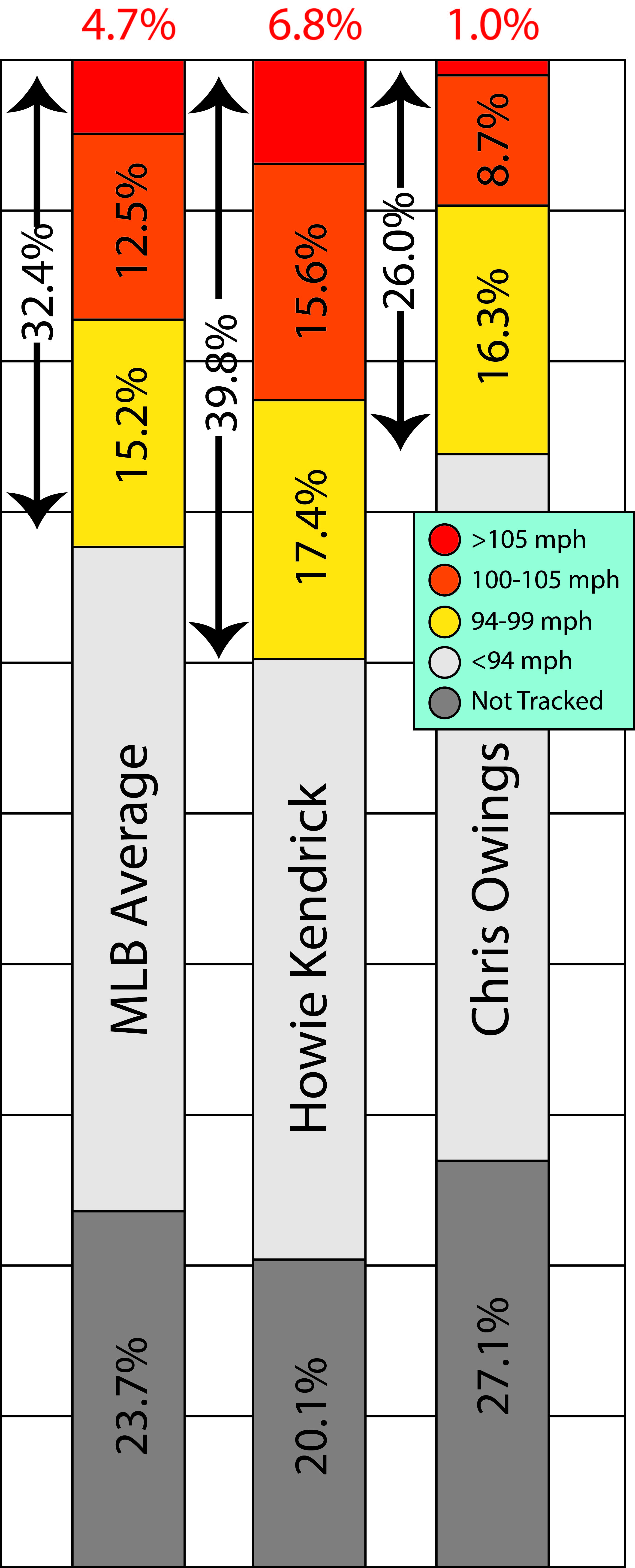 Let's just add those in, shall we? The graph on the right has balls in different velocity buckets as a percentage of total balls in play. The idea that non-tracked balls tend to be weakly hit comports with what we see here; Kendrick hits fewer balls softly, and I've included Chris Owings here, who appears to hit fewer softly hit balls than the MLB average.
Kendrick really stung the hell out of the ball regularly last year, and it worked: he had a .576 average on the balls hit over 105 mph (red), .483 on balls 100-105 mph (orange), and .433 on balls 94-99 mph. Kendrick had a .234 average on tracked balls that were 93 mph or slower, and as Tony Blengino found at the end of the season, the batting average on balls that weren't tracked was really similar, .239 in MLB. Basically, if you hit the ball 90+ mph you're putting yourself in a good position to get a hit, and otherwise, you're taking your chances. Kendrick's just one of those guys that's not taking his chances that often. You can look at Kendrick's BABIP and Owings's BABIP and think both might regress to the mean, but that could be a mistake: the differences weren't necessarily grounded in luck, because hitting the ball hard is a skill.
So I'm coming around, I think. Yeah, signing does violence to the roster — Lamb/Drury/Owings/Ahmed is a nice 4-man, 3-position time share, and it only works because two of those guys can play second base, but also another position. Adding a full time second baseman just blows that up.
ZiPS for the D-backs just came out, and with a total of just over 2100 PA — a little high, but not by much — those four players are combining for 5.4 zWAR. Steamer is a lot more bullish on Jake Lamb (yeah!) with 2.1 WAR to 1.6 from ZiPS, although that gap is mostly a function of a gap in playing time from those projections. Steamer has that combo of four players at just 3.1 WAR, obviously most of that to Lamb — and even when you juice that up a little bit due to it representing just 1660, it's still a little short of 4 WAR (and Steamer is not so optimistic on Brandon Drury).
Meanwhile, Steamer has Howie Kendrick at 2.4 WAR, not really recovering his past defensive value but at least getting back above league average there. He's not dramatically above average in offense in that projection: just 106 wRC+, in line with his career 108 wRC+. And with such a track record, including BABIPs of .340 or better in the last four years, Steamer relents with a .335 BABIP in the projection. All of this, though — it accounts for a ton of things, but it doesn't account for the helpfulness of a hard hit single, which is a big part of what made the D-backs offense roll last year. Kendrick could get in on that.
But let's say it was all of the value. Can we just add Kendrick's 2.4 WAR in there? Not quite, but almost, if you believe Steamer — with Lamb's 2.1 WAR in 511 PA and Ahmed's 0.7 WAR in 518 PA, you already have nearly 3 of the nearly 4 wins just in two players. Owings and Phil Gosselin do project as above replacement — round it off to 3 wins. Kendrick would make it 5.4 WAR, about a win and a half over not having Kendrick.
It's always going to depend on the numbers, and I'd feel a lot differently at 4 years and $50M than I would at, say, 3 years and $38M. I'm not even sure it makes a ton of sense, because I don't see how Ahmed can split time with a player who's not actually playing much at other positions, and if Lamb's playing time suffers because of the Kendrick signing, that's value that comes right back out. At this point, though, can you think of an even vaguely realistic way to add 1.5 wins to this team without subtracting almost as much?
It may not be a great idea. But I'm changing my mind: it might be.