The D-backs have set about rotation upgrades with the relentless abandon of Liam Neeson in Taken, signing Zack Greinke and trading for Shelby Miller in the last week without blinking at the cost. But those two pitchers have something in common other than some sweet new uniforms — they both surprised with especially low ERAs in 2015. So low, in fact, that neither is projected to come close to their 2015 performances — and both did better last year than ERA estimators like FIP and SIERA expected. Projections are great tools, and the good saber-slanted analyst would cringe at relying on ERA to target both pitchers. But that's the crazy thing: the D-backs may be onto something here, something that gives us reason to think both Greinke and Miller can get closer to their 2015 results than projections tell us. Old school meeting newest school.
Here's what had the baseball internet zeitgeist snickering like Marco from Tropojë:

No, neither pitcher is likely to repeat his 2015 ERA. But for both, their likely 2016 ERA may be a lot closer to their 2015 performance than projection may have us believe. Here are the two ways that could be true:
1. An improvement in 2015 that each pitcher may be likely to repeat. Suddenly do better, and a projection isn't going to automatically believe that was for controlled reasons rather than luck; there's a ton we don't understand about pitching success. The addition of a new, effective pitch or an uptick in velocity (as in getting healthy) would fit here. Improved control and some of the other things we see in developing pitchers could also result in a pitcher getting better in a sustainable way.
2. The pitcher had more control over whether balls in play became hits than we would expect. That's the whole idea with defense-independent pitching statistics like Fielding-Independent Pitching (FIP): in looking at how well a pitcher actually pitched, it's often useful to filter out the likely effect of differences in defense (which can be very significant). Some pitchers, though, seem to yield hits more often than average — and others appear to have a "contact management" skill they're able to repeat.
On the latter point, I'm aware of two basic kinds of things that can cause a pitcher to significantly outperform his FIP. One is causing batters to miss up or down — batted ball rates. There's a small but significant group of pitchers with ground ball rates so high that they give up fewer hits than expected; if you have a ground ball rate like Brad Ziegler, the ground balls themselves tend to be easier to turn into outs than the average ground ball. On the flip side, there's an even more exclusive club of pitchers who lean so far toward fly balls that they get an especially high number of easy fly ball outs (including popups); it looks like Silvino Bracho may join that illustrious group.
A second way in which a pitcher can be a good contact manager and reliably outperform FIP is to cause batters to miss in or out. The sweet spot on a bat is really, really small — and hitting the ball with the end or handle of the bat means not hitting the ball as hard. Weak hits turn into outs more frequently, and hard hits turn into outs less frequently. We call this "barreling the ball," and if you're able to play with horizontal movement, you might make things a whole lot easier on your defense.
Up/down is something we've been able to track for a while: those are the ground ball, line drive, and fly ball percentages we use a lot. But the rollout of Statcast all over MLB in 2015 gave us a new tool: batted ball velocity. And while batted ball velocity is partly a function of swinging the bat hard, it's also largely a function of "barreling the ball."
Still with me? Let's talk Shelby Miller. He made some changes in 2015 that give us some reason to believe that he actually got better, rather than lucky. After that — we'll get back to this "contact management" stuff.
Shelby Miller: Different in 2015
In his breakdown of the Miller trade, Jeff teased some changes that Miller made in 2015. He changed his pitch mix, and apparently as a result, he went from having a middle-of-the-road batted ball profile to having a fairly high ground ball rate. In Miller's three full seasons:

In 2013 and 2014, Miller was highly reliant on his four-seam fastball (FF%), and for good reason; Brooks Baseball has him at an average release speed of 94.4 mph on the pitch in 2013 and basically the same in 2014 (actually went up a tick in 2015). Miller got pretty good strikeouts that year (23.4% K%), and he was an industry darling with that 3.06 ERA. In 2014, that just didn't work the same way. Hitters weren't missing, and Miller was in more hitter's counts; his K% slipped all the way to 16.6%, from solidly above average to solidly below average.
Toward the end of 2014, Miller started mixing in a sinker (SI%), throwing it about 10% of the time in the season's last two months. By 2015, he was using it as if it were a featured secondary pitch, and the cutter (CT%) rose to the same level. Those fastballs replaced four-seam fastballs for the most part, but Miller also backed away from his curveball (CU%). The change in repertoire coincided with a change in hard-hit profile. If you faced Miller in 2015 after last seeing him in the first half of 2014, you faced a much different pitcher: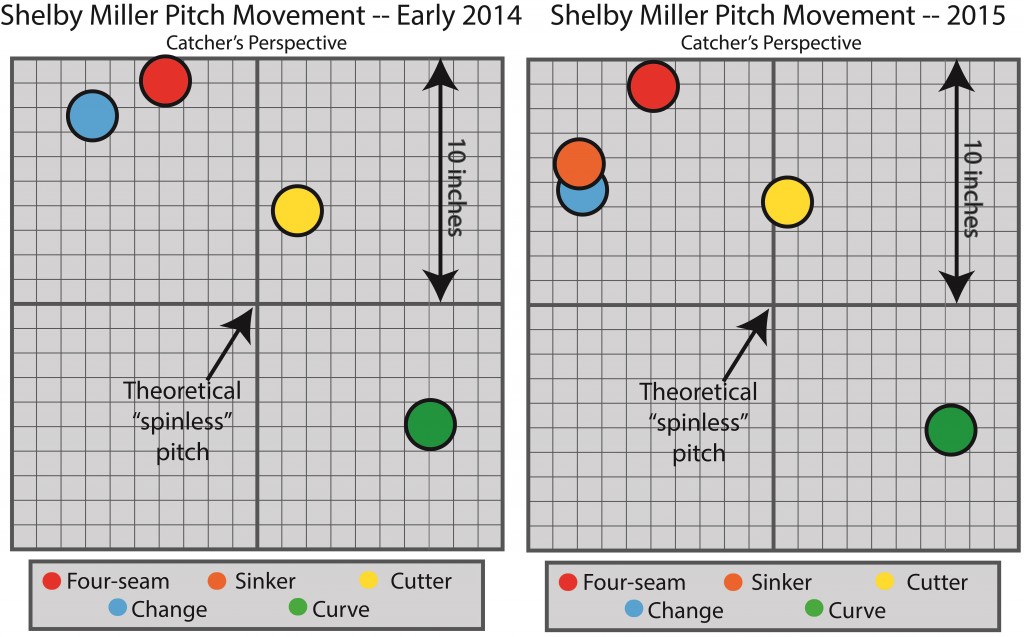 When we think of an ace pitcher, the kind of pitcher Zack Greinke has been, we're thinking of strikeout pitchers that are also contact managers that also limit walks. We looked at Johnny Cueto recently, though, and found a kind of contact manager ace, a pitcher who was so good at mixing speeds and deliveries and movement that he ended up very hard to hit. Cueto still throws hard for a starter, but barely above average for a right-hander; only in 2014 did Cueto have a K% better than Miller did in 2013, and he's spent most of the last four years just above 20% (still quite good). It certainly looked from that research like a formidable trio of fastballs helped him manage contact — sinker much more than cutter — and with so much going on, Cueto's changeup has been extremely effective (but not thrown particularly often).
Miller went from strikeout pitcher in his first full season to the same kind of power junkballer that Cueto has been. But for the fact that Cueto also throws sliders and Miller's bender is a little longer and bigger, they're pretty similar now. Cueto may represent Miller's extreme upside now that Miller has embraced a cutter and mixed in a sinker with success. Up above, we said there are two ways in which a pitcher might be expected to outperform FIP projections, and the first was doing something different in a sustainable way. We have that; Miller really is really different now, if he keeps along the 2015 track that he started on in the latter half of 2014.
Shelby Miller: Contact Manager
The second thing way in which a pitcher might be expected to outperform FIP projections: do good things in terms of managing contact that FIP is not designed to address. And Miller wasn't just different last year in a positive, sustainable way; he was good in a way that FIP just doesn't capture. Miller's ground ball percentage did rise, and that could keep his home run rate down. But it's the "barreling the ball" thing that Miller appears to have done in 2015, and it has a lot to do with the new use of the sinker — and especially the cutter.
The WHAV (Well Hit Average) and SHAV (Softly Hit Average) numbers in the table in the last section come courtesy of ESPN Stats & Info, and while that .404 SHAV in 2015 is very, very good, that 2015 WHAV of .109 is positively excellent. Miller's increased ground ball percentage is probably connected to his drop in home run rate, but the drop in WHAV also contributes to that — and it contributes to less contact turning into hits. At the same time, Miller's ground ball percentage rose in a big way, if not enough to put him into that club of elite GB% pitchers. Check out how each pitch did along those lines: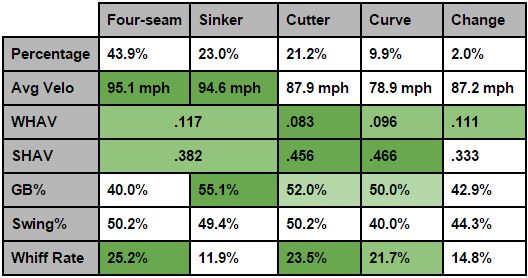 None of Miller's pitches were hit hard; he was on all cylinders here. Sadly, the ESPN database doesn't distinguish between four-seam fastballs and sinkers, and at any rate those classifications might have been different than those used for the other rows, which come from Brooks Baseball. But, suffice it to say: Miller's fastballs were excellent, somehow managing very good contact rates at the same time the four-seam got a really great whiff rate, more than one every four swings. The contact rates may be great because of the sinker, which had a high enough ground ball percentage for that to really matter.
Look at that freaking cutter, though. Nearly as high a whiff rate as Miller's four-seam, and yet the WHAV is incredibly low. The SHAV is very, very high, like Jeremy Hellickson at his absolute best. And in Miller's middle-of-the-road 2014 season, his curve was nowhere this good — the whiff rate was just 12.4% to last season's 21.7%. Miller's curve improved in huge way in WHAV (from .188 to .096), and even in SHAV to some extent (from .444 to .466).
Miller didn't ride a single pitch to victory in 2015. Everything starts with his fastballs, which were hit hard quite a bit more often in 2014 (.162 WHAV) and even in 2013 (.178 WHAV). This isn't proof that Miller's increased use of cutters and introduction of a sinker made his other pitches better — but they were better. It looks like as a result, Miller was a contact manager overall, playing with horizontal movement. The span from the best part of the bat to the worst parts of the bat are something like six inches apart, and the difference between Miller's sinker and cutter is about eight inches, with similar "rise." The cutter has the same velocity of the change — which has the same movement as the sinker, just, you know, 7.4 mph slower. You can be right about two of those four pitches' three attributes (up/down, side/side, speed) and still be wrong enough to hit the ball poorly or miss it entirely.
Batted ball exit velocity data are something we've used in this space for hitters, and I think in apples to apples comparisons, those data can shed a lot of light about freaks of nature like David Peralta and Jake Lamb. With pitchers, it's a lot trickier — a decent chunk of balls in play do not have tracked exit velocity data, and as has been observed by Tony Blengino at FanGraphs, the part that's left out tends to be on the extreme low end. Since those are great batted balls for pitchers — the ones that great contact managers get more regularly, and that are classified within SHAV — we risk missing the point completely.
Still, what the hell, right? Let's give it a whirl. Batted balls that are 100+ mph are hits something like 70% of the time, the hitter research tells us. In the 90s, that drops to some .500 batting average or thereabouts; after that it's nicer to be in the 80s (.250-.300) than the rest (.200-.250), but that's nowhere near as big a difference. The smaller the colors, especially the top ones, the better and more suggestive of contact management. Red is 105+ mph, orange 100-104 mph, yellow 95-99 mph, and greenish 90-94 mph. And oh my, is it cool to be able to get these from BaseballSavant.com.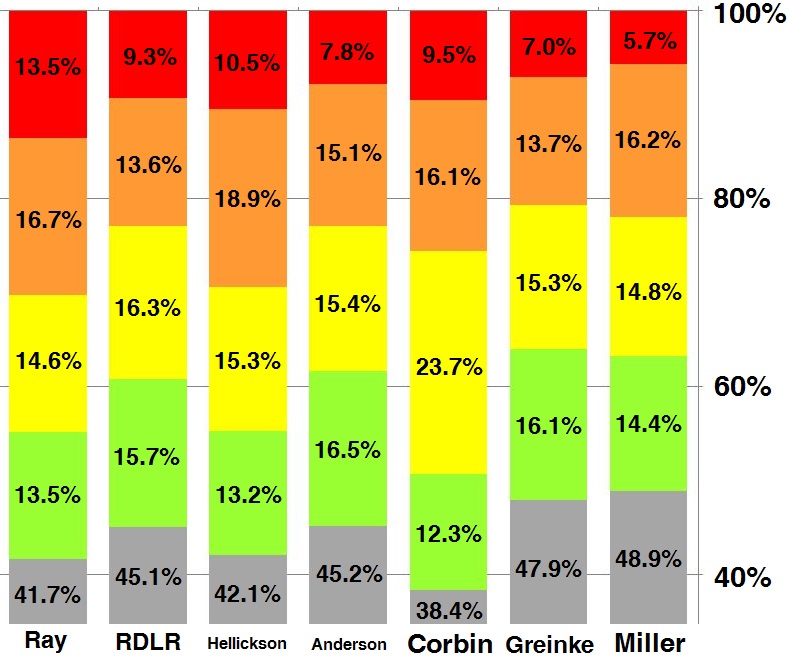 The batted ball data that is tracked here supports what the WHAV numbers told us: he got hit hard less frequently than the rest. But there are tons of problems with these numbers; if one of these pitchers had a ton of softly-hit balls that weren't tracked, that would have the perverse effect of making the colored parts of their graph here bigger. This is just suggestive of the other findings and consistent with them. Here, it definitely looks from the 2015 tracked exit velocity data that Miller has a lot more in common with Greinke than with the D-backs' front five for most of 2015.
Shelby Miller: Top of the Rotation Starter
Two other important things are ignored in the batted ball data above: strikeouts, and walks. Contact management is just one thing a pitcher can do. The reason that FIP has been useful is that with the basic addition of home run rate, strikeout and walk rates can tell us a ton about how good a pitcher actually is. In terms of walk rate, Miller was merely "pretty good" last year with a 8.5% BB% and 3.20 BB/9, and ever-so-slightly better than that in strikeout rate at 19.9% K% and 7.50 K/9. Those walk rates are enough to make Miller look like a mid-rotation starter — and when we think "#3 starter," we're really thinking "slightly above average starter."
There are reasons to think that Miller will be worse than last year we haven't even touched here — it's hard to pitch at Chase Field, where the air and the baseballs may be dry, hot, and thinner thanks to a not-inconsequential elevation. And part of why we we thought Scott Kazmir seemed like a promising acquisition target is that he throws left-handed — over the last few seasons, the pitchers who have beaten expectations have both been lefty, and just about every other pitcher was both right-handed and something of a disappointment. Miller will be fighting both of those things, maybe, although the latter could be different if Colorado does ship a couple of its left-handed outfielders out in trade, as they are rumored to be trying.
One thing we maybe can say: don't shove Miller's 2015 season aside like he didn't earn it. If anything, it looks to me like he probably "earned" a BABIP even lower than .285, and his contact management should have gotten him farther than it did. And the Steamer projection of 1.7 fWAR also seems to be low, both because 2015 may be much more indicative of his likely 2016 performance than his 2014, and because he happens to be the type of pitcher that FIP undervalues, and fWAR is based on FIP.
If Miller is a top of the rotation starter, it's because contact management pushes him into that category, perhaps as high as the Corbin echelon. That's pretty damned good, and helpful for any rotation in baseball. Whether Miller can actually repeat as a contact manager is an open question, I think. My read from the data is that it's at least possible and maybe even probable that Miller reinvented himself as an effective contact manager the way that Cueto did before the 2011 season. Whether he actually does it will be part of the 2016 fun.