Not-breaking news: the D-backs have lined up a Contention Window by leaning into Paul Goldschmidt's prime and performance likely to remain above average from A.J. Pollock, David Peralta and Patrick Corbin, among others. The Window probably has an expiration date, as the only players one could still consider prospects who remain in the fold might be Braden Shipley and Brandon Drury. As Jeff has laid out, the D-backs have traded away or forfeited three consecutive first round picks, and competitive balance picks in 2013 and 2015. You can add a more distant price to that bill, as well, from the D-backs' inability to sign an international amateur for more than $300,000 between July 2015 and July 2017.
Where I'm headed here eventually is a look at some potential exit strategies for the D-backs, as the Contention Window closes (thanks, Bradford, for that idea — and to all, if you think something could be interesting, we're likely to agree). Before we get there, though, we need an idea of how long the Contention Window stays open.
The Contention Window
In the end, the Window's expiration date will be a decision that the team won't make for at least two years. Just as it would be foolhardy for the D-backs to pretend otherwise (although they can't preserve flexibility perfectly), it would be a mistake for us to set a certain date. We can, though, get a better picture of what those possibilities are.
Here are the payroll commitments we're talking about from 2017 on (does not include this year), with information from Cot's Baseball Contracts and with my guesses for arbitration salaries included in red (Clippard also in red as we haven't yet heard how his signing bonus will be paid):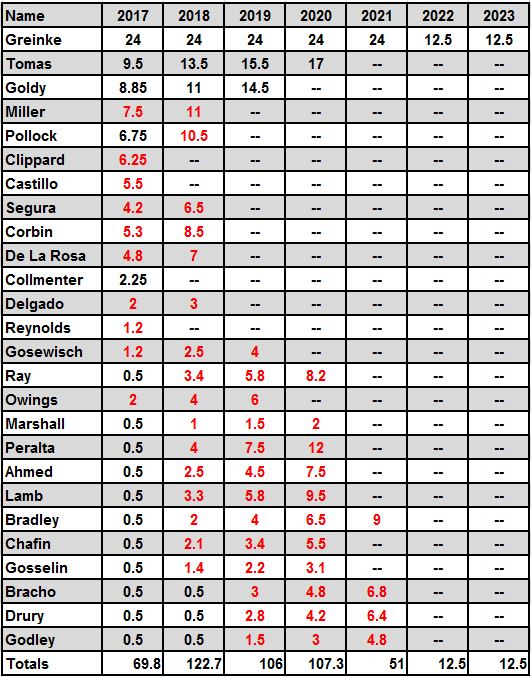 The things that stand out most from these payroll facts/estimates, in my opinion:
Paul Goldschmidt is not controlled beyond 2019.
After the 2018 season, there are a trio of really important players — A.J. Pollock, Shelby Miller, Patrick Corbin — who are also scheduled to be free agents.
In 2018, the team is likely to face a very big payroll crunch, especially considering that they may need to add players from outside the organization (particularly at catcher).
The Goldy bit is important, because it seems like this whole Contention Window Building Process was inspired by his presence. From past studies on his career trajectory like Jeff's Hall of Fame question last month and a ZiPS cohort projection last year, extending him for more than a year or two beyond 2019 could be problematic, especially at market prices. Fortunately, the D-backs have him on an affordable contract for four more years; unfortunately, they will eventually face a tough decision about whether to pay for a lot of his decline phase in order to lock him up through 2021. Paying Goldy $25M-$35M when he's in his mid- and late-thirties could compound the pressure created by all of those big deferred Zack Greinke payments.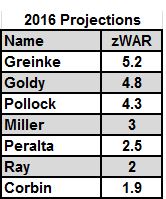 Maybe the most important question, though, revolves around talent — the free agency of Pollock, Miller and/or Corbin three years from now. As things stand, those three players are a large chunk of this team's core. Consider that the payroll totals above aren't actual totals — they don't include a handful of league minimum salaries (which may increase soon anyway), and a few more smallish free agent deals along the way. They won't necessarily keep Jean Segura, Chris Owings or a few of the other players for that 2018 roster crunch season — but at this point, it looks like if they do cut ties, they'd need to return to the free agent market for replacements. That all adds up to it looking very difficult for the D-backs to keep Pollock, Miller and Corbin beyond 2018, although they could keep at least one if they wanted to.
In the end, it's all going to come down to how good the team is overall. Greinke's performance is the most important, but Goldy is not far behind. Next could be players like David Peralta and Jake Lamb, but the performance of Yasmany Tomas will also be an especially important factor in a different way, since it's likely that the D-backs will only be paying Tomas those high salaries in 2019 and 2020 if he hasn't been good enough on the field to decide to opt out in favor of a new deal. Really, though, those are all just ingredients in one big stew. We will only start to get a clear picture of how close the team is to contending in 2019 at some later date.
Exit Strategies
It's possible that the D-backs will never endorse an exit strategy. Considering the above, though, were the D-backs to pull the plug at some point, it seems like it would be a question of timing. These are the likeliest last years for the Window:
2017, when much of the team's current MLB stockpile is still in place.
2018, the time when Pollock, Miller and Corbin are scheduled to hit free agency.
2019, the end of the team's control over Goldy.
2021, the end of Greinke's commitment.
What do you think? Clearly picking between these different plans is an issue for a day about 600 days from now, at the earliest. We could still get somewhere now by thinking them through, though. If you don't care for one or more of these plans, then you would not want the team to go out of its way to maintain the flexibility to keep it an option; if you think one looks like it could be a solid strategy, then you probably would not want the team to make choices that could rule them out.
2017: At Least We Tried
Sometimes, bad things happen to good players. A serious injury for Greinke, Goldy, or a combination of two or three other core players could leave the team short of the playoffs in 2017, and in such a way as to make 2018 look not much more promising. Poorly timed Tommy John surgeries for important pitchers would do something like that. If things look like the team is going to fall short in 2018, acting quickly could be in the best interests of the team — while there are still players to sell.
One year of A.J. Pollock could net a huge haul of two blue chip prospects and another player, or a larger package of a handful of players with some ceiling (like the Justin Upton trade with the Braves). Miller and Corbin might not net the club quite that much, especially as Chase Field might depress their numbers (especially in Miller's case) — but could still command a meaningful return. Two years of Goldy at reasonable rates could get the D-backs the moon, three or four players that have a chance of being above average players. Even Greinke could have some value in a Cole Hamels kind of way, especially if the D-backs were willing to shoulder a chunk of the financial cost.
If the team is in a place where considering this is in play, it would mean they have fresh first-hand experience with a quick rebuild not working — less obvious trade chips could also be used. Three years of Peralta and Lamb and Robbie Ray could be auctioned, and that kind of control over Peralta could net about as much as one year of Pollock (due to their ages, Peralta and Ray don't necessarily make for ideal extension candidates). Heck, even Silvino Bracho could be an attractive trade target in a tear down like the one we're talking about, and that's a ton of talent that the D-backs could infuse into their system all at once.
Unfortunately, the chances that all of those players are healthy and productive are low if this is the plan they pursue — if they were all healthy and productive, there'd be every reason to roll the dice on 2018. A full fire sale could nonetheless net the team one or two prospects who could be very good, and five or six more who had a strong chance of being average regulars. Talent like that could easily power a new contender a few more years down the road, especially if the D-backs have made a strong play in the international amateur market in July 2017 and drafted well in 2016 and 2017.
I'm not so sure this could happen — for the D-backs to consider it, they might need to be so decimated that they couldn't get nearly as much back for the guys they could trade. It's also less than perfect, because there is no strong class of D-backs minor leaguers like Justin Williams and Touki Toussaint that could make good use of MLB playing time for Arizona in 2018. They could do this, though, and if the D-backs don't actually contend in either 2016 or 2017, it may not be the current front office that is making decisions for the team in October 2017.
2018: About That Time
As Forrest Gump once put it to Forrest Gump, recounting himself to a stranger on a park bench: "Come this far. Might as well keep on going." The D-backs paid a tremendous price in transaction costs to assemble this team, and if it looks like they could make as promising a run in 2018 as it seems like they can in 2016 and 2017, why wouldn't you go for it? If a title run is in reach, outstretching that arm makes a ton of sense even if it means the next rebuild phase will need to be an extra two years longer.
Keeping the team together for 2019, though, could seem daunting. There's no wave of high-ceiling talent scheduled to arrive in 2018 or 2019, just helpful parts like Alex Young and whatever college player they take with their first round pick in 2017. If Tomas sticks around, signing Pollock, Miller and Corbin could push the 2019 payroll into the $170M range, which seems ridiculous now — and which would surely require significant salaries for a significant number of years. If the D-backs roll the dice on 2018, they're going to need a catcher of some kind, either by signing a free agent or by signing Welington Castillo to an extension (a trade would likely be tough). Signing one or two players beyond the Contention Window just to keep the door fully open is one thing; signing a handful to $15M+ a year deals stretching to 2022 just to grab at one more season does not.
If the D-backs pull the plug at the end of 2018, their main trade chips might be one year of Goldy (one great prospect and one really good one?), two affordable years of the Peralta/Ray/Lamb/Ahmed group (Peralta, same price as Goldy?), and… not a whole lot else. Relievers, Braden Shipley and Brandon Drury if they've become attractive players, etc. It's less likely, but there's still a chance that Greinke could bring back some minor league talent in a deal at that point, too.
The prospects the D-backs could add with this kind of sell off would probably get the D-backs back to where they might have been if they hadn't lost or traded all of these recent draft picks and draftees. That would leave them with a full rebuilding period — anywhere between 3 and 5 years, based on luck and transaction skill — but it wouldn't be a start-from-scratch kind of thing like what we might expect if the system were not restocked. And if things had gotten out of hand by mid July of 2018, the D-backs could actually advance the schedule a little more by trading two months of Pollock, Miller and Corbin. They'd also have the advantage of two markets for their other wares, including Greinke but also players like Lamb and Ahmed who might be a fit for relatively few teams — and two markets can make it more likely to avoid selling under value.
To avoid a very extended rebuilding process, though, the D-backs would really need to lean into the roster turnover, with no half measures. That means one other thing: if the current draft pick compensation process is still in force, the D-backs would need to strongly, strongly consider offering all three of Pollock, Miller and Corbin qualifying offers, so long as they are healthy and reasonably productive. The thought of being on the hook for all of that money would definitely be daunting. The possibility of picking up three extra picks at the end of the 2019 first round, though? The D-backs could really do something with that. Compensation for departing free agents is part of parity, and the post-2018 situation is exactly what that system is for.
2019: An Approaching Midnight Cowboy
Every once and a while, a player comes out of the woodwork. If we were talking about the 2015 season four years prior, there would not have been a David Peralta in the system for us to talk about. Minor league signs like J.D. Martinez can turn into something. And there's always the chance that the D-backs' ground ball experiments could turn into something a lot more than a swingman like Zack Godley. The chances of the D-backs adding one of these woodwork players is lower than it normally would be for most teams, probably, because the D-backs appear to be set at most positions (playing time needed), and because there aren't a whole lot of Isan Diaz level prospects that could make The Leap like Brandon Drury kinda sorta did during his High-A year.
With a little extra help and a little smart spending on short term deals after the 2018 season, the D-backs could probably scrape together one more year of contention. It might not look as good on paper as the previous three seasons had looked — but if the 2016-2018 teams were consistent winners of 90+ games, "not as good" could still maybe mean a playoffs team. The year would be kind of a farewell tour to the Contention Window, and there would be some fond memories of winning that the whole fan base could re-live vicariously.
The main attraction to trying to keep things together for one more year is the same thing that made putting together the Contention Window in the first place a solid plan: Paul Goldschmidt. If the D-backs had their pitching staff crumble before their eyes and before the end of the 2018 season, maybe they've stayed out of the free agent market just before the 2019 season begins, and maybe they've opted against trying to extend Goldy. The 2019 plan is about acknowledging that the end is near, but also that one last 80+ win season with Paul Goldschmidt could also be a great entertainment experience.
The 2019 plan is compatible with offering Pollock, Miller and Corbin qualifying offers — maybe even more compatible than the 2018 plan is, since the D-backs would likely shrug if one of them accepted. Their probable departures still help to restock the system, although a pick that might be around #40 in the draft pales in comparison to a likely trade package, even in July 2018. Still, we're talking very few minor league players that might be worthwhile promotions for the 2019 season, and a draft pick if Goldy leaves would do little to move the needle on the rebuilding process. It would be fun to watch Goldy ride into the sunset, but there's a whole lot of darkness after that.
2021: A Too Much Space Odyssey
If trying to contend through 2021 becomes an exit strategy — rather than just being a new way of life — then a lot of this might come down to Zack Greinke, and whether he still seems to be a top of the rotation starter. That would almost be a surprise, and yet he's already remade himself more than once, the last time leading to a completely incredible season. He could do that again. But that's the thing: we know nothing about the 2020 and 2021 seasons, other than some guaranteed payments. Trying to sort out what would be seasons 5 and 6 of the Contention Window feels like trying to look through a telescope, using the wrong end. Anything could happen, right?
It could happen; a lot of the free agents currently positioned to hit the market after the 2018 season will probably sign extensions before then, but there is still a very, very impressive crop of players likely to be available. That means the D-backs could spend their way into cutting a new hole in the wall and calling it a window. It could also, however, make a second tier of free agents much cheaper than most years. If Pollock's production has begun to tail off before the end of 2018, he could be a guy that becomes cheaper with the likes of Bryce Harper roaming the Winter Meetings. It's certainly likely that one or two #2 starter types could be had on surprisingly reasonable deals. In addition, if the D-backs are out of the race in July 2018, they would have some rental players to offer on the market that would return some helpful pieces.
Still, whether this is the plan the D-backs adopt seems to have everything to do with whether some of their current players sign extensions. Peralta is an ideal candidate for a deal that would delay free agency by two years, maybe, and Pollock or Corbin could end up back on a bit of a hometown discount. It's also possible that Paul Goldschmidt will end up signing a reasonable extension, and the 2020 and 2021 seasons will just be business as normal.
A ton would have to go right for the D-backs to contend in 2020 or 2021… it seems practically impossible. If the D-backs have stretched to get beyond 2018, though, they're committed through 2021 unless it's that Goldy Show plan for 2019 only.
***
Honestly, before starting this exercise (which was still fun), I thought I'd come away with more specifics after enough thinking — things like trading player X for player type Y on date Z. There's just too much we don't know, though, a lot of which has to do with the extent to which the Contention Window turns into contention.
The plan that looks the most attractive right now is the post-2018 plan, especially if some compensation picks can be had after 2018 (and there is a new CBA coming soon). It seems unlikely we'd push for a post-2017 plan, although that remains an option if things really just don't go well. This picture will start to come into focus at some point during the 2017 season, and even one year from now, I'm not sure we could take this any farther than we have here.
The main takeaway for me is this: it sure seems like the end of the Contention Window would be best met with the same kind of aggression that put it together in the first place. Letting things fall apart slowly seems awful. It's okay to have the end of the Window turn into a pretty dark time, one where MLB playing time can be used to sort out fact from fiction among the team's best options at that time while the team gets in position to pick high in the next two or three drafts. It's not the Window, and then a whole lot of nothing — done well, the Noncontention Waiting Area might last only as long as the Contention Window.