Baseball is a game of adjustments. We often attribute this adage to hitters but it applies to pitchers, too. Get too reliant on one pitch and hitters will sit on it. Can't locate your fastball? Batters will take until they see a fat one. Can't locate your secondaries? Batters will let them pass and sit dead-red on fastballs. Any type of predictability tilts the odds in the favor of the hitter unless, in rare cases, your stuff is so good you can get away with it. For 98% of pitchers, this isn't the case. They have to mix it up and mix it up effectively.
When Shelby Miller hit the majors in 2013 with the Cardinals, he was one of the most fastball-heavy pitchers in the game. Coming up as a top prospect, this was seen as both a strength and a weakness.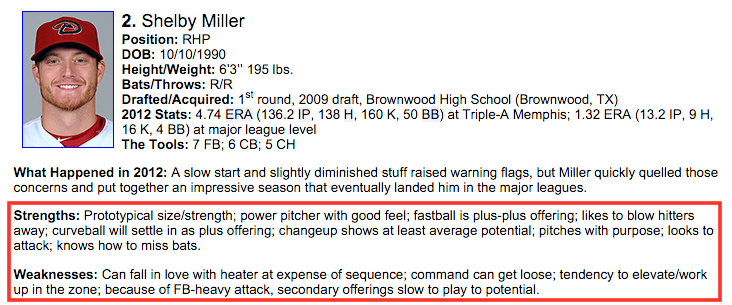 Sitting 93mph and touching 97, it was a solid four-seamer that did the bulk of Miller's work. In May of 2013, he threw the pitch nearly 75% of the time. The pitch led to plenty of strikeouts and few walks as he could spot it well. But as the season wore on, hitters started catching on and hitting more home runs. Miller responded by mixing in his cutter and changeup a little more but the walks rose and the strikeouts started to dip. His second half FIP expanded by a run and a half and what was initially a strong debut ended on a pedestrian note.
A year later, Miller threw his four-seamer over 70% of the time through the first four months of the 2014 season. This time hitters didn't miss nearly as often and Miller found himself pitching less and less in the strike zone. The results were poor and Miller's value was squarely in question. More use of the curveball, a pitch that's not particularly effective for him, didn't exactly help. Come August, Miller dropped the use of the four-seamer and started to use a sinker, one that he hadn't thrown at all the year before. He shelved the changeup and September was his best month of the season making it look as if maybe he'd sound something new that could help provide some balance.
A change of scenery to Atlanta for 2015 saw more changes for Miller's arsenal. He mixed the two-seamer and the cutter in with the four-seamer more often than ever before and the changeup continued to play a nearly nonexistent role. His curveball also played a smaller role as he fluctuated between his three different fastball looks over 80% of the time. The deception created between the three distinct fastballs took Miller to new heights. Even though he was behind his initial strikeout numbers, he began generating more and more weak contact, including a bevy of ground balls.
Take a look at his mixture of pitches over time: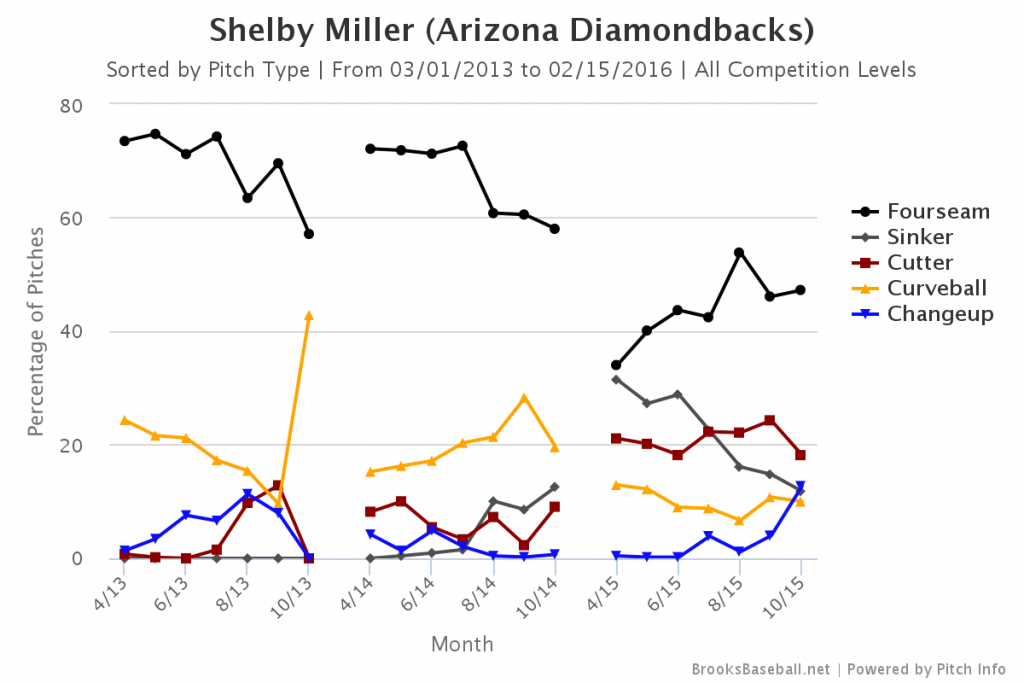 The October readings are a poor representation as he usually only made start or two in the final month of the season, hence the spikes. But the overall trend is easy to see. The four-seam fastball has always been there, but the cutter has become more and more prevalent as has the two-seamer. The curveball and changeup have played smaller roles of late until a spike in the end of the 2015 season when Miller started to bring the change back. All of this has altered the outcomes produced at the plate.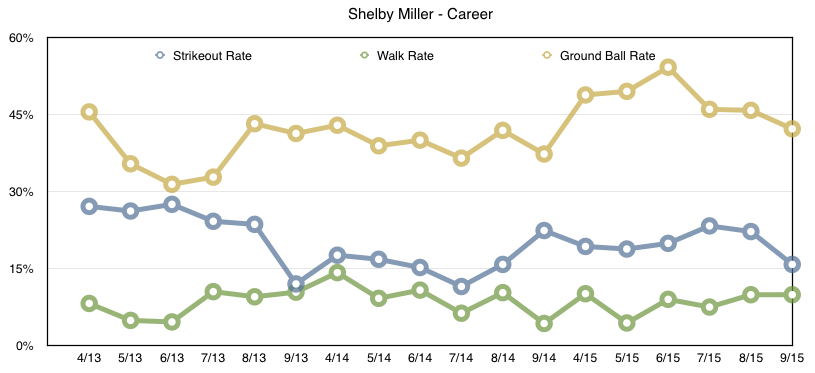 His strikeout rate has decreased over time and 2014 really was a year in transition. His walk rate has moved up and down as expected given all of the repertoire changes, but the ground ball rate is where the money is made. A drop of 3-4% in strikeouts has resulted in a 8-12% rise in ground balls. And while not graphed here, his home run rate has dropped by nearly 50% along with these changes. It would stand to reason that batters are hitting him less hard and that comes out in the data, too. That is apparently the case: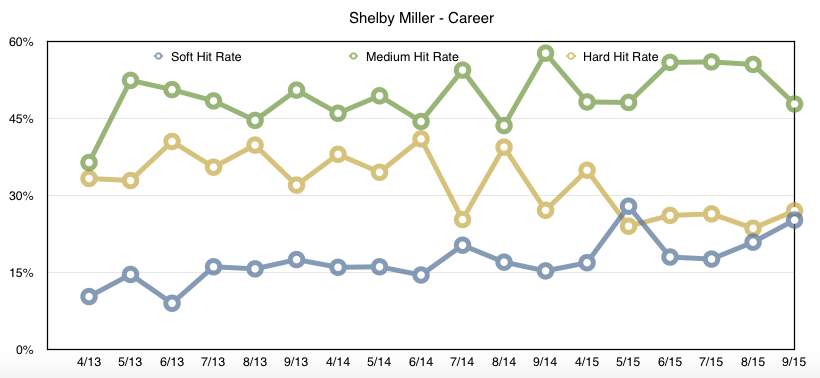 While medium-hit balls have remained mostly stable, we can clearly see that Miller has traded in a lot hard-hit balls for soft contact. The gap that was once 15-20% has evaporated to the point where the two are nearly the same. We know that hard hit balls drive offense and the softly hit balls suppress it. This trend in Miller's game has made him much more effective overall. More ground balls and fewer home runs will certainly do that for you.
This is clearly what Arizona is banking on. The overpay to the Braves for Miller was strategic. No one likes the price the D-backs paid, yet the bet is perhaps a little smarter than it might appear on the surface. His bump in production in 2015 wasn't a mirage. There are tangible differences between the below average pitcher seen in 2014 and the solid #2 starter witnessed in 2015. Those difference should carry forward provided he doesn't decide to scrap the changes and/or the Diamondbacks don't alter his approach significantly.
No matter who's in the D-backs' infield in 2016, the team should remain strong defensively. The outfield will be a different story, but Shelby Miller's new repertoire and approach should play to the team's strength. Nick Ahmed ins't Andrelton Simmons, but he's arguably as close as anyone else. Trading him out for Jean Segura could take away from the team's additions on the pitching side, but either Segura or Chris Owings should be just fine at second base. Gold Glove Goldschmidt will be excellent at first and Jake Lamb has proven that he's plus at third base. Put it all together and Shelby Miller may prove even more productive than we initially thought. The overpay to get him will taste sour forever, but there's plenty of evidence to suggest that rotation will be sweetened by Miller to the extent that Arizona fans will accept the tradeoff in the short term.