On Thursday night, Rubby De La Rosa threw a gem — the type of gem that makes you kind of wonder why you ever doubted him. Maybe you never doubted him, but I sure as hell did. It's been a frustrating ride for De La Rosa with enough troubling outings to put his future into jeopardy and, somehow, enough fine outings to make you forget the troubling ones, even if temporarily. Of late, however, De la Rosa has shown some consistent flashes of productivity and a new gear on the mound that has, at least for the time being, reshaped his image.
In 2015, Rubby De La Rosa was pretty bad. He made all of his starts, so he checked the box for durability, but they were generally not the greatest displays of pitching and so there was much to be desired. But it was there, in spurts. Observe what he did in three consecutive starts last June against San Francisco, San Diego, and Colorado: 22 innings pitched, 18 hits, six walks, 16 strikeouts, and just two earned runs. De La Rosa earned the win in two of these outings and would have won all three had the bullpen not let him down against the Rockies.
I bring this up because it's not like De La Rosa has never had success. He has, and it wasn't even all that long ago. But even in some of those good starts from 2015, the way he found success didn't always incite a ton of confidence. As you're likely well aware, pitchers get lucky sometimes and in a few of De La Rosa's good outings, he seemed to benefit from the sequencing of events, some excellent outfield defense and the like. That's not to pick on Rubby — every pitcher runs into luck, both good and bad — but just to say he didn't always look dominate even when the box score might suggest it.
But Thursday night, against the Cardinals, he did look dominant. There's no denying that De La Rosa was in command early on. He got ahead of hitters in a way that he hasn't over much of his career, throwing first-pitch strikes nearly 70% of the time, 12% better than he averaged over 2015. Batters swung and missed at 16% of his pitches (a five percent uptick from last season), making contact just 68% of the time they swung (ten percent less than last season). Add it all up and this was a big step in the right direction, coming on the heels of his strong start on the 23rd against the Pirates.
To really be convinced that this start wasn't just a flash in the pan, however, we might need to be persuaded. So let's compare a couple of things, looking for deeper diagnostics that this is indeed a different Rubby De La Rosa. We'll compare his latest start against the trends we saw in 2015. I apologize for the data dump, but I think it'll be easier to see the numbers (pitch-by-pitch), then talk about them. Maybe you'll disagree. I'm sure it won't have been the first time. Anyways…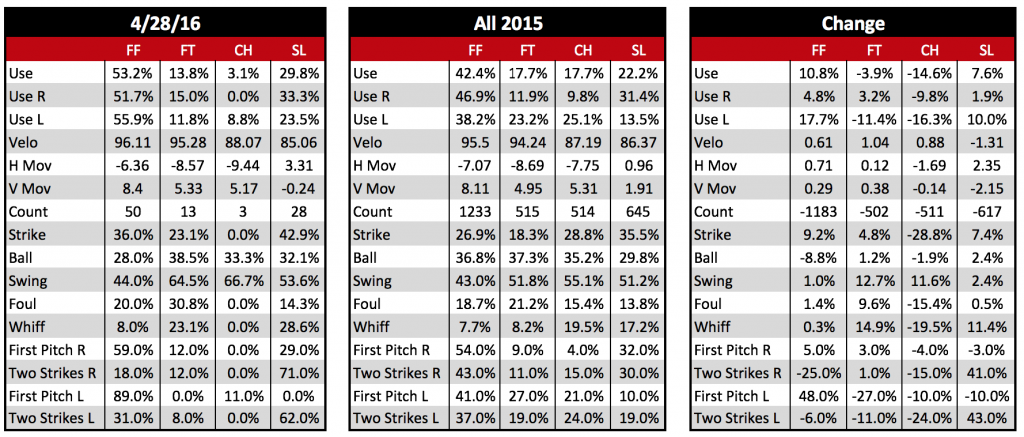 Let's start with pitch usage. De La Rosa is used his four-seamer more and subtracted heavily from his changeup, a pitch he threw just three times last Thursday night. His changeup has never been a valuable pitch for him and it dropping it's usage wasn't a one-time thing — he isn't using nearly as much in 2016 as he has in the past. When he did break it out, it was to lefties and lefties alone. He also used his four-seam fastball to lefties more than he did in 2015 at the expense of his two-seamer, something that's gotta have Ryan doing fist-pumps somewhere, hopefully not in public. He used the slider more against lefties, something we'll dig into here in a second.
De La Rosa's velocity looked pretty solid in comparison to what he showed last season with the slight variance you'd expect to see from start-to-start. The only true outlier is the slider, a pitch that came in Thursday nearly 1.5mph slower than it did in 2015. Considering the pitch was seemingly unhittable the other night, that's worth looking a little more closely at. Sure enough, Rubby's out-pitch was sinking over two inches more than it did on average in 2015, making a bat-missing pitch that put away several hitters. Observe one such pitch to Cardinal Stephen Piscotty:
The more vertical the break of a pitch, the less of a platoon effect it exhibits, meaning this might prove to be a very positive development for Rubby. The added depth should get more swings and misses and make the pitch functional to lefties and flat-out lethal to righties. As was noted in the commentary of the video (unless you had your speakers on mute), De La Rosa was ahead in the count after pounding some fastballs in the zone, the got Piscotty to flail at the slider as he just couldn't react to the change in speed and break. As noted above, Rubby used the slider to lefties nearly a quarter of the time, mostly at the expense of his changeup. This may not have worked out so well without the added vertical break to the slider, but should it hold, the pitch may remain more than functional against opposite-handed hitters. Hey, it works for Patrick Corbin.
There was an aggressiveness that De La Rosa brought to the mound Thursday night, something that can't go overlooked. As we've talked about for a long time, he's possesses good velocity and plenty of wiggle on his four-seam fastball. Given those traits, he finally utilized it in a way we've long been hoping, pounding the zone with it and getting ahead in counts. He threw it as a first pitch in 59% of right-handed at-bats and 89% of left-handed at-bats. The message was clear on Thursday: use the fastball to get ahead, and De La Rosa did just that. By pounding the zone with the four-seamer and getting some whiffs with the two-seamer, Rubby had hitters set up for the slider. They knew it was coming and it didn't matter.
The man has excellent stuff and, Thursday night, Rubby De La Rosa simplified the approach and found success. He got ahead early and put hitters away en route to seven innings of shutout ball with 10 strikeouts, just two walks and two hits. It was the latest flash of brilliance from a guy that's been downright perplexing. Everyone wants to know if the success will continue and there are a few reasons to think that it can. Then again, we've been down this road before and there's a reason why he entered the game with an ERA that was almost six. So let's not rush to judgement and walk down the streets shouting that Rubby De La Rosa has finally arrived. That would be weird. But let's also keep an eye on his next handful of starts and see if the four-seamer can keep generating strikes, if he continues to limit the two-seamer to lefties, if he uses the changeup sparingly and if the slider remains a knock-out weapon. Goodness knows the D-backs could use about 20 more of these starts from Good Rubby.