If you look at ERA, Rubby De La Rosa has been pretty bad. That's usually what we think anyways when we see an ERA hovering around five. And if that's of concern to you, perhaps you've also asked yourself why he's even still in the rotation. Survivorship is a big part of it – he hasn't missed a start – but he's also the team's second most valuable starter this season since the competition hasn't been all that fierce (Robbie Ray is right on his heels despite throwing 75% fewer innings). Advanced metrics like De La Rosa more than ERA does: he's got a 4.28 FIP, a 3.40 SIERA and a 3.32 xFIP. Those numbers aren't bad and neither is Rubby De La Rosa. Sometimes.
We've joked about it on The Pool Shot, but there seems to be two very distinct Rubbys. Because I'm not very clever and because the monikers work, we'll call them "Good Rubby" and "Bad Rubby". Let's take a look at his starts through the lens of Game Score, an easy-to-use metric created by Bill James, and track both Rubbys.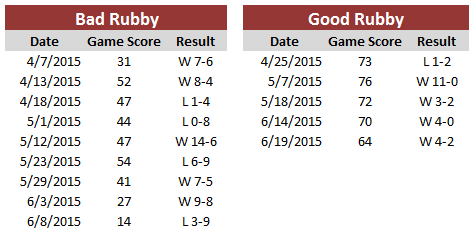 Clearly there's been more Bad Rubby than Good Rubby this year. You could argue that there are some So-So Rubby starts in there, but that isn't a kind of Rubby we're searching for here. This exercise was binary and there's a lot of Bad Rubby above. But when he's been on, he's been really good. Some of those starts are pretty damn excellent. So either he's only capable of only ripping off a good start every once in a while, or there's something else going on.
With this kind of volatility, the first place one might look is splits. Luckily for this researcher, the answer was brutal obvious. Observe:

Rubby De La Rosa is very good against right-handed hitters and very bad against left-handed ones. It's a very simple case of platoon splits that are harming him. Across the board, whether we're looking at OBP, strikeouts, homers, you name it, lefties are doing damage while he's been good against righties. That's one reason why I think there's a chance he still ends up a reliever long-term, because every time he's on the mound, teams stack their lineups full of lefties.
Let's take a look at four good starts and four bad starts from Rubby. Included for each is the number of left-handed (and switch) batters that De La Rosa faced from the starting lineup (pinch hitters excluded), along with their season wRC+ against right-handed pitching.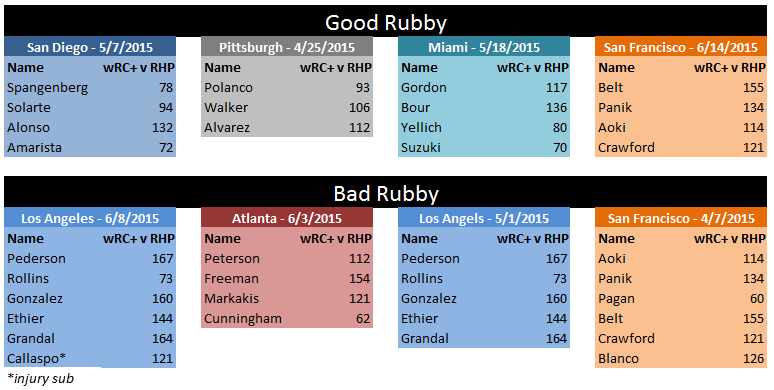 In each of Rubby's good starts highlighted, he faced no more than four lefties, and against Pittsburgh, he faced only three. That obviously bodes well for him. By facing fewer lefties, he was less-exposed. And even within those starts, the lefties he did face weren't necessarily great, with the start against San Francisco on June 14th withstanding.
In his poor starts, things changed. He faced six lefties twice, five once and four once. Also, the caliber of left-handed hitter is far better on average in his poor starts (Good Rubby Average wRC+: 107.6, Bad Rubby Average wRC+: 128.4). He's facing more lefties, who are better hitters against righties when he's getting beaten around the yard. This seems like a pretty simple finding and not one that would necessarily surprise us.
So, maybe the monikers of Bad Rubby and Good Rubby don't apply. Even though the results have been binary, they appear to be more of a factor of how opposing teams are constructing their lineups and less to do with how Rubby De La Rosa is throwing the baseball. Sure, there are times when he's especially sharp and times when he's especially not, but what's killing him is lineup card, not so much his pitchability as a starting pitcher.
But if Rubby is going to remain a starter in major league baseball, he's going to have to make some kind of change against lefties. He can't continue get his ass kicked by left-handers even though he may never solve them entirely. There has to be a way to limit the damage. Lo and behold, it would appear that the team has already been working on a potential solution for a month or so: throw fewer four-seamers to lefties and use the sinker more often instead.
Notice the change in the usage of the two pitches against left-handed hitters (black line is four-seamers, grey line is sinkers):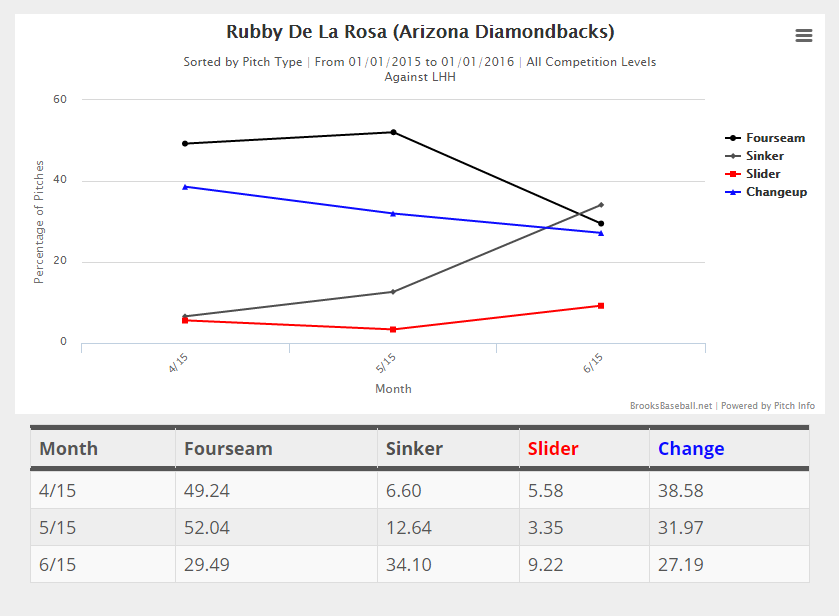 And just to verify that this is lefty-specific, take a look at his chart against right-handed hitters and notice how the usage of the sinker remains virtually unchanged.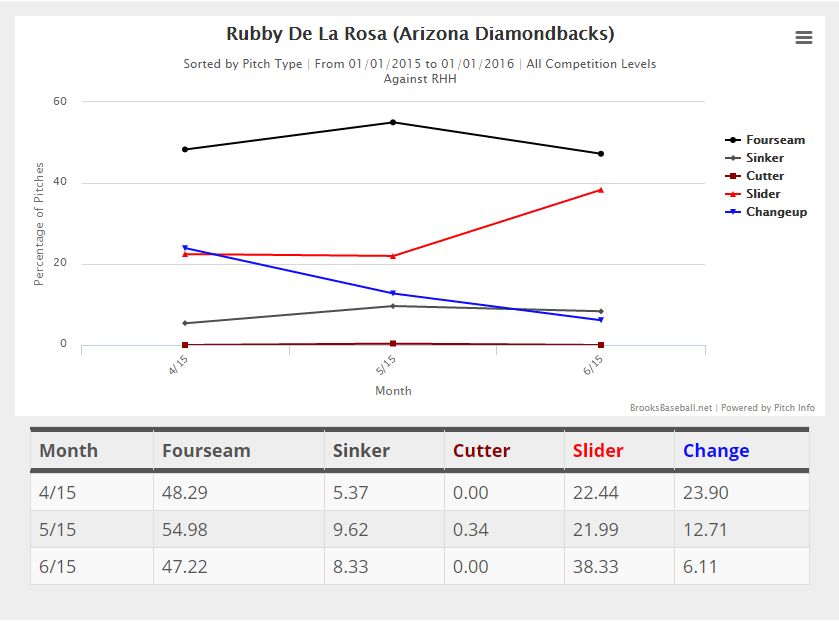 Rubby is who he is, there was no way he was going to do something radically different with his mechanics or his stuff to get lefties out. But, he could go back to existing toolbox and redistribute the usage of those tools. Apparently that's what has happened, and while it hasn't made him harder to hit for lefties per se, it has changed how lefties hit him. Let's take a quick look at his batted ball distribution by month against lefties.

The sinker has done its job. He's staying close in line drives, but has traded fly balls for grounders in a big way since going with the sinker. That doesn't mean, however, that he's been harder to hit. His batting average against is highest in June at .361. Ground balls have a higher BABIP than fly balls do, but they also never turn into home runs, and maybe that's what the team is trying to limit. Keep the ball in the yard, make the other team go station-to-station, give Rubby a chance to move through the lefties to get to the righties in the lineup without allowing too much damage along the way (his sinker has maintained a lower ISO Against all season as compared to his four-seamer).
I can't really argue with that if that's what they're attempting, because the alternative is just so obviously ineffective. Without an answer for lefties, Rubby looks like a bullpen arm who's pitching in the rotation. He could be brought in anywhere between the 7th and the 9th to get out a trio of right-handers almost at will. But if he's going to stick in the rotation, he has to have answer to the left-handed bats that most teams are going to stack their lineups full of.
For now, they're attempting to make the sinker work. It's keeping the ball in the yard, but it's also getting hit a lot. BABIP is volatile, though, so maybe some of those hits turn into outs here pretty soon. Who knows? At least they're balls on the ground, something a stellar infield should be able to generate into outs on an above-average basis. And if the sinker can help eliminate some of the Bad Rubby and even give us more So-So Rubby, that's fine, because keeping him in the rotation long-term is the best, most-valuable solution so long as he's effective there.
*stats courtesy of FanGraphs, Baseball-Reference and Brooks Baseball*